No matter if it were a cold season or a hot one, you would always want to spend a fun night surrounded by a good company of people. And what is a fun night without a couple of deliciously mixed cocktails? Therefore, you would need the essential bartender tools to make good quality cocktails or mocktails to begin impressing your friends. In this article, we will list down the top 10 copper cocktail shaker sets to kick-start your cocktail mixing career.
List of The 10 Best Copper Cocktail Shaker Sets in 2023
---
You may also check the best set of the Glass Cocktail Shakers, Gold Cocktail Shaker Sets & Top 10 Best Stainless Steel Cocktail Shaker Sets in 2023
---
10. Barillio Rose Copper Cocktail Shaker Set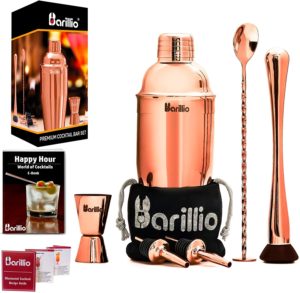 The first copper cocktail shaker set that we will look at is the Rose Copper Cocktail set by Barillio. This is the perfect set for both an experienced bartender and a starting enthusiast. The set includes all the necessary tools for you to start your hobby and improve on your skills.
First of all, this copper cocktail set comes with a 24 oz cocktail shaker made of stainless steel grade SS304 and SS430. The shaker will go without rusting for years because of its high quality material. Secondly, you are getting a muddler to mix in all the spices into your delicious cocktails. A stylish mixing spoon with spiral patterns is added to the set too. Along with all those necessary accessories, you can find 2 pourers made of the same material. Most importantly, the set includes a two-sided jigger (0.5/1 oz) for a precise measure of all your added liquors.
If you are new to the practice, do not worry because with all these tools comes a free pocket-sized booklet. You can find simple-to-follow recipes of the most delicious cocktails to get you started. And as a plus, there is a beautiful velvet bag where you can keep all the utensils.
9. Barillio 23-piece Copper Cocktail Shaker Set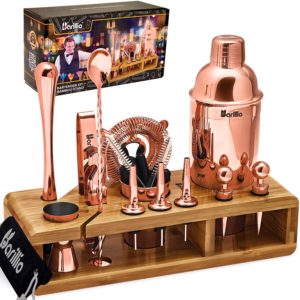 Our following cocktail shaker set on the list is another one from Barillio. This one comes with a staggering 23 pieces of utensils, which are necessary for a good night of mixing drinks. Most importantly, the entire set is assembled in a sleek bamboo stand made of all-natural material. Likewise, you get a free velvet pouch to carry the tools outside of your home kitchen.
Turning to the essentials, this set includes a 24 oz stainless steel rose cocktail shaker. The shaker itself has a built-in strainer to pour your deliciously mixed drinks without residue of the unwanted pulp. Along with that, you get a muddler, a mixing spoon, 3 liquor pourers, 2 brushes, 6 caps, and ice tongs. Likewise, you can find a Hawthrone strainer to stop the ice from dropping to your cocktails. The good features that come with this product are the tools to preserve your liquor, which are 2 bottle stoppers for your opened wine.
The entire set also comes with a pocket booklet of cocktail recipes to get you started on mixing drinks for your friends and family.
8. Mixology and Craft Copper Cocktail Shaker Set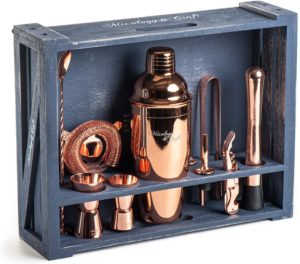 Up next on our list is the stylish looking bartender kit by Mixology and Craft. This could serve you as a perfect gift set for yourself or your cocktail-loving friends. Not only that you are getting the essential utensils for mixing but you also get a handcrafted rustic wood stand made of Paulownia wood.
In addition to the beautiful stand, there is a 24 oz mix shaker, which is leak-proof. Also, you can find 2 double-sided jiggers, a muddler, a mixing spoon, 2 liquor pourers, ice tongs, a Hawthorne strainer, and a double lever corkscrew.
Most importantly, the entire set is made out of stainless steel alloy and will last you for a long time. However, the mixer set is color-coated so you will need to hand wash them.
7. ALOONO Copper Cocktail Shaker Set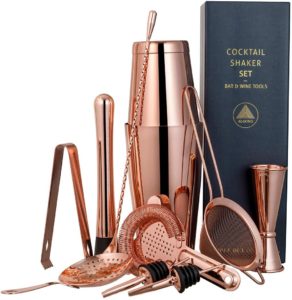 Let us move on to our number 7 cocktail set, which is the Copper Cocktail Shaker Bar Set from AlOONO. Experience the satisfying process of mixing drinks like a professional bartender with these beautifully designed 11-piece mixer sets.
With this set you acquire 2 weighted Boston shakers of 18 and 28 oz. They are designed to fit one another perfectly so you will not need to worry about spilling your cocktail. The set also includes a variety of strainers such as hawthorne strainer, julep strainer, and conical strainer. In addition, coming with these tools are a double jigger, muddler, ice tongs, and 2 liquor pourers. The materials in this collection are of high quality. It is made of food-grade 304 steel. The stainless steel will prevent your favorite set from rusting.
You may also need one of these Best Cocktail Glass Sets, Wine Glasses & Glass Holders in 2023
6. Mixology and Craft Copper Cocktail Shaker Set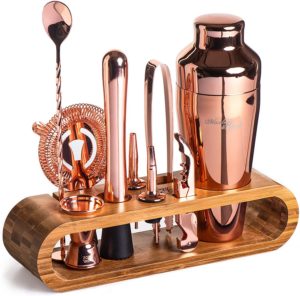 Moving up to number 6 is the Mixology and Craft Bartender Kit. Another set coming from this brand on our list with an Eco-friendly 11.5 inches long bamboo stand. This is an incredible ensemble of the essential tools for you to practice your cocktails and mocktails mixing.
The kit includes an unbreakable and rustproof Parisian style shaker that could contain 20 oz of liquid. In addition, the shaker comes with a greatly designed tapered lid to prevent your delicious drinks from spilling while you are mixing them. Moreover, you can find the standard list of equipment of all bartenders in this set like a mojito muddler, Hawthorne strainer, 2 liquor pourers, corkscrew, and ice tongs. As a bonus, the double-sided jigger in the set has imperial and metric markings for your convenience.
This set is an elegant looking collection of mixing utensils that many cocktail lovers would want for a gift. You might also need to have one of these Copper Mixing Bowls and Copper Cookware Set if you are a copper lover.
5. Vostini Rose Gold Cocktail Shaker Bar Set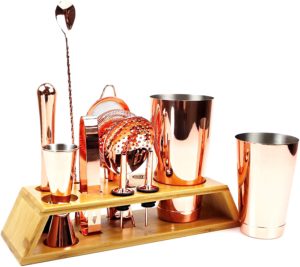 Following on the list is the Cocktail Shaker Bar Set in rose gold from Vostini. This collection of all-essential bar tools for a mixologist comes in a nicely designed Eco-friendly bamboo stand. Therefore, all the pieces for making your cocktails could be organized on the bar stand. It is not only functioning but also a stylish piece in your kitchen.
Moreover, this 12-piece set includes a weighted Boston Shaker with one of them being 18 oz and the other 28 oz. In addition, a great collection of strainers is presented such as the Hawthorne strainer, a julep strainer, and a fine mesh strainer. Other essentials in the set are an ice tong, mixing bar spoon, and 2 liquor pourers. Most importantly, you can find a double-sided jigger with measurements to precisely mix in drinks.
If you are a newbie in the cocktail making process this is a perfect standard set to get. It would be easy to follow along the 10 recipe guides of the most delicious drinks that are included in the bundle.
4. Prince of Scots Copper Cocktail Shaker Set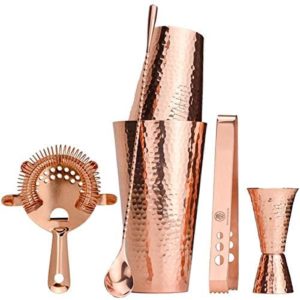 After on the list is the Prince of Scots Hammered Solid Copper Cocktail set. This is a beautiful handcrafted set made of pure copper. The collection comes with all the standard equipment to mix in drinks.
Starting with the most important piece – the shaker. It is a fashionable Boston style shaker with 2 cups. The larger cup is 7 inches tall and can carry 30 oz of liquid; the smaller one is 5 ¾ inches tall and 18 oz. Additionally, you can find a stainless steel strainer to make sure that no unwanted residue would get into the cocktails. An ice tong and a jigger with measurement marks are also included in the set. To finish it off, a beautifully designed teardrop spoon comes with this collection.
This is a great starter pack of bartender utensils. The collection would serve as a great gift for anyone who enjoys mixing drinks and experimenting with different recipes.
3. Godinger Copper Cocktail Shaker Set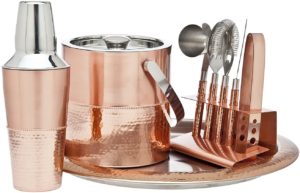 Up next comes this stylish copper barware set from Godinger. What is great about this collection is that it comes with a fashionably designed ice bucket to match the entire set. It is vacuum-sealed with a tight seal lid so you do not have to worry about the ice melting too fast.
The essential tool that is the mixing shaker has a built-in ice strainer. It is so much easier to make cocktails or any mocktails with it. You do not need to have too many ice strainers on your bar stand. Likewise, the set does include a Hawthorne strainer, an ice tong, and a double-sided jigger. To complete the set a sophisticated stand from the same material as the entire set is an additional needed piece. The stand makes it easier to keep and organize the smaller utensils upright.
However, for a longer use, it will be better to hand wash the tools; and not use the washing machine as it could strip the material.
2. Barfame Copper Cocktail Shaker Set, Stainless Steel Bartender Kit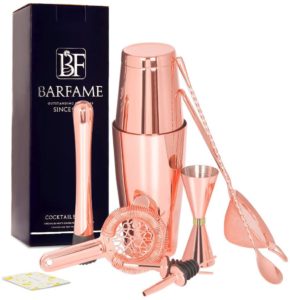 Coming at number 2 on our list is the Premium Cocktail Shaker Set from Homekeros. This is a nice 9-piece collection handpicked by a professional mixologist. All the essential tools for mixing cocktails in this set are made of the highest quality copper stainless steel.
In the set you can find a Boston style shaker with 2 tins (18 and 28 oz). It is perfectly designed to mix your drinks without spilling the contents. The tins come together precisely and give you a dripless pour. Likewise, other standard tools are included in this bundle. You can find a cocktail strainer set, a spiral patterned cocktail spoon, liquor pourers, and a muddler. In addition, there is a beautiful Japanese jigger with precise measurements.
The entire set is versatile for you to mix in any drinks, both traditional and experimental.
1. Sky Fish Copper Cocktail Shaker Set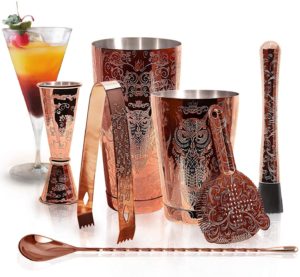 Finally we got to number 1 copper cocktail set on the list. This is a bartender kit cocktail shaker set by Sky Fish. If you want an elegant addition to your kitchen bar stand, this item is a great fit for you. All the 6 pieces of this exquisite collection have intricate baroque engravings. In addition to these classical style authentic carvings, the premium quality stainless steel brings out a beautiful color to the entire set.
A standard item of a bartender's kit is the shaker, which in this collection is a Boston style shaker. The 2 tins (16 and 26 oz) are designed perfectly to complement each other so you will not spill your cocktails. An elegant mixing spoon, a double-sided jigger, ice tongs, a mojito muddler, and a Hawthorne strainer are all included in this set.
Treat yourself to this beautiful intricate piece of work or give it to a special someone. In any case you will love this collection for its authentic style.
Buying Guides
We understand that there are so many choices of copper cocktail shaker sets in the market. Thus, it is very hard to choose a perfect fit for you without elaborate guidance. Therefore, you can find this buying guide very useful. When looking for a bartender's kit it is essential to look at these important categories:
Essential Pieces: it is important for you to know how many pieces you get with the set. Many come with a standard number of pieces but others have many other unimportant tools that you would rarely get to use. The most essential pieces to have in the set are a shaker, a Hawthorne strainer, ice tongs, muddler, and a jigger.
Material: while getting yourself a copper additional bartender's set for your kitchen bar stand, it is important to consider the quality of the metal. It is most preferable to get the entire set in a high quality durable stainless steel.
Bonus Features: the utensils in the sets are not big pieces. Therefore, you would like to get a fashionably designed stand to organize and store your mixing tools. They come in different materials and the best ones are either Eco-friendly bamboo or the same material as the entire set.
Conclusion
In summary, we listed the top 10 best cocktail shaker sets for your choosing and provided you with an elaborate buying guide. These listed collections are a perfect gift to give your friend or to yourself. Moreover, they come in a standard set for mixing any cocktails that would be perfect for amateurs and professional bartenders alike.