When we are traveling, we always wish to get a maximum comfort for whatever activity we are doing. Cooking, for instance, is definitely one of them. In order to satisfy our cravings while we are traveling to one place and another, today the Economical Chef is introducing you to the best portable gas stoves as your winning tool. We know getting the best portable stove can be challenging as there are various types of stoves such as portable single burners, portable electric stoves, portable induction cooktop, tabletop gas stove, double burner gas stove and so on. That is why we are here to help you sort out with our selection of the top portable gas stoves for your pick.
List of Top 12 Best Portable Gas Stoves in 2023
12. TECHEF AGNI Portable Butane Gas Stove Burner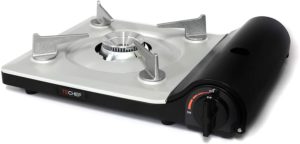 Review
On top of our list is an Agni Portable Gas Stove from Techef. Made in Korea, this stove is made not only for high quality but slim and stylish appearance. It has an auto Piezo-electric ignition which is efficient. The heat panel can distributes the heating quickly and efficiently. The stove utilizes butane for flaming and heating up. It is well-recognized for its nice design and easy to use for cooking.
What's to note is that the stove is built with automatic stop safety function. In case if any over flaming accidentally happens, the canister will show the unsafe level and then its regulator will turn off the flow of butane automatically. It's a high quality and premium portable gas stove you should consider for cooking and safety purpose. We recommend that you read the instruction provided carefully before use because gas stove can be harmful if not properly use.
What is it good for
This portable stove is best for cooking Korean BBQ, Hotpot, Japanese yakiniku and sukiyaki and more. It is also convenient for bringing to camping site and other outdoor cooking in small amount. It's not for heavy-duty cooking. If you need a heavy-duty one, you can go to the next stove.
Key features:
High quality gas stove
Slim and elegant design
Built with advanced magnetic locking system
Have safety auto-stop function
Made in South Korea
Video Unboxing of the Agni Portable Stove by Home Care
11. XtremepowerUS Deluxe 2 Burner | High Pressure Stainless Steel Propane Gas Range Stove Cooktop Auto Ignition Camping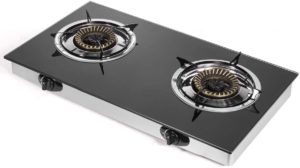 Brand: XtremepowerUS
Fuel Type: Gas
Material: Tempered Glass & Stainless Steel
Power Source: Propane
Weight: 22.44 Pounds
Buy on Amazon
Buy on Walmart
Review
Second in our list is the deluxe portable gas stove called XtremepowerUS Deluxe 2. This is a 2 burner tabletop gas stove which is made of stainless steel. It's strong and high pressure with the utilization of the propane gas for cooking. If you go camping in a team or as a family, this portable double burner is the best choice as you will be able to cook your mean quickly and multi-function. Besides using it outdoor, you can also use it in the your indoor kitchen as well. Inbuilt with Piezo Ignition system, you can turn on the flame easily for your cooking activities.
Key features
XtremempowerUS is a portable double stove built for heavy duty outdoor such as using in the campsite, patio, backyard, cabin and hunting lodge. Each stove can be controlled separately, meaning you can use just one stove or both stoves a time. It is powered by 15,000 BTU and can distribute heat quickly. The special part, at least for a lazy person like me, is the ease of cleaning. You can just use damp cloth or tissue to wipe it once it's getting cool.
What is it good for
Here are what Delux 2 Burner is good for:
It is great for use both indoor and outdoor but for heavy duty
Built with double stoves but portable
Controlled burner is built separately, meaning you can either use only one or both at the same time
High quality made
10. GAS ONE GS-2000 Dual Fuel Double Burner Stove Gas | Double Burner Propane Gas Stove

Brand: GasOne
Fuel: Liquefied Petroleum Gas
Material: Stainless Steel
Dimensions: 26.7 x 11.3 x 5 inches
Weight: 10 Pounds
Buy on Amazon
Buy on Walmart
Review
This is another double burner gas stove from Gas One. This portable propane gas twin stove is an ideal tool for multiple cooking. What is good about purchasing a double burner stove is that you get to cook 2 different kinds of food at the same time. That's the best ideal when you go out for picnic with a group of people or family members. The heat is fairly adjustable on both sides. On top of this, this double gas burner portable comes with 4 legs, which are great for working on many kinds of surface. Looking at the design, the stove is very high tech and modern with furnished edges.
By getting this two burner gas stove, you will also receive a manual, which you probably will need even if because it is just so simple to use. And, the material used is stainless steel which is rust-resistant. Besides its portability for outdoor cooking, this double burner gas cooktop can also be used at home, restaurant and office as well. It's a very convenient tool.
9. Bayou Classic SP-10 High-Pressure Outdoor Gas Cooker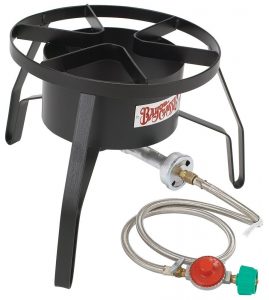 Review
If you are a camper or outdoor BBQ lover, then this propane gas stove is for you. The bayou classic outdoor gas cooker is a great use for outdoor places whether is camping or just a party in your backyard. The stove is strong enough to cook large amount of food and it is gentle enough to simmer your stew. The SP10 is 13 inches high and a 14 inches cooking surface and a 360' windscreen protection for windy days. It is very reliable due to its nicely balanced legs. This product is perfect for soup, barbeque and pretty much all kinds of dishes you wish you devour.
This propane outdoor cooktop is also a great burner for cooking food during Christmas celebration and other occasions. Our chef team also has this one for our high pressure cooking activities. It's the best gas stove single burner to have along with our double burners as we need for ourselves. You may also consider one of these portable electric stoves if you want to do your cooking outside of your home.
8. Portable Gas Stove on Home Depot: The 11,000 BTU Stove Butane Gas Portable Stove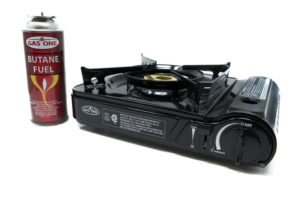 Review
If you're looking for a portable gas stove on Home Depot, this stove from Gasone is most recommended for the following reasons: First of all, it is built lightweight to help ease with mobility. If you'll need to use it for camping or hiking into the forest, you can carry this stove with you and with less effort. Secondly, Gasone is known for supplying such a portable stove with quality and efficiency. It utilizes smooth metal to make the stove's body along with enamel-coated pan. The plate can distributes the heat quickly. The stove also gets satisfied for its highest safety standard from the US and Canadian Standards Association.
Besides for outdoor cooking, you can also keeps this stove in your kitchen for emergency use when you're out of electricity or so. The stove is also best for serving hotpot and other BBQ at home and in the restaurants. Thus, it's really useful to have one if you're in the condition of need as I mentioned.
You also need this set of 12 Butane Fuel GasOne Canisters for this Portable Camping Stoves as well.
7. Coleman Camping Gas Stove with 2 Burners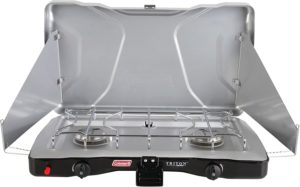 Review
Coleman gas camping stove has a very unique design comparing to other stoves. It has a cooking power up to 22,000 BTUs. The two burners allow you to cook two dishes at the same time. Each burner is adjustable with precise control of temperature you want. You can start the flame with just a push of the button. For convenient cooking outdoor, Coleman stove is attached with panels to block wind while cooking. The space can fits almost any size of cookwares including grill pan and divided frying pan. The cooktop is made of aluminum which resists to rusting. You'll get a limited warranty of up to three years for your purchase.
Key features:
Two cooktop burners
Adjustable temp control
Come with wind shields
Not difficult to clean
3 years of limited guaranty
6. Deluxe Portable Butane Stove | Stainless Stainless Mini Portable Gas Stove with Infrared Technology Ceramic Burner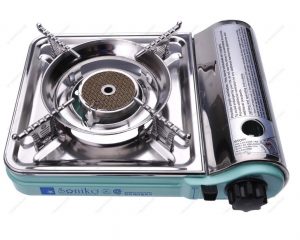 Brand: New Star International
Made of: Steel
Ignition: Piezo
Safety: CSA Certified
Buy on Amazon
Review
This is a gas stove from New Star International manufacturer, which is the deluxe portable butane stove with a free carry case. This portable gas cooking stove comes in 3 colors which are green, blue, and black. This product is famous for safety and the quality meets the standards. The reason why it is safe is because you have a safety shut down device and joint. Among the portable gas stoves, this one burner gas stove comes with a black carrying case, which is not just a protector to your stove, but it makes a great gift idea for the up-coming Christmas. If you are looking for a product with great protection for your next camping trip you might as well consider this one. It's a great cooking stove for camping, outdoor bbq and also indoor. It's user-friendly and safe from Korean standard.
5. Portable Gas Stove with Carry Case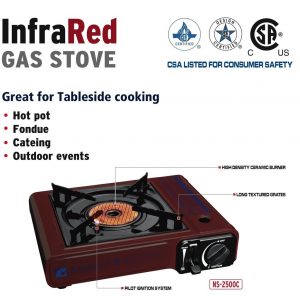 Brand: M.V. Trading
Made of: Steel
Ignition: Piezo
Safety: CSA Certified
Buy on Amazon
Review
This is another gas stoves portable from M.V Trading, the infrared gas stove. This stove comes in 4 colors which are burgundy, black, Bronze and white. This is ideally used for outdoor cooking like hotpot, frying and even barbeques. It is very safe due to it safety controllers and it is made in Korea. It is 14 x 12 x 4 inches. So the next time you have a busy party, no more concern and just enjoy your time with your beloved ones.
4. Excelife 87220 Portable Gas Stove | Single Gas Stove Propane Burner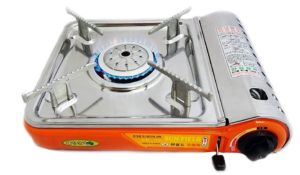 Brand: Excelife
Material: Nonstick
Weight: 4.14 pounds
Safety: CSA Certified
Buy on Amazon
Review
This is a one burner gas stove from Excelife which came up with a stainless portable gas stove made. Here is the special thing about stainless products, they are eco-friendly and the quality is to die for. It is CSA approved for safety and good quality. The stove is perfect for home parties, camping, barbecue and hotpot.
This portable propane gas stove is a single burner which comes with a carry case. It makes carrying a lot easier. Since it is stainless steel, this gas stoves  resists scratches and so your stove will be new after years. It's among the best gas cooking burners portable for outdoor and indoor cooking.
3. PROLINEMAX Double Steel Portable 2 Dual Burner Stove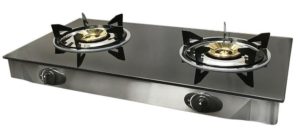 Review
This is a double burner stove from Prolinemax. Again, we all know that a double burner is a life changer so this one is another great appliance. It is 28 x 15 x 3 inches wide and it is scratch resistance. It runs on 20000 BTU/h and the design is stunning unlike what you see in any other average gas stove. From the facilities, the looks of this portable gas cooktop burner is the winner for your next party and trip.
What's special about this double burner gas cooktop is that it's rust-resistant and strong for heavy duty cooking. It is a propane outdoor cooktop which is popular among many chef and permanent cooks. You can enjoy your cooking, grilling and roasting your chicken and other meat with fun.
2. GasOne Stove Porpane Gas | Outdoor Gas Cooktop | Propane Gas Stoves for Cooking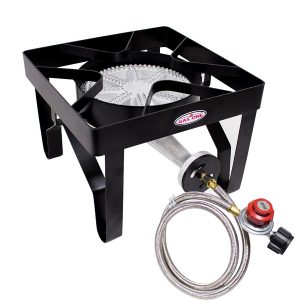 Review
From safety to quality, this single burner propane gas stove has it all. Thanksgiving can be very busy especially when you have to cook pretty much everything. This single burner gas stove is great for home brewing, outdoor cooking or just any emergency dishes that are needed to be made right away. The regulator uses an O-ring to prevent any gas leakage which makes it very safe and gives you the best experience with you stove. It is all you have to look for in a gas stove with this one.
Key feature:
Portable and durable
Adjustable and controllable heat
Built for heavy duty cooking
Safety check
1. GAS ONE Portable Propane | One Burner Gas Stove
Review
We all know that a portable gas stove is not like the ones you usually have at home. The ability is probably weaker. However, with this one burner gas stove from GasOne, it is a game changer because you are not just making an average fried egg but you can literally brew beer for your next party. This stove comes with legs, which makes it easy for you to carry and work on harder surfaces. On top of this, this product is limitless; you can go as wild as you want to.
How to get the perfect portable gas stove
There are several things you should be looking for in a portable gas stove such as the quality and its features. It is important that you purchase the one that includes a lot of resistances such as scratches and even water resistance. Since we are not going to use our portable gas stove that much it is not necessary to get it frequently so choosing the one with the best quality is the best choice as you do not have to worry about changing it.
Plus, it is also important to look for the ones with a case because you have to really receive a good support while carrying things and also protecting your items from unintentional damages. Or maybe you are getting one as a present for somebody; a case is an urgent gift wrapper.
As for facilities, it is great to look for double burners as it can save a lot of time and also the ones that can cook more than just eggs. And a bonus tip to get a perfect gas stove it to look for the one that are safe with safety controllers or buttons because we all know how busy your outdoor activities can be plus if there are a lot of kids around your work area, you have got to search for the ones that are safe to use.
Why buy a portable gas stove?
As you are outdoors away from home, you might need a quickly self made meal so getting a gas stove is a good idea. Plus, on camping trips, you definitely do not want to go empty handed, so a gas stove is definitely a great prepare to start off a memorable trip.
On top of this, you can pretty much cook anywhere and anytime you one just in case you cannot find a restaurant that is worth eating at. With just 1 portable stove, you can make yourself and your friend and family a lot of good meals and show off your cooking skills to them.
Conclusion
In conclusion, it should not be that difficult to get a god portable gas stove with the list provided. Plus, it is highly recommended that you should own one for emergency purposes. With our tips and reviews of the top 10 gas stoves, hopefully you have an idea on what to kind of capability you should be looking for in a portable gas stove. Get your favorite one soon while the items are still available.