Burgers are one of my favorite foods. They're a better sandwich, and there are many different forms they can take. Today, our Economical Chef introduces you to the Turkey Burger, or the Asian Dijon Turkey Burger to be specific, recipe along with ingredients and a step-by-step cooking process for you. It is a quick meal for breakfast, lunch and dinner. So, let's get start.
Here How to Make Turkey Burger by Yourself
Turkey Burger is made from a combo of dark brown bread and a turkey meat. It contains a lot of calorie for your body.
The Ingredients for the Turkey Burgers
As our purpose is to help you saving, we have list down the simple and cheap ingredients for your preparation as follow:
1 lb ground turkey – $5.99
1 green onion – $0.10
Handful of cilantro – $0.15
1 tbsp soy sauce – $0.15
1 tbsp dijon mustard – $0.09
1/2 tsp ground ginger – $0.18
1 medium clove garlic – $0.10
1 tsp red pepper flake – $0.06
Salt and Pepper – $0.02
The total for the burgers is $6.84. Now to add in the cost for the additional burger fixings:
A couple large lettuce leaves – $0.50
1 Tomato – $0.75
3 Pretzel Buns – $1.50
The Cooking Processes
So, let's start making a Turkey Burger together and for our dinner tonight. The other star ingredient for the recipe here is the dijon mustard for making this burger. This is my favorite kind of mustard; it has a nice kick to it. It also helps give the burgers a great flavor and keep the turkey moist. Nothing is worse than dry turkey.
I found that 1/3 lb burgers seem to work the best, so one pound of turkey will get you three burgers. When forming the patties, make sure to flatten them thoroughly and to put a dimple in the middle of the patty. Burgers tend to fatten and puff up in the middle while cooking. I am not really sure why, but the dimple helps give your finished patty a uniform shape and ensure it cooks evenly.
After your patties are formed, make sure to heat your pan or skillet with oil or butter before cooking them. When you add the burger you should hear a nice sizzle.
Stage1: A picture of raw meat. Beautiful.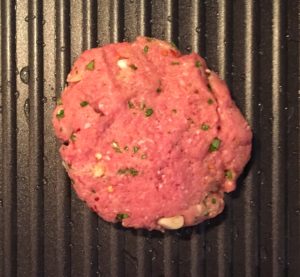 Stage 2: That's better.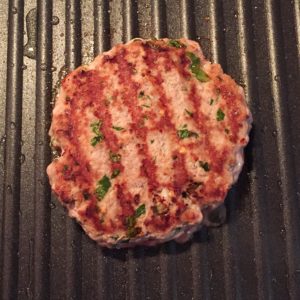 Stage 3: Done!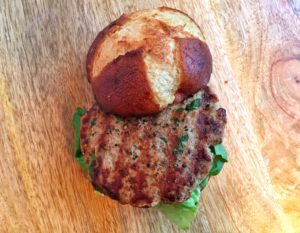 The grand total is $9.59
This breaks down to the low cost of $3.20/burger. A gourmet turkey burger for the price of a McDonald's quarter pounder.
I also want to take a second to write about utilizing these ingredients. There is a good chance that you will have leftover ingredients after making the burger (soy sauce, cilantro, garlic, etc.). One way to prevent these ingredients from going to waste is to use them in a stir fry. If you need inspiration, check out this recipe from Steamy Kitchen.
As for your leftover lettuce, tomato, pretzel bun or dijon mustard, plan on making sandwiches. Need ideas? Check out this page from i am a food blog.
Asian Dijon Turkey Burgers
Ingredients
Burger:

1 lb ground turkey
1 green onion
Handful of cilantro
1 tbsp soy sauce
1 tbsp dijon mustard
1/2 tsp ground ginger
1 medium clove garlic
1 tsp red pepper flake
Salt and Pepper
Fixings:

A couple large lettuce leaves
1 Tomato
3 Pretzel Buns
Instructions
Start by adding your turkey to a large bowl
Finely chop the garlic, cilantro and green onion
Add all of the burger ingredients into the large bowl with the turkey
Mix the ingredients thoroughly and form three patties
Heat pan on medium-high (or grill, etc.), add oil and cook the burgers for about 4-5 mins on each side, or until cooked through
Toast your bun and wash your lettuce and tomato
Slice the tomato and assemble the burger with the lettuce at the bottom, then two tomato slices, and last the burger patty
https://www.economicalchef.com/asian-dijon-turkey-burgers/
Serving call
I hope our recipe of the Turkey Burger above helps you make a delicious burger by yourself and save a lot of money. Now, the simple Turkey Burgers are made and done for serving. I hope you enjoy these Turkey Burgers!