Food mills are typically spacious bowls with every great feature designed to mash and strain food effortlessly. Ideally, the best food mill would enable you to use less muscle energy in the process. If you are seeking to obtain soft puree from food easily while filtering out skin, seeds, and fiber, a food mill would do fine. The essential kitchen tool would serve you well, particularly if you choose the one that suits your milling needs, and more importantly, your budget. As much as they seem to share various features, you can always land on the perfect one with fine blades and enhanced performance.
List of the Best Food Mill Reviews 2023
10. OXO Good Grips Food Mill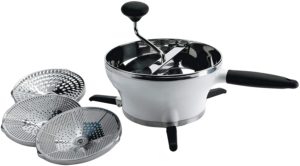 This robust and solid food mill by OXO is an incredible product that is ideal for tomato puree, soups, sauces, milling fruits, and berries. Thanks to its rubber-coated handles and legs that it firmly sits on most bowl sizes and does not slip during milling. Its stainless steel body is completely rust and corrosion-free. Also, it's spring-loaded lever makes the milling less difficult
This food mill is pretty easy to clean. Also, the entire unit is very easy to assemble. The product comes with three discs with small, medium, and larger holes to prepare food of different textures. The other amazing feature of this product is its foldable legs for easy storage. You can fold in its legs when not in use. Besides manufacturing quality products, Oxo also provides great customer service as they are very quick with repair or replacements in case of faulty products.
Features
Foldable legs for easy storage
Stainless steel bowl for hot foods
Spring-loaded lever
Rubber coated handles and legs
Comfortable Grip
9. ExcelSteel 580 Food Mill W/3 Grinding Sizes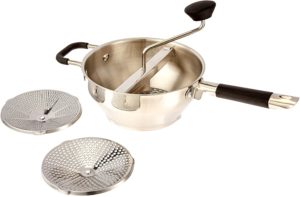 This food mill by ExcelSteel is very sturdy and works like a champ as it processes food very quickly. It's a versatile and comfortable handle that is easy to turn. For convenience, it comes equipped with three different size discs for fine, medium, and coarse textures. The discs are easy to put in and remove.
Being made of stainless steel material, this miller is also easy to clean. You will find this miller as an essential kitchen tool as you can do a variety of tasks with this versatile mill such as canning sauces, mashing foods, grinding ingredients, preserving jams, and much more. It's easy to press and the release system helps to switch the interchangeable discs efficiently and quickly. Also, its firm grip ensures stability during grinding or milling process,
Features
Its approx dimensions are 17″ x 8.25″ x 3.75″
Equipped with 3 stainless steel interchangeable discs
Has easy press and release system
Ideal for Pureeing, mashing and grinding tasks
 8. Mirro 50024 Foley Stainless Steel Healthy Food Mill Cookware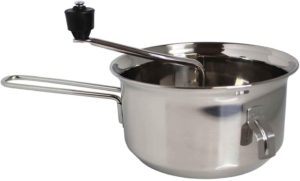 Mirro 50024 is fully constructed with high-quality stainless steel material and is completely corrosion and rust-free. Whether you want to mash potatoes or want to make sauces and soups, this shiny silver food mill will do it all. Not only this, but you can also use it for other tasks such as straining, ricing and grating, etc.
The unit contains clips at the bottom and securely grips on any container that you want to use. Furthermore, this miller is very easy to clean as it is dishwasher safe. You can unscrew the small thumbscrew on the bottom and hand-wash it as well. Coming from a reliable brand, the company provides great customer service as well.
Features
Its dimensions are 13 x 9.8 x 4.4 inches
Stainless Steel Construction
Easy to move knob
Approx 2 quart capacity
7. Granite Ware Stainless Steel Deluxe Food Mill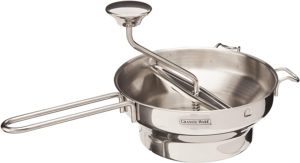 This food mill is an ideal kitchen tool for food preserving, and for preparing fresh purees, sauces, soups, baby food, and much more. It comes with 3 stainless steel discs that help you create different food textures. Using this food mill is very easy as it fits directly over the bowls or pans
If you are using this miller, then you won't have to do peeling and seeding anymore as this food mill does all the work for you conveniently. It fits directly over any mixing bowl or pot easily and its two end clips and handles ensure a stable base during the milling process.
Features
It's dimensions are 8 x 13.75 x 9.75 inches
All Stainless Steel Construction
3 grinding discs included Fine, Medium, Coarse
Ideal for purees, sauces, soups and baby food
Dishwasher-safe
6. Bezrat Food Mill – Stainless Steel Kitchen Mill with 3 Discs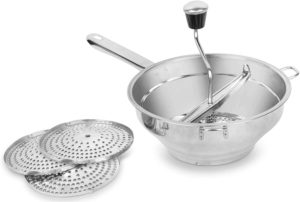 Food mill by Bezrat is made of premium quality stainless steel material that helps you make the most delicious lump-free mashed potatoes without any effort. Its sturdy construction and easy to use design make your food preps easy like never before. With the help of this food mill, you can make a variety of dishes such as sauces, mashed potatoes, soups, puree, and much more.
It comes equipped with 3 stainless steel mill disks to create varied food textures. Also, it has a spring-loaded lever which easily helps you in switching the disks and assembling. The best part is its non slip handles and round balls for a comfortable grip and moves the crank easily. The company also provides a 30-day money-back guarantee in case of dissatisfaction.
Features
Its dimensions are 13.5 x 8.58 x 4.09 inches
Quick and easy assembly
2 Nonslip handle
Stainless steel crank with the soft round ball
3 interchangeable disks
5. Rotary Food Mill Potato Ricer with 3 Interchangeable Disks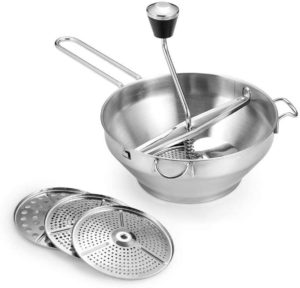 Built with 201 stainless steel material, Pantula food mill is durable and has a smooth surface which makes it super easy to clean. Its ergonomic design is very attractive and easy to use. Like other food mills, this unit also comes with 3 interchangeable disks to make different food textures and all of its parts are completely dishwasher safe.
Also, its Spring-loaded lever helps in creating a suitable tension for easy disc exchange and assembling. The unit is equipped with non slip handles to assure stability during the milling and processing of food. Its soft rounded ball located on the end of the handle makes it easy to hold and move the crank effortlessly.
Features
Its dimensions are 12.9 x 9.1 x 3.4 inches
Constructed with 201 stainless steel material
Ergonomic design for convenient usage
3 stainless steel mill disks
Nonslip handle and round balls
Quick and easy assembly
4. Küchenprofi Professional Stainless Steel Vegetable Mill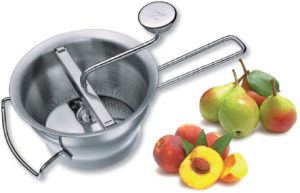 This German-made professional food mill will be a great addition to your kitchen as it is super well constructed of heavy-duty stainless steel material. This food mill has a perforated bottom and comes with 4 interchangeable disks including one superfine disk with 1.3-mm. This disk will allow you to strain your veggies and fruits smoothly without any hassle.
Also, the unit is equipped with a large knob and comfortable long handle for easy grip. Its easy turning hand crank lets you process the food effortlessly. Moreover, it is easy to assemble and completely dishwasher safe.
Features
It's approx dimensions are 15.5 x 8.75 x 4.75 inches
Comes with Four discs option: superfine, fine, medium, coarse
Comfortable large knob and long handle
Stainless steel built
dishwasher safe
3. RSVP International Endurance (FDML) Food Mill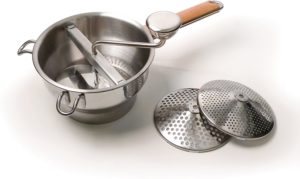 RSVP is a renowned brand known for its quality, so is its food mill. Made of nonreactive and hygienic 18/10 stainless steel material, this food mill is sturdy and durable. It comes with 3 interchangeable stainless steel disks to create different food textures.
Its long wooden handle offers a comfortable grip and ensures stability when in use. You can make a variety of food with the help of this miller such as sauces, baby food, purees, mashed potatoes, etc.
Also, it is easy to assemble, disassemble, and pretty easy to clean. This food mill is very convenient and will save you a lot of time in the kitchen.
Features
Its dimensions are 7.75 x 7.75 x 4.25 inches
Constructed with 18/8 stainless steel
 Nonreactive and Hygienic
Equipped with 3 interchangeable discs
Long wooden handle for easy grip
Disks are dishwasher safe
2. Starfrit Manual Food Mill + 3 Grinding Discs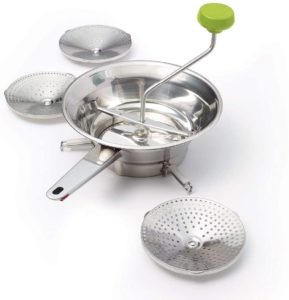 This manual food mill by Starfrit is an incredible product that can help you in quick food preps. It comes with 3 interchangeable stainless steel grinding discs that help in creating a variety of food textures. This unit is ideal for performing tasks like mashing, pureeing, canning, and for preparing baby food, soups, etc.
It is a sturdy mill with a stainless steel body so you don't have to worry about corrosion and rust. Also, this unit is equipped with non-slippery foldable feet that easily sit on bowls of 6 to 10 inches wide. All of its parts are removable for easy cleaning.
Features
Its dimensions are 13 x 9.8 x 4.4 inches
Includes 3 stainless steel discs
Non-slip foldable feet
All pieces are removable
Ideal for Mashing and pureeing tasks
1. Weston Stainless Steel Food Mill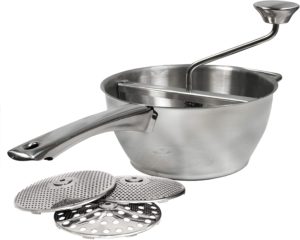 With 2 quart capacity, this food mill by Weston is of stainless steel construction and comes with a reasonable price tag. It is quite easy to disassemble and reassemble it without any trouble. The unit is very easy to clean and it is dishwasher safe. Also, it is ideal for tomatoes and fruits and mashes and sieves soft food effortlessly.
The miller doesn't have any legs but comes with a long handle for a firm grip which is very helpful during the milling process and keeps the food mill in its place. Its construction is solid and the cranks function easily.
Features
Its dimensions are 8.75 x 16.75 x 6.75 inches
Sturdy stainless steel construction
Three interchangeable stainless steel discs
Discs contain small and large holes.
2 Quart Capacity
Conclusion
We have listed the high quality and best-rated food mills available on the market today. We have made this list after conducting thorough research and finding the best products based on user reviews, price, performance, and quality. We hope You won't need to look anywhere other than this review list if you need any help in choosing the right food mill for your kitchen.