Gone are the days when people had to worry about throwing away food because it is excessively rotten. Essential machines come in handy when you want to store, package, or preserve food for long storage or transportation. The most useful technology, the best chamber vacuum sealer, can package food airtight to prevent the growth of mold. Your food is kept fresh for long, and the flavor and nutrient capacity aren't interfered with within the process. However, you have to consider purchasing excellent equipment to get the most out of it. The ideal machine should have notable features for easy usability. So, we have compiled a list of chamber vacuum sealers for you to pick from.
List of the Best Chamber Vacuum Sealers in 2023
Reviews
11. VacMaster VP215 Chamber Vacuum Sealer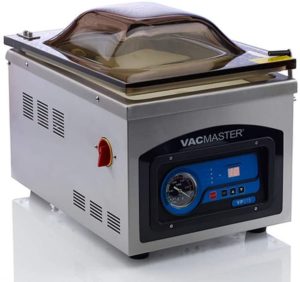 Fed up of vacuum sealers that work for a short time? Tired of cleaning your sealers with spillage from the food? Looking for a quality vacuum sealer to replace it. We have the perfect solution for you. This VacMaster product has a ¼ HP rotary oil pump that adds to its efficiency. This is useful in vacuum packing anything that comes across from liquid to solid food. The double seal tape ensures long-lasting and a faultless seal. The perfect product for both personal and commercial applications such as restaurants, institutions, etc.
Why do we recommend this product?
 Can work longer time
Seals the product tightly with the double seal wire
Produce a constant and strong vacuum
No burden of spillage in case of liquids
Mange heavy loads
Highly efficient, reliable, and durable.
10. Avid Armor Chamber Vacuum Sealer Model USV32 Ultra Series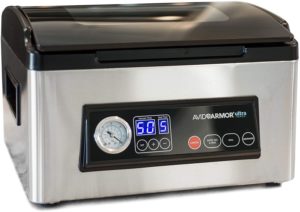 If you are a frequent user of the vacuum sealer and seal foods often, this is the right choice for you. The product with its flawless performance and quality will make you go gaga for sure. It is made of heavy-duty stainless steel with a fine design. The glass lid helps in easy loading and thorough surveillance. The one-touch functions are so smooth and speedy. The double seal factor ensures that if one seal goes off, the other can help. With its compact size and fresh look, he is gonna make you his fan.
Why do we recommend this product?
Great Suction Power
Easy to use controls
The entire process is visible
Vacuum time function can be adjusted according to need
Can seal even delicate items
Makes you feel like a professional
9. VacMaster VP210 Chamber Vacuum Sealer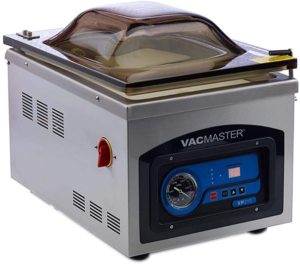 This product completely outruns the problems of a loose seal and thus stands different from the typical products. It draws the vacuum for the whole chamber, thus ensuring a complete vacuum and a perfect seal. It has all the features like double seal bars, smooth controls, and high efficiency. It contains 3 different vacuum levels, different vacuum levels, and loads which allows the user to set his needy configuration. With this in your kitchen, wastage of bags will be a forgotten story.
Why do we recommend this product?
Less noise disturbance
Perfect even for packing powders
Increase shelf life to 5 times that of the normal
Helpful in sealing cans
Much better than normal vacuum sealers
Filler plates prolong life and reduce electricity consumption
8. BestEquip Vacuum Sealer Machine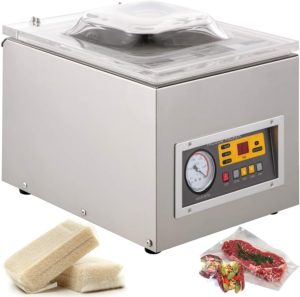 Motor power of 0.12 kW, vacuum pump rate of 3 cubic meter/ hour, and the ability to produce an exceptional vacuum effect. That is Best Equip Vacuum sealer. Sounds good, right? The machine will instantly start running, when you press the vacuum case lid, so smoothly. The glass lid is completely transparent and hard. The quality stainless steel construction helps withstand surrounding tremors and damage. The package also includes an accessory kit which includes a sealing belt, spanner Teflon cloth, fuse, power cable, and manual. This reduces the difficulty in additional purchases of the above.
Why do we recommend this product?
Adequate chamber space
Stain, rust, and corrosion-free
Accurate gauge
Long-running life and sustainability
Best for a wide range of foods
Protection from damage and explosion
Related article: Store Your Food Properly with These Storage Containers in 2023
7. Weston Chamber Vacuum Sealer (Pro-2500)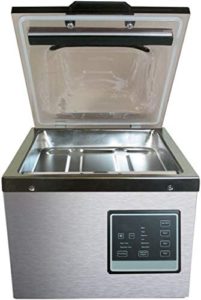 This product is driven by the aim to build quality and safe products in your home. It can draw up to 29.5hg vacuum pressure. Works at 630 W. This contains 30 free chamber seal bags and can run smoothly up to a 12 x 14 bag. It includes all features like digital display, stainless steel construction. Also, you can adjust the seal time according to need and comes with a user guide. Thus, Weston Chamber's vacuum sealer would be a remarkable product for a home user.
Why do we recommend this product?
Takes less time in vacuum and sealing
Every feature included under a modest price
Not less than any professional apparatus out there
Ease of use with smooth controls
Longer warranty period
Can choose your bag size
6. LEM MaxVac Pro Chamber Vacuum Sealer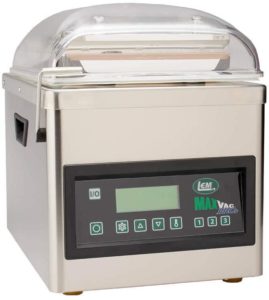 Interested in adding a professional touch to your procedures and activities in vacuum sealing? Here is your right pick with the best features. The ¼ HP oil power pump efficiently handles the continuous use. The strong stainless steel design and hinge-lid locking are other main features to be considered. Also, digital controls, bag holding rack, and the lid make its performance smooth, non-tedious, and safe. The package also includes extra rubber gasket, heat bars, screwdriver, Teflon tape and chamber sealer bags
Why do we recommend this product?
Sealing time can be adjusted according to the item
Straightforward and user friendly
No need to struggle for other accessories
Renovated design helps easy cleaning
Less effort in maintenance
5. PolyScience 300 Series Chamber Vacuum Sealer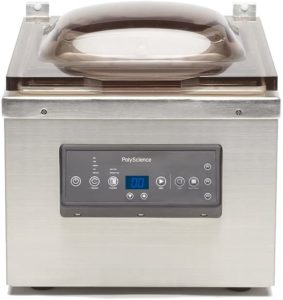 A modish product from the PolyScience culinary company enters the list. This product is a good option for sealing dry foods and liquids. If you are a home cook, go for this. The package includes one vacuum sealer, six one pint vacuum bags, six one quart vacuum bags, and six one-gallon vacuum bags. The three preset buttons make it easy to work on. There is also an inbuilt marinate cycle which helps the process. Can be perfectly used in sous vide cooking and other home applications.
Why do we recommend this product?
Works under precise control of the user
Can adjust the vacuum levels
Preserve food for a long time
Prepare foods instantaneously with less time
Quite spacious
Can help in adding more flavor to the food through marinating or pickling
4. Hamilton Beach Commercial HVC305 PrimaVac in-Chamber Vacuum Sealer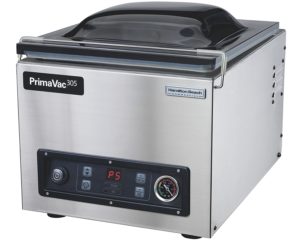 This is a good choice for you to store your favorite food and also for sous vide applications and for marinating it. The JetAire vacuum sealing pump removes 99.9% of air, ensuring a complete vacuum. They offer 10 adjustable custom programs to set your soft air program. The double seal bar is of 12-inch length and ensures complete sealing. Vacuum gauge also helps the user to set the preferred level. It also has a removable filler plate and oil indicator, which lets you know the level of oil in the pump.
Why do we recommend this product?
Less time consuming
Achieve optimal results
A maintenance kit along with the oil is included in the package
Removable seal bar for cleaning
Adjustable functions
View a clear idea about the oil level
3. Weston Pro-2300 Commercial Grade Stainless Steel Vacuum Sealer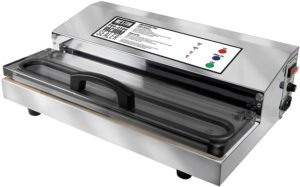 This is a powerful and strong titan, well versed in quality performance; the strong hunk. Every feature is top-notch in this product. The seal bar is extra large and can seal bags up to 15 inches wide. Made of high-quality stainless steel and consists of a double piston vacuum pump 28 HG vacuum. The bright LED lights allow the user to know the current stage of the process. Ideal product for protecting your savories and other eatables.
Why do we recommend this product?
Help in sealing large products
Powerful and strong construction
Aid perfect bag alignment
Thorough monitoring of the process by the user
Compatible for long use
2-year Manufacturer's warranty
2. Hamilton Beach Commercial HVC254 PrimaVac in-Chamber Vacuum Sealer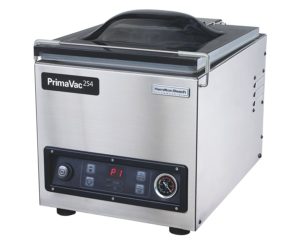 The benefits and features of this product are endless. Every vacuum sealer helps in sealing foods, but this also aids in marinating foods, curing meats, infusing fruits, pickling vegetables, etc. You can make it according to the need. The powerful jet air pump ensures a high vacuum to provide good results and the 10-inch seal affirms the seal tightly. You can adjust vacuum time, sealing time, and the soft air to go in. Comes along with a maintenance kit.
Why do we recommend this product?
Protect delicate foods from breaking
Add more grace to the food
No need to buy maintenance accessories separately
Safe electric usage
Maintain perfect hygiene
1. Avid Armor Vacuum Sealer Machine – A100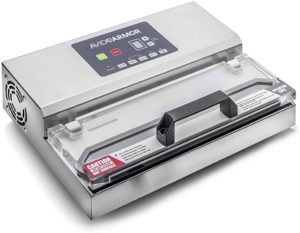 Finally, here comes a royal beauty to your kitchen. This product is 100% tested for its quality, safety, and efficacy and comes to use in every restaurant, home, and professional cooking. The whole product package includes vacuum accessory hose, 30 pre-cut vacuum seal bag samples, and a maintenance kit with replaceable gaskets, seal wire and seal tape. With the 12-inch seal bar and 5mm seal wire, you can seal from delicate, soft foods to hard, stuffy foods with its pulse function and impulse sealing mode. Also, it comes with an inbuilt cooling fan
Why do we recommend this product?
Allows vacuum sealing of cans with the help of hose pump
Seal bags without a vacuum step
Prevent seal leaks
Best for both commercial and personal use
Different modes to set up smooth processing
High success rate (verified)
Conclusion
A good chamber vacuum sealer is a hero in the kitchen. It can not only produce good food, but it also helps storage and preservation serene. So, we have added the top ten vacuum sealers best in quality, performance, and durability that are loved by people across the world. We hope that this article will be a solution to all your queries regarding the best vacuum sealer. Grab your favorite now!!