Gone are those days when traditional stove top kettles were the most preferred by many households. With the changing times and advancement in technology, traditional kettles have been replaced by the Cordless Electric Kettles. These cordless electric kettles are very helpful in the kitchen and very convenient to use. In case you are thinking of buying an electric kettle and looking for some inspiration, then you have come to the right spot. Check our out Economical Chef's list of the best Cordless Electric Kettles in 2023 below.
Need a buying guide? => See here key factors to consider when buying a cordless electric kettle.
List of the Top 10 Best Cordless Electric Kettles in 2023
Reviews
10. Cuisinart CPK-17P1 CPK-17 PerfecTemp 1.7-Liter Stainless Steel Cordless Electric kettle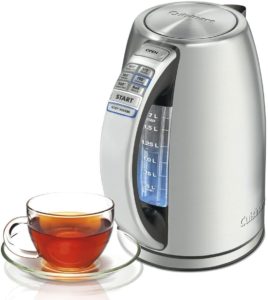 If you are in need of a multi-purpose electric kettle, then the 1.7L Cuisinart CPK-17P1 Stainless Steel Cordless Electric kettle would be the finest choice. Its 1500 watts power makes the kettle super-fast for heating. Even if the kettle is removed from its base for 2 minutes, it gets restarted from its left out point of the heating process with the inbuilt memory function. This Electric kettle also has an auto shut down and boil-dry protection that makes it technologically smart in comparison to other cordless kettles available in the market.
Pros
Come with a feature of keeping warm.
It is equipped with six preset settings for heating,
The handle is comfortable and stays cool.
It has additional safety features of auto-off.
Cons
Cleaning this electric kettle is quite difficult considering the hard water mineral depositions.
Its metal body makes the unit a bit noisy in use.
Related: Top 10 Best Electric Tea Makers
9. Hamilton Beach Electric Tea Kettle, Water Boiler & Heater 1.7 L with Cordless, Auto-Shutoff, and Boil-Dry Protection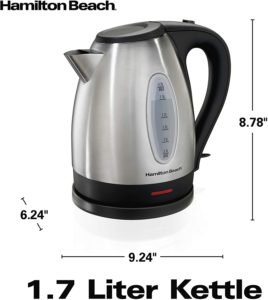 This Cordless Stainless Steel kettle by Hamilton is best for boiling and heating water in no time. The fast heat-up of liquid is supported by the technology of rapid boil. This compact electric appliance is best for preparing tea and coffee conveniently both at home and office. Various safety measures have been taken into consideration while designing this handy electric cordless kettle, that includes automatic shut-off, cool handle, and boil-dry protection. This Hamilton Beach Electric Tea Kettle is perfect for satisfying all the requirements of a user from an ideal electric cordless kettle.
Pros
Faster heating with the powerful rapid-boil system.
Easy to view window
It comes with the Auto-off feature.
High durability with the stainless steel body.
Cons
The mouth of the kettle is small
The kettle pot does get hot from outside.
Power cable is short.
8. Mueller Premium 1500W Electric Kettle with SpeedBoil Tech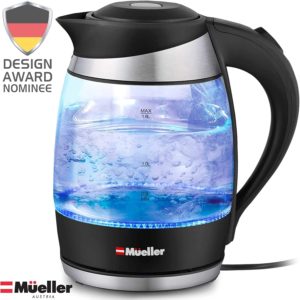 Coming on third on this list is 1500W Electric Kettle by Mueller. Body of this kettle is of premium quality Borosilicate Glass giving it an extravagant, impressive look. This kettle comes with Speed Boil technology that can bring the water of about 1.8 L to its rolling boil point in very less time. Mueller Premium Kettle is built with concealing heating elements that effectively prevent building up of minerals from water at its sidewalls and base. Safety features like boil-dry protection along with auto-off are included with the kettle making it user-friendly. This kettle by Mueller is a perfect blend of beautiful design and advanced technology to satisfy customers.
Pros
It has a capacity of 1.8 L that is more sufficient for basic use.
Operating Voltage of the kettle is 110-120V, safe energy.
The water heats up quickly.
Cons
The handle of the kettle gets hot
The lid does not open completely, cleaning is a bit difficult
Heavy in weight
7. AmazonBasics Stainless Steel Portable Electric Hot Water Kettle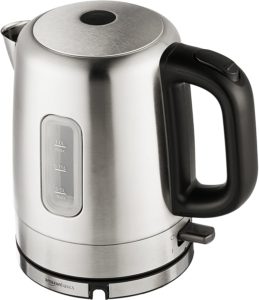 This portable Stainless Steel Electric Hot Water Kettle by AmazonBasics proves to be an affordable and good option for the customers wanting a kettle at a low price. The kettle has a basic design and can boil up to 1 L of water. Cleaning of this kettle is easier by dissembling filters. The kettle has an automatic off switch that avoids dry boiling as the water heats up to its maximum boiling point. It has a look through a window that allows the user to view and check the level of water pour in the kettle as per requirement. The power base has a power cord of 30 inches that is sufficient for getting the power source.
Pros
The kettle comes with an Auto-shutdown feature.
Includes removal scale filters, supports in easy cleaning
It comes with a water window scale that is transparent
Cons
The auto-Off switch fails to work sometimes.
6. Habor Electric Kettle 1.7L | Double Wall 304 Stainless Steel Hot Water kettle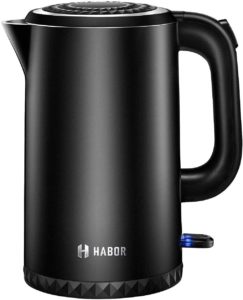 This is one of the best kettles that are available in the market; the unique feature of it is its double wall system. The kettle with 1500W guarantees efficient and fast boiling. This feature of the kettle reduces heat loss and helps in keeping the water hotter for a longer period of time. Habor ensures no water contamination within the Kettle by using only 304 Stainless Steel along with BPA free plastic. The Kettle has an advanced technology regarding temperature control for minimizing accidents, it has various functions and features like overheat protection, boil-dry protection, and auto shut off. Cleaning the kettle and removing scale is easy with its wide mouth. It is the best choice for a customer looking for safety, quality, and design in a kettle.
Pros
Waters stay hotter for more time.
The capacity of the kettle is 1.7L
It comes with various safety features.
Cons
The black outer coating can be scratched easily.
 Heating up might take some time.
5. COSORI Electric Kettle(BPA-Free) | 1.7L Double Wall 304 Stainless Steel Hot Water kettle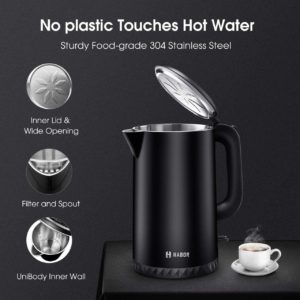 If someone is looking for visually striking, large liquid capacity and easy to use kettle then Cosori's Electric Kettle can prove itself as the best choice. It's the next level of a kettle in terms of attractiveness and looks, comes with LED lights and a glass reservoir that is designed considering the Pitcher-Style model. It boils water to its rolling point quite faster, best for beverages and instant noodles. Its simplicity and ease of use can be a great aid to the kitchen. Serving and pouring out of water is conveniently stress-free. However, due to the use of glass material one should be careful while handling.
Pros
The kettle has an auto-shutoff feature, and saves electricity.
It comes with the Auto Shut off function.
Blue LED Indicator.
Cons
Fragile due to glass, need more care in handling.
It does not come with a temperature selection feature.
It is heavy comparatively
4. Electric Kettle, Miroco 1.5L Double Wall 100% Stainless Steel BPA-Free Cool Touch Tea Kettle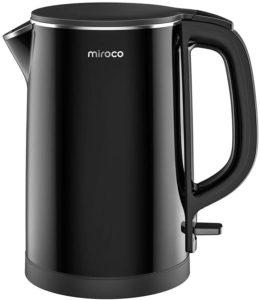 This is a double-walled Electric Kettle with 100% Stainless Steel interior unit and cool-touch BPA free plastic exterior, making it considerably cool from outside to handle and maximizing user safety. The water capacity of this Kettle by Miroco is 1.5 L, but it's 1500W power rating is effective in heating water easily. British Strix thermostat technology is used for designing this kettle that controls the kettle's temperature and with its dry-boil protection feature, the kettle is turned off automatically once done with boiling. One of the best designs both for office and home usage.
Pros
Safety is enhanced with dry-boil protection.
Single press lid pop-up
It comes with an Auto-shut Off switch.
Cons
The lid of Kettle does not open completely.
It does not come with adjustable temperature control.
The kettle is not sufficient in keeping the water warm for long.
Cleaning of the kettle can be quite complex.
3. HadinEEon Electric Kettle 1.7L Glass Electric Tea Kettle (BPA Free) Cordless Teapot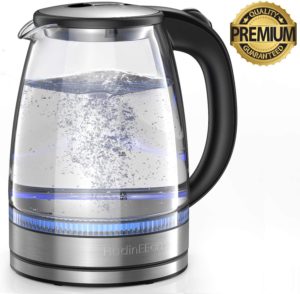 For fast brewing water to get perfect the cup of tea or coffee HadinEEon Electric Kettle can be the finest option. Heating is quicker with its 1200W system. The kettle top is of high-quality Borosilicate Glass that is not only FDA approved but also is heat resistance considering the safety of the users. Unlike other electric kettles, HadinEEon kettle has a wide open lid mouth through which a brush can be inserted to clean its base and surface. HadinEEon Electric Kettle has a Strix Controller which guarantees the stable and safer performance of the kettle. While boiling water full attentiveness is not required as the kettle tends to turn off automatically when water reaches boiling.
Pros
Wide Opening of the mouth supports easy cleaning.
Monitoring and viewing water is easy with glass design.
Easy to use and serve with its cordless design.
Cons
2. COMFEE' Stainless Steel Cordless Electric Kettle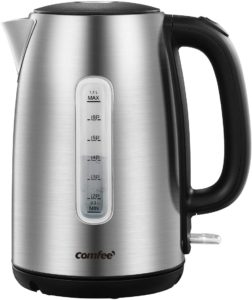 Comprehensible and Consistent performance of COMFEE' Stainless Steel Cordless Electric Kettle has marked its presence among the top ten kettles. The inner kettle pot is constructed with stainless steel of 304 food grade making it reliable and safe to use. The boiling speed offered by the kettle is noticeable. Once boiled the liquid inside can stay hotter for a longer time period. Additionally, this kettle has a thermostat controlling system that equips the kettle to control its temperature. The kettle design also includes a water window allowing the user to measure the liquid content, this plastic window is BPA free ensures water quality remains intact. The overall design and technical specs of COMFEE' Stainless Steel Cordless Electric Kettle are efficient in pleasing users.
Pros
The water inside the kettle remains hotter for a longer period.
It comes with a nylon filter.
Light-weighted
Cons
Kettle's outside surface tends to get hot.
1. ComfeeGlass Cordless Electric Kettle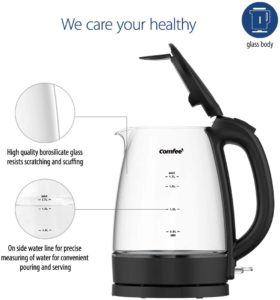 The Comfee Glass Cordless Electric Kettle marks its presence on the list of top ten cordless electric kettles through its safety features, quality, and ease of usage along with its high liquid capacity of 1.7L. The kettle offers cordless service holding and lifting is easy with its cool-touch handle. The look of the kettle is enhanced by its Blue LED lights that indicate the power on and off. The kettle comes with 1500 W power output making the healing process faster. For more convenience, the kettle is equipped with an automatic shut off feature that makes the kettle turn off once the water is boiled to the maximum temperature. This kettle also stands on safety measures that the user expects from a kettle by including boil-dry protection and cool-touch handle.
Pros
Stylish ergonomic design
Quick Boiling
Cool-touch handle
Silent Boil
Cons
Cleaning is an issue with this kettle.
Handling must be careful, Fragile.
Things to consider before buying Cordless Electric Kettle
Speed
It can be considered as one of the most important factors, it signifies the overall time required by the kettle to boil the liquid. Average time to be taken by a kettle to boil water must not exceed more than 5 min depending upon its water capacity.
Material used
Different materials like plastics, glass, and stainless steel are used for making Electric Kettles. Each material has its pros and cons in terms of safety, durability, and weight. Thus, the selection of the kettle must be according to one's preference and requirement.
Cost
There are many types of kettles available on the market. You can get an electric kettle with basic features over $10-$15 as well. While a good quality and durable electric kettle can cost your approx $100. You can also find high quality electric kettles with many advanced features at a little expensive range.
Size and Capacity
This is another thing that you should consider while looking for a cordless electric kettle. Capacity of your kettle depends upon how many cups of tea or coffee you want to make in that. Generally, most kettles have enough capacity to make several cups of tea or coffee but the portable kettles come with small capacity. Another thing is the size as it is directly related to the counter space. So before making any decision, decide on the size and capacity of the kettle which will serve your peers.
Conclusion
Electric kettles are one of the basic and most useful kitchen appliances that you would want to invest in. These are for sure a multi purpose appliance that you will need the most in your daily routine. We review each product based on its ratings, performance, quality and cost and hope that these recommendations will help you in deciding the best one for yourself.