Cut resistant gloves are often used as essential PPE in hazardous jobs such as cooking, woodworking, or other tasks that need to be handled with sharp objects. In most other cases, they are also essential for home use, especially, for people who self-fillet their meat for meal preparation. They are used to provide protection against sharp objects such as knives to prevent accidental cuts or hand injuries during the tasks.
In this article, we'll be looking at some options for the best cut resistant gloves with different levels of cut resistance and protection to help you choose the most suitable one as a professional or home user. Our buying guide section will walk you through some points that you should consider to make a well-informed purchase.
Here the list of the best cut resistant gloves in 2023
10. NoCry Food-grade Cut Resistant Gloves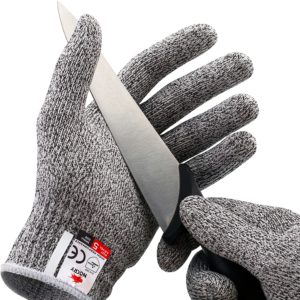 Lightweight, comfortable, and durable, this pair of the cut resistant glove by NoCry allows you to handle your knives, grater, and slicer with confidence and worry less about cutting yourself. They are made of materials such as glass fiber, Spandex, and polyethylene, which is 4x more durable than typical leathers to provide a high level of resistance for your safety.
The cut resistance of the gloves is level 5 with food-grade safety. They are ideal for kitchen work such as cutting, slicing, or for woodworking, carpentry, and many more. And, the gloves are designed to be well-fitted for both small and big hands comfortably. Additionally, they are ambidextrous which means they can be used on the left or right hand equally.
9. FORTEM Nylon Cut Resistant Gloves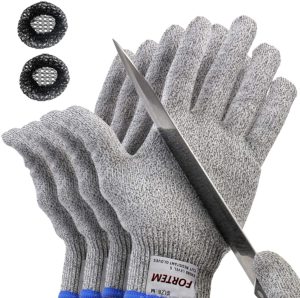 Made with Nylon material and 13 gauge-knitted and seamless design, the cut-resistant gloves by FORTEM provide protection of level 5 resistance to endure even the tough cut needed for everyday use. The gloves have a snug and comfortable design with breathable material to fit well on your hands allowing you to work with ease. Additionally, they fit on right and left hands comfortably.
More importantly, these gloves are ideal for a great variety of usage in the garden, kitchen, or any other tasks that require protection from sharp objects. The special part is that the package comes with 4 pieces of gloves (2 pairs) and they are available in 4 sizes from small to extra large. They are also convenient to clean and care for. You can wash them in the washing machine after use and air-dry them.
8. Chainmail Cut Resistant Stainless-steel Metal Mesh Gloves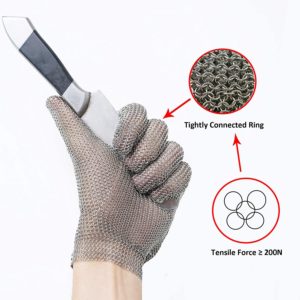 Chainmail cut-resistant gloves are made of 100 percent of 304L stainless-steel metal-mesh material. They provide better resistance than most leather gloves. The gloves met the standard of FDA, so they are great for a variety of usage and even safe for food. You can use them for meat cutting, knife polishing, oyster shucking, or for construction work. Whether it's for professional work or home use, they are safe to use and guaranteed to protect you from any accidental cuts.
Besides, the stainless-steel mesh material provides ultimate cut-proof ability with wear-resistant and tear-resistant for high durability. The gloves meet the standard ISO-F with level 5 of cut resistance. The stainless-steel mesh material is non-toxic, lightweight, and flexible with the fingers movement which makes it comfortable on the hand. They are also machine-washable and easy to clean.
7. DEX FIT Level-5 Cut Resistant Gloves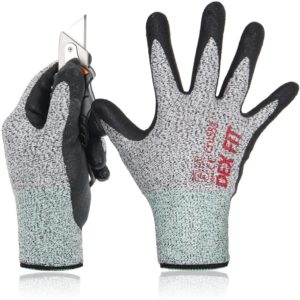 DEX FIT offers comfort and stretch fit for their cut resistant gloves with a level 5 of cut resistance. They are food-grade safe and prevent cuts from handling knives, sharp metals, blades, glass, or construction material. They are designed with 13-gauge HPPE and Spandex that deliver an outstanding level of protection while being lightweight and comfortable on the hand. And, the gloves are coated with rubber material that prevents it from being slippery in oil and water.
The ergonomic design provides ultimate comfort while wearing allowing you to work with ease. The high-elastic wrist cuff makes it easy to put on and take off without slipping off in between. Additionally, they are also convenient and compatible with touch screen devices.
Moreover, they are available in different sizes from XS to XL to fit various sizes of hands for men and women. They are also safe to be used for kids as well. As for the cleaning, they are completely safe for machine washing.
6. Stark Safe Cut Resistant Gloves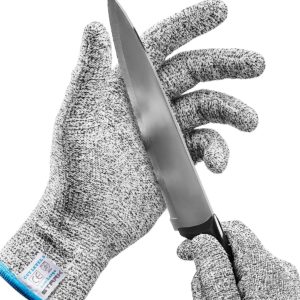 If you're looking for a budget option of the cut-resistant gloves, you may consider this one from Stark Safe. They are made of the most durable material providing cut resistance of level 5 (EN388). The multi-functional gloves are ideal for food preparation, meat cutting or slicing, metal work, or wood carving. The special part is Stark Safe offers special bulk price deals for businesses or butchers.
Noticeably, the gloves have a superior grip design that snuggly fit on various sizes of hands. The materials used are breathable to prevent hand sweat and let you work comfortably even for long hours.
Also check: Top 10 Best Bamboo Cutting Boards in 2023
5. SARCCH Nylon Cut Resistant Gloves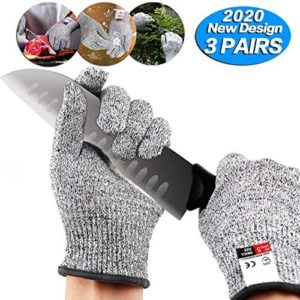 These gloves by SARCCH offers a level 5 of cut protection with food-grade safety. They are great for a variety of usages such as for food preparation, slicing or grating, metal work, wood carving, and many more. They provide safety for everyday work to prevent hand injuries or abrasions.
Likewise, they are made of high-elastic nylon that is specially blended so that the gloves fit the hand comfortably without slipping. The superior grip design is to ensure they fit various hands sizes and shapes with maximum comfort and breathing ability to avoid hands sweating.
The package includes 3 pairs of gloves and they are available in various sizes options from which you can choose.
4. MAGID Cut Resistant Foam Nitrile Coated Gloves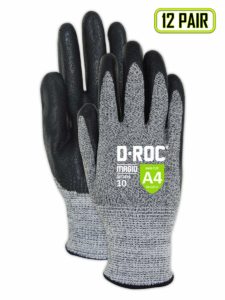 Safety is the priority when it comes to manufacturing their PPE supplies, so every detail is taken into consideration. MAGID cut-resistant gloves are made of 13-gauge DuraBlend material that delivers comfort, breathability, and overall cut protection. The gloves provide an A4 level of cut resistance, abrasion resistance, and puncture resistance. A4 level of cut resistance means they are ideal for construction usage, appliance manufacturing, machining, glass handling, and more tasks that fall into the A4 level category. Additionally, these gloves are coated with Foam Nitrile material for extra grip in oil application.
The gloves have a shield graphic that is color-coded with its cut level for instant and easy identification of the cut protection even from distance. The color-coded also serves as an additional visual aid and prevents fraying.
3. Schwer Stainless-steel Mesh Metal Cut Resistant Glove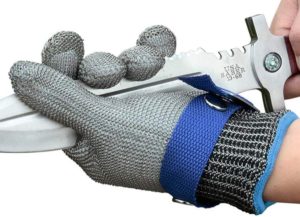 If you're in search of cut resistance gloves with a higher level of cut protection, let's take a look at this one by Schwer.
These gloves have a level A9 protection, the highest rating of cut-resistance, which means they are able to ensure 20 cuts within 6000g. They are made of stainless-steel material that is safe for working with food. The high-quality of the material ensures that they are safe for either butchery or industrial use. The metal does not shed even in direct contact with a brush which makes it safe for food.
They are designed to fit both hand sides comfortably and let you work in them safely preventing cuts or abrasion. They are also incredibly durable and tough which makes them great for long use.
What you'll get in the package is one piece of stainless-steel glove, one extra pair of nylon gloves, and an instruction manual.
2. Hanhelp Safety Cut Resistant Gloves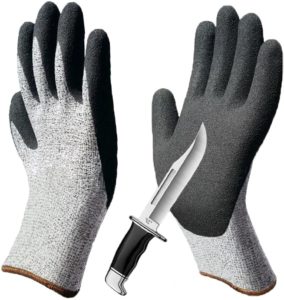 These cut resistant gloves by Hanhelp Safety have a level 5 of cut protection rating. They are constructed with fiber material which makes them 5 times more durable than typical leather gloves. The palm part of the gloves are coated with latex rubber for non-slip ability and provides an excellent grip. It also serves as additional protection to prevent cuts and abrasions when grabbing sharp metal materials.
The gloves are also water-resistant and ideal for food processing or outdoor tasks like gardening. They are perfect for anyone whose jobs involve the handling of heavy equipment, machines, construction, or involve a high risk of hand injuries. The safety level, materials quality, and manufacturing are all CE certified.
1. Dowellife Food-grade Cut Resistant Gloves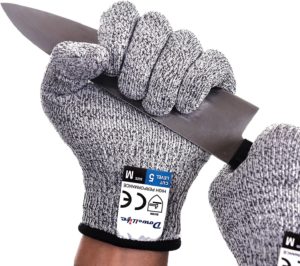 Dowelife gloves offer a high performance of cut resistance with level 5 rating. They let you perform your work comfortably without having to worry about getting cuts or hand injuries while carrying out your routines.
They are food-grade safe which makes them a great kitchen assistant that provides protection against knives, grater, or blades. Additionally, they are also a great company for carpenters. The firm grip design allows you to handle wood or metal materials easily and safely. Meanwhile, the lightweight and elastic design make it comfortable to wear even for long hours.
The package includes a pair of gloves and a manual for safety notice.
Buying Guides
Choosing the best cut resistant gloves mainly depends on what purposes you need to use them for but there are also some of the most important things that you need to look out for.
The cut resistance rating and level
The level ranges from level 0 to level 9 with the most common one is at level 5. Level 5 is the most suitable level for handling extreme risks of cutting effectively. They are generally suitable for use with food handling, outdoor gardening, or handling industries material. By taking this point into consideration, you are more likely to pick one that is most appropriate for your needs and purposes.
Consider the materials
These protective gloves are usually available in various materials which means they provide different levels of protection. For instance, some gloves are made of leather or cotton but they don't offer much resistance.
For an option of a higher level of protection against abrasions and cuts, you may consider materials such as Kevlar or Dyneema. For an even higher cut resistance level, some gloves are constructed with the above-mentioned materials but they are improved by adding steel fibers.
Appropriate materials are important when it comes to choosing your protective gloves to get the full benefits out of them.
Identify your purposes and work environment
Are you a professional cook or home cook whose daily works involve handling knives, grater, or slicer for food preparation and meat processing? If so, look for gloves that are food-grade safe and approved by the FDA to ensure they don't shed harmful chemicals or materials and ruin your food.
If you will be using the gloves for outdoor gardening or industries handling, then food-grade safety isn't such an important factor. On the other hand, the ones coated with latex rubber may be more beneficial for this kind of work. They let you handle such heavy equipment or sharp metal safely and more comfortably.
After all, there is no one perfect pair that serves all purposes at the same time. It's better to look for the most appropriate one that helps you complete your job safely and comfortably.
Conclusion
Our reviews listed some of the best cut resistant gloves you can find on the market today. They have different levels and ratings of cut protection which varies according to your needs and purposes.
If you are still unsure of which one is the most suitable for you, check our buying guide below for the details of what to consider when choosing your protective gloves.