Do you want to cook or bake for an individual or a large number of people without going through the stress of cleaning up after? Do you want to prepare a meal for an occasion and you are looking for a way to cut your expenses?
Yes, you can, with disposable bakeware, you can cook, serve, store or transport without fear of leakage using one bakeware. You can also cook for a large number of people without having to spend money buying additional expensive serving dishes.
The disposable bakeware is beautifully designed both in and out to serve as a serving dish for your personal use, an occasion, for professional food services, for takeouts. It can also be used to display your baked goods for sale due to its unique design.
Also, It saves you a whole lot of time and the stress of transferring cooked food from one cookware to another plate for serving or storing. It is suitably designed to avoid food spillage during transportation.
Disposable bakeware also saves you a lot of money, imagine cooking for an occasion without buying extra serving dishes because you can cook, serve, and store using one bakeware. To help you choose the best bakeware to suit your needs, we put together the list of top ten disposable bakeware.
List of the Best Disposable Bakeware in 2023
10.  Wilton Disposable Square Baking Pans With lids (6 pieces)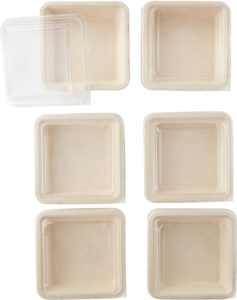 This square baking pan by Wilton consists of 6 pans and 6 lids with a dimension of 4.8″×10″×10″. This cake pan is ideal for one-time use. It means that you only have to bake, serve, and dispose of but cannot use it again.
It should be noted that it is a disposable cake pan and cannot be used for other purposes apart from baking. Suitable for takeouts and catering for a large number of people on an occasion. Further, talking about its material, these disposable pans are made of 98% USDA certified bio-based materials and are completely safe to use for baking purposes. They come in various shapes and sizes for baking cakes, cupcakes, brownies, and much more. Also, these pans are oven safe up to 400°F and prevent any kind of mess in your kitchen.
Why We Recommend This Product 
The set includes 6 pans and 6 lids.
Disposable bakewares
Available in a variety of shapes and sizes
Lids are recyclable
Made from bio-based materials
Easy to use.
Also check: Top 10 Recommended Glass Bakeware in 2023
9.   Eusoar Disposable Muffin Liners Baking Cup (50 pieces)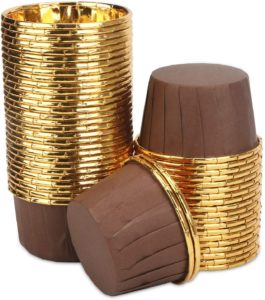 Made with aluminum foil, Eusoar disposable muffin baking cups are suitable in the kitchen for making cupcakes and muffins. It consists of only 50 baking cups which are perfect for only baking and cannot be used for other purposes.
These baking cups are made of eco-friendly aluminum foil which makes these cups strong and sturdy. You won't need any baking tray while using these cups. Moreover, this aluminum foil is a kind of food-grade material and also safe for kids and adults. You can use these baking cups for indoor and outdoor activities. In brief, these cups are valued for money.
Why We Recommend This Product 
Made with eco-friendly recyclable aluminum foil
Oven safe
No baking tray is needed
Easy to take the cake out
Multiple baking cups for indoor and outdoor use
Safe and healthy for kids and adults
#8-DOBI's Foil Mini Loaf Disposable Pans (50 pieces)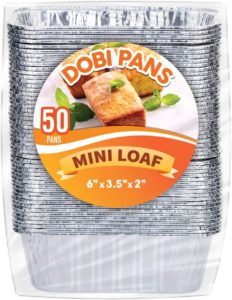 Mini loaf pans made with disposable aluminum foil with a dimension of 6″×3.5″×2″ They are 1lb pans, small bread tins used for making mini loaves for take-outs, individual use, and baking for a large number of people.
With a length of 6″, the width of 31/2″ and depth of 2″, these pans distribute heat evenly which reduces the chance of burnt baked goods and creates a nice, smooth brown crust. Furthermore, these pans are durable, multipurpose 1lb pans.
Why We Recommend This Product 
Pack contains 50 disposable aluminum foil pans
It is oven safe
Multiple baking cups for indoor and outdoor use
Eco friendly and recyclable
No cleanup required
Safe and healthy for kids and adults
Also check: To 10 Recommended Ceramic Bakeware to Buy in 2023
#7- Round Paper Disposable Baking Cake pan (25 pieces)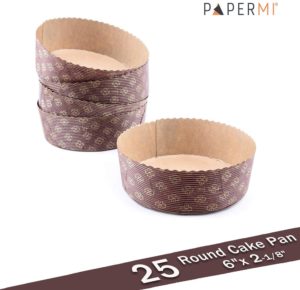 The round paper disposable baking pans are of high-quality which can be used to bake a variety of products such as coffee cakes, cream cakes, pan cakes etc. these baking pans are disposable, microwave, and oven safe. Also, these pans are  prettier than normal bakeware and accentuated with gold floret design. Each baking pans has a diameter of 6″×21/8″ tall panettone mold.
These baking cake pans possess a rigid free-standing construction and are wrap resistant. You don't have to pre grease them. Moreover, you can use these baking pans for your treats and for a beautiful display for serving or selling baked goods. Furthermore, these pans are eco-friendly and recyclable.
 Why We Recommend This Product 
 No need to pre grease
 Safe bakeware
 Easy to use
 All-natural eco friendly
It is recyclable
Microwave and oven safe
6. Month Pack Disposable Takeout Pans With Clear Lids (50 pieces)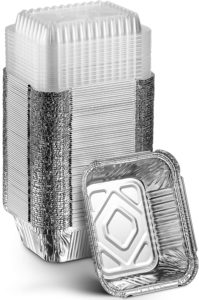 With a 1lb capacity, the Montopack disposable takeout pans have strong seals to retain freshness and spill resistance. They are oblong pans made with aluminum foil and are great for meal preparations, serving, and storing leftovers. It can also be used to bake and roast vegetables.
These disposable bakewares are mess-free and durable which can effectively replace heavy dishes, tray, plastic jars, and bags. These bakewares are made up of eco-friendly and recyclable aluminum foil which are completely safe for kids and adults. Moreover, each of the food containers comes with a lid which works with a simple one-hand edge seal and helps in keeping your food fresh for a long time
Why We Recommend This Product 
Durable quality
Freezer and oven safe
Suitable for parties
Easy to use
A large quantity of pans
5.  Bakeware Brown Paper Disposable Loaf Pan (25 pieces)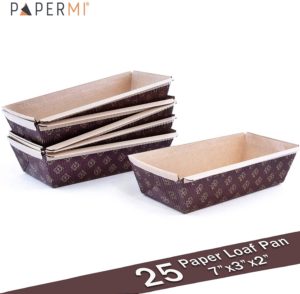 A siliconized baking pan of 25 pieces with a dimension of 7″×3″×2″. It provides a beautiful display for baked goods and it is microwave, oven, and freezer friendly. These disposable pans are made with high-quality baking paper which possesses rigid standalone construction and is grease and wrap-resistant. Moreover, these beautifully designed load pans are an ideal option to package your treats or for providing an attractive display for selling or serving your baked products.
Why We Recommend This Product 
It is a safe bakeware
It is of premium quality
Easy to use
It has a beautiful pan design with gold floret design
Microwave, freezer, and oven safe
4.  8″ Square disposable Aluminum Cake pans (10 pieces with lids)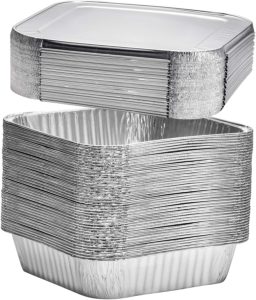 It is an aluminum foil cake pan perfect for baking cakes and making bread at home. It can hold both liquids and solids without leaking or buckling. It is suitable for meal preparation, serving and freezer storage with a dimension of 8″×8″×2″ and flat lids all in 10 pieces.
These disposable square cake pans can be used for multiple purposes and are suitable to use in parties and events etc. while using this bakeware, you won't have to worry about any sort of leaks as these square pans can hold and store your favorite dish in optimum conditions while baking. Furthermore, these pans are of good quality and are very easy to use and dispose of after usage.
Why We Recommend This Product
Can be used multiple times
Perfect for oven and baking
Can hold the bulk quantity
 Disposable
 Durable quality
 It is multipurpose
 Easy to use
3.  Montopack 9″ Round Aluminum Foil Pans With Clear Lids (40 pack of tins)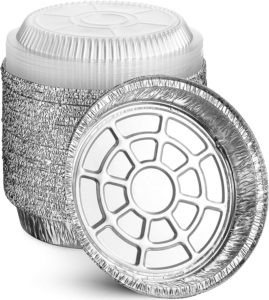 USA- made Montopack aluminum foil pans of 40 pieces is suitable for food storing, reheating, and baking. This pan has deep, straight walls which hold more quantity per plate, it's strong flat bottoms makes baking and reheating easy.
The foil containers with lead create an airtight seal to preserve freshness and prevent food spillage when transporting. By pinching the easy-grip curled rim over the lid, you can secure food for travel, extend freshness and prevent spoilage.
Why We Recommend This Product 
It is affordable
Can hold the bulk quantity
Reusable and recyclable
Freezer safe
Oven safe
Microwave safe
2.  KitchenDance Disposable Aluminum colored 5-ounce baking cups ( pack of 100)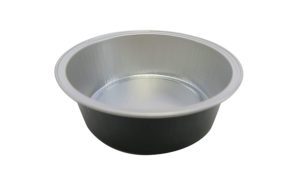 These aluminum cups are sturdy and of good quality, it is perfect for special occasions and individual usage. The interior is of natural aluminum which will not fade when baking while the outside is brightly colored. It can be used in the oven and freezer.
The 100 cups can be ordered with lids or without lids. If you order with lids, you get to choose the type of lids you want. There are two types of lids, stackable lids, and flat lids.
The stackable lids are raised but flat at the top, it adds 5/8″ to the top of the cup while the flat lids add only 1/4″ to the cup and are slightly above the rim of the cup. Each cup has a 5 ounce capacity with a height of 11/2″ and is made up of a 30 gauge aluminum.
Why We Recommend This Product 
Pack contains 100 baking cups
Can hold the bulk quantity
Oven and freezer safe
Cups are made of 30 gauge aluminum
Bright colored exterior and natural aluminum interior
It has stackable lids
1. Party Bargains Premium Quality Durable 9″×7″ Aluminum pans With Lids (25 pieces)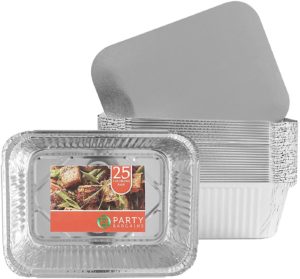 The set consists of 25 pieces of 5lb pans and 25lids. With a length of 9.8″, width of 7.4″ and height of 3″, party bargains disposable pans are of superior quality, made with sturdy foil that is perfect for cooking, baking, transfer, and storing in the fridge or freezer.
The aluminum foil pans help to hold in heat and serve a moisture and oxygen barrier in order to preserve freshness. These pans are  suitable for catering and professional food services. It is perfect for takeouts, schools, camping, and more. The snap-on lids also ensure that the food is secure.
Why We Recommend This Product 
It is affordable
It can be used for multiple purposes
It has excellent snap-on lids
Can hold bulk quantity
Easy to use
It is an oven, fridge, and freezer safe
FAQs
Q: Are disposable bakeware safe to use?
A: yes, they are safe to use.As they are made with eco-friendly materials while the majority of them are oven and freezer safe.
Q: Are disposable bakeware cost-effective?
A: yes they are, it not only saves you money but it also saves you the stress that comes with cleaning up and food transfer.
Q: Do all disposable bakeware perform the same function?
A: No, some are multipurpose while others are not. So you have to choose the ones that meet your specific needs.
Conclusion
Disposable bakeware is cost and time effective. It cuts down a load of stress attached to preparing, serving, storing, and transporting meals. You just need to choose the one that fits your specific needs and that is why our just listed top ten best disposable bakeware review will be of immense help to you. We hope that you enjoyed our review listing in order to find the best disposable bakeware that is perfect for you.