If you are looking for the best meat cleaver in 2023, you've found the right page! Professional chefs, butchers or homemakers will better tell you the importance of a meat cleaver. It is a very versatile kitchen tool and will do a variety of food preparation tasks for you. Generally, Meat cleavers are most widely used to cut through thick chunks of meat and break large bits of soft bones, as well as ribs and other hard bones. But, this is not the only use of the big knife. It is also used by many to slice hard vegetables such as squash and butternut, coconuts, and more.
List of the Best Meat Cleavers in 2023
Best Meat Cleaver Reviews 2023
10. SKYLIGHT Chef Cleaver, 8-inch Kitchen Knife Professional German High Carbon Stainless Steel Sharp Knife for Chefs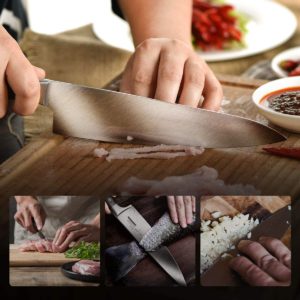 SKYLIGHT Chef Cleaver is beautifully designed with a classic german-stylee silhouette. This budget-friendly 8-inch stainless steel 58 HRA knife can be used for chopping, mincing or dicing meat very easily without putting much force or effort. For attaining maximum precision both the side of this razor-sharp knife is angled at 15-degree. The blade of this knife is cooled using Nitrogen keeping so that edges can hold its sharper for a long time with better strength.
This cleaver knife has a handle made of military-grade polymer, ergonomically designed for minimizing wrist fatigue, and a comfortable grip. Moreover, the triple-riveted handle offers easy to hold along with all-round stability while cutting making it an excellent choice for everyday usage.
Key Features
Ergonomic Design
Premium German HC Stainless Steel
Ultra-sharp, Comfortable grip
Wear resistance
FDA Certified & Lifetime Support
Also check: Top 14 Best Kitchen Knife Sets | Damascus Kitchen Knife Set in 2023
2. Imarku Cleaver 7-Inch German High Carbon Stainless Steel Chopper Knife for Home Kitchen and Restaurant with Comfortable Handle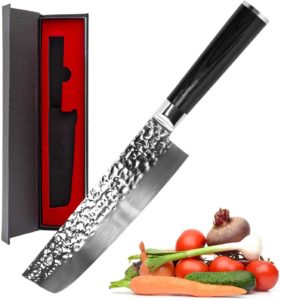 Imarku Cleaver Knife comes with a wooden handle made with Pakka wood giving it an authentic look. This composite wood is an ingenious choice like this not only gives look and feel of real wood, but it also stays waterproof and wrapping resistant, preventing bacterial or fungal growth on it, making it sturdy and suitable for heavy-duty usage.
Blade of this cleaver is made with 7Cr17mov stainless steel, which is an alloy of 440A graded steel with Vanadium making it resistant to corrosion and wear. Its Rockwell hardness makes it suitable for different food preparation applications such as dicing, slicing, and chopping. Cleaning the knife can be done using a mild soap and water carefully for maintaining its long-lasting sharpness.
Key Features
High Carbon stainless steel blade material
Model of stainless steel blade
2.5 mm thick
Rockwell Hardness Scale (HRC): 57±1
Ergonomic Pakka wood handle
12 Inch in Length
7 Inch Blade
3. Utopia Kitchen 7 Inches Cleaver Knife | Chopper Butcher Knife Stainless Steel for Home Kitchen and Restaurant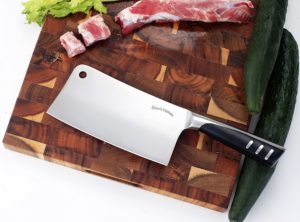 Utopia Kitchen 7-Inch Cleaver is designed mainly for commercial kitchen offering versatility to perform heavy-duty chopping tasks effortlessly. This is one of the lowest-priced meat cleavers available that can cut through thick meat and bone. This stylish and sleek chopper butcher knife is made up of high-quality corrosion-resistant stainless steel. Moreover, edge retention of this cleaver helps it to attain high performance.
For a firm grip and minimal wrist tension, the super-sharp blade of this knife is melded ergonomically with ABS+430 plastic handle. For easy maneuver and comfortable hold, the weight of the knife is well-balanced. Even though it is built dishwasher safe, its manufacturer has recommended hand washing to retain the quality of this outstanding cleaver.
Key Features
Ultra Sharp blade for superior cutting performance
100% Stainless steel built
Ergonomic design with ABS+430 handle
Ideal for bone cutting, chopping, cleaving & cutting
Robust quality resists rust and corrosion
4. Kiaitre Cleaver Knife 7-Inch High Carbon German Steel | Chinese Chef Knife with Pakkawood Handle, Anti-rust Kitchen Knife for Cooking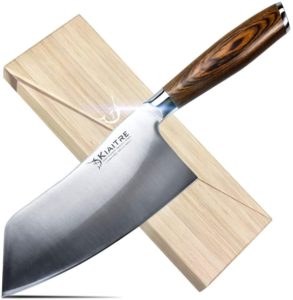 This 7-inch Kiaitre Cleaver Knife has a full tang design offering proper weight-balance. This easy to clean and store the knife can be considered as a good kitchen companion. Blade of this cutting tool is manufactured with 100% premium stainless steel. Furthermore, honed cutting edge of this knife makes it incredibly sharp and resilient. Polished and mirror-finished blade give it an attractive and elegant look making it a lead choice of many professional chefs and home cook globally.
This cleaver knife has an ergonomic Pakkawood handle offering a non-slippery firm grasp making the tool efficient to use. Pakkawood is known for its anti-corrosion performance ensuring its durability. For quality assurance, the manufacturer offers a lifetime warranty with the purchase of every unit.
Key Features
Multifunctional heavy duty knife
Hand Polished Blade
Ultra Sharp Kitchen Knife with Case
Ergonomic Design Handle
Premium HC German Stainless Steel
Also check: Top 10 Best Professional Chef Knives for 2023
5. Juvale Meat Cleaver, Heavy Duty Knife with Solid Wood Handle (Stainless Steel, 8-In)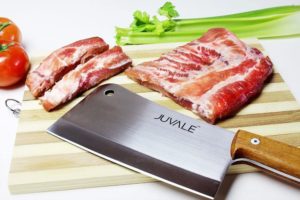 This 8-inch heavy-duty Juvale Meat Cleaver is a perfect kitchen tool to cut and chop seamlessly. The knife is constructed with 100% high-carbon stainless steel that passes through vacuum cooling and heating treatment making it sharp, stain resilient and durable. The blade is hand sharpened to support its high performance.
Its blade has a steep angle of 15-degree making in much sharper to penetrate easily through meat and bone. For controls and eases of using this unit has an ergonomically designed, triple-riveted wooden handle. This cleaver is safe for dishwashers and for convenient storage, it comes with a hole at the top corner for hanging with a peg or hook. Moreover, being dishwasher safe maintenance and cleanup of this cleaver is easy and convenient.
Key Features
8" Heavy Duty Stainless Steel Knife
Triple-Riveted, ergonomic solid wood handle
Easy Storage with hanging hole
6. Aroma house Meat Cleaver, 7-inch Vegetable and Butcher Knife German High Carbon Stainless Steel Kitchen Knife for Home, Kitchen & Restaurant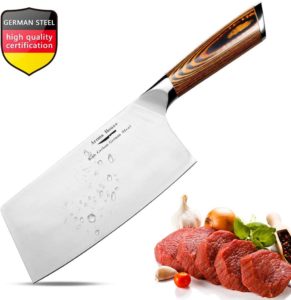 Aroma house Meat Cleaver is a perfect combination of wooden handle paired with German carbon stainless steel to offer the finest kitchen experience. Its affordable price makes it a preferable choice for many users. The overall weight of this 7-inch cleaver is just 1lb (0.45 kg), this lightweight design is effective in cutting both meat and vegetable hassle-free. For further enhancement in its performance, the entire knife is designed ergonomically making it comfortable to use and hold. With a wide rust-resistant blade and 56 Rockwell hardness, this clever can be regarded as a perfect kitchen accessory. For extra protection, this meat cleaver comes in a box. Additionally, the brand offers a lifetime warranty and guarantees 100% money-back for any kind of dissatisfaction.
Key features
Multifunctional uses
Easy to hold handle
Made of stainless steel and sharp
Lifetime warranty
7. DALSTRONG Gladiator Series R – Obliterator Meat Cleaver – 9″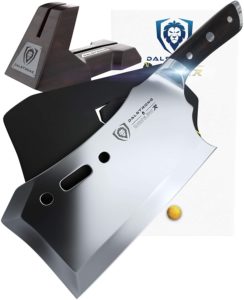 DALSTRONG Gladiator Series R is considered as a ruthless chopping kitchen tool with its fine cutting-edge technology, superior craftsmanship, and a fabulous design. The cleaver's blade is forged with premium quality steel of ThyssenKrupp German carbon, having Rockwell hardness of 56 to perform versatile heavy-duty pre-cooking tasks. The blades are hand ground to 15-degrees each side supported in effortless cutting.
The handle of this multi-purpose knife is made of satin-finished black Pakka wood ensuring a firm and comfortable grip. For maximum balance and heft, the handle is made thicker and shorter. Moreover, the handle is triple-riveted for it, increasing its durability. Tall blade height of this well-designed cleaver provides sufficient knuckle clearance.
Key Features
Premium materials
Full-tang
Incredibly razor-sharp
Ergonomic handle shape for maximum comfort and grip
60+ Rockwell hardness
Extra-thick blade, 2.9lbs in weight
PerfectFit Dalstrong Sheath
Tapered design for hardness and flexibility
8. SKYLIGHT Cleaver Knife, 7 Inch Butchers Knife German High Carbon Stainless Steel Kitchen Meat Chopper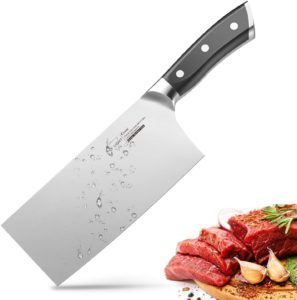 SKYLIGHT Cleaver Knife is designed perfectly for home cooks as well as professional chefs for performing different cutting and chopping activities. Its blades are premium quality stainless steel with Rockwell hardness of 58 making it robust and rust-resistant. The edges of this cleaver are beveled to 17 degrees making it razor sharp efficiently gliding into thick meat and vegetables.
The blades are polished at both sides making it suitable for left and right-handed users. For firm gripping and comfortable hold the handle has ABS plastic coating along with three stainless steel rivets. For maintaining its durability the cleaver needs to hand washed and dried after every use. Skylight offers a life-time warranty and 100% money-back guarantee with this magnificent cutting tool.
Key features
Multifunctional
Ergonomic Design
Premium German HC Stainless Steel Blade
Military Grade High Polymer Handle
Wear Resistant, Corrosion and Stain Resistant
1 Year warranty
Peak Performance Sharp Edge
9. Winco 8″ Heavy Duty Chinese Cleaver with Wooden Handle

Winco 8″ Heavy Duty cleaver is very affordable, specially designed for efficient slicing and chopping. High-quality carbon steel (KC-301) blade of this Chinese knife leads to its virtuous edge retention and makes it wear-resistant along with corrosion-free enhancing its overall lifespan with the requirement of minimum maintenance.
To offer a good grip and control this cleaver is attached to an authentic wooden handle. The blade size is 3.5-inch wide and 8-inch long leading to a large surface area that will be helpful while performing different cutting techniques. This razor-sharp cleaver cannot only be used for cutting down fruits and vegetables but can also chop down a whole chicken effortlessly. Cleaning this cleaver is quite easy as it is safe for dishwasher use, however, for maintaining its overall quality and appearance hand-wash is recommended.
Key Features
Highly corrosion-resistant stainless steel
Wooden handle
Handle length measures 5″
Length of the blade measures 8″ long & 3.5″ wide
Dishwasher-safe
10. Epica Stainless Steel Cleaver/Chopper – 7-Inch Blade Heavy Duty Professional Cleaver for Home or Restaurant!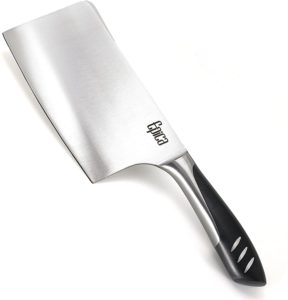 Made of X30cr13 Stainless Steel Epica Stainless Steel Cleaver/Chopper is one of the finest multipurpose cleavers available in the market built to last long. The blade steel of this cleaver is ice-tempered which makes it a high performing cutting tool with an edge retention best for restaurants and homes.
Weight-balance design along with the precision cutting edge of this knife supports the handler to perform various applications conveniently. Its blade is bonded to a handle ergonomically offering more comfort and flexibility while chopping fruits, vegetables, steak or even ribs. Additionally, this knife has a hollow ground edge thus nothing sticks to its blade reducing the cutting time. It is dishwasher safe making cleaning it is an effortless process.
Key features
High-grade ice-tempered stainless steel
Hollow ground edge for quick cutting
Advanced full-tang stainless steel body
Ergonomic seamless handle
Lifetime warranty
How to choose a meat cleaver?
Here are a few factors that you should consider while choosing a meat cleaver for your kitchen:
Design of the cleaver
Meat cleaver comes in a variety of styles and designs. From short and square to rectangular, you will find a variety of options to choose from. Just figure out your needs & preferences and select accordingly.
Western vs Chinese cleavers
There are two types of cleavers: a Western cleaver and a Chinese or Japanese cleaver. Many people get confused between Western and Chinese cleaver. While Chinese cleavers are meant purely for chopping up softer foods like vegetables and fish. On the other hand, western cleavers are perfect for heavy-duty butchery tasks.
Blade Length
The cleavers range from 6 inches to 9 inches in blade length. The best size of the cleaver is between 7 and 8 inches because this form of the blade has tons of flexibility and can cut through thick meat and bones and vegetables, making it easy to handle the cleaver when cutting and chopping.
Blade Construction
We recommend high carbon steel and 100% stainless steel blades for a meat cleaver. These materials have high rust and stain resistance capacity and they stay sharp for a long time.
Ergonomic Handle
You can choose any type of handles such as wood, plastic or stainless steel. The only thing to look for is it must have an ergonomic design for a comfortable and secure grip.
Conclusion
Our top pick from the list is the Dalstrong Gladiator Series Cleaver. The company has been following its 2 centuries-old legacies of making premium quality Knives and cleavers. You can trust on this heavy-duty Gladiator cleaver for easy and quick food preps. Be it nuts, meat, fruits or veggies, This cleaver is outstanding in chopping up almost everything creatively and with precision.