A wood cheese board or an appetizer tray is becoming popular and it can be seen in almost every party nowadays. It is simply a type of cutting board that allows you to put a variety of appetizers including cheese, bread, and some fruits.
In this article, our editor team would like to introduce nine stylish sets of cheese boards made from wood. At the end of the article, you will also find a section where you will get some useful tips and information about how to buy an ideal wood cheese board.
List of the Top 9 Best Wood Cheese Boards in 2023
9. Bambusi Wood Cheese Board with Bamboo Handles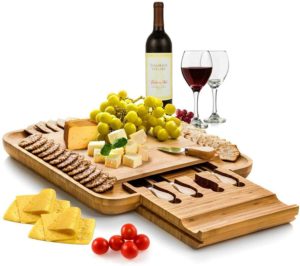 To begin with, we would like to introduce a wood cheese board from Bambusi. This one is handcrafted from premium quality bamboo. The surface of the board is smooth, waterproof, and nonporous, making it one of the best choices for those who love cheese since it neither leaves any stains nor absorbs any odors. This cheese board has an overall weight of almost 5 pounds and a dimension of 13.5'' x 13.5'' x 2''. It is a very spacious type of board that allows you to serve a variety of appetizers. You can serve cheese, dried meat, nuts, and some fruits as well such as grapes, olives, etc.
Moreover, there is also a space for crackers as well. More importantly, this cheese board also comes with a set of cutting knives too. Bambusi also features a built-in drawer in the tray base where you can find four types of cutting knives for cheese. The knives are made of high-quality stainless steel along with bamboo handles that are designed for easy grip. It is easy to clean this board after use; however, you are not supposed to put this into a dishwasher.
8. SMIRLY Wood Cheese Board Wood Cheese Board with Strong Magnet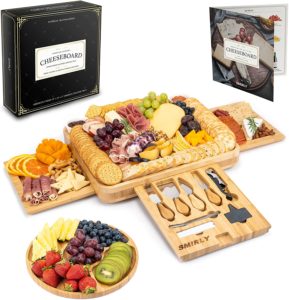 Now, let us have a look at SMIRLY cheese board, which is made of bamboo and slightly wider than the previous one. This one is a rectangular board with a dimension of 13'' x 16'' and 2'' high. This cheese board also features two pull-out drawers on each side that gives you extra spaces to place your garnishes. Each drawer is equipped with a single strong magnet located at the center of the drawer that will keep the drawer closed tightly.
On top of that, it also has a drawer where you will find cheese cutlery. The cheese cutlery set includes four cutting knives made of stainless steel, two sauce bowls made of ceramic, two white markers, two slate labels, four sampler forks, and one wine opener. What makes this even more special is that the package also includes an additional round tray that is made of wood and features five serving sections. You may fill this tray with fruits, nuts, bread, and other savory food.
With all these extra features, needless to say, this set of cheese boards makes a perfect gift that one could have expected to receive. SMIRLY is beyond your expectation, indeed!
7. Vestaware Wood Cheese Board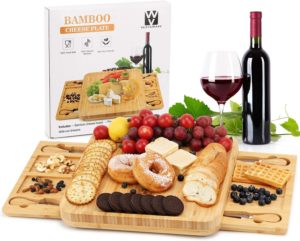 If you are looking for a bigger bamboo cheese board, then maybe you should check this one out. Vestaware's cheese board is 14.7 square inches. It is designed with two hidden drawers, making it such a space-saving board to use. The pull-out drawers are also removable, making it more convenient to clean. Also, they are attached with four magnets to keep them tightly closed.
In each drawer, you will find two kitchen utensils – particularly cutting knives. This means that you will get a total of four knives when buying this cheese board. These knives are high-quality made and they are rust-resistant. Their handles are also made from durable bamboo.
In addition to this, the cheese board itself also features four non-slip feet that are designed to keep the board balanced while cutting and keep the surfaces scratch-free. Please do not put this cheese board in a dishwasher. Vestaware guarantees the quality of its products. You will be offered a one-year warranty after buying this one.
6. Dream Nights Wood Cheese Board with Anti-slip Feet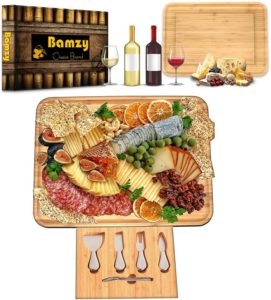 Coming up next is a set of cheese boards from Dream Nights. Made of 100% organic bamboo, this is a cutting board, ideal for daily use. Besides having a smooth surface, this one also has anti-slippery feet made from rubber that will protect from any scratches and keep the board from moving around while cutting. There is no logo engraved on the surface of the board, so do not worry since dirt and bacteria may not easily form there.
Another thing that you will love about this product is that the board comes with eight cutleries in which four of them are cutting knives for cheese and the other four are serving forks. Similar to others, Dream Nights also features a pull-out drawer where you can organize your cutleries.
The overall dimension of this board is 17.5 inches x 13.5 inches, wide enough for you to design your board according to your preference. Dream Nights is an excellent gift for almost every occasion – whether it's for Mother's Day, Valentine's Day Celebration, thanksgiving, or Christmas, or even housewarming gifts.
5. Home Euphoria Handmade Wood Cheese Board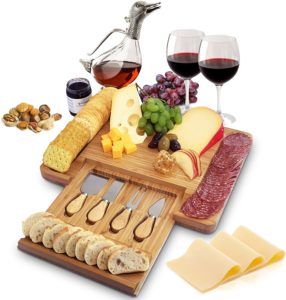 Moving on, we would like to recommend another high-quality set of a cheese board, which is from Home Euphoria. This handcrafted cheese board is made of chemical-free bamboo with a warm finish. Home Euphoria's cheese tray measures 15.5 inches long, 11.5 inches wide, and 1.5 inches thick. It has a spacious area for you to slice and cut your cheeses with the provided cutleries, as well as to serve various delicacies on the same board.
There are four different knives that are made of stainless steel and bamboo handles. These knives can be found when you slide open the hidden drawer. It is quite a piece of cake to clean this cheese board as you can easily just wipe it clean with a piece of cloth, vinegar, and mineral oil. It weighs around 5 pounds only, which also makes it convenient to carry around. You may bring this to a picnic with your friends or your family.
4. 1ELEGANT Wood Cheese Board with cheese makers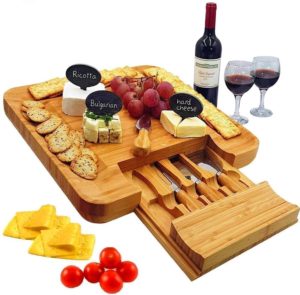 1ELEGANT offers a superior quality of cheese board made of eco-friendly, durable, and natural bamboo. As for this one, the tray measures 13.3'' long, 13.3'' wide, and 1.4'' high. The design of the board is extraordinary in a way that is not only waterproof but also can kill bacteria and microbes as well. It comes with a cutlery set that consists of four utensils made of bamboo handles and stainless steel. These four utensils are rust-resistant and are placed inside a slide-out tray that is built on the board itself. Inside this hidden tray, you will also find three extra cheese markers too.
With 1ELEGANT, you can now present your cheese serving in a luxurious and elegant way. You and your friends will also get to enjoy your favorite delicacies, crackers, fruits, or any finger-food placed on a single tray. 1ELEGANT is a must-have and you will definitely love this one.
3. Viral City Non-slip Wood Cheese Board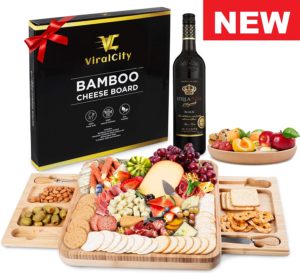 Here is another great-quality cheese board with a knife set from Viral City. This one features a large square tray, measuring 14.7 square inches. Its thickness is 1.6 inches. Viral City is a space-saving board in which you can find two pull-out drawers. Each drawer displays two cheese stainless-steel knives and tools that have a bamboo handle. There is also a strong magnet in each drawer that keeps them closed tightly and prevents them from sliding out while cutting.
At the bottom of the cheese board, there are four non-slip feet. What's more, this package also includes a round snack tray and a removable stone slate. The snack tray, which you can use for fruits and other appetizers, offers five serving sections. Viral City is all you need!
2. Luxury Dining Wood Cheese Board with Accessories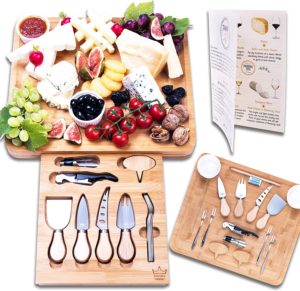 Luxury Dining also offers a premium cheese board made from sustainable bamboo. However, this one is a little bit extra since you will find a set of sixteen accessories in a hidden drawer. Those accessories include 4 stainless-steel knives and forks, two cheese markers, two ceramic bowls, a thick pencil, an eraser, and wine accessories like a bottle opener.
Moreover, you will find a booklet which will tell you about useful tips for cheese pairing along with some instructions. The tray is very spacious and measures 15'' x 13''. Luxury Dining guarantees the quality of its cheese boards, so if you are not satisfied with the product, you may ask for a replacement or a full refund.
1. MITBAK BPA-free Wood Cheese Board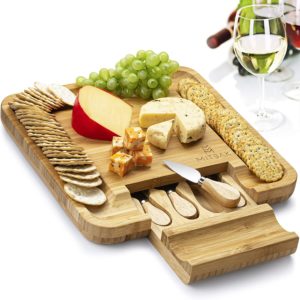 Last but not least, we have this cheese board here from MITBAK. Made from BPA-free bamboo, this tray is very durable and functional. It measures 13 square inches and 1 inch thick. This allows you to create a beautiful display of crackers, cheese, and fruits. Like many others, this one also has a sliding drawer that presents you four stainless-steel knives for cutting cheese.
MITBAK is a memorable gift for engagement, wedding, birthday, and housewarming party. It is already wrapped in a beautiful package when you buy it. Within 30 days after you buy, if you are not satisfied with the product, you may contact MITBAK for a full refund.
Buying Guides
After going through these nine sets of cheese boards, we hope you have found your favorite one. However, for those of you who are still not clear about which one you should buy, you should spend a little time reading this little section. We will provide some tips on what to look into or what to expect in an ideal cheese board. Below are some factors you should consider before buying a cheese board.
Material: The best material for the cheese board is bamboo since it is more durable than any other kind of wood. All the products we introduced above are made from bamboo. Make sure the board has a smooth surface and it shall not have an engraved logo since you will find it very difficult to keep it clean.
Size: This actually depends on your preference. If you want to serve a large group of guests, then maybe consider buying a bigger one.
Drawers: Most cheese boards come with one drawer, while some have multiple drawers that give you additional space for your food preparation. However, bear in mind that if you prefer a board with multiple drawers, make sure those drawers are removable. You may need to remove them in order to clean more easily. Also, each drawer shall have at least one strong magnet that will keep it closed tightly.
Cutleries: A standard cheese board shall come with a set of cutting knives, made of stainless steel. Those knives are essential for cutting or slicing cheese. It is also good if you can find a cheese board that offers you extra utensils.
Anti-slippery feet are important since they can keep your tray from moving around while cutting.
Conclusion
Overall, we have gone through a list of nine sets of wooden cheese trays and a buying guide section. These nine products above all have high quality. Moreover, they are sold at reasonable prices. They all make a perfect gift for every occasion. They are also very functional in the kitchen. You may use it in any food party or use it daily. They are worth investing in, so check one out right now if you have not had one yet.