Almost everyone loves a big scoop of ice cream after a long workday to help soothe our minds and to relax. Wouldn't it be fantastic if you could make these ice creams by yourself at home?
Cuisinart ice-cream makers allow you to whip up and enjoy your ice creams at home! These ice cream makers are super easy to use and will enable you to have complete control over the ingredients and the flavors of the ice cream. You can quickly quell your ice cream craving when you have this machine handy, especially during the scorching summer heat.
If choosing the ice cream maker that best suits your needs is a challenging task for you, we have here a list of the best ice-cream makers from Cuisinart for you!
List of the Best Cuisinart Ice Cream Makers in 2023
1. Cuisinart ICE-45P1 Ice Cream Maker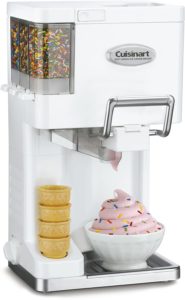 Cuisinart's ice cream maker model is equipped with an elaborate design and is equipped with several features. It has a total of three in-built condiment dispensers that provide you with different modes to churn up delicious ice cream swirls and other frozen desserts. The overarching lid is easy to use and comes with an automatic lock feature. The mixer allows for aeration during the mixing process, which allows you to make smooth ice cream. The maker also has a cooling liquid, which facilitates faster freezing. The ice-cream maker is fully automatic and helps in reducing the manual labor of churning.
Features
Equipped with pull-out tabs to add different mix-ins
It has a double insulated feature to help in maintaining temperature
Equipped with a built-in cone holder
The parts are removable for easy cleaning
It comes with a manual and a recipe book
2. Best Under $: Cuisinart ICE-30BCP1 Ice Cream Maker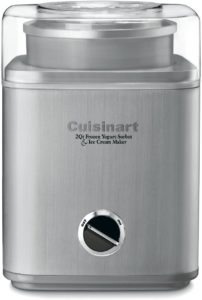 This model by Cuisinart provides you with a fully automatic functioning that can help you in making many frozen treats and desserts such as ice-creams and sorbets. It is made up entirely of stainless steel and is equipped with several features. The large ingredient holder allows you to mix many different ingredients for flavor easily. The freezer mug/bowl is also equipped with double-insulation, which allows for easy usage. It also has an integrated motor and automatic mixing features that make the process easy and hassle-free. The brushed metal design also facilitates an easy clean-up procedure.
Features
Equipped with fully automatic functioning
Large spout for easy ingredient mixing
Equipped with double-insulation
Ensures proper freezing at 0-degree Fahrenheit
3. Cuisinart 1.5 Quart Ice-cream Maker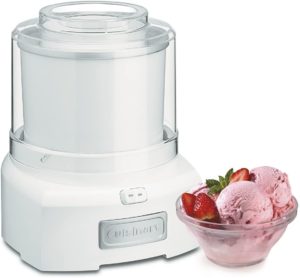 This Cuisinart model is fully automatic and comes with several innovative features. It has a pending padel that facilitates mixing, churning out soft and smooth ice cream serves. The motor makes the automotive functioning of the maker simple and efficient. This model supports a large holding capacity at one go, allowing 1-½ quarts to be made easily. It is easy to assemble the machine and supports a great deal of durability as well. The feature of cord storage makes it easy to have a clean and neat counter after usage.
Features
Equipped with an efficient mixing paddle
The ingredient spout can hold different ingredients at one go
Cooling is made easy with the help of the freezer bowl
It supports an easy locking feature
It takes around 20mins for the freezing process
4. Best Runner-Up: Cuisinart ICE-70 Electronic Ice Cream Maker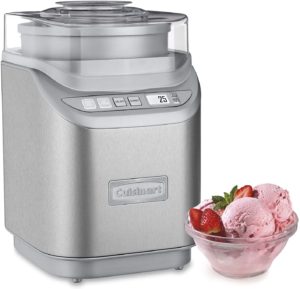 This ice cream maker allows you to churn ice cream in just around 20 minutes! It is equipped with features such as a moving paddle which provides for a faster processing time. The control panel has an in-built LCD screen which is equipped with a total of three settings for better and more efficient functioning. The ingredient spout is also fitted with a measuring cup, making the overall task of churning frozen treats significantly simpler. It comes with a countdown timer that has an automatic shutoff system. The general model supports a sleep brush housing design that allows for holistic functioning.
Features
Equipped with a two-quart capacity
The control panel supports three different settings
Measuring cup and spout are integrated into the system
It comes along with a complimentary recipe book
5. Cuisinart ICE-100 Compressor Ice Cream Maker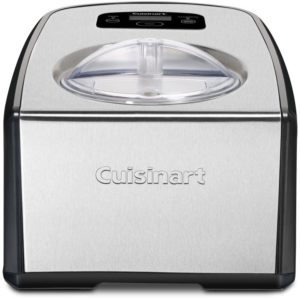 This model is equipped with many modern and innovative features. It supports a fully automatic functioning along with an efficient commercial compressor. It is equipped with two paddles that help in making both gelatos and ice creams. It supports a 1.5-quart capacity. The overall functioning of the maker is automatic while also supporting a 60-minute countdown function. You can also monitor the mixing process with the help of the transparent lip. The touchpad that supports an LCD reading feature also allows you to navigate the entire process easily without any hassle.
Features
Equipped with different modes such as auto switch on/off and mixing/cooling
It supports a lift-out handle mechanism
The different mixing paddles make the task of dessert making simple and efficient
It is equipped with an anodized aluminum bowl
6. Best Value For Money: Cuisinart Frozen Ice Cream Maker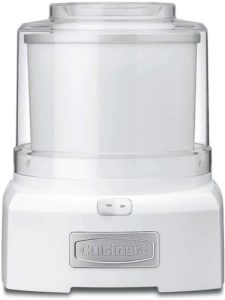 This new model by Cuisinart comes with many innovative and advanced features. The new and improved mixing paddle allows you to churn out desserts in 20 minutes or even less. The ice-cream maker supports capacities, allowing you to make desserts up to 11/2 quarts. The machine is BPA-free and comes with a double-insulated freezer bowl mechanism that reduces any need for ice. The maker also comes with a large spout that easily adds several different ingredients and supports many additional features.
Features
Equipped with easy-lock and lid features
Supports double-insulation for efficient freezing
It has BPA-free technology
In-built freezer bowl reduces the need for ice
7. Cheapest Among All: Tasty By Cuisinart Ice Cream Maker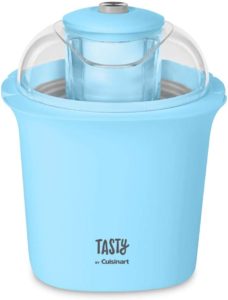 This ice cream maker supports a fully automatic function and allows you to quickly and efficiently churn our sweet frozen treats. It has a significant filling spout mechanism that can hold many different ingredients ranging from crushed cookies to nuts and peppermint. It comes with a 1.5-quart holding capacity and allows an easy-clean housing mechanism. The ice cream maker is BPA-free and comes with a complementary mixing paddle as well. It is easy to use and clean and provides an easy solution to your dessert cravings!
Features 
Easy to use and install
Equipped with a large spout for different ingredients
It can be used to make ice creams, frozen yogurts as well as sorbets
It is dishwasher safe
Provides a fully automatic function
8. Best Overall: Cuisinart Fresh Fruit And Ice Cream Maker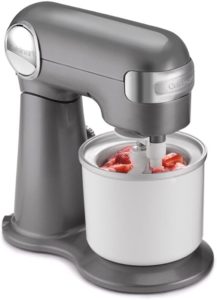 Color: White
Measurement: 9.88 x 9.88 x 8 inches
Weight: 5.28 pounds
Buy on Amazon
This model offered by Cuisinart is equipped with a variety of different functions. It allows you to churn our chunks of fruit and make smooth and soft ice cream swirls. It is fully automatic. You have to turn the machine on and add ingredients to the same. The machine has an impressive holding capacity, supporting 1.5 quarts at one go. The frozen treats take a total of 15-20 mins to freeze. It also supports two paddles, facilitating mashing and preparing fruit and the other for ice cream and other frozen goods.
Features
Helps in making 100 percent frozen desserts
Supports a fully automatic function
Supports a large holding capacity of 1.5 quart
Can whip out both fruits as well as frozen goods
Desserts are prepared in a total of 15-20 minutes
9. Cuisinart ICE-70 Electronic Ice Cream Maker
This model is equipped with several advanced and innovative features. Its one-touch feature allows for efficient navigation. You can easily create two quarts of frozen treats in one go. It has a convenient LCD time programming mechanism and supports an auto-shutoff feature. The inbuilt paddle makes for easy processing of ingredients, and sleek metal brush housing allows for an innovative outer look. The ice cream maker is also equipped with three different settings that support multiple speed levels as per your needs. This machine is also BPA-free and comes with a limited warranty of 3 years.
Features
It comes with a BPA free functioning
Equipped with  three different speed settings
LCD screen allows for easy usage and navigation
It supports a 2-quart capacity
It comes with an extended protection plan of 1 year
Frequently Asked Questions
How Can You Get The Best Results From Your Ice Cream Maker? 
Ice cream makers are relatively easy to use and provide you with the best results when used correctly. You can follow specific steps and pointers to make sure you can make the most of your ice cream maker. Make sure that you dry the bowl properly before freezing any ingredient in the same. The bowl also needs to be kept upright for the freezing process. It would help if you refrained from using alcohol in your recipes as it hampers the freezing process.
What Is The Significance of Quarts While Buying Ice Cream Makers? 
You have to make certain personal choices into account before purchasing an ice cream maker. If you are part of a big family or someone who readily throws parties and hearty meals for your loved ones, it would be advisable to buy a machine that supports a large capacity. You also need to be aware of the processing time when purchasing ice cream makers since a longer processing time means a longer time for preparing second batches. It is observed that ice cream makers that provide larger capacities tend to be slower at processing. Ice and salt-based machines tend to come in sizes of 2,3, or 4 quarts, whereas compressor models support smaller quantities.
What Are Some Of The Common Mistakes You Can Do While Preparing Ice cream? 
First-time users can keep certain things in mind starting their ice cream-making procedure. Ensure that you do not overfill or over-churn the mixture in the machine. It is also advisable to use dairy products with a high-fat content for proper processing. You also have to ensure that the bowl is cooled down properly for your ice cream to freeze. The ice cream base also needs to be a little cooler. Bases that are at room temperature or warmer would not freeze well.
Verdict
We have seen how these ice cream makers can be your best friends during your dessert cravings or to tackle the scorching summer heat. They allow you to whip out tasty treats quickly and efficiently. Several such ice cream makers with many different features are present in the market. We hope that the above list is beneficial to you for choosing one that allies with your needs!