A few weekends ago I drove about an hour and a half to go to an Apple Orchard outside of Chicago. Picking my own produce (apples, berries, and peppers) for the week was fun, and the low prices really made the long drive worth it. We walked away with well over 20 apples, two containers of berries and a few peppers for about 20 bucks. Now, I'm sitting on more apples that I know what to do with, so I decided to make a simple version of a Fall apple salad – Greek Yogurt Apple Salad.
This Greek Yogurt Apple Salad contains only 4 ingredients and they come together great in this recipe:
Apples – The main ingredient, this Fall fruit is the star of the salad and provides a fresh and crunchy bite with every spoonful.
Greek yogurt – The Greek yogurt brings a cool and tangy flavor (as well as some protein).
Cinnamon – The cinnamon has a rich and warming effect in this salad.
Almonds – The almonds provide a satisfying crunch, as well as some filling fats.
This salad is the perfect healthy snack, packed with protein and filling fats. (full nutrition below).
Resources:
A few kitchen tools were required to make this simple Fall snack.
Knife: Wustoff Knives are hard to beat.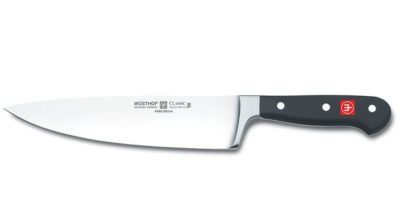 Mixing Bowls: A solid variety of affordable mixing bowls.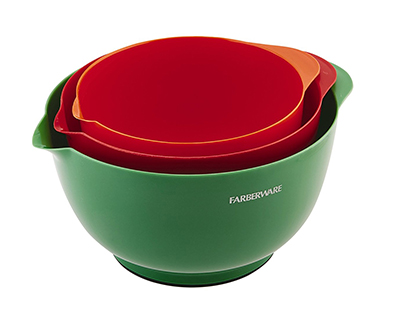 Alright, let's get to the recipe.
This Greek Yogurt Apple Salad is extremely easy to make and only has 4 ingredients. The first and main step is to cube the apples into bite-sized pieces, I'd say about 1/2 inch wide, long and tall.
From there, simply mix the apples, greek yogurt, cinnamon and chopped almonds together in a copper mixing bowl. You can store this salad in the refrigerator and enjoy it for a snack all week long.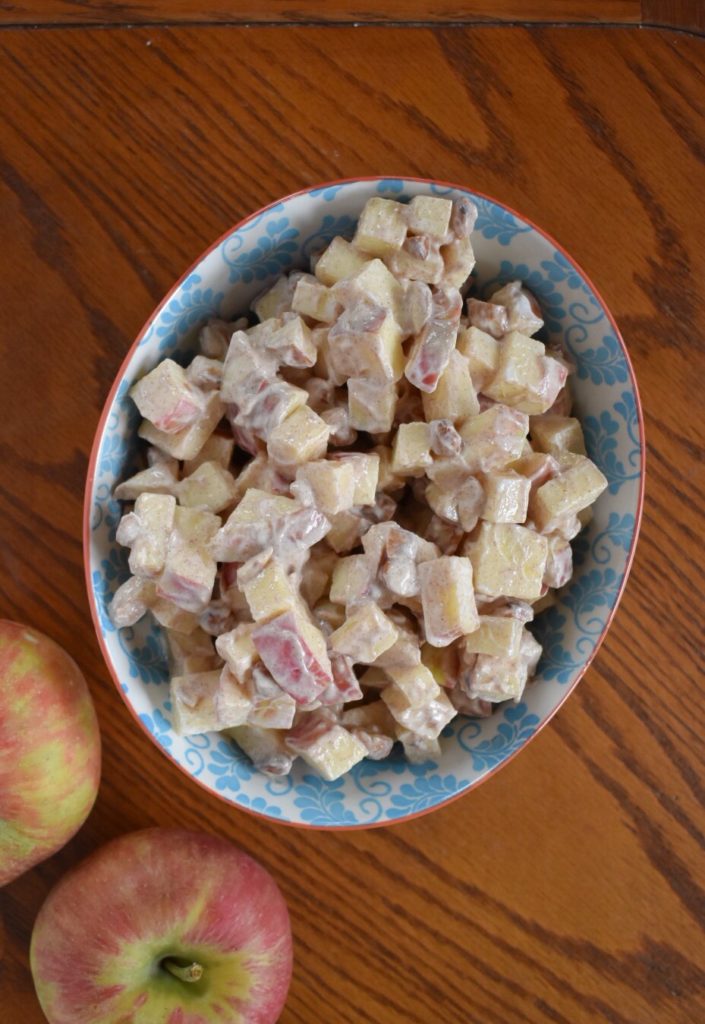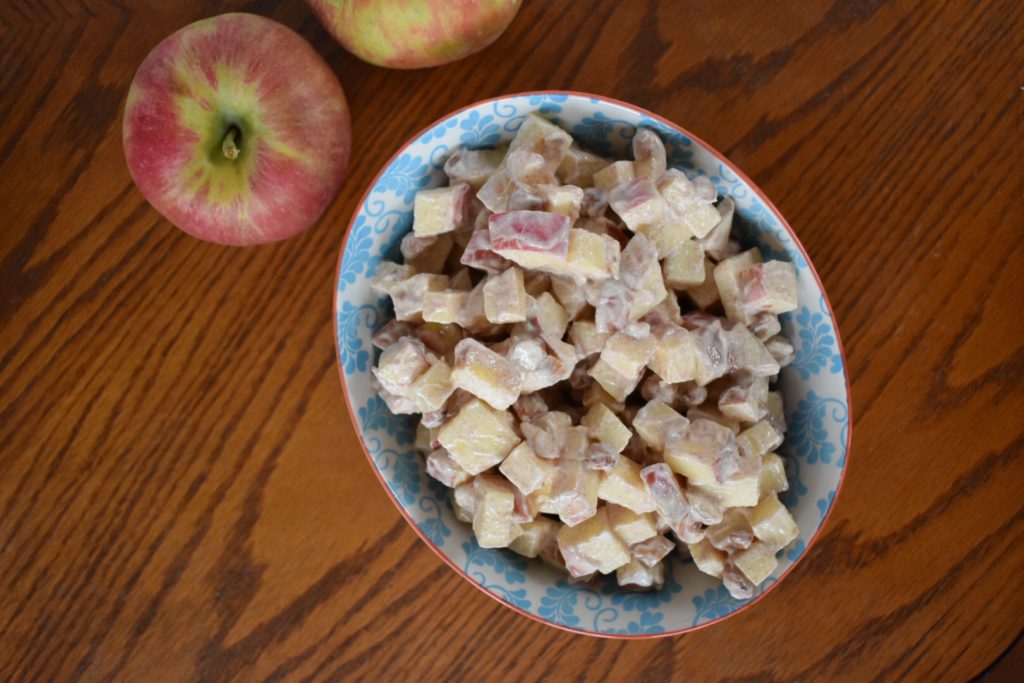 Nutrition:
The recipe yields about 8 small servings of the Greek Yogurt Apple Salad:
Calories: 61.7
Total Fat: 1.6 g
Total Carbs: 9.3 g
Protein: 3.8 g
Total Sugar: 6.8 g
This is a very simple recipe, so all of the nutrition info is very straightforward:
The calories are low because the serving size is relatively small (1/4 of an apple).
The fat is low because I used 0% yogurt this time around (2% works great too). All the fat in the recipe is coming from the small amount of almonds.
The carbs are mainly coming from the sugar in the apple.
The protein is from the Greek yogurt and a trace amount from the almonds.
The sugar is coming mainly from the apples and Greek yogurt.
Apples also have some inherit health benefits to check out. All in all, this is a healthy recipe and makes for a great Fall snack!
Economics:
Let's get economical with this Greek Yogurt Apple Salad:
2 apples (I used honey crisps) – $1.25
1/2 cup Greek yogurt – $0.87
1/2 tsp cinnamon – $0.02
1/4 cup chopped almonds – $1.00
The grand total is $3.14.
The cost per serving breaks down to $0.39.
This Greek Yogurt Apple Salad is the perfect Fall snack. It takes only 10 minutes to make, has only 4 ingredients and is healthy!
Ingredients
2 apples (I used honey crisps)
1/2 cup greek yogurt
1/2 tsp cinnamon
1/4 cup chopped almonds
Instructions
Wash the apples and then cut them into even cubes, about 1/2 inch in length, width and height.
Put the apples in a bowl along with the greek yogurt, cinnamon and almonds.
Mix together thoroughly, serve and enjoy!
https://www.economicalchef.com/greek-yogurt-apple-salad/
I hope you enjoy this Greek Yogurt Apple Salad!
If you're craving more of a traditional salad recipe right now, then check out my Spring Arugula Salad with Homemade Balsamic Dressing.