I made this Homemade Granola over the weekend and it was easier than expected by following this step-by-step recipe. For years I have been buying granola because making it at home seemed like too much work. I proved myself wrong, as this granola recipe was easy to make and only took about 30 minutes. It's great over yogurt, and even better in my Simple Cinnamon Yogurt Parfait. It's crunchy, sweet, and pretty addictive. Let's get start.
Homemade Granola Recipe: Ingredients and Instructions
Healthy Homemade Granola in 30 Minutes
This Healthy Homemade Granola is perfect for breakfast, or just an afternoon snack.
Ingredients
Granola:

4 cups old fashioned oats
1 cups nuts/seeds
1/3 cup coconut oil
1/2 cup sugar (maple syrup or brown sugar or honey)
1 tbsp cinnamon
1.5 tsp vanilla
Optional:

1/2 cup dried fruit
1/2 cup dark chocolate chips
Instructions
Pre-heat oven to 300 degrees
Mix together the oats, nuts and cinnamon in a large bowl
Melt the coconut oil in the microwave and add it to the bowl along with the vanilla and sugar of your choice
Mix thoroughly, and spread out over 2 baking sheets
Bake for about 20 minutes minutes, or until golden and crunchy
Optional: add dried fruit and/or dark chocolate chips after the granola cools
https://www.economicalchef.com/healthy-homemade-granola/
Making Processes
I made about 20 servings (1/4 cups serving) this time around. It was a lot, as you can see by the pictures below. Too much? Nah, but you can easily cut this recipe in half if you want.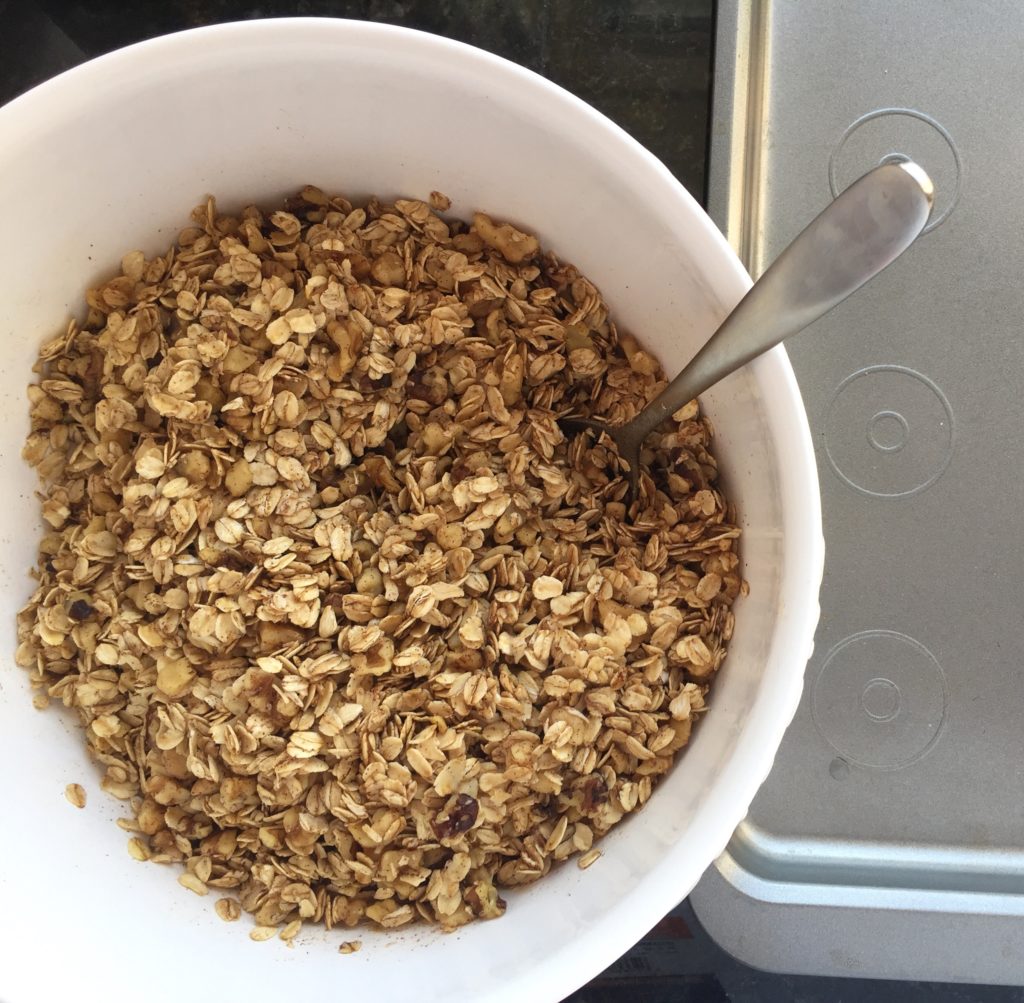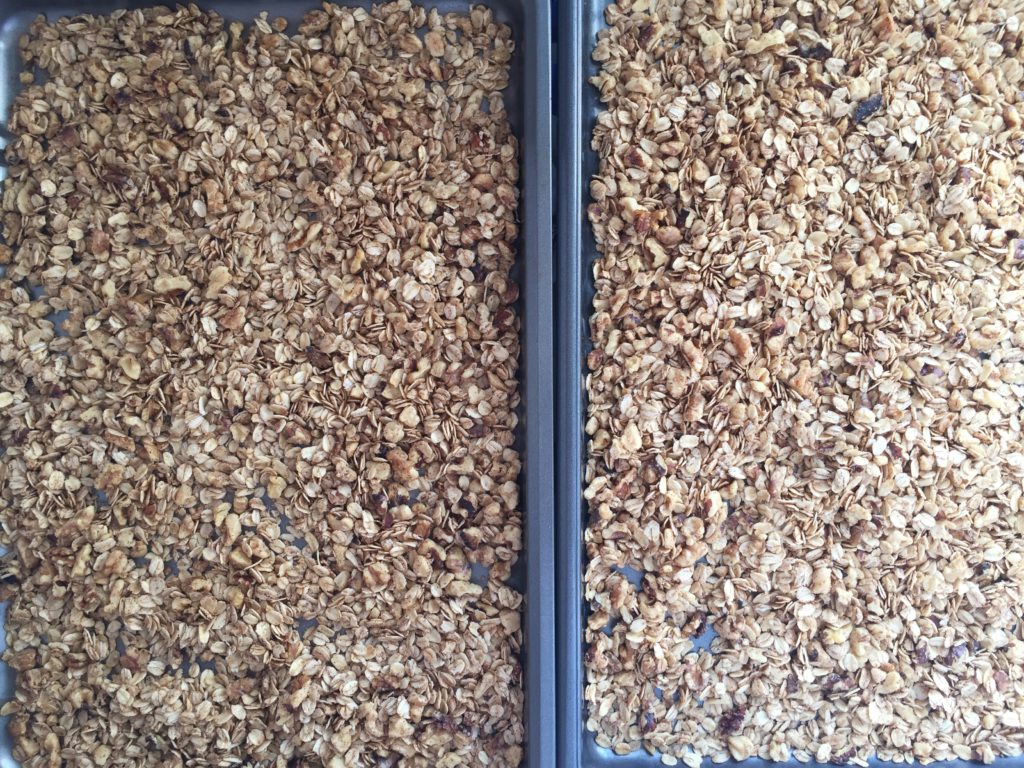 If you want to take a lower cost route, then skip the nuts/seeds altogether and go with brown sugar instead of maple syrup. These two changes will bring the total cost down drastically to $3.33. Or the low price of $0.17/serving. There is no beating that.
A "normal" package of granola costs about $3.00, or $0.27/serving. This would be your basic, sugary cereal-like granola. A gourmet muesli or granola could cost upwards of $7.99 (pricey, I know), which would run you $0.73/servings. Like everything, it's all relative. If you want to beat the low cost competitor, then strip out the nuts and brown sugar. If you are looking for something a little higher end, then keep it in. Your call.
After baking the granola, there are some optional add-ins too that I think work well:
1/2 cup dried fruit
1/2 cup dark chocolate chips
I'm not great at making decisions, so I went half and half – putting raisins in one container and dark chocolate chips in the other.
Calories in Homemade Granola
I pulled the nutrition on this one because I was curious. Not only is this granola made with wholesome ingredients, but the nutrition info checks out.
Per about 1/4 cup serving of granola:
203 calories
9.6 g fat
28.8 g total carb

3.8 g dietary fiber
6.5 g sugar

5.7 g protein
There are healthy fats, slow burning calories to start the day, 5+ grams of protein and a low sugar content. Can't do much better than that.
In my opinion, this granola is pretty sweet despite the moderate sugar content. I don't have a HUGE sweet tooth, but I think you could cut the sugar in half if you are looking for more of a muesli.
How Economical Is This Homemade Granola
4 cups old fashioned oats – $1.55
1 cups nuts/seeds – $3.49
1/3 cup coconut oil – $0.70
1/2 cup maple syrup or brown sugar or honey $1.36 (I went with 1/4 brown sugar and 1/4 maple syrup)
1 tbsp cinnamon – $0.12
1.5 tsp vanilla – $0.75
The grand total is $7.97. Or $0.40/serving. Not bad for wholesome, homemade granola. Plus, it has coconut oil. Talk about on-trend.
Conclusion
I hope you enjoy this Homemade Granola! Feel free to share the recipe with your friends or neighbors as you wish. Cheers!