The Blueberry Pancakes we are going to introduce to you is a great recipe for the weekend. You can whip them up in about 20-30 minutes and skip the brunch rush. However, this Blueberry Pancake recipe is a bit special as we will make it with honey and cinnamon to bring you a new flavor for your breakfast or brunch. It's among the best pancake flavors which let you make it by yourself at home and save quite good amount of bucks.
Let's honor Brunch's true purpose and eat some budget friendly and delicious Blueberry Pancake together.
How to Make Blueberry Pancake: Preparation, Ingredients & Instruction
Below is the printable recipe of the Blueberry Pancake with Honey and Cinnamon. We have prepared it for you so that you can print it out and share with your friends as well.
Honey Cinnamon Blueberry Pancakes
Ingredients
Pancakes:

1 1/3 cups flour
2 tsp baking powder
2 tsp cinnamon
1/2 tsp salt
1 1/3 cups almond milk (or regular milk)
1 egg
2 tbsp oil
1 tbsp honey
1 cup blueberries
Additional:

Butter
Maple Syrup (optional)
Instructions
Combine your dry ingredients in a bowl and whisk together (flour, baking powder, cinnamon, salt)
Add your wet ingredients and whisk together (milk, egg, oil, honey)
Fold your blueberries into the batter
Heat a large pan with butter
Pour the batter into the pan to make a sizeable pancake
Cook the pancake until it starts to bubble
Flip and cook for another minute or two on other side until the pancake is cooked through
Repeat with the remaining batter!
https://www.economicalchef.com/honey-cinnamon-blueberry-pancakes-2/
Preparation
It starts with a scratch made batter. Sounds intimating, but it's quite easy. You only need flour, milk (I used almond milk), baking soda and egg(s) to start (need an egg cracker, you can grab one from here). From there, you choose your own adventure, and this might as well be Frodo's trek to Mordor cause it's an epic adventure.
For this batter, we're adding cinnamon, honey and blueberries to crank up the flavor. Check out this unnecessary honey comb thing I used!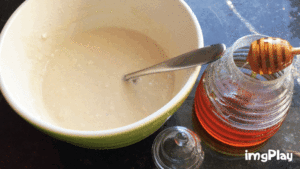 Cooking Process
Once the batter is done, cooking the pancakes is simple. Start by coating a frying pan with butter and putting it over medium heat. Once it's toasty and the butter is melted, add your batter. I usually make some large pancakes to minimize the cooking and maximize the eating of pancakes.
Here's the cake right as it is added. It looks like raw batter. No surprise.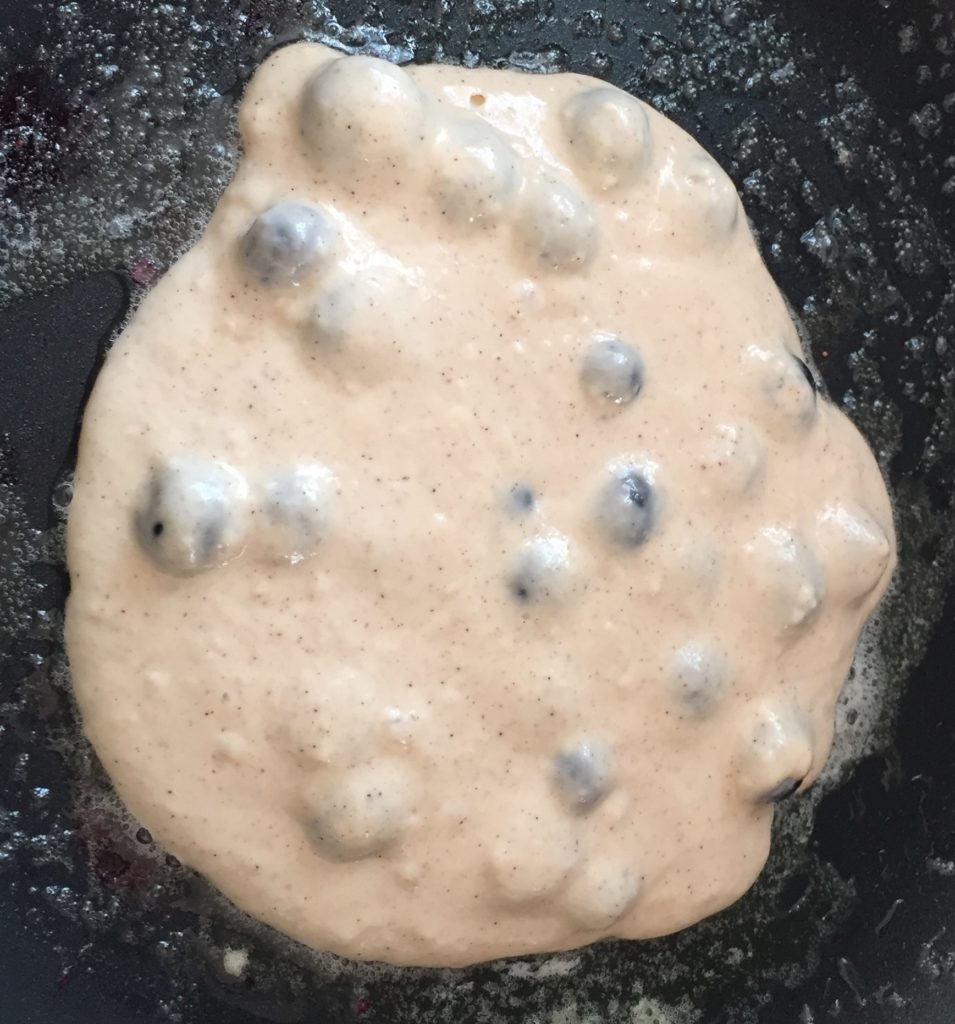 The key is to wait for the pancake to start bubbling. When the bubbles get large and even start popping, we're ready to flip. See below: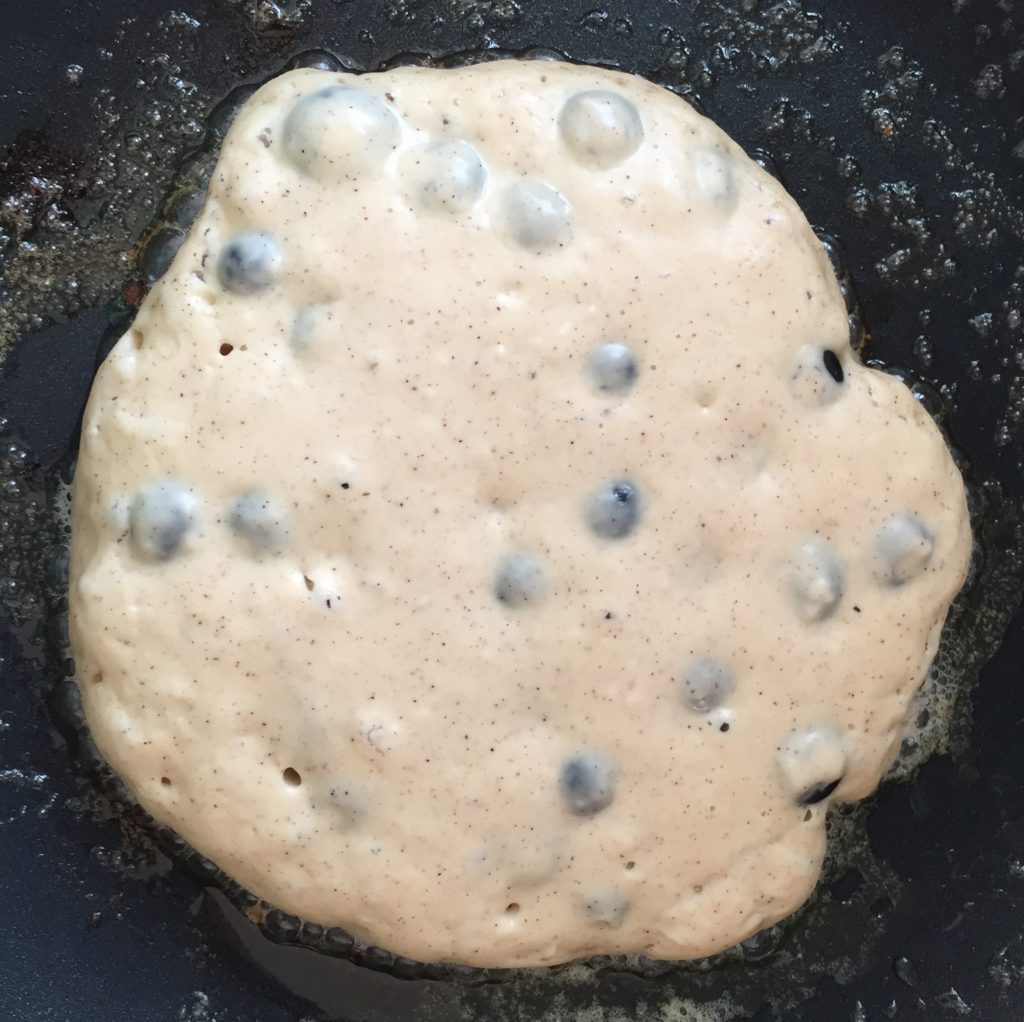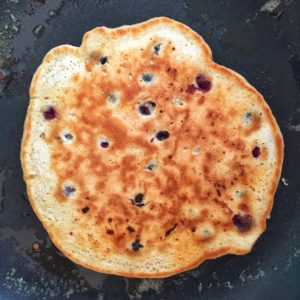 Nothing to be seen here except for a beautiful golden pancake. Let it sit for another minute or two on the heat to finish cooking, and repeat with the rest of your batter. It looks much better than a $15 brunch, right?
And may I say something that might not seem economical? Buy real maple syrup. It makes a difference. Plus, you can use a little less since these pancakes are sweet on their own from the honey and blueberries. If you have a blueberry pancake syrup, that's even more tasty.
Video of How to Make Blueberry Pancakes
If you don't like to read my Blueberry Pancake recipe above, you can go for the video option which is produce by The Stay at Home Chef channel below. Though the recipe is a bit different, you can always apply it to make your own taste anyway.
Video by The Stay At Home Chef
Cost of the Blueberry Pancakes
Let's get economical with these Blueberry Pancakes. Below is the calculation of your expense just to make this delicious pancakes for yourself and your family members.
1 1/3 cups flour – $0.20
2 tsp baking powder – $0.04
2 tsp cinnamon $0.06
1/2 tsp salt – $0.01
1 1/3 cups milk (I used unsweetened vanilla almond milk) – $0.50
1 Egg – $0.33
2 tbsp oil – $0.47
1 tbsp honey – $0.15
1 cup blueberries – $1.50
The grand total is $3.26. Add in some change for the maple syrup and coffee and we'll round it out at about $3.50. Three large pancakes for less than 1/4 the cost of an overpriced brunch. And even though they have "cake" in the name, these are actually pretty good for you.
Conclusion
I hope you enjoy these Blueberry Pancakes with Honey & Cinnamon. Feel free to share this Blueberry Pancake recipe with your friends, neighbors and colleagues if you like it. Enjoy 🙂