I'm not necessarily a huge baker. The last time I baked it was about 3 months ago to make these Homemade Pop Tarts with Honey Blackberry Filling. They were awesome, but I decided to switch it up this past weekend and make these No Bake Peanut Butter Balls for 3 great reasons:
It was hot and I didn't want to further heat my apartment up with the gas range.
Gas costs money.
I would need to crank the AC to cool off the apartment after baking, which uses electricity, which costs money.
So, instead, I whipped up some No Bake Peanut Butter Balls. They turned out to be a great summer dessert that were easy to make (only 6 ingredients!) and affordable too.
Here is the full ingredient list:
Creamy peanut butter
Powdered sugar
Butter
Rice cereal
Dark chocolate chips
Vanilla
Pretty simple stuff.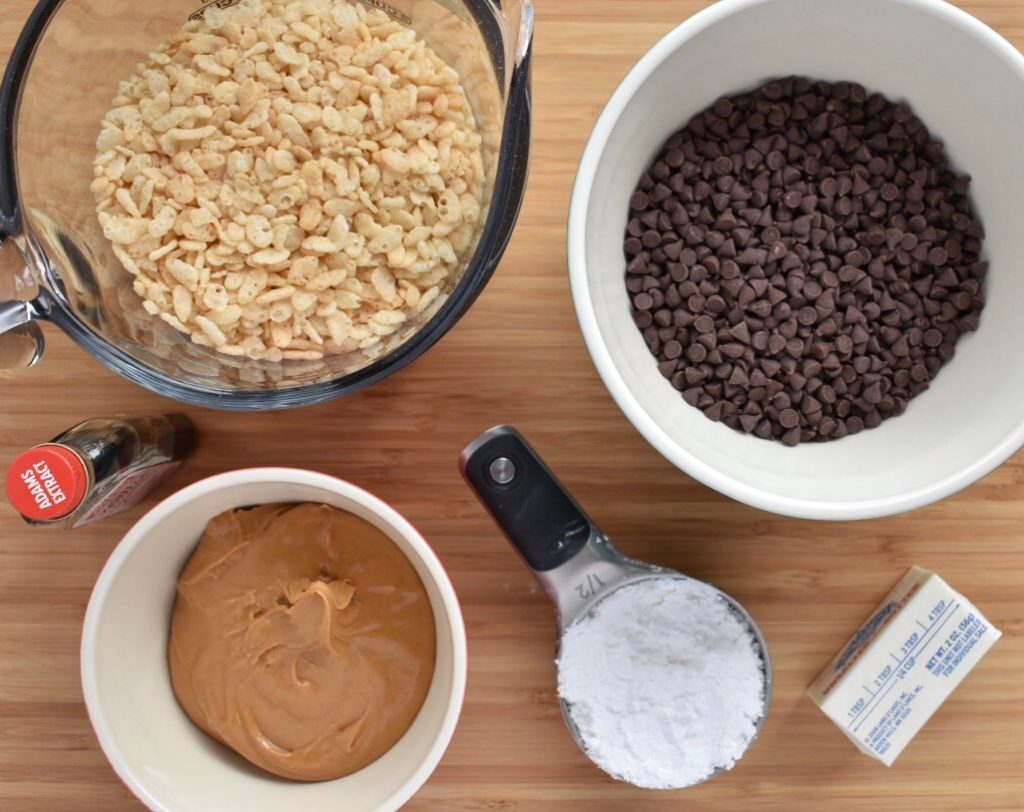 A couple notes on these simple ingredients:
When making these No Bake Peanut Butter Balls, I recommend using creamy peanut butter. Normally, I always opt for crunchy PB, but the rice cereal in this recipe gives a nice crunch which makes crunchy peanut butter redundant and unnecessary. Sorry, crunch PB.
For the chocolate coating I think dark chocolate is best, but you can use whatever kind you want – milk, white, or whatever other kind of chocolate you have.
Last call out, I add vanilla to this recipe, which adds a nice flavor but is not 100% necessary if you want to leave that ingredient out and save on some costs (I do think the $0.50 is well spent though).
As you know, there is no baking in this recipe. You just mix the ingredients together and form them into snack sized pieces. First up is the peanut butter, powdered sugar, butter and vanilla. It's best to melt the butter and peanut butter together first in large bowl, and then stir in the powdered sugar and vanilla.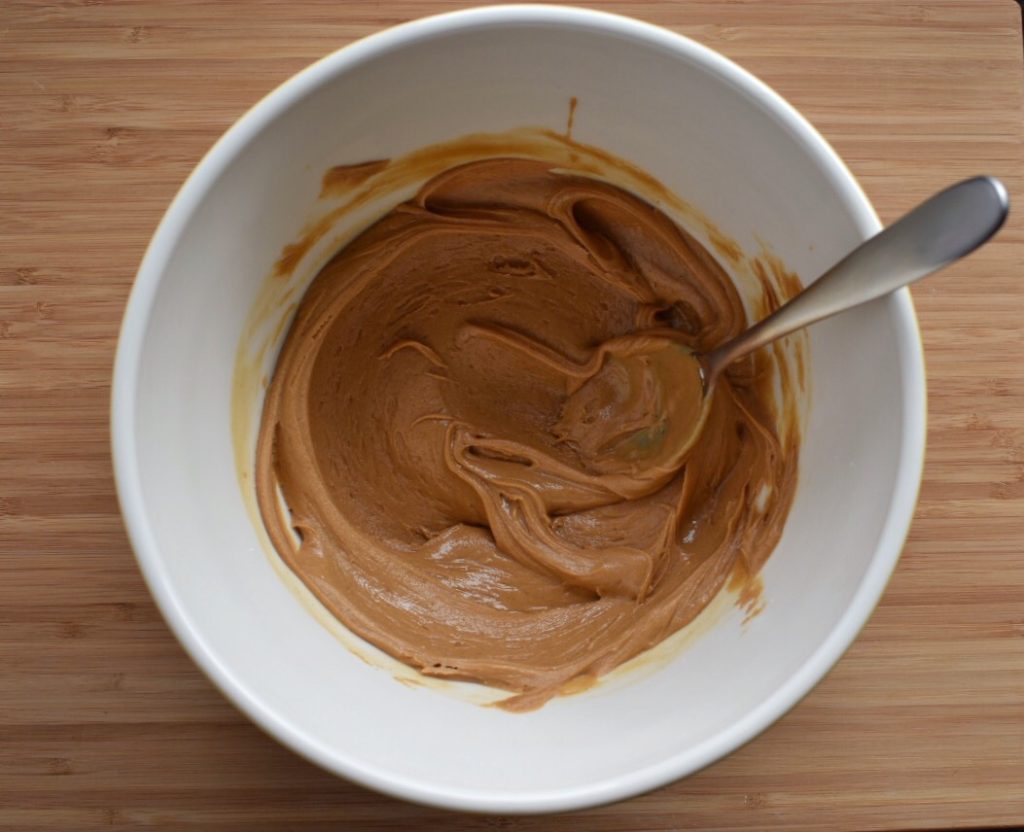 Next, you'll want to mix in your rice cereal and stir it together to incorporate it thoroughly.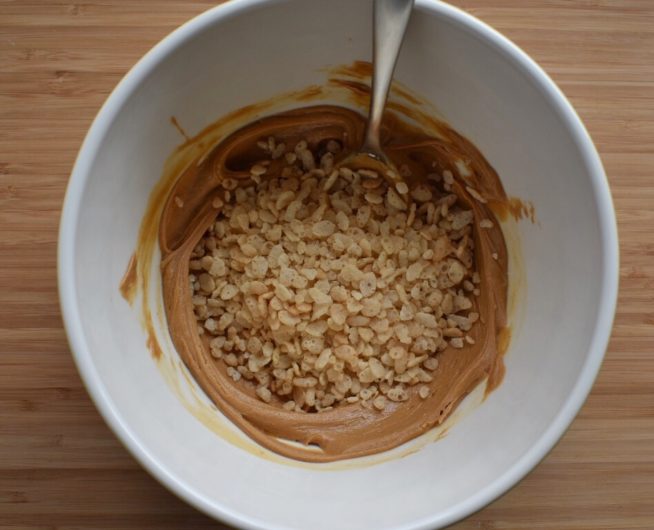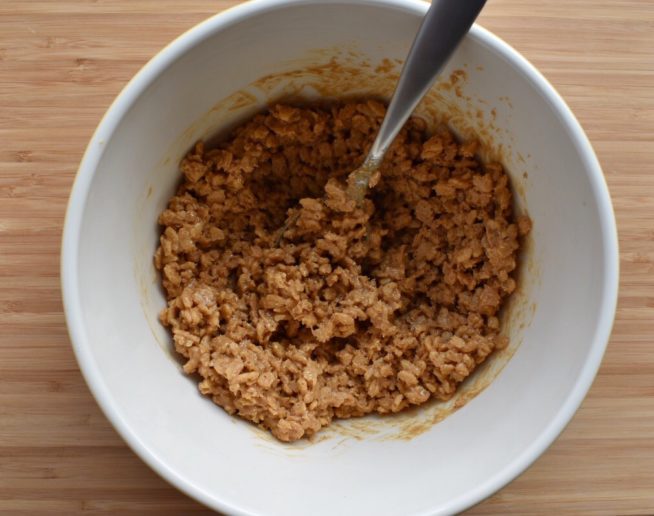 Now it's time to spray your hands with pam.
For real, it makes forming the balls a little easier. It also helps to put the mixture in the freezer for about 5-10 minutes before attempting to form balls. Otherwise you're just working with hot, sticky peanut butter and it's not pretty. Matter of fact, if the mixture at any point gets hard to work with, just pop it back in the freezer for a couple minutes. Oftentimes the heat of your hands will warm it up quickly.
Once the mixture is cooled and easy to work with, use a spoon to measure out snack-sized pieces and roll them in your hands to form small balls, placing them on a lined baking sheet. The recipe should yield about 20 balls.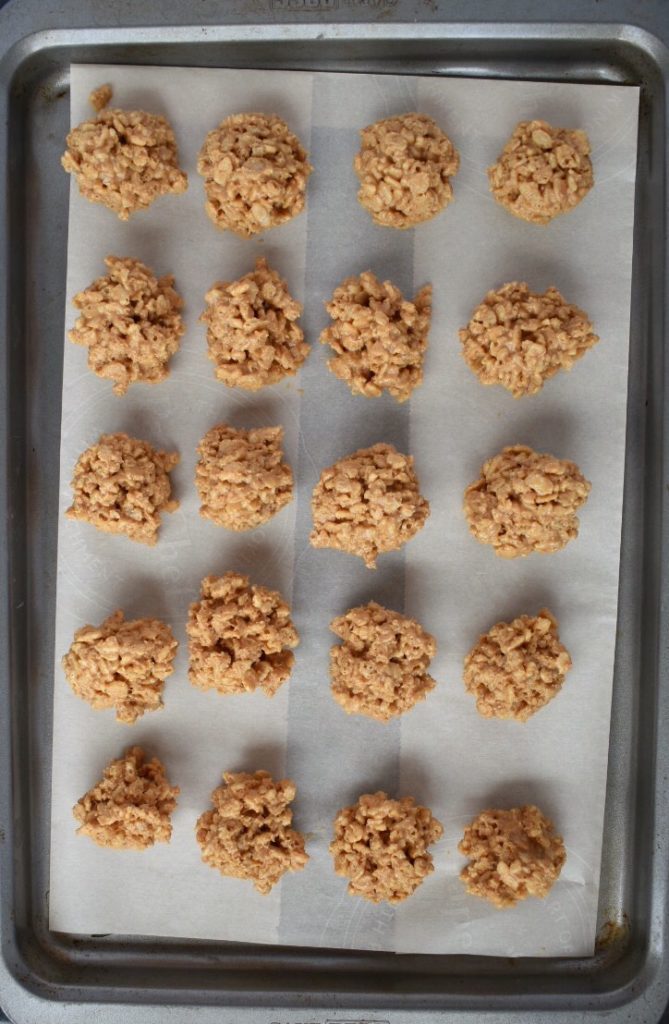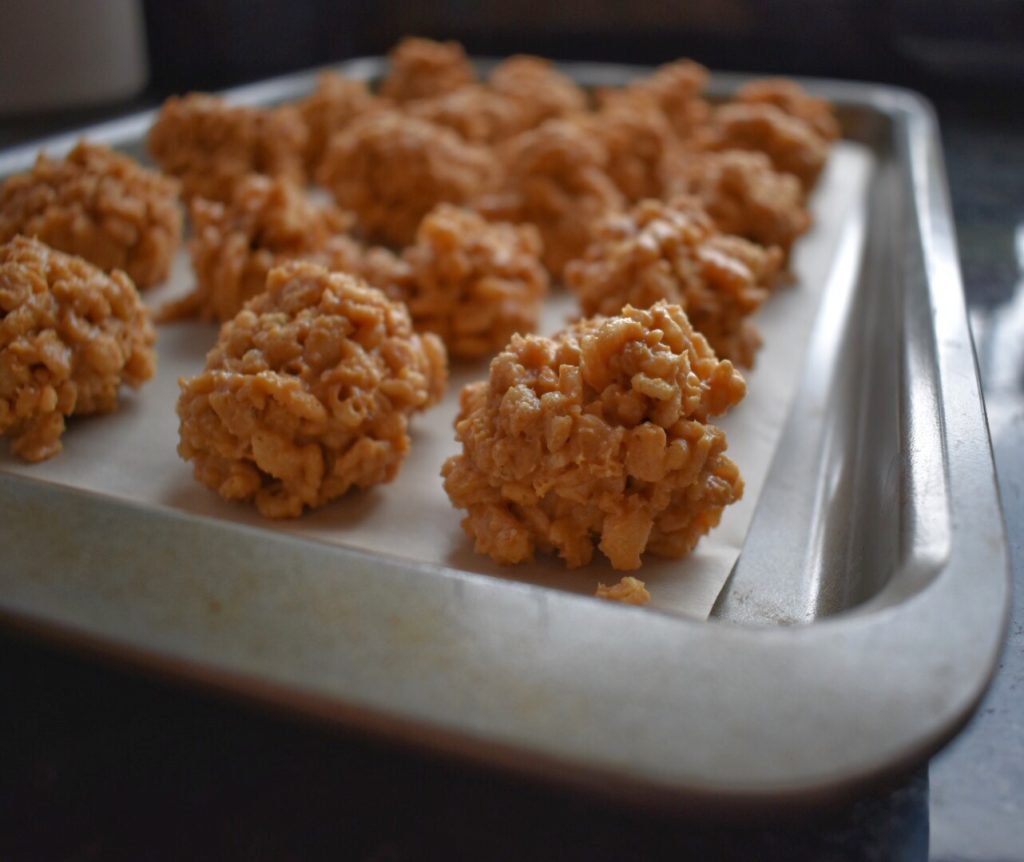 They were a little sloppy at first, so I put them back in the freezer or refrigerator for about 10 minutes and was able to clean them up a little bit afterwards.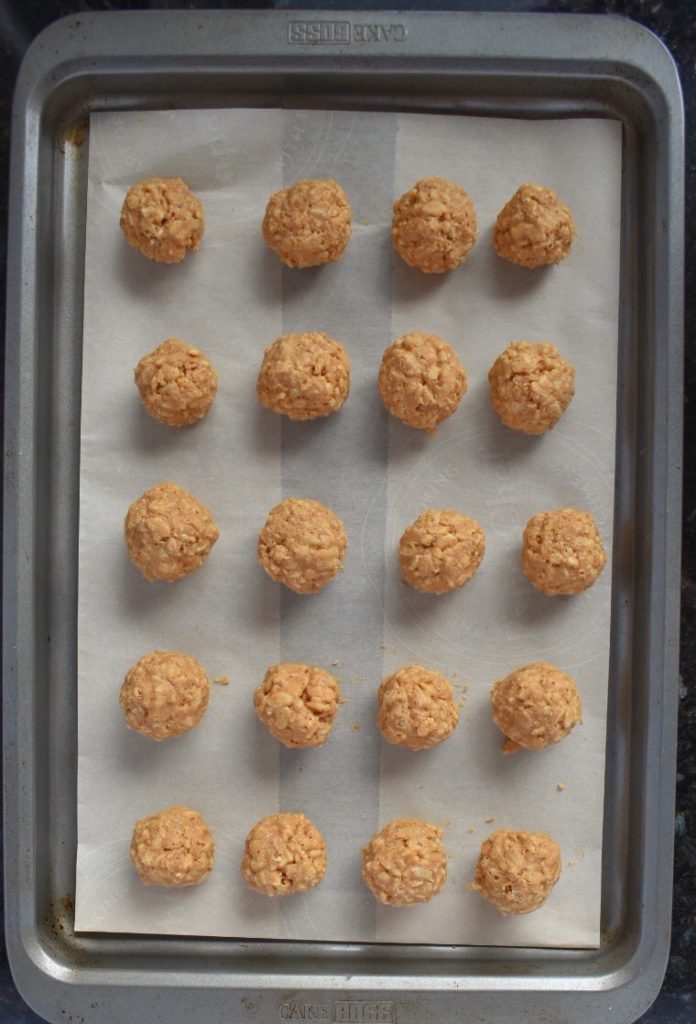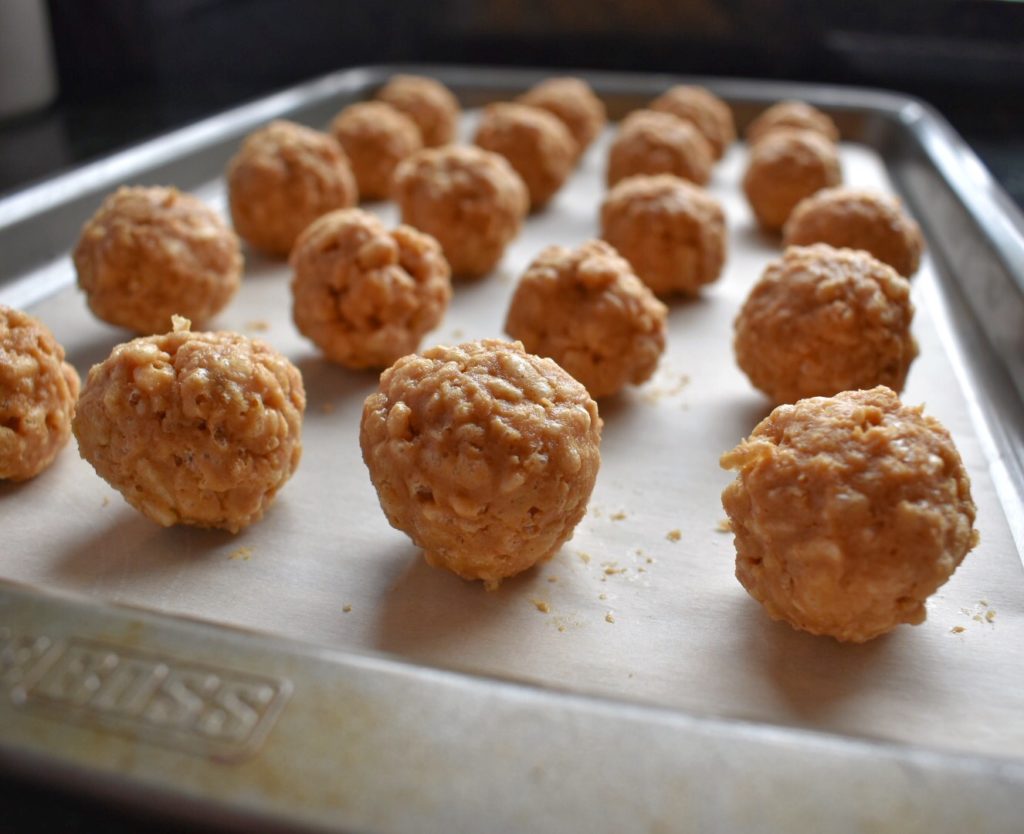 Much better.
The only ingredient left now is the chocolate, which needs to get melted in the microwave in a medium sized bowl (or using the double boiler technique). Then slowly but surely roll each Peanut Butter Ball around in the melted chocolate until fully coated, using a fork to help with that process.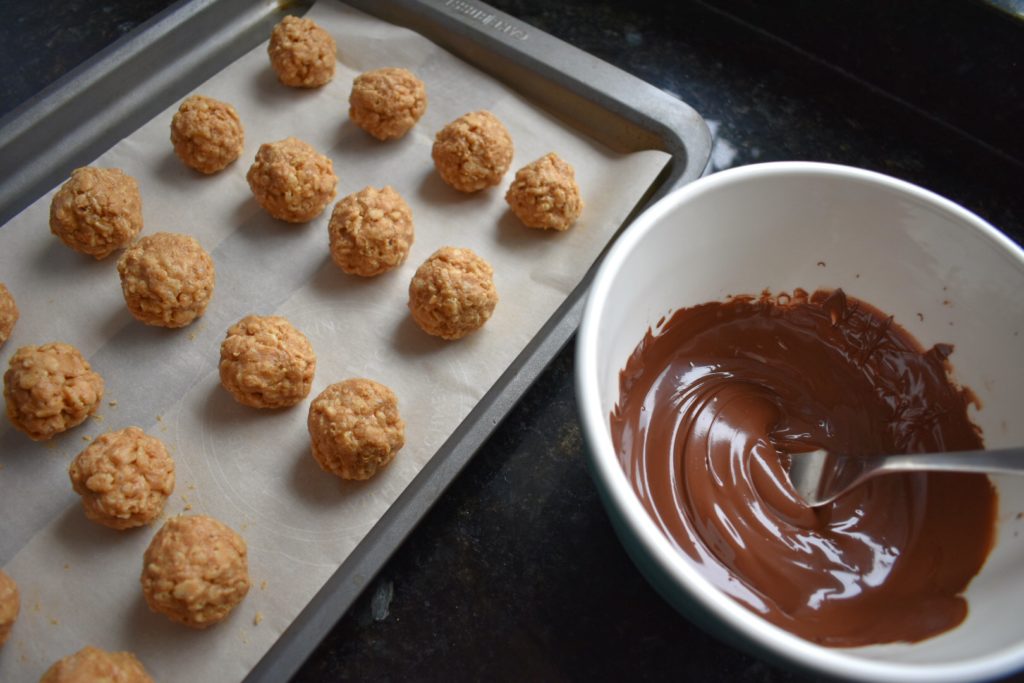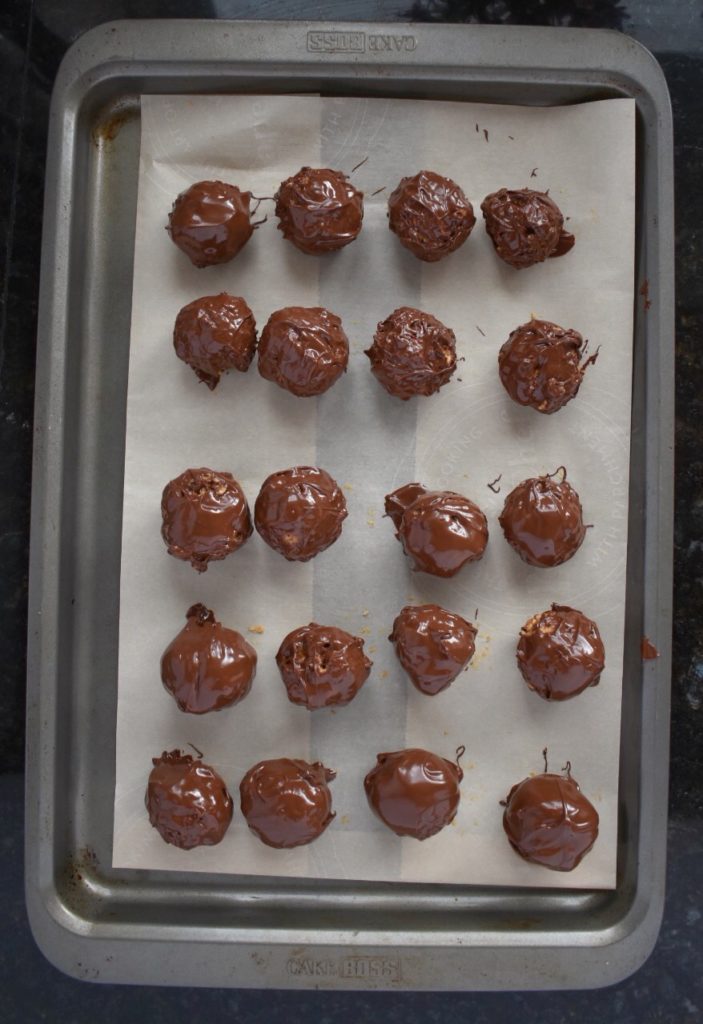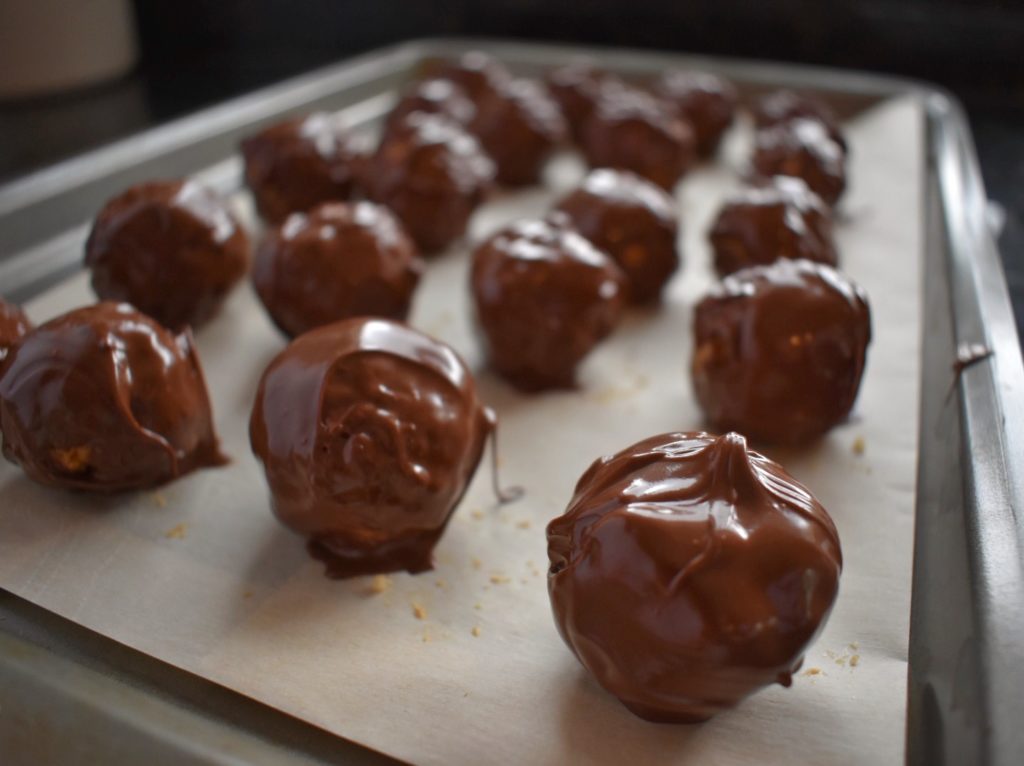 Once they have all been coated, put the tray of No Bake Peanut Butter Balls back in the freezer for at least another 20 minutes or until the chocolate firms up. I always store these in the freezer after making them. I like them cold, they last longer, and I don't have to worry about anything melting. It's probably not necessary though, just my storage preference.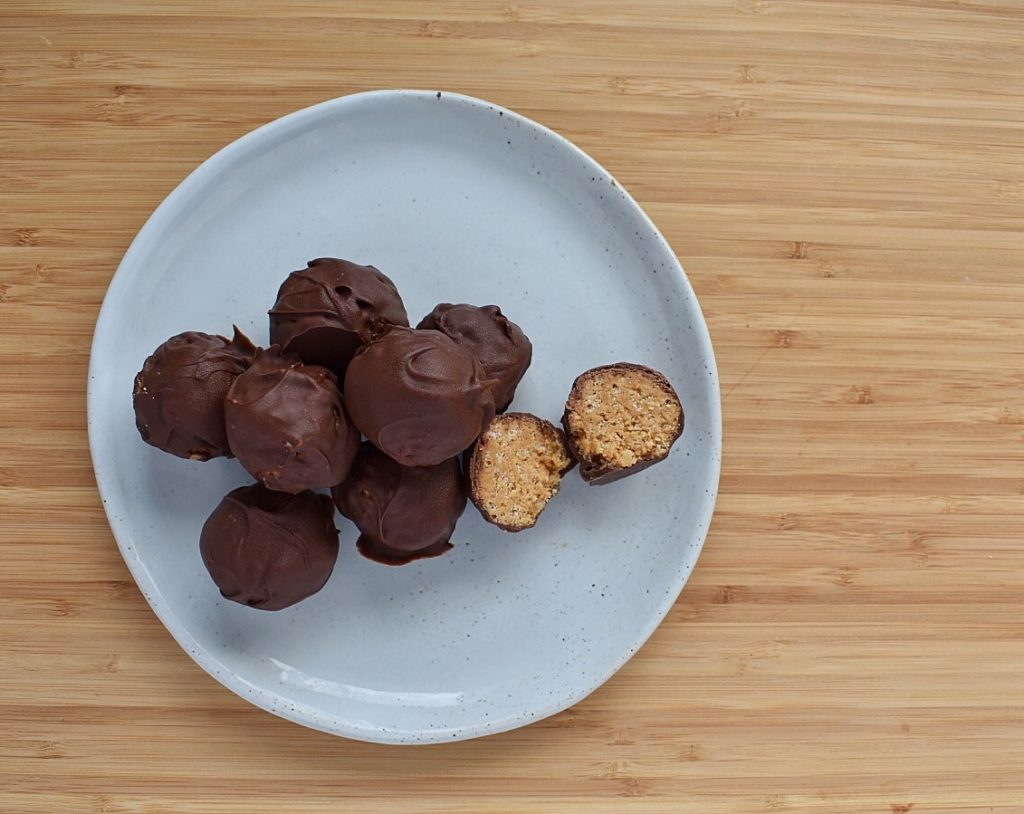 Alright, let's take a look at the nutrition for one of these No Bake Peanut Butter Balls (FYI, the full recipe should yield 20):
Calories: 157.1
Total Fat: 11.2 g
Total Carbs: 13.7 g
Protein: 3.0 g
Total Sugar: 8.1 g
Definitely less sugar than most peanut butter ball recipes on the market, but still tasty and dessert-like. Is this recipe "healthy" per say? Not really, it's a dessert.
Is it healthy for a dessert? Sure. Everything is relative. A slice of cheesecake from the Cheesecake Factory, while delicious, can run you 1,000+ calories. One peanut butter ball doesn't seem so bad compared to that.
Peanut butter is the main ingredient in this recipe, and you can learn more about it's health benefits (and downfalls) from Dr. Axe.
Let's get economical with these No Bake Peanut Butter Balls:
1 cup creamy peanut butter – $1.25
1/2 cup powdered sugar – $0.16
2 tbsp melted butter – $0.24
2 cups rice cereal – $0.36
1 cup dark chocolate chips – $1.68
1 tsp vanilla – $0.50
The grand total is $4.19. Which breaks down to about $0.21 per ball. With coffee shops charging $2 for cake balls, this is quite the steal for 1/10 of the cost!
No Bake Peanut Butter Balls
The No Bake Peanut Butter Balls are an easy and simple dessert.
Ingredients
1 cup creamy peanut butter
1/2 cup powdered sugar
2 tbsp melted butter
2 cups rice cereal
1 cup dark chocolate chips
1 tsp vanilla
Instructions
Heat the peanut butter in microwave for 15 seconds and add it to a large mixing bowl with the powdered sugar, melted butter and vanilla. Mix together those four ingredients until combined.
Stir in the rice cereal one cup at a time, mixing in half of the cereal and finishing with the second half. Then place the mixture in the freezer for about 5 minutes.
Form 20 small balls with the mixture and place them on a parchment lined baking sheet. Place the baking sheet in the freezer for 10 minutes to let them firm up even more. After 10 minutes, take the peanut butter balls out of the freezer and form tighter balls by pressing them in your hands (if necessary), then put them back in the freezer for another couple minutes.
Melt your chocolate in the microwave (or use the double boiler method) for 30 seconds, and then continue on 10 second increments until the chocolate is fully melted and smooth. Take the peanut butter balls from the freezer and dip them into the chocolate to coat them fully (turning with a fork to fully cover them). Place them back on the parchment lined baking sheet after they have been coated. Once all the balls have been covered, put them back in the freezer for at least 20 minutes.
Store in the freezer and enjoy!
https://www.economicalchef.com/no-bake-peanut-butter-balls/
I hope you enjoy these No Bake Peanut Butter Balls! Don't forget to check out Economical Chef's Kitchen Appliances.