The search for a better lunch continues, and this time I whipped up a vegetarian option: the Quinoa Chickpea Salad with Tahini Dressing. If you have read the past couple articles I've posted, then you know how sick of lunch meat sandwiches I have gotten. If not, catch up with all the latest gossip here.
Today, I'll bring you the recipe to make Quinoa Chickpea Salad for your lunch. This quinoa chickpea salad will be served with tahini dressing and basil topping. That's a good decoration though. This salad is a very healthy one and listed among the favorite dishes for vegans. But you can also have it sometimes for your health benefits and the change of daily tastes. Let's try it out together.
Quinoa Chickpea Salad Recipe
I have been a quinoa fan for as long as I have been able to pronounce the word correctly. So about 3 years. Those who eat it know that while it is extremely healthy, it can be a little bland. I had also been hearing great things about Tahini, which I found out 6 days ago is just ground sesame seeds. Who knew? It has a great nutty taste (some say it's bitter too, but I honestly didn't pick up on that) and combining quinoa and tahini (along with a handful of other ingredients) made for a fresh and healthy lunch.
Oh yea, and the chickpeas, I almost forgot. Chickpeas are great in salads and ground up as a dip (aka, hummus), and they also go great in this "salad" and add some welcomed texture and protein. So, here's the ingredients and instructions to follow:
Recipe for Quinoa Chickpea Salad with Tahini Dressing
Quinoa Chickpea Salad Recipe with Tahini Dressing makes for a fresh and healthy lunch for both vegans and none-vegans.
Ingredients
Salad Preparation - these are what you need to make quinoa chickpea salad:

1 cup quinoa
2 tbsp fresh basil (finely chopped)
1 cup chopped spinach
1 can chickpeas (15 oz)
1/3 cups feta (crumbled)
1/4 cup pumpkin seeds (raw or toasted)
Tahini Dressing - here are what you need to make a tahini dressing:

3 tbsp olive oil
Juice of 1 lemon
2 tbsp tahini
1 garlic clove
Salt and pepper
Instructions
Prep the quinoa as instructed on the bag (add your quinoa and 2 cups of water to a sauce pan. Bring to a boil and then simmer for about 15 minutes or until water is absorbed. Let stand for 5 minutes).
Chop the spinach and basil.
Prep the dressing: Finely chop the garlic and add it to a small bowl or dressing container. Add the olive oil, lemon juice and tahini. Salt and pepper to taste. Shake/stir everything to combine.
Add the quinoa to a bowl and allow to cool for 5 minutes. Then add the spinach, basil, chickpeas (drained), feta and pumpkin seeds. Pour in the dressing and stir to combine.
https://www.economicalchef.com/basil-quinoa-and-chickpea-salad-with-tahini-dressing/
I am pretty proud of the simplicity of this recipe too. I did not need to cook anything except for the quinoa. Besides that, it was just a fair amount of chopping and mixing.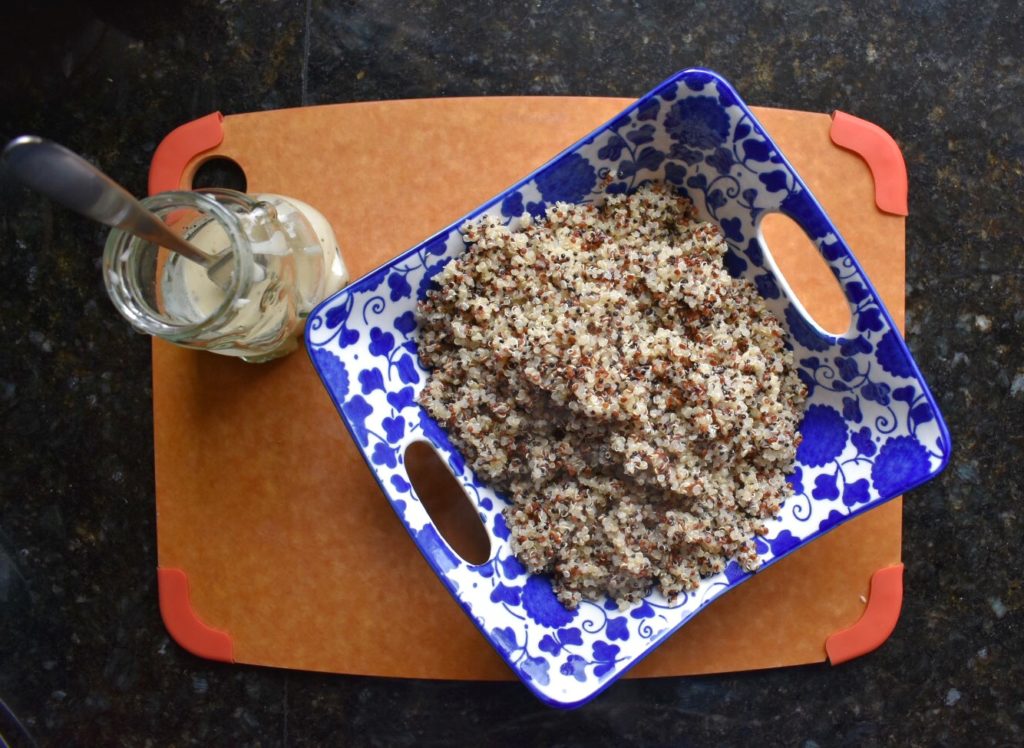 If you need a pot to cook quinoa, you can check out Cuisinart Cookware Sets or Calphalon Cookware Sets. These two brands are widely recognized. But there are more affordable options such as the below one from T-fal. Need more useful kitchen gear? Visit the link for our best selection of kitchen appliances from the market.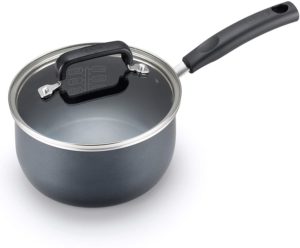 I also like to use fresh basil when I can. It's actually much more affordable than buying the dried spice if you buy the whole plant. It takes a little bit of nurturing to ensure the thing doesn't die, but lucky for me my wife has a green thumb and takes care of all the herbs in our window cill.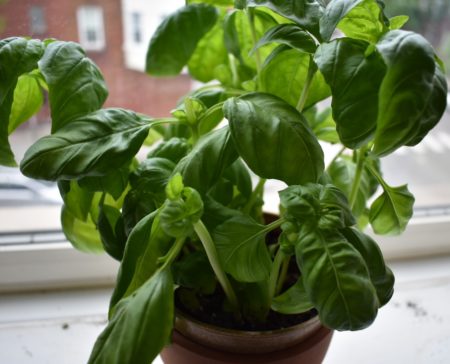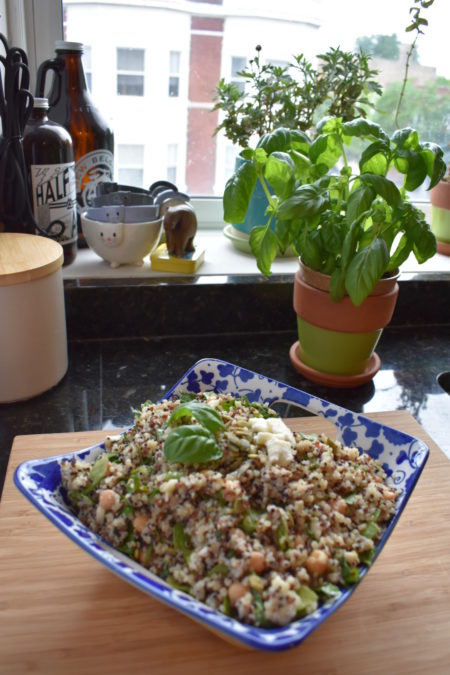 Quinoa Chickpea Salad Calories
Alright, let's take a look at the nutrition in this Quinoa Chickpea Salad with Tahini Dressing (6 servings). You'll get the nutritions and calories as follow:
Calories: 249.4
Total Fat: 9.6 g
Total Carbs: 33.6 g
Protein: 8.7 g
Total Sugar: 2.2 g
All around, this is another healthy recipe from the nutrition label perspective. The calories are coming from healthy fats (feta + olive oil), wholesome carbs (chickpeas + quinoa) and sustaining protein (quinoa + others). The sugar is super low in this dish, which is awesome because sugar is a tough thing to avoid when eating. Plus, you're getting some vegetables from the spinach that is included here.
How Much Does It Cost?
Let's get economical with this Quinoa Chickpea Salad with Tahini Dressing. Here is the calculation of the cost for making this healthy vegan salad:
1 cup quinoa – $2.40
2 tbsp fresh basil (finely chopped) – $0.65
1 cup chopped spinach – $0.99
1 can chickpeas (15 oz) – $1.49
1/3 cups feta (crumbled) – $0.99
1/4 cup pumpkin seeds (raw or toasted) – $0.50
3 tbsp olive oil – $0.70
Juice of 1 lemon – $0.99
2 tbsp tahini – $0.43
1 garlic clove – $0.10
Salt and pepper
The grand total is $9.24. This breaks down to about $1.54 per serving assuming you get 6 servings out of this recipe.
Conclusion
I know the list of ingredients for this quinoa chickpea salad looks long at first, but when you break it down between the salad and the dressing, it's only 6 ingredients for the salad and 4 for the dressing. If you want to cut a couple of things to make this cheaper/easier, I'd leave out the spinach from the salad and the garlic from the dressing (although I really do think both bring some great flavor to the dish!). I hope you enjoy this Quinoa and Chickpea Salad with Tahini Dressing!