For the past two years, I have been taking a turkey sandwich to work for lunch nearly every day. It just never got old for some reason and was quick, easy, affordable and relatively healthy. We had a good thing going, me and those turkey sandwiches.
Well, the other day, my relationship with turkey sandwiches came to a grinding halt. I was sitting (like all office workers do too much) eating lunch and had a sudden realization – I was officially sick of turkey sandwiches. It took two years, but I finally broke.
I needed to act fast because buying lunch in downtown Chicago is not an option for me. At the very least, it's a rare treat. They're thieves down there I tell you, there is no way to eat lunch for less than $9!
I decided to take baby steps and not steer too far from what I know and once loved, and opted for a simple solution, a better sandwich. I opted for this Slow Cooker Avocado Chicken Salad between two slices of bread.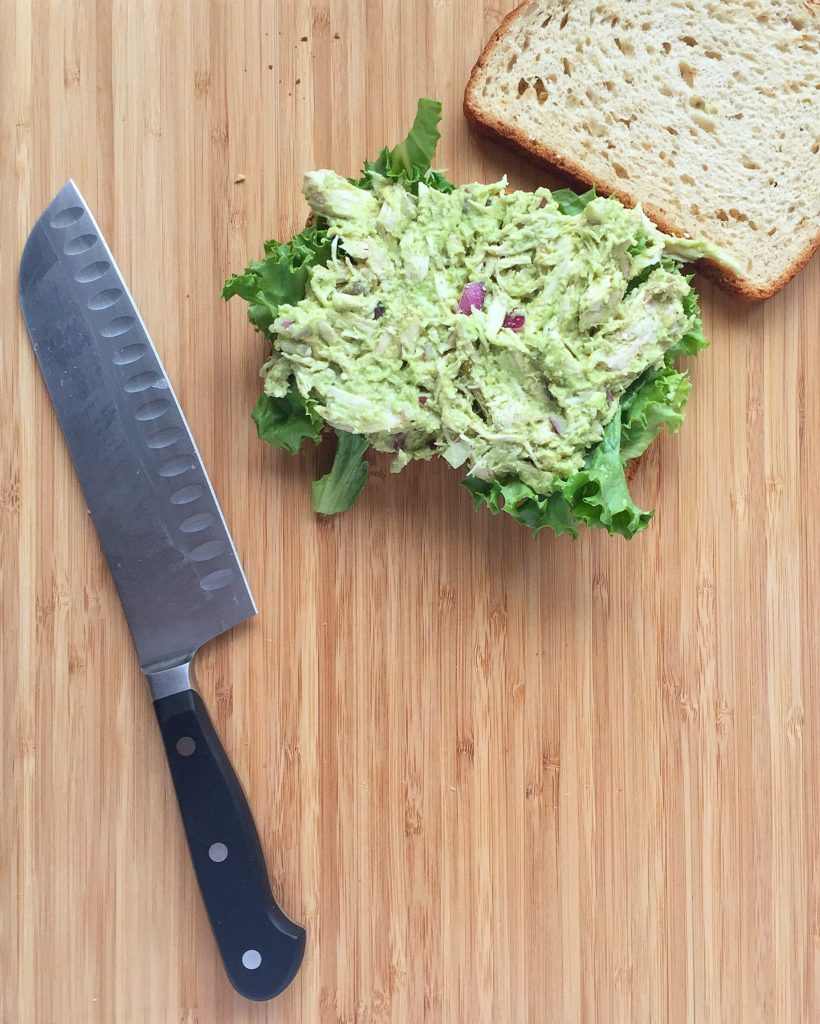 Any hesitation I had regarding switching away from my bread and butter sandwich was washed away as soon as I tasted this glorious sandwich. The chicken was moist from the slower cooker, the avocado was creamy and the red onion brought a fresh and spicy bite to tie everything together.
This Slow Cooker Avocado Chicken Salad tastes great, yes, but it also has some solid nutritional benefits. See the high-level nutrition info here (for about 1/4 lb of chicken):
Calories: 211
Total Fat: 9 g
Total Carbs: 3.5 g
Protein: 28 g
Total Sugar: 0.2 g
Pretty low in everything except for protein, which makes for a healthy, energy boosting lunch. I recommend pairing this with whole grain bread which will add healthy carbs and dietary fiber.
The star of the sandwich is really the avocado, which is a good source of vitamin B6, vitamin K, vitamin C, vitamin E and much more. Basically, avocado is loaded with vitamins and healthy fats.
Making the slow cooker chicken part of the Slow Cooker Avocado Chicken Salad is probably the easiest part. You can, "set it and forget it," meaning you just throw your chicken and other ingredients into a slow cooker and come back in 4 hours when it's done cooking. If you need a slow cooker, here is the one I use at home:
Get it now on Amazon.com
I love the slow cooker, and have also made Slow Cooker Beer Chicken using it. It's easy and very hands off.
Once the chicken is done cooking it's time to start shredding. Make sure to use the two fork method, as seen below in real time:
Once the chicken is shredded, combine your fresh ingredients to make the salad part of the Slow Cooker Avocado Chicken Salad. The avocado, red onion, lemon juice, parmesan cheese and dijon mustard make a good base, but this is 100% customizable. Feel free to add and swap ingredients however you want, just don't swap out the avocado. The lemon juice is also a key role player because it helps keep the avocado from browning over time.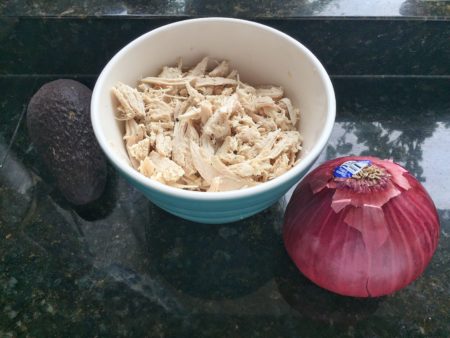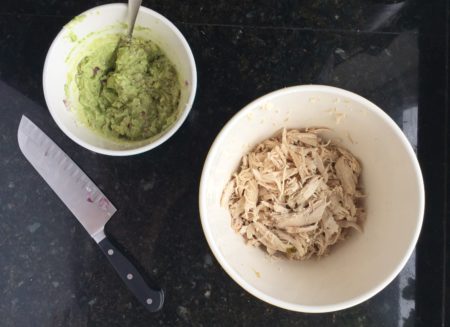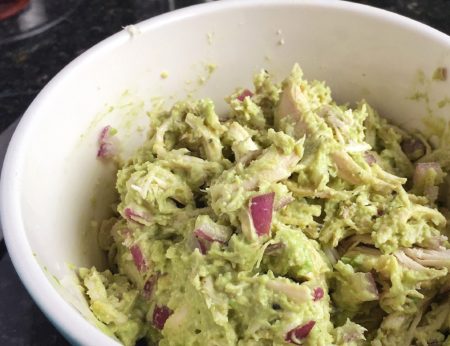 Let's get economical with this Slow Cooker Avocado Chicken Salad Sandwich:
1.5 lbs chicken breast – $9.00
1.25 cups chicken broth – $0.45
1/2 cup water – $free.99
1 tbsp butter – $0.12
1 tbsp parsley – $0.51
2 smashed garlic cloves – $0.20
Optional: 2 sprigs of thyme – $0.20
1/4 onion – $0.18
1 avocado – $1.50
2 tbsp dijon mustard – $0.18
2 tbsp parmesan cheese – $0.13
1 tbsp lemon juice – $0.20
Salt and pepper
The grand total is $12.67. This breaks down to about $2.11 per sandwich, assuming you make 6 quarter pound sandwiches. Add in bread, lettuce and any other accompaniments you're craving and you have a gourmet sandwich with avocado for less than $3.00. You know what else costs about $3.00? Adding avocado to a sandwich. Might as well make the whole thing at home.
Slow Cooker Avocado Chicken Salad
This Slow Cooker Avocado Chicken Salad is fresh, healthy and makes the perfect lunch.
Ingredients
1.5 lbs chicken breast
1.25 cups chicken broth
1/2 cup water
1 tbsp butter
1 tbsp parsley
2 smashed garlic cloves
Optional: 2 sprigs of thyme
1/4 onion
1 avocado
2 tbsp dijon mustard
2 tbsp parmesan cheese
1 tbsp lemon juice
Salt and pepper
Instructions
Add your first 6-7 ingredients to the slow cooker: chicken, chicken broth, water, butter, parsley, smashed garlic cloves (optional: thyme). Note: to smash your garlic, simply remove the papery skin and smash down on the garlic using the flat side of your knife (applying force with the heel of your hand).
Set your slow cooker to 4 hours on low (or whatever setting you have that fits with your schedule).
After cooking, remove the chicken from the slow cooker and place in a large bowl, allowing to cool. Discard the cooking liquid.
In the large bowl, shred your chicken with two forks.
Chop your onion finely and combine it with the avocado, dijon mustard, parmesan cheese and lemon juice in a separate bowl. Mix that together, then add the combined mixture in the bowl with your chicken. Salt and pepper to taste and mix thoroughly.
Refrigerate the Avocado Chicken Salad and enjoy!
https://www.economicalchef.com/slow-cooker-avocado-chicken-salad/
I hope you enjoy this Slow Cooker Avocado Chicken Salad!