Lunches are tough to plan for the week, not to mention actually prep and cook. It can be hard to find the motivation some Sunday's to spend time in the kitchen making food for the work week instead of enjoying the last few hours of the workday. So far, I had already introduce you to the Basil Quinoa and Chickpea Salad with Tahini Dressing, Healthy Buffalo Chicken Bites, Slow Cooker Avocado Chicken Salad, and Spicy Soy Sauce Basil Chicken. So, today I'm gonna bring you to a new recipe for making your chicken tasty i.e. the Slow Cooker BBQ Chicken Thighs or Breast. This recipe can be applied to any type of chicken meat anyway.
You could make this slow cooker BBQ chicken with just two main ingredients – BBQ sauce and chicken. I was looking for something a bit more flavorful, so I added some onion, garlic and vinegar to the slow cooker to spice up my BBQ while still keeping the recipe simple with only 5 ingredients. Let's check our my recipe and instructions as follow:
Simple Steps to Make a Slow Cooker BBQ Chicken Thighs/Breast (all in one recipe)
Easy Slow Cooker BBQ Chicken
This Easy Slow Cooker BBQ Chicken has only 5 ingredients but packs big flavor. It makes a perfect weekday lunch.
Ingredients
2 lbs chicken
3/4 cup BBQ sauce
2 cloves garlic
1/2 red onion
1 tbsp vinegar
Salt and pepper
Optional: red pepper flake
Instructions
Add the BBQ sauce, vinegar and chicken to the slow cooker.
Finely chop the garlic and cut the red onion into thin slices. Add both to the slow cooker as well with salt and pepper.
Set the slow cooker to cook for 4 hours. Once finished cooking, remove the chicken and onions from the slow cooker and place them in a serving bowl, saving some of the sauce from the slow cooker and discarding the rest. Shred the chicken with two forks
Top the chicken with fresh BBQ sauce and enjoy!
https://www.economicalchef.com/easy-slow-cooker-bbq-chicken/
Cooking Appliances You Need
If you are in need of a Slow Cooker, below is the one I used at home. You can also get this Presto Pressure Cooker if you're going to buy one. It's functional and good in quality.
Besides a professional chef knife (I'm just kidding. You can use any Kitchen Knife actually) that is really all you need to make this recipe. Now, let's start cooking.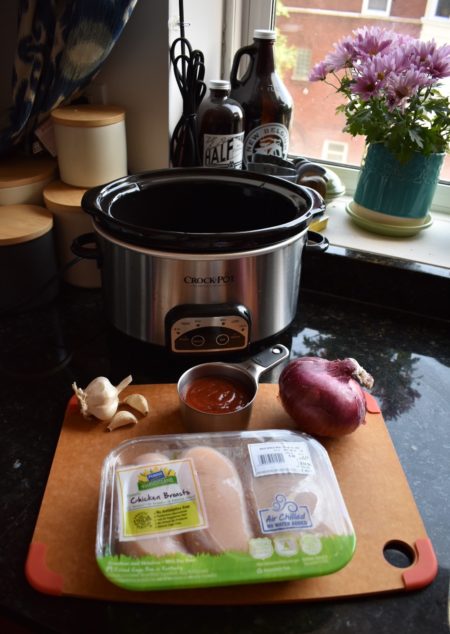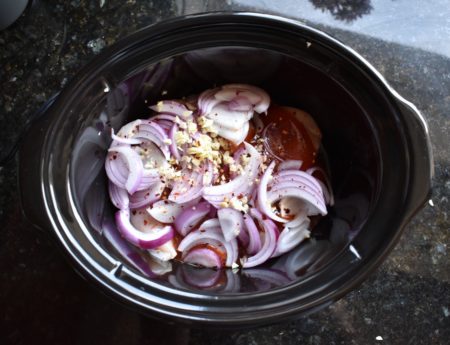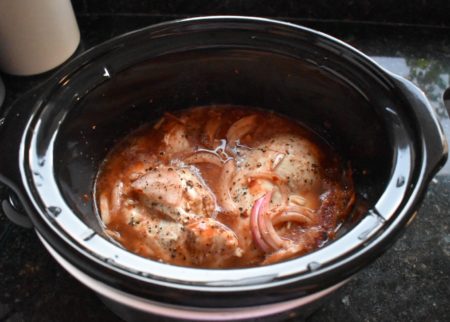 Cooking steps
This recipe is really easy to make too – it only has a few steps to it.
Add all the ingredients to the slow cooker and set it for 4 hours (or your desired setting).
Come back and shred the chicken with two forks after the set time has passed.
The sauce will be cooked down and extra "liquidy" at this point. If you are storing some of the chicken in the refrigerator, save some of BBQ sauce from the crockpot to keep the chicken moist, then dump whatever you didn't utilize. I also like to add fresh BBQ sauce (from the bottle or homemade) on top of the chicken before serving.
You can use your favorite store bought BBQ sauce, or make your own! Here are some solid recipes: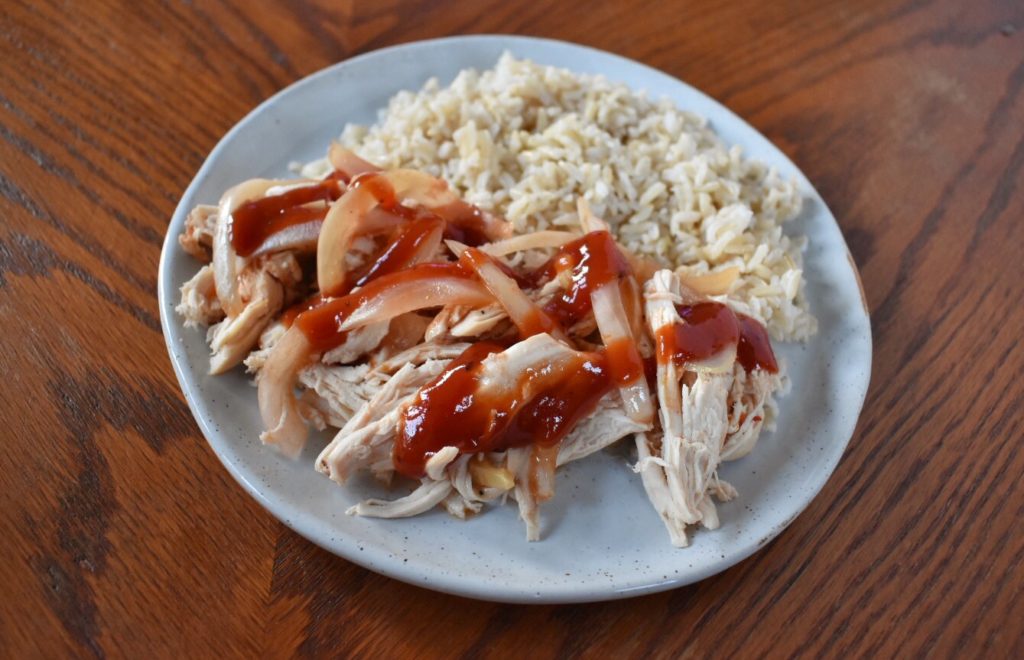 As you can see, I'm not a fan of sauce-laden meals. Just a little sauce gets the job done for me, but you can customize this recipe however you want. Just remember, the extra sauce will add a little it of sugar and calories to the nutrition profile.
Nutritions You'll Get
Here is a quick look at the nutrition profile for this Easy Slow Cooker BBQ Chicken per quarter pound serving: (full details below)
Calories: 172
Total Fat: 3 g
Total Carbs: 8.5 g
Protein: 26.2 g
Total Sugar: 6 g
The sugar content was actually lower than expected in this one. Sugar is usually a pretty big red flag for me, and since BBQ typically has a decent amount of sugar in it I thought we might be in some trouble here. Six grams though is not too bad, in my opinion.
How Much You Save for This Recipe?
Let's get economical with the Easy Slow Cooker BBQ Chicken:
2 lbs chicken thighs or chicken breast – $16.00
3/4 cup BBQ sauce – $0.77
2 cloves garlic – $0.20
1/2 red onion – $0.76
1 tbsp vinegar – $0.13
Salt and Pepper
Optional: Red pepper flake
The total is $17.86. That breaks down to $2.23 per quarter pound serving.
You can also try this creative slow cooker BBQ chicken thighs recipe by Cooking Up Love below. It's quite a yummy one actually.
Conclusion
This Slow Cooker BBQ Chicken Thighs/Breast recipe is a self-developed from my own research, learning and experience. My purpose to help you enjoy your meal while saving some bucks at the same time. I hope you enjoy my recipe. Cheers!