Chicken is healthy, but can also be bland and boring. This cold winter night I decided to go with something spicy for dinner, and this Spicy Soy Sauce Basil Chicken is anything but bland. It will give your weeknight dinner routine the shake up it needs. Earlier, I shared a recipe on how to make chicken in a slow cooker, this time I am going to marinate chicken and "grill" it on the stovetop. If you don't have a grill pan, a regular frying pan will work just fine.
Start with the easy marinade. It consists of soy sauce, garlic, basil, lemon and other common but flavorful ingredients. Together, they're unstoppable, like the '85 Bears.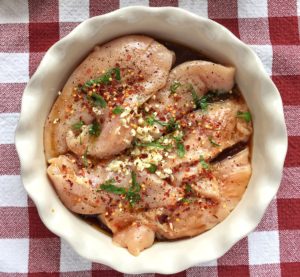 Let the marinade sit for at least 10-15 minutes. If you have the time or capacity to plan things ahead, go ahead and let it sit for an hour.
Once the chicken is thoroughly marinated, heat a little oil in your pan and add the chicken.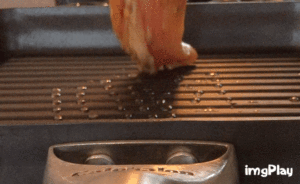 Depending on its thickness, let the chicken cook for 4-5 minutes and then flip it.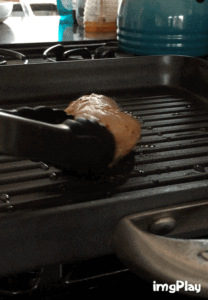 The smoke/steam is a nice feature to have when "grilling" indoors. My cold apartment probably adds to the effect a little – heat is expensive. I grew up in a household like this:
Getting back on track, let the chicken cook another 4-5 minutes and it should be perfect. If you need to, just cut it in half and make sure it's not pink. There is no such thing as medium rare chicken.
Let's get economical with this Spicy Soy Sauce Basil Chicken:
2 lbs chicken breasts – $12.00
2 tbsp soy sauce – $0.16
1 tbsp olive oil – $0.17
1 tsp red pepper flake – $0.06
1/4 lemon worth of lemon juice – $0.25
2 garlic cloves – $0.20
2 fresh basil leaves (or tsp dried basil) – $0.20 (I have a basil plant that cost $4 and keeps growing basil for as long as I can keep it alive. I'm calling it $0.10/leaf)
The grand total is $13.14. You can get six servings of this awesome chicken, which breaks down to $2.19 per serving. You don't need to win anything to afford this chicken dinner.
Most of these ingredients are "staples" too. If you don't use them all for this recipe you can easily use them throughout the week/month with other recipes. The only item of concern in my mind is the lemon. You can use the rest to squeeze on top of your meal, or make lemon couscous, or lemon cauliflower, or lemon water, or whatever you want.
This chicken is savory from the soy sauce, spicy from the red pepper, tart from the lemon and fresh from the basil. It's balanced, and awesome. I hope you give it a try.
Spicy Soy Sauce Basil Chicken

Ingredients

1.5-2 lbs chicken breasts
2 tbsp soy sauce (low sodium)
1 tbsp olive oil
1 tsp red pepper flake
1/4 lemon worth of lemon juice
2 garlic cloves
2 fresh basil leaves (or tsp dried basil)

Instructions

Pound out chicken breasts appropriately so that they cook evenly. If you need to, cut them into smaller strips.
Combine all the remaining ingredients in a bowl for the marinade. Add the chicken and mix it into the marinade.
Cover in tin foil and marinade in the fridge for 15+ minutes.
Cook the chicken on a stovetop over medium heat for about 5 minutes each side (depending on the size of the chicken breast), or until cooked through.
Serve over rice and enjoy!

https://www.economicalchef.com/spicy-soy-sauce-basil-chicken-2/
I hope you enjoy this Spicy Soy Sauce Basil Chicken!