Most of us have a chef inside us who wants to experiment with different things with food items. Several things differ from a chef with other people who love cooking. Among these things, the most important and the most complicated thing is 'perfection.' Making a snack or any kind of cuisine is an art. One must know the exact amount of spices, toppings, and temperature at which food should be cooked.
If you are also a foodie and make sure that your food is in perfect shape and is cooked at a proper temperature, then you have come to the right place. Here in this article, we have mentioned the product review of 10 meat thermometers that can help you cook a perfect meal. Meat thermometer or a cooking thermometer is a device used to check the internal temperature of the cooking meat including chicken, beef, salmon fish and more. It is mainly used to check the temperature of steak and the other related food items while they are being roasted.
Here List of the Best Meat Thermometers in 2023
10. ThermoPro TP03 Digital Instant Read Meat Thermometer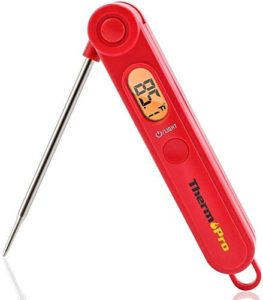 It is easy to use the device and its 3.9 inches food-grade stainless steel probe can accurately read the temperature of the meat in just 5 to 6 seconds. This device comes with a backlight feature. The product is designed in such a way that it will shut off after 10 minutes from switching it on. For all those who want perfection in each and everything they cook, this would be the best measuring tool. Buy it and prepare the best food with zero imperfections.
Why Do We Recommend it?
Instant reading (in 5-6 seconds)
Portable (easy to fold)
Can sensor with temperature ranging from -58°F to 572°F (-50°C ~ 300°C)
Comes with a hook for easy storage
Auto Shut-Off System
9. Habor 022 Meat Thermometer, Instant Read Thermometer Digital Cooking Thermometer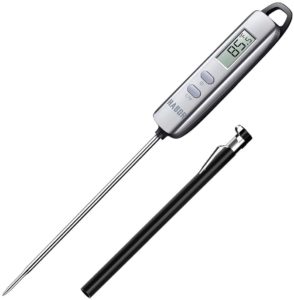 This one is another amazing meat thermometer device that prevents your food from overcooking. It gives the most accurate temperature in just 4 to 6 seconds. This device is 4.9 inches long and can tell the exact temperature of different food items including milk, steak, chicken, and many others. You must buy this product if you want to prepare the best and the properly cooked dish for your family.
Why Do We Recommend it?
You get everything in your hand that makes it a very easy to use
Instant and accurate result
Can sensor with temperature ranging to -58℉ to 572℉
10 minutes auto shut off system
The device comes with a protective sheath
8. Aveloki Digital Meat Thermometer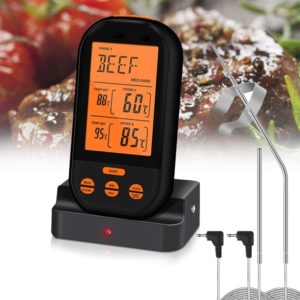 It is one of the technologically advanced device you would get in the market. You get a digital screen with this product that can be removed from the main one even if the thermometer is working. It is equipped with a temperature control system that shows alert when the temperature of the food rises beyond its required temperature. Not just for household purposes, this device can also be used by restaurateurs who believe in providing the best and the properly cooked food to their customers.
Why Do We Recommend it?
Very easy to use
Portable
Two thermometers for accurate results
Wireless Transmission technology
Sound and light Alert system
Temperature ranges from -20℃ to 300℃(-4 to 572℉)
Two steel probes can be used for two different food items
Also check: Top 10 Best Meat Cleavers in 2023
7. ThermoPro TP-16 Large LCD Digital Cooking Food Thermometer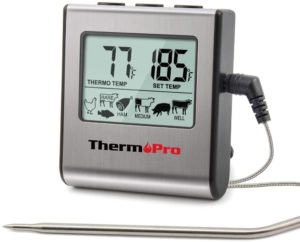 It is the most durable food thermometer. The temperature in this thermometer can be set as per the requirements. You can use a thermometer on various food items including steak, ham, and chicken. With 6.5 inches of stainless steel probe, you get the most accurate and precise results that prevent your food from getting overcooked.
Why Do We Recommend it?
Easy to use
Instant, Accurate, and Precise Result
Adjustable according to the requirement
Easy to store
Portable
Comes with a metallic back for easy storage
Can detect temperature range from 32°F to 572°F (0°C to 300°C)
6. Kizen Instant Read Meat Thermometer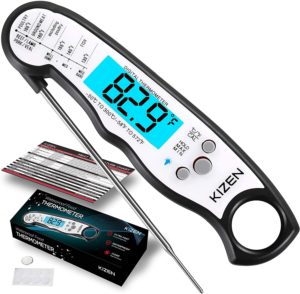 Kizan meat thermometer is another amazing device that can be used in your kitchen for better results. The results are very quick and you can expect the result to come out the maximum in 3 to 4 seconds. It is not only easy to use but also easy to clean as it comes with waterproof technology. It is enabled with a large digital screen that displays the accurate temperature of your meal. With so many amazing features, this device is among those tools that can be used by chefs who run their restaurant or work in five-star hotels.
Why Do We Recommend it?
Easy to use
Durable and reliable
Waterproof Technology
Digital Screen that displays large temperature results
5. ThermoPro TP01A Instant Read Meat Thermometer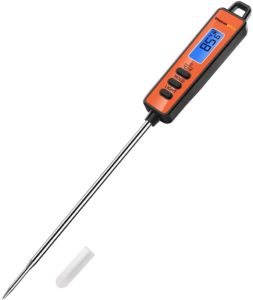 This thermometer comes with a very long stainless steel probe that can be used to detect accurate and precise food temperatures. This high precision digital device can give very instant and accurate results, i.e. in around 3 to 4 seconds. The device is equipped with a backlight that allows you to cook the food with accuracy even in dim lighting conditions.
Why Do We Recommend it?
Easy to use
Instant and accurate results
Backlight for the dim lighting situation
5.3 inches stainless steel probe
Temperature ranges from -58°F to 572°F (-50°C to 300°C)
Also check: Top 10 Best Electric Meat Grinders in 2023
4. ThermoPro TP-17 Dual Probe Digital Cooking Meat Thermometer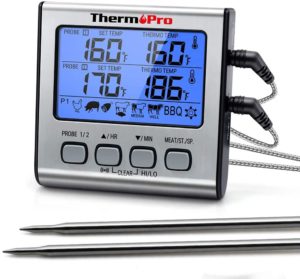 It is the most durable thermometer when it comes to cooking meat. Dual probe grill thermometer makes it easy to monitor two different types of meat at the same time. It enables you to use it on any kind of meat. The flip-out stand allows you to use it at any place with minimum efforts. Buy it now and enjoy the properly cooked meat and other food items. Through this thermometer, you would be able to judge whether the food is undercooked or overcooked that too in just a matter of seconds.
Why Do We Recommend it?
You get everything in your hand
Easy to read and clean
Precise and accurate results
STEP-DOWN probe tip design and backlit LCD.
3. ThermoPro TP20 Wireless Remote Digital Cooking Food Meat Thermometer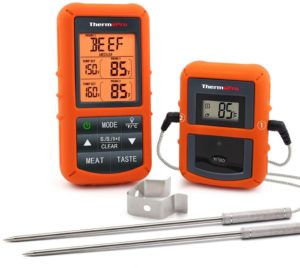 It is a cooking thermometer equipped with dual-probe technology which helps in monitoring two different kinds of meat at the same time. You can use this thermometer on various food items like measuring the cooking of  rosemary dijon pork loin, braised Guinness lamb, and many more. This electronic device can be used in restaurants and hotels to provide evenly cooked meat to the customers.
Why Do We Recommend it?
Dual stainless steel probe
Large backlit LCD
Waterproof receiver
Simple and easy to use
Gives accurate, precise and instant results
2. ThermoPro TP18 Ultra-Fast Thermocouple Digital Instant Read Meat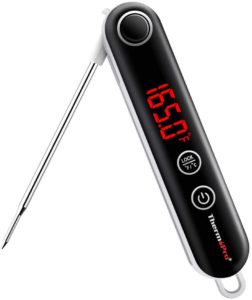 It is an ultra-fast and accurate digital meat thermometer. The fast response and wide temperature range ensure no overcooking or undercooking of your meat. It is perfect for all sorts of cooking activities such as meats, baking, liquids, etc. What is even better than a tool that has multiple features and is still very user friendly? This thermometer is no different as it gives you quick and accurate results in just a matter of seconds.
Why Do We Recommend it?
Ultra-fast response
Highly accurate readings
Enabled with Auto-Lock function
A reliable and durable
Easy to store
Wide temperature range
Very easy to use
1. Rubbermaid Commercial Food/Meat Instant ReadThermometer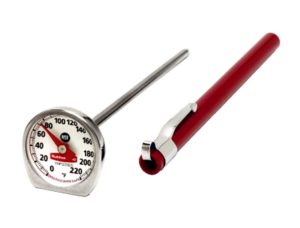 The design of the thermometer makes it easy to use at any place. The stainless steel and shatterproof lens make this thermometer highly durable and dependable. The thermometer reads between 0 to 220 degrees Fahrenheit. This thermometer is equipped with ultra-quick sensors that take just seconds to read the temperature of your food. It saves from getting your food overcooked or undercooked. Buy it if you haven't and make cooking fun.
Why Do We Recommend it?
Ease of use
Fast and Accurate readings
Extreme temperature range
Dishwasher safe
Battery-free design
Protective sheath.
Its sleek design lets you carry and store it anywhere you like
Meat Thermometer FAQs
Q: Can you leave a meat thermometer in the meat while it's cooking?
A: No, never place the meat thermometer in the meat while it's cooking. The thermometer registers temperature within 15 to 20 seconds so you can take out the thermometer from the meat after that.
Q: When should you insert a meat thermometer?
A: Insert a meat thermometer when you think that the food is almost done. Also, for best results, only place the thermometer in the thickest part of the meat. Avoid touching the thermometer with the bone or the fat of the meat.
Q: Are meat thermometers accurate?
A: Most meat thermometers give accurate results within the target temperature. If you are curious about whether your meat thermometer is accurate or not, simply place it in boiling water. You'll realize yourself.
Q: Should I buy a meat thermometer?
A: Yes, you should definitely buy a meat thermometer. Using a meat thermometer ensures food safety and prevents people from illnesses like Salmonella and Norovirus.
Q: Do chefs use meat thermometers?
A: Yes, most chefs also use meat thermometers while cooking. And they also suggest others to use them too, because of the ease they provide while cooking. Once you use a meat thermometer while cooking, you'll never cook without it again.
Conclusion
For those who love cooking and are very much dedicated to cooking a perfect meal, Meat Thermometers are the best choice. Apart from saving your food from getting overcooked, this amazing device all lets you know if your meal is still not cooked properly. You need not be a techie to use this device. All you need to do is set the desired temperature and the rest of the work would be done by the thermometer.
These thermometers have now made it easy for people to cook and prepare amazing meals just like chefs do. You do not need professional knowledge of this product. Just place it on your meal and cook the food according to the results that will be shown to you in seconds.