Beef meatball is beef meat mixed with different ingredients and rolled in a small ball to bring you another flavor to enjoy your beef. Beef meatballs are made with different recipes; some are spicy, some are salty, some are sweet, all depending on individual's preferences. You can always change the tastes by yourself if you know how to make the meatball at home.
Thus, today the Economical Chef will bring you a simple and healthy recipe for you to make beef meatballs from grass-fed beef and Quinoa. Knowing this basic meatball making process will allow you to make different types of beef meatballs you may like in the future.
Here How to Make Beef Meatballs from Grass-Fed Beef and Guninoa
Here is how I started to make my own recipe. For the past couple weeks, I have been buying grass-fed beef that is on sale even though we already have 2-3 lbs in the freezer. It's an annoying habit that I need to break, but the extra food always gets used in the form of countless sandwiches, pasta bakes, and in this case, Grass Fed Beef and Quinoa Meatballs.
If you're wondering why there is quinoa in these meatballs, the main answer is "money." Meat is expensive, and quinoa is slightly more affordable and packs a good amount of protein. Based on the research by Harvard School of Public Health, quinoa is a good source of protein and fiber. We are economical chef here. So, rather than use breadcrumbs in this recipe, I decided to switch it up and use quinoa. It worked great and kept a couple extra bucks in my pocket.
Beyond being affordable, this recipe is also a healthy and easy weeknight meal. There are only 8 ingredients and it takes just about 30 minutes to make.
Ingredients for the meatballs
Let's get economical with these Grass Fed Beef and Quinoa Meatballs. Below are the items you need for making your meatball.
1/2 cup cooked quinoa – $1.20
1 lb grass-fed beef – $7.99
1 shallot, finely chopped – $0.50
2 garlic cloves, finely chopped – $0.20
1 tbsp Italian seasoning – $0.42
1 egg, lightly beaten – $0.25
1 tbsp olive oil – 0.23
1 cup marinara sauce – 0.99
Salt and pepper
The grand total is $12.18. That breaks down to just under $1 per meatball. I ate about 2 or 3 for a serving, which would be $1.74 – $2.61 total. That is a great deal of some high quality, grass-fed beef!
Cooking appliances needed
I did not need much help with this Grass Fed Beef and Quinoa Meatballs recipe, but I did use some simple plastic mixing bowls or a copper mixing bowls, a reliable frying pan or skillet, my go-to chef's knife and sweet tongs. Quick and easy Amazon links to those kitchen appliances can be found in the link.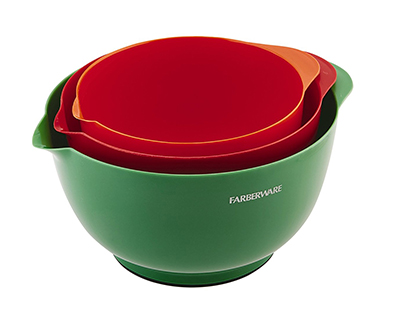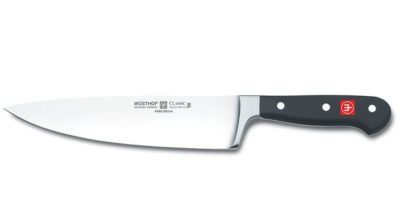 Meatball Cooking Process
The first step to this recipe is cooking the quinoa. Unlike these Rustic Oven-Baked Zucchini Cakes, you cannot get away with uncooked quinoa in this case. While your quinoa is cooking, I suggest you get to chopping the garlic and shallot to save some time. Once all of that is prepped, it's time to start slinging meatballs.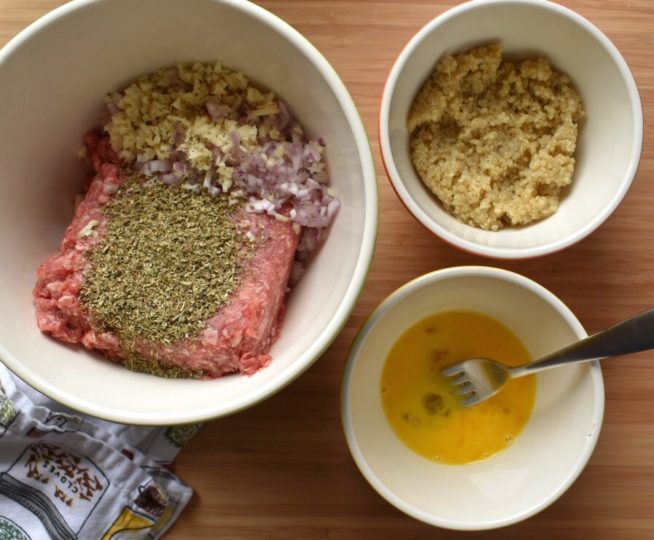 Once the quinoa is cooled and the shallot and garlic are chopped, make sure everything gets combined thoroughly in a large bowl. Nothing is worse that getting a big cluster of garlic or shallot while biting into a juicy meatball…
Once everything is mixed, use your hands to roll out about 14 meatballs. No more and no less!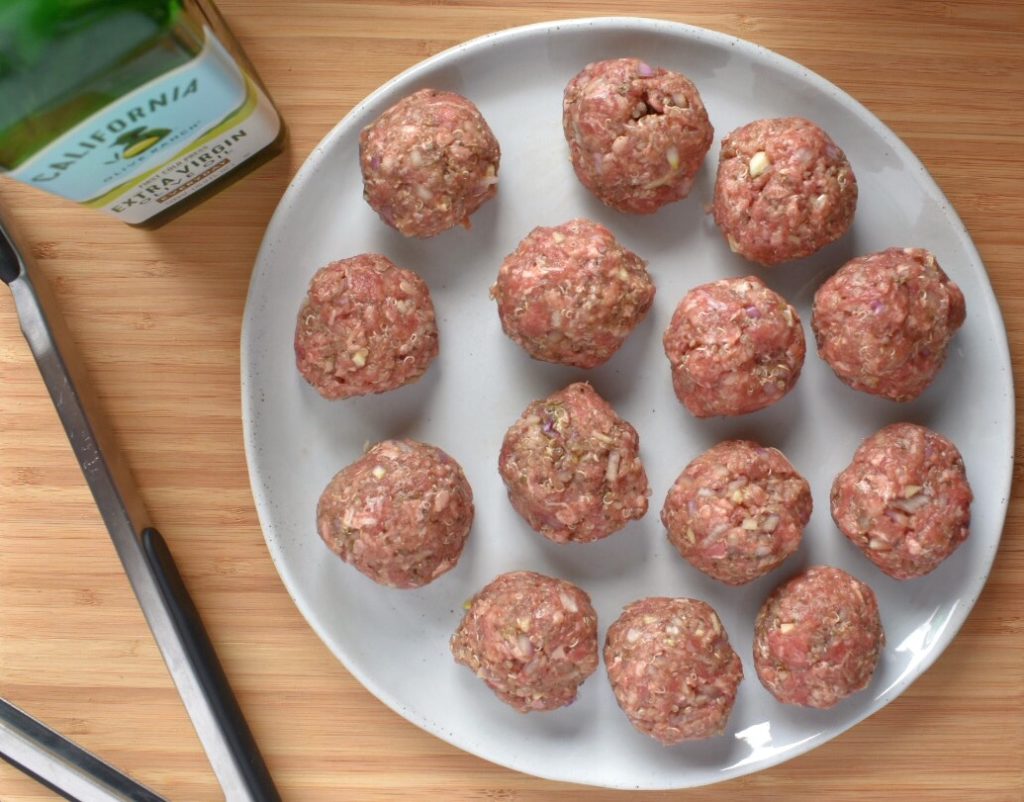 Put a pan over medium heat and coat it with olive oil. After you have warmed up the pan, place the meatballs in the pan one at a time. You'll want to cook them for about 10 minutes, and try to flip them to other sides every 2-3 minutes so that the outside of the meatballs gets cooked and caramelized.
I realize that meatballs do not "sides," but just do your best to make sure they get browned.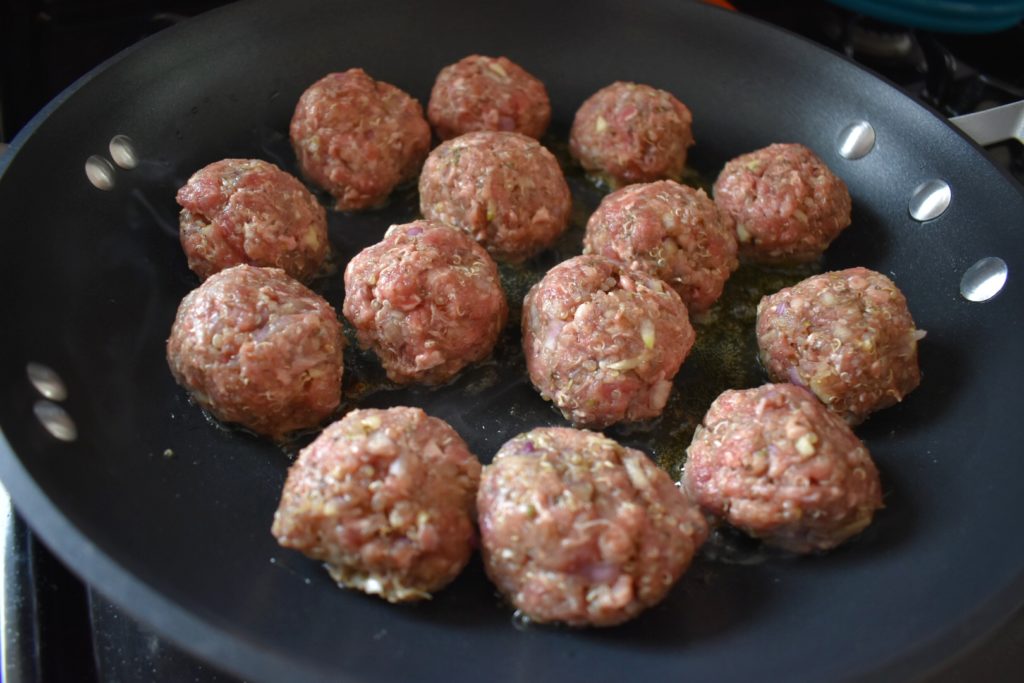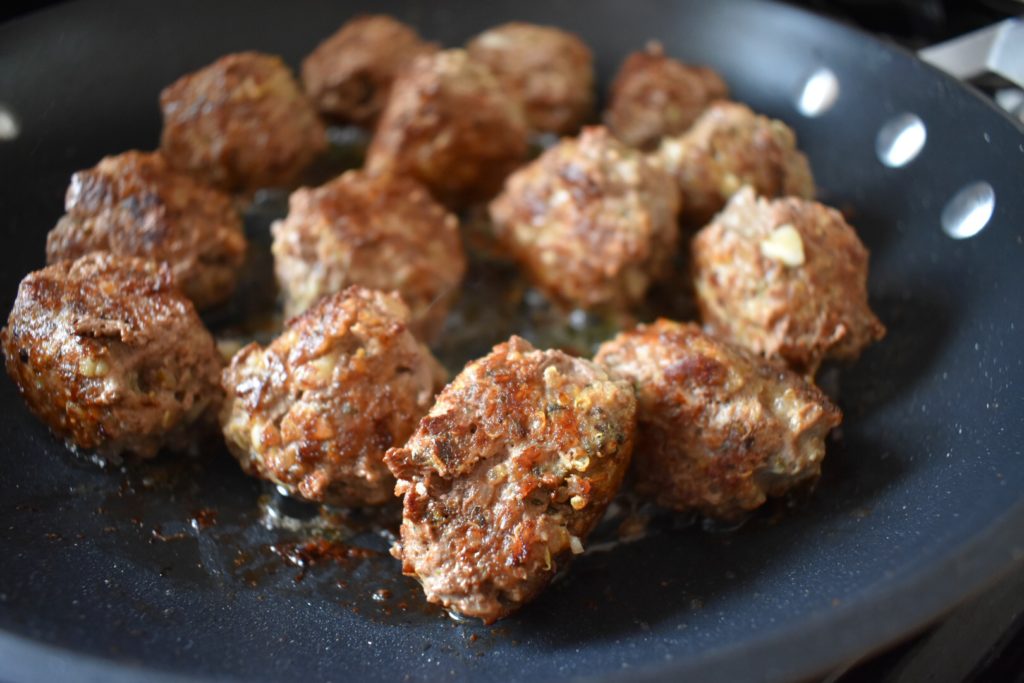 After the meatballs have been browning for about 10 minutes, turn the heat down and add your marinara sauce of choice. I went to a store bought option this time, but there are plenty of solid marinara recipes floating out there on the web. Let the meatballs simmer for about another 10 minutes in the marinara sauce.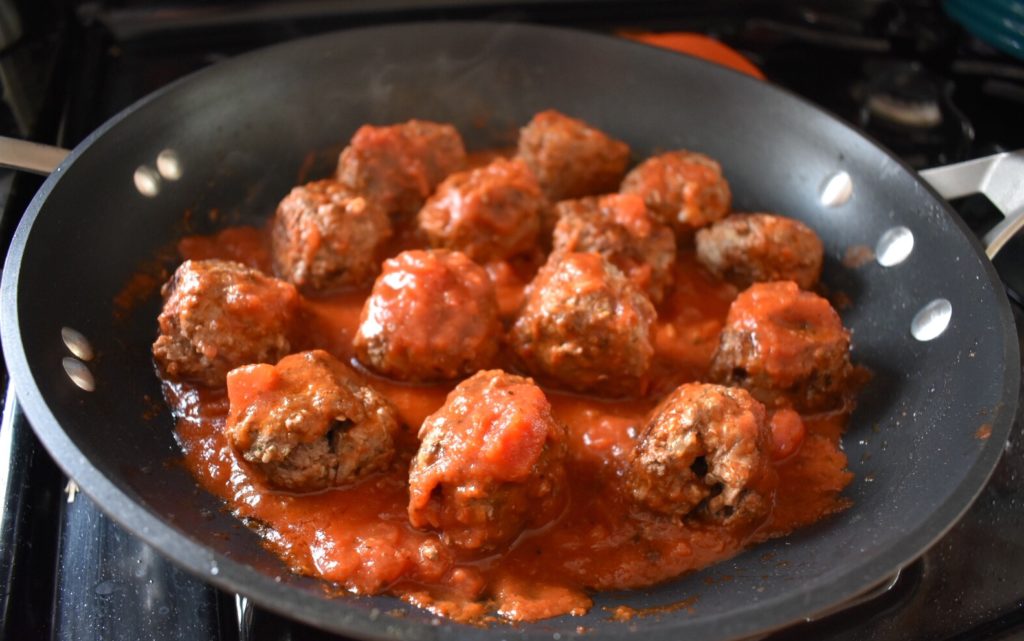 After the meatballs are done the cooking, plate them and enjoy! You can also save them and eat them throughout the week as they do heat up nicely.
Perhaps, you could also place them unnecessarily in a baking dish and take a picture of them.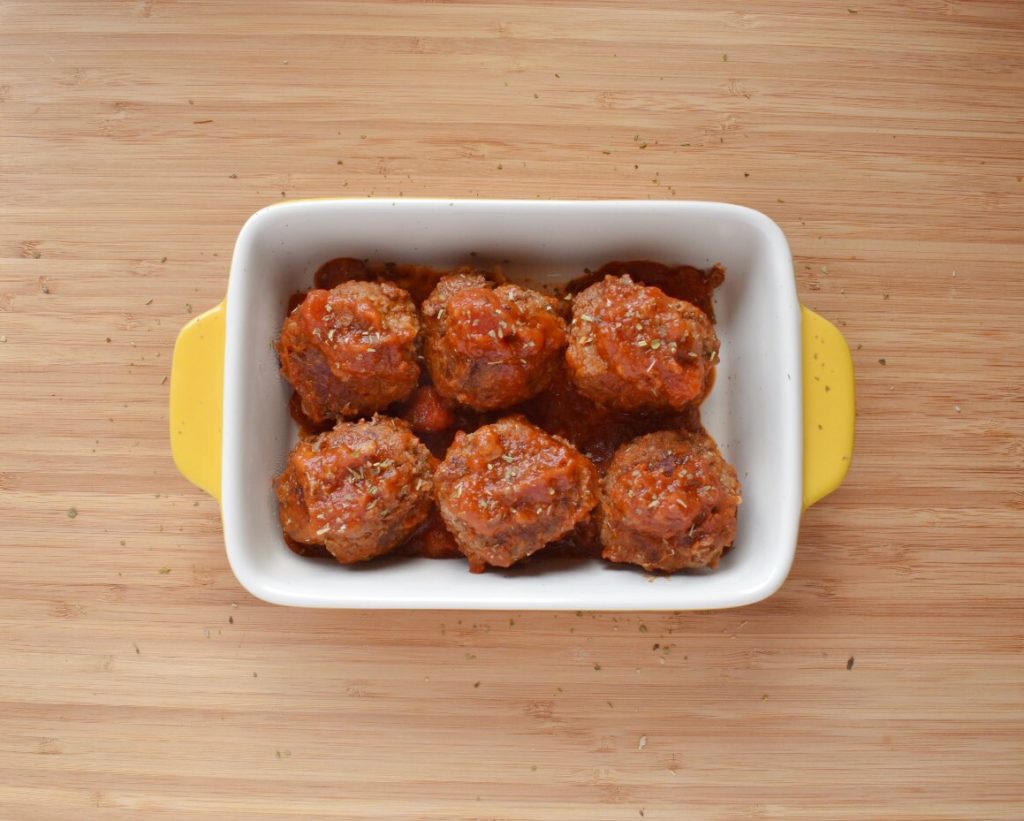 Nutrition of The Beef Meatballs You'll Get
The grass-fed aspect of these Grass Fed Beef and Quinoa Meatballs make them more "healthy" even though they are technically red meat. Red meat gets a bad rap, and I understand some folks have to avoid it for health reasons, but there are essential nutrients in red meat like iron and B Vitamins that can make it a healthily part of a balanced diet. Sounds like a bad fad diet tagline, but it's true.
If you go the grass-fed route it's even better as it is believed to be a better quality meat with omega-3 fats.
This recipe will yield about 14 meatballs, all about 1/10 of a lb (they each contain 1/14 lb of meat, but the quinoa and other ingredients add some weight there). Per one meatball, here is the nutrition:
Calories: 105
Total Fat: 6.7 g
Total Carbs: 4.2 g
Protein: 7.4 g
Total Sugar: 1.1 g
I usually eat 2-3 per serving, which would be 210 – 315 calories, 13 – 20 g of fat, and 15 – 22 g of protein. The fat may look a little high, but just remember is the necessary and healthy omega-3 fat.
Grass Fed Beef and Quinoa Meatballs
These Grass-Fed Beef and Quinoa Meatballs are a healthy way to add some red meat to your diet.
Ingredients
1/2 cup cooked quinoa
1 lb grass-fed beef
1 shallot, finely chopped
2 garlic cloves, finely chopped
1 tbsp Italian seasoning
1 egg, lightly beaten
1 tbsp olive oil
1 cup marinara sauce
Salt and pepper
Instructions
Cook the quinoa as described on thepackage (add quinoa and 2 cups of water to a sauce pan. Bring to a boil and then simmer for about 15 minutes or until water is absorbed. Let stand for 5 minutes), and allow to cool completely.
While the quinoa is cooking, finely chop the shallot and garlic.
In a large bowl, thoroughly mix together the quinoa, beef, shallot, garlic, Italian seasoning, egg and salt and pepper. Form 14 even balls with the mixture by rolling it in your hands, and set them aside on plate/platter.
Heat a skillet or pan with olive oil over medium-high heat, and add the meatballs to brown on all sides. Cook them for about 10 minutes total and 2-3 minutes per side.
Turn the heat down to low, drain the excess grease from the pan if possible, and add the marinara sauce to the pan. Simmer for about 10 more minutes. Serve and enjoy!
https://www.economicalchef.com/grass-fed-beef-and-quinoa-meatballs/
I hope you enjoy these Grass Fed Beef and Quinoa Meatballs!