Pasta with Olive Oil and Garlic is a classic Italian dish – also known as spaghetti aglio e olio. The best part about this recipe is not its a.k.a. status, but its simplicity. You only need three ingredients to get started, and you probably already have all three in your pantry or hanging spice rack.
Now let's get start! Below are the step-by-step preparation and cooking process you can follow. You can also watch the video how to cook Pasta with Garlic and Olive Oil by Food Wishes below if it's more convenient for you than the reading.
Here are what you need for making the pasta
So, in simple words, you need three main things: ingredients, cooking appliances and cooking process.
1. Ingredients Needed
The base ingredients are garlic, olive oil and pasta. If pasta is your favorite, you can get one of these Electric Pasta Makers or Manual Pasta Makers in your kitchen so that you can make it in any flavor or color you like. But that's for the big fan of pasta only. From there, some common and simple flavor additions are:
Red pepper flake
Shallot
Parmesan cheese
I went with red pepper flake and shallot because I had both on hand in my pantry. Once you have a handle on making this classic pasta base, you can make it your own by adding different ingredient combinations to the pasta such as:
Spinach + turkey sausage
Broccoli + chicken
Zucchini + goat cheese
Mushroom + steak
The options go on and on.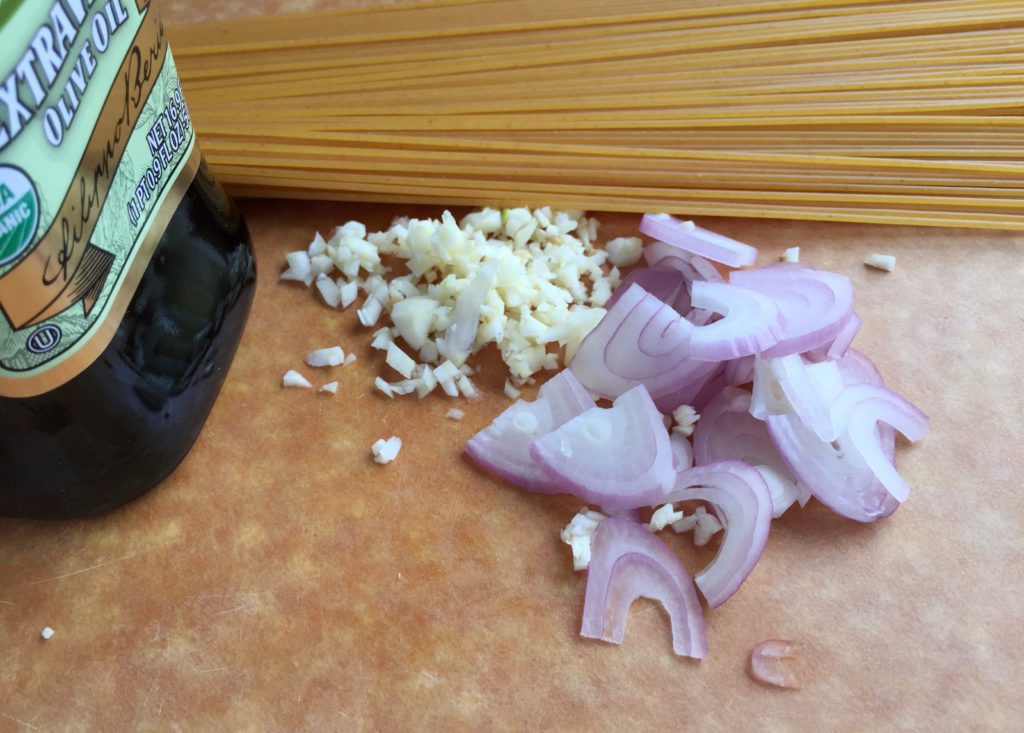 There are a couple things to note when making this pasta with olive oil and garlic. For one, the best pasta to use is spaghetti; angel hair will work too. If you don't know how much pasta to make, I usually go for about a "quarter size" worth. Meaning, if you bunch together the pasta in your hand, it will be the same size in diameter as a quarter. I have heard this makes about 2 oz, but to be honest, I always overshoot this and end up making what I think is about 3-4 oz. For this recipe, we need about 4 oz.
2. Cooking appliances
Well, what you need is a saucepan or any cooking pan that you can use to boil water and soften the pasta. I don't think I need to mention the chef's knife, cutting board and so on. They are the basic tools to have in every kitchen. However, you'll need a separate cast iron skillet or electric skillets for final cooking.
3. Pasta cooking processes
Now, let's boil water in your saucepan. Make sure to salt the water before adding you pasta. As Frankie says in his video, it should taste like the ocean.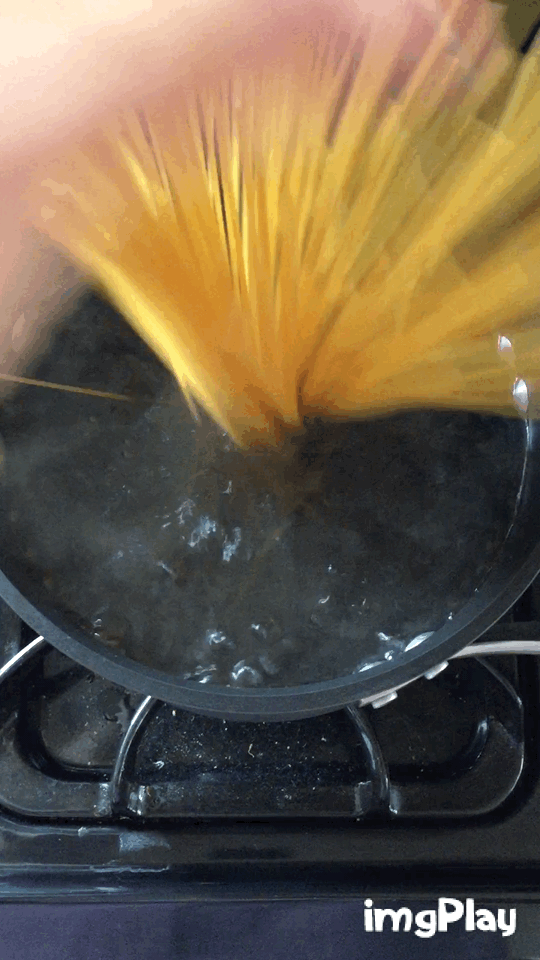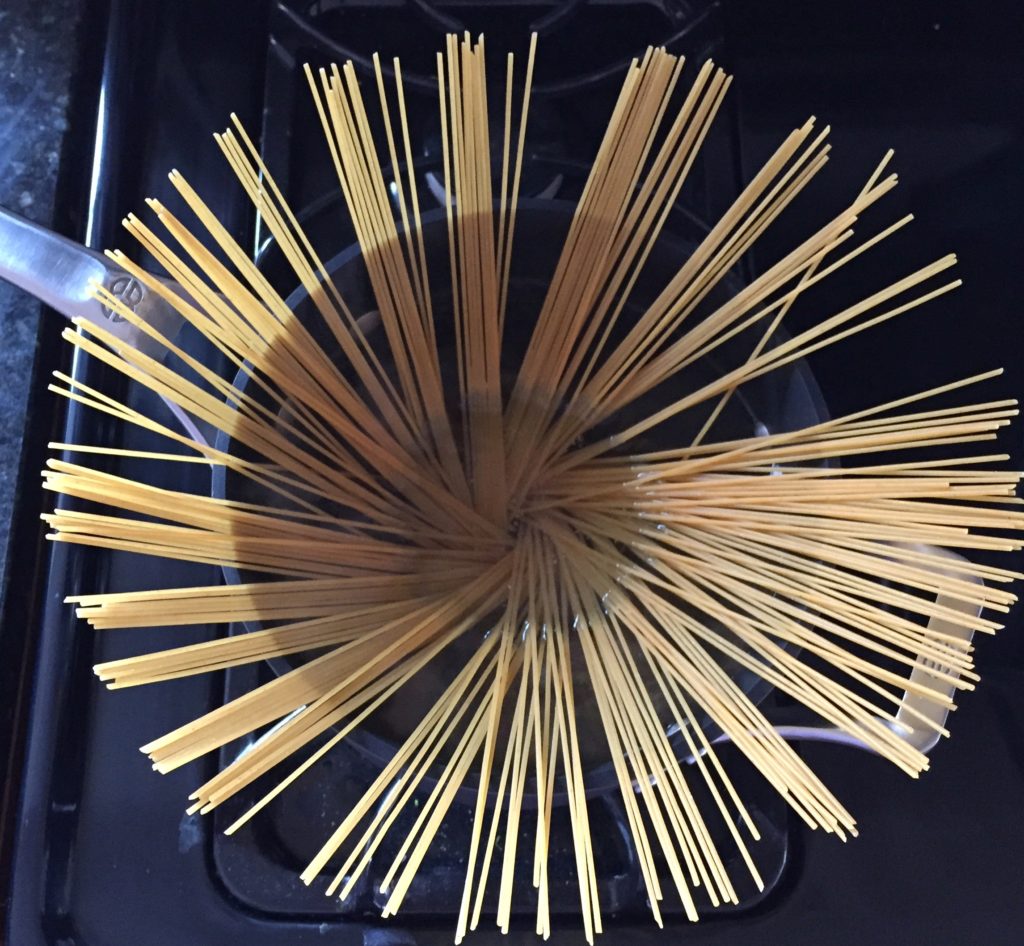 The spiral looks cool, sure, but try to work the pasta into the saucepan and boil the water so that it all cooks evenly. While the pasta is cooking you can start with your simple olive oil "sauce." Add your olive oil to a separate cast iron skillet or electric skillets (depending one which appliance you have) with garlic and any other ingredients you are using. For me, it was the shallots and red pepper flake. If you are using vegetables and protein, you shouldn't add them just yet, only add the ingredients to flavor the oil. You should add anything else fully cooked when you add the pasta.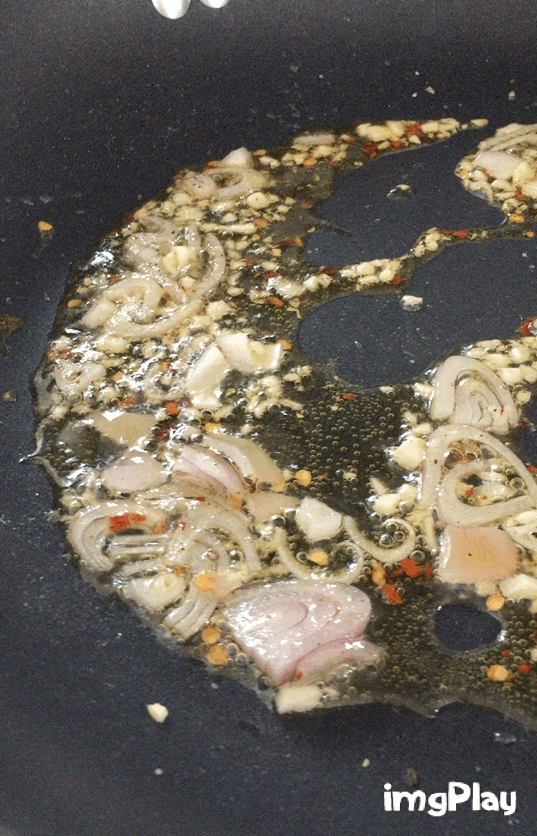 Let that simmer until the garlic changes color but do not let it burn. Burnt garlic is the worst.
When the pasta is done and the olive oil is flavored, add your pasta, and be sure to get some of the pasta water into the pan too.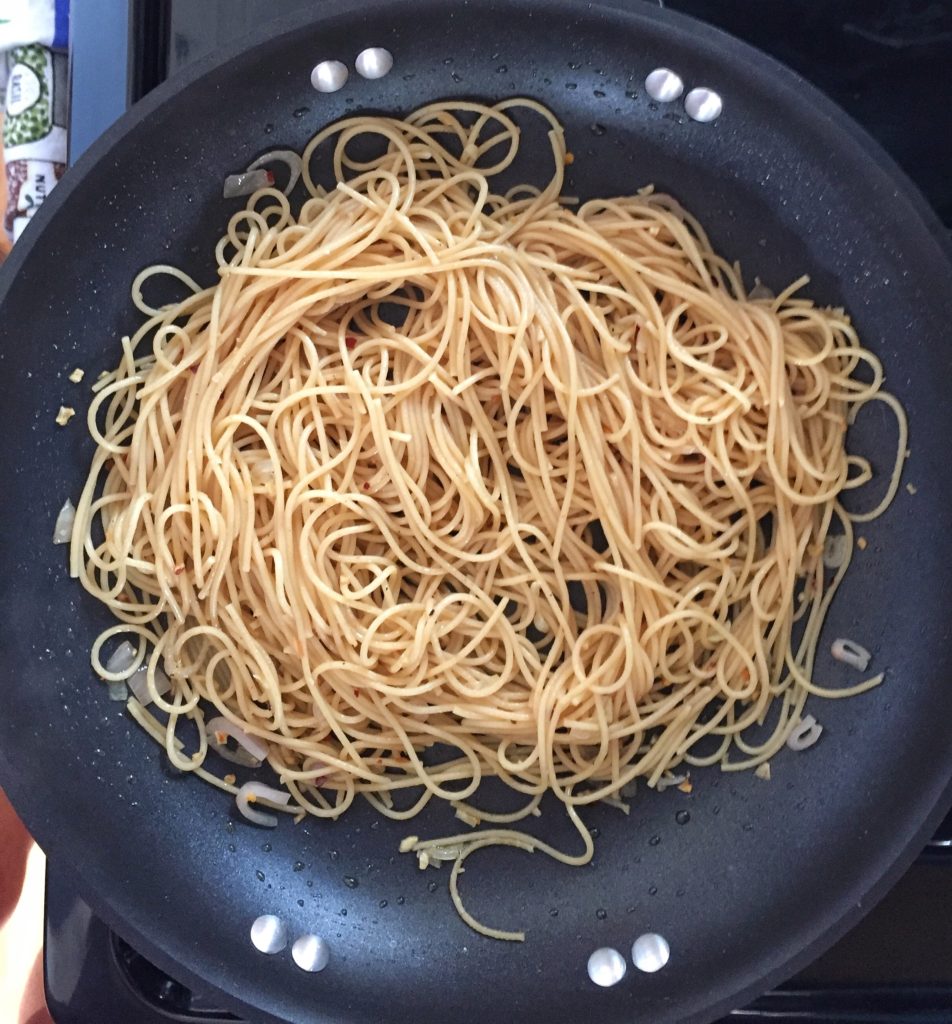 Once incorporated, simply plate and enjoy. Basil is also a nice touch if you can swing it.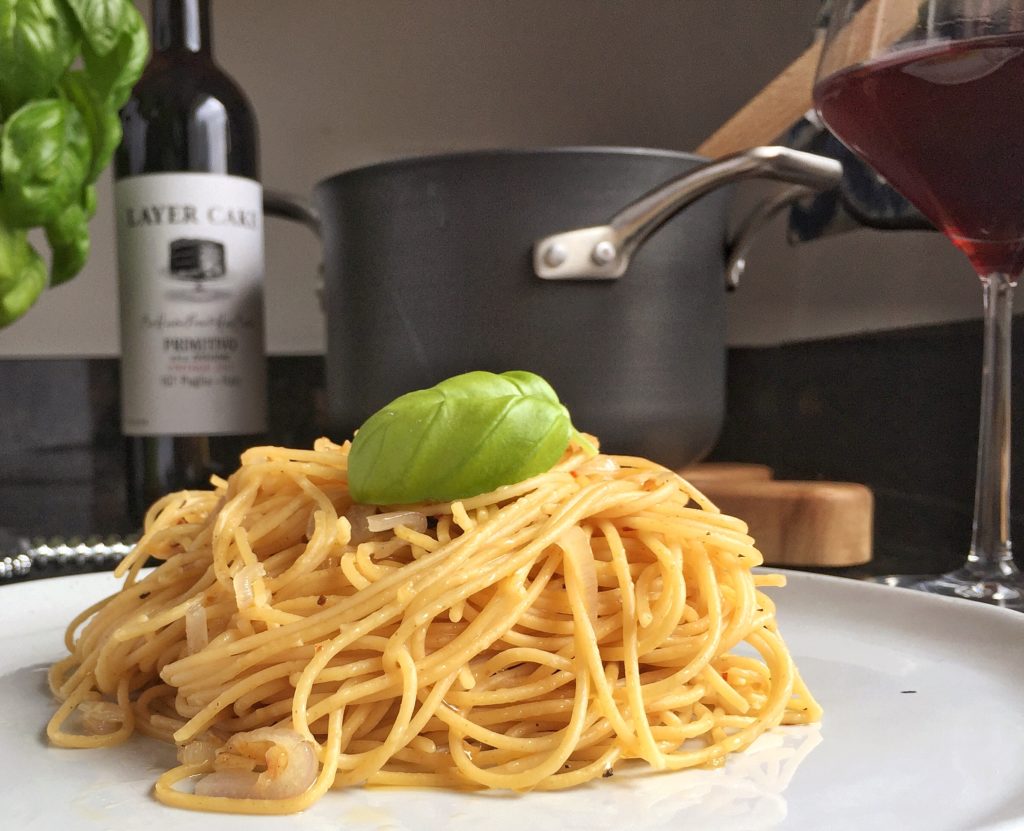 Let's get economical with this pasta with garlic and oil:
4 oz of pasta – $1.00
2 tbsp olive oil – $0.47
1 clove garlic – $0.10
The grand total is $1.57. This would run you $10+ at a nice Italian restaurant. Master it at home and you can make it for a tiny fraction of that price.
Simple Pasta with Garlic and Oil
This Simple Pasta with Garlic and Oil is a classic that is perfect by itself or as the base to other recipes and dishes.
Ingredients
Simple Pasta with Garlic and Oil Ingredients:

4 oz of pasta
2 tbsp olive oil
1 clove garlic
Salt and Pepper
Optional:

1 small shallot
Pinch of red pepper flake
Sprinkle of parmesan cheese
Anything else you want in your pasta!
Instructions
Bring salted pasta water to boil
Add your pasta to the water and cook for 2 minutes less than the package designates
While the pasta is cooking, add your olive oil to a large frying pan over medium heat
Finely chop your garlic (and shallot if you are using it)
Add your garlic and other optional ingredients (shallot, red pepper) to the oil and cook until the garlic turns light brown (a few minutes)
Remove your oil and ingredients from the heat until the pasta is done cooking
Add your cooked pasta to the frying pan with 1 tbsp of pasta water
Mix together for a couple minutes. Add your parmesan cheese and other pasta add-ins at this time if you wish.
Plate and enjoy!
https://www.economicalchef.com/simple-pasta-garlic-oil/
I hope you enjoy this Simple Pasta with Garlic and Oil!