Cooking Pan Seared Salmon is the perfect weeknight meal. Well, it's best for lunch as well. It's easy to make, affordable and the glaze takes the flavor to a whole new level. Plus, the entire recipe only has 7 ingredients! It's a great recipe to make for your family or just for yourself – it heats up surprisingly well for being salmon.
This Pan Seared Salmon recipe is a bit different from my previous lemon garlic salmon recipe. The stock photo is hard to look at, but the recipe itself is very good. It's a go-to recipe of mine that I cook all the time, and if you like this Pan Seared Salmon with Soy Ginger Glaze recipe, then I suggest that we get start now!
Pan Seared Salmon Recipe with Soy Ginger Glaze
Making this recipe is quite easy. Even making the glaze, which sounds fancy, is not hard to do. Now, let's get economical with this Pan Seared Salmon preparation:
Ingredients needed
Below is the amount of ingredients you need for making your pan seared salmon deliciously. We break them down in pieces along with cost of each item. Thus, you know how much budget to spend on this meal. Check them out:
1 lb of salmon – $9.99
1 tbsp olive oil – $0.30
2 tbsp soy sauce – $0.16
1 tsp sesame oil – $0.12
1/2 tsp ginger powder – $0.12
1 clove garlic – $0.10
1 tsp rice wine vinegar – $0.05
Pepper
Optional: Lemon
The grand total is $10.84. The cost per serving is only $3.61 for a tasty salmon portion that could run $15+ at a nice restaurant.
The majority of the cost, not surprisingly, comes from the salmon. So invest as much or as little as you want in the quality of the salmon, and the glaze will cost you less than a buck. Not bad.
Cooking tools you need
Frying pan OR Electric Skillet: it depends on which cooking appliance you have in your kitchen. However, if you're going to grab one quickly, then you can get the T-fal Frying Pan below as it's cheap and convenient for use.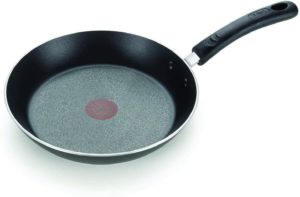 Spatula: you can use any type of spatula. Not the matter.

Preparing the salmon and the cooking
Taking a look at the recipe, it all starts with a nice fillet of salmon. Wild Caught Salmon is the way to go if you can afford it, but this is the "Economical Chef" for a reason, and I went with the fresh $9.99/lb salmon from my local Jewel that was no doubt farm raised in some way (even if it was "natural", etc.). It's still delicious, and $9.99/lb for protein is costly enough as it stands. If you don't want the salmon skin, you can use this fillet knife to slide it out. However, I the skin is crispy and delicious. You better keep it.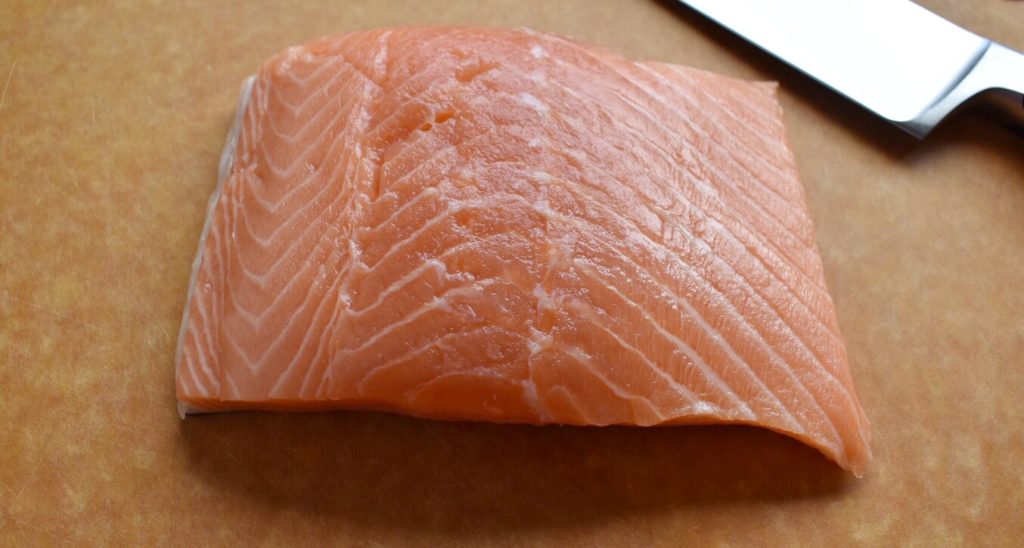 Making the glaze is the key to this whole recipe. It gives the salmon a nice, caramelized flavor around the exterior of the fish.
To make the glaze add the olive oil, soy sauce, rice wine vinegar, ginger and garlic to a pan over medium heat. Simmer the mixture until 2-3 until it gets slightly bubbly, like below.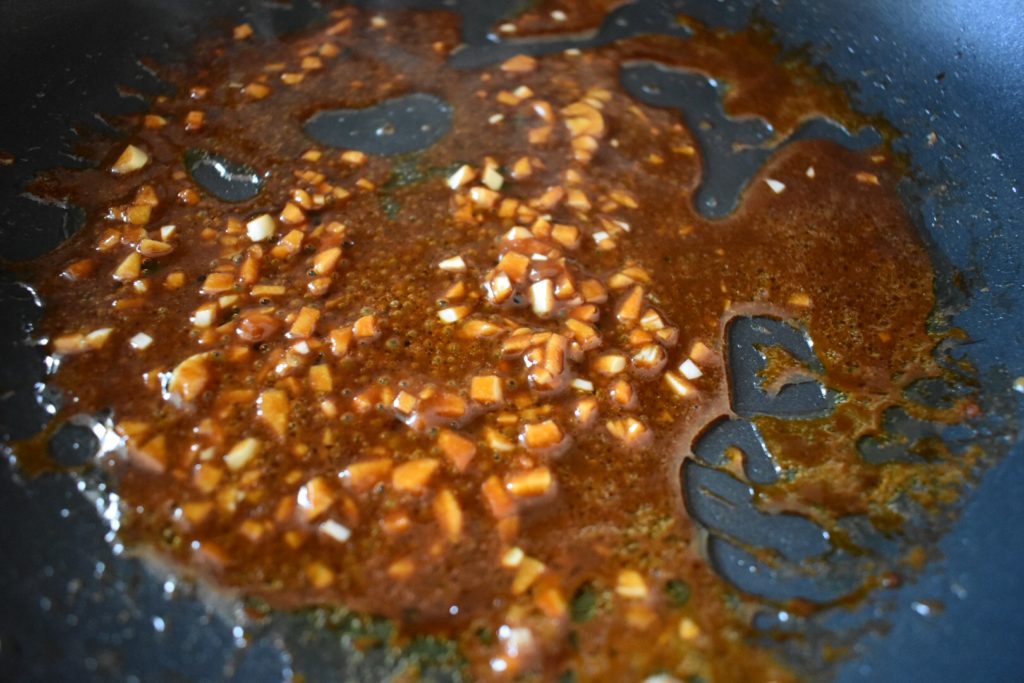 While the glaze is simmering, cut your salmon into clean 1/3 lb pieces. Try to cut them cleanly with a sharp knife one time through (sometimes the butcher at the grocery store will do this for you too). Then, add the pieces skin side down to the hot pan that contains the glaze (add the sesame oil at this time too).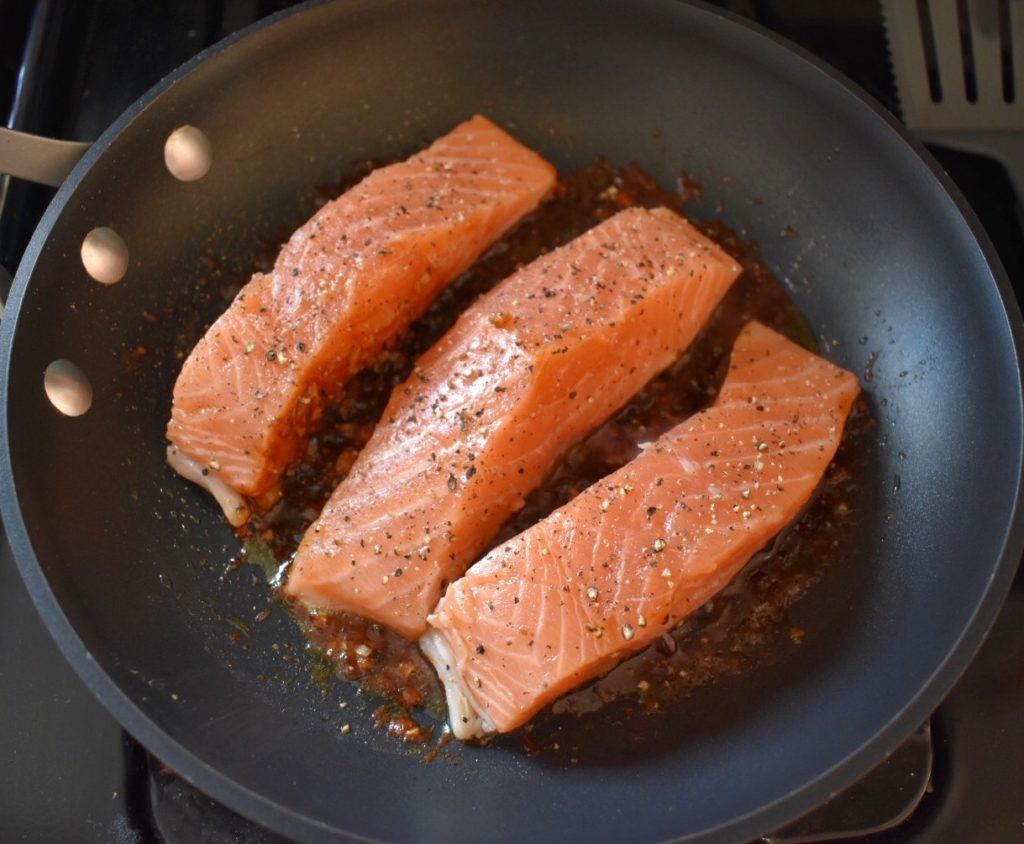 You want to start by cooking the salmon for about 5 minutes on the skin side, and then flipping it to cook for about 3 minutes on it's top. From there, depending on how rare vs. well-done you want your salmon, cook the fish on the sides for a minute or two each. I went for about 90 seconds on each side and the salmon was perfectly cooked to my liking.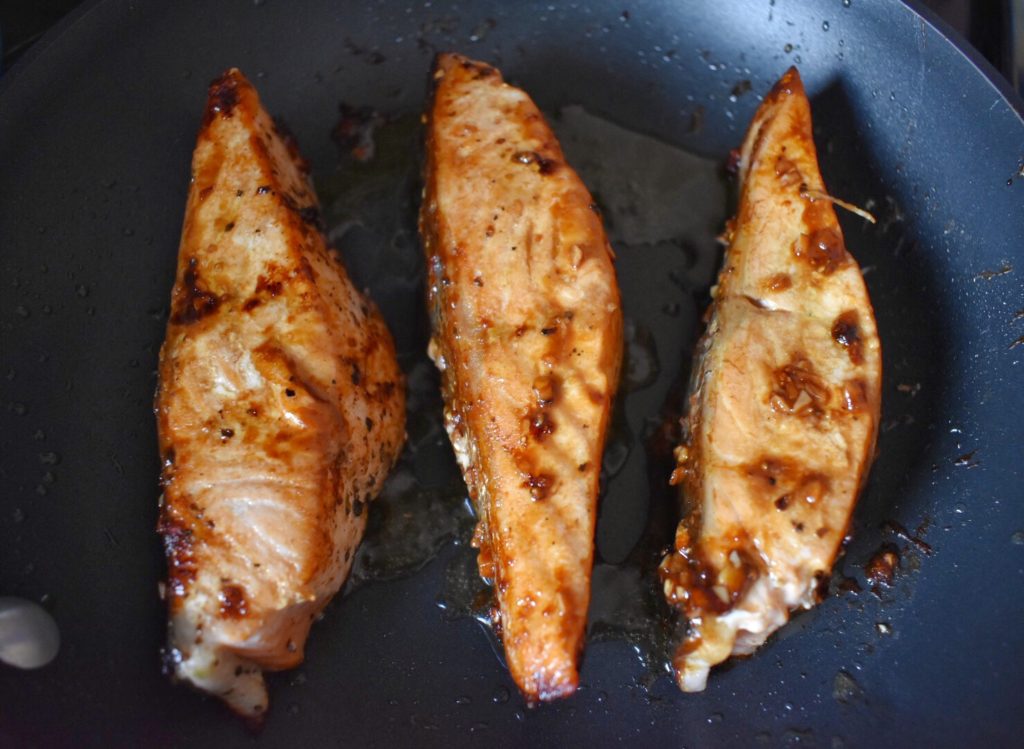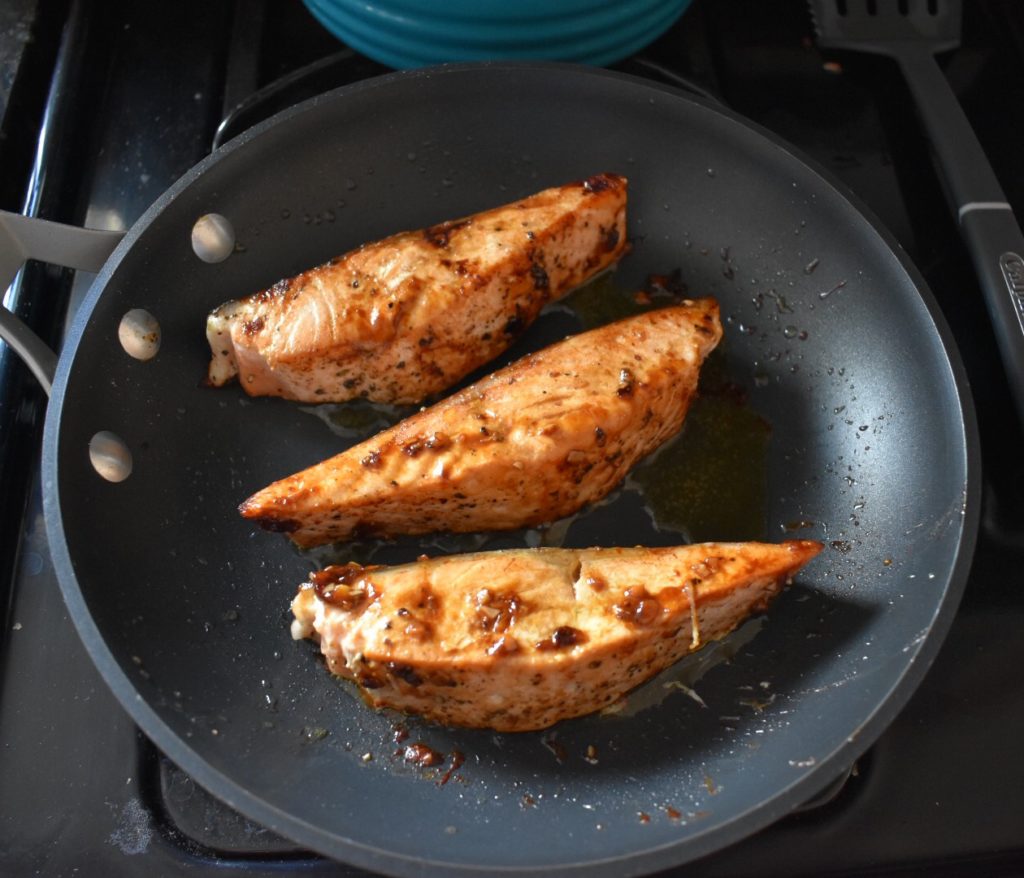 After, remove the salmon from the heat and serve it with some fresh lemon! I also made some quinoa and broccolini to create a full meal for about $5 a serving. This Swiss Chard would work great as a side as well.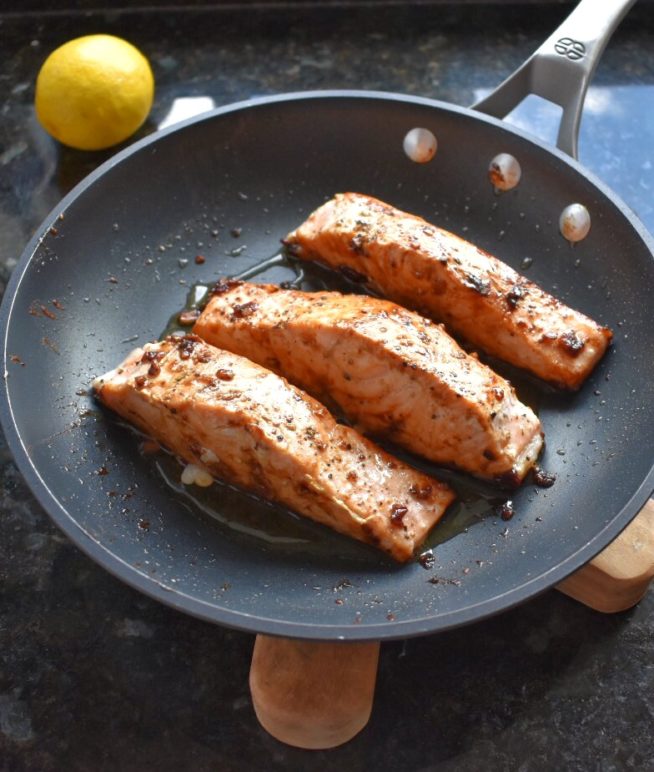 We all know salmon has come into the mainstream food scene for it's health omega-3 fats, but there are many other health benefits to salmon beyond just healthy fats. It also has a wide variety of useful vitamins, and protein as well. Check out this article from Dr. Axe to learn more, and see below for the nutrition for this recipe specifically (per 1/3 lb serving).
Pan seared salmon calories in the dish
Pan seared salmon is known for providing a lot of calories to your body. It is a healthy food for you to eat regularly. So, let's break down the pan seared salmon calories for you as follow:
Calories: 265.5
Total Fat:  9.7 g
Total Carbs: 2.8 g
Protein: 39.4 g
Total Sugar: 1.7 g
As noted above, there are plenty of health fats and salmon is packed with protein. The one thing I like most about this recipe compared to other "glazed" recipes is that the sugar content is very low. I avoided adding maple syrup, honey or brown sugar to the recipe. All can be delicious ingredients in a glaze, but also add sugar and calories quickly.
Download the recipe for pan seared salmon below
Pan Seared Salmon with Soy Ginger Glaze
This Pan Seared Salmon with Soy Ginger Glaze is the perfect weeknight dinner. It's super easy to make with only 7 ingredients!
Ingredients
1 lb of salmon
1 tbsp olive oil
2 tbsp soy sauce
1 tsp rice wine vinegar
1 clove garlic
1/2 tsp ginger powder
1 tsp sesame oil
Pepper
Optional: Lemon
Instructions
Cut your salmon into 3 even fillets, cutting cleanly through the skin.
Add the olive oil, soy sauce, rice wine vinegar, ginger and garlic to a pan over medium heat. Simmer for 2-3 minutes. Then add the sesame oil and salmon (skin side down). Pepper the top of the salmon once in the pan.
Saute for about 5 minutes on the skin side and then flip. Continue cooking on the top side for about 3 minutes. Cook the other sides of the salmon for about a minute or two each if needed, or until the fish is flaky and no longer bright pink.
Remove the salmon from the pan and serve with fresh lemon!
https://www.economicalchef.com/pan-seared-salmon-with-soy-ginger-glaze/
I hope you enjoy this Pan Seared Salmon with Soy Ginger Glaze!