Swiss Chard, or just Chard, is know as the kind of vegetable which contains various beneficial calories, protein, fiber, carbs and vitamins A, C, E, K and more. Because it has tons of benefits to our body, we human are trying to find way to enjoy it as our food. Up to now, there are various Swiss Chard recipes out there for you to try. But today, we're going to introduce you to one recipe which is called Blanching Swiss Chard in Light Garlic Butter. This Swiss Chard recipe is very simple and easy to make, and it's a perfect side dish for lunch, dinner or even breakfast. The natural bitterness of Swiss chard is minimized by the blanching process, and the garlic butter adds a light, savory flavor to this leafy side dish (while still keeping it healthy). Let's go to the process!
Swish Chard Recipe: Ingredients and Instructions for Blanching
This preparation is for two-serving amount. You can start listing down the ingredients you need before going shopping. Of if you already have all ingredients in hand, let's follow the instructions for cooking.
Swiss Chard Recipe: Blanching with Light Garlic Butter
Blanched Swiss Chard in Light Garlic Butter is a fresh and savory side dish.
Ingredients
4 large swiss chard leaves (about 1 cup chopped)
1 clove garlic
1/2 tbsp butter
Salt and Pepper
Instructions
Bring a medium or large pot of salted water to boil.
Roughly chop your Swiss chard leaves while the water is heating up.
Cook your Swiss Chard in the boiling water for about 1-2 minutes.
Have an ice bath ready (bowl filled with ice water), and transfer your Swiss chard into the ice bath immediately from the bowling water after cooking.
Heat the butter and garlic in a separate sauce pan.
Add your cooled Swiss chard to this pan and saute for a couple minutes to finish cooking the Swiss Chard and coat it in the garlic butter.
https://www.economicalchef.com/blanched-swiss-chard/
Let's Start The Cooking
This Blanched Swiss Chard recipe is a really easy side dish to make and was the first recipe to get me back into the habit of cooking after my trip. If you don't know what Swiss Chard is, it's basically a large green leaf that can be categorized as "greens". So, the tool you need is a chef's knife, a bamboo cutting board or glass cutting board (or any cutting board is fine), a big bowl and a frying pan.
Now, you chop the chard into pieces as seen in the photo.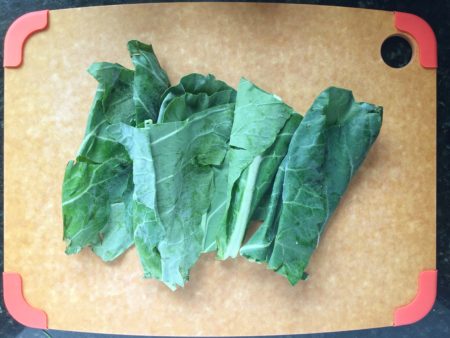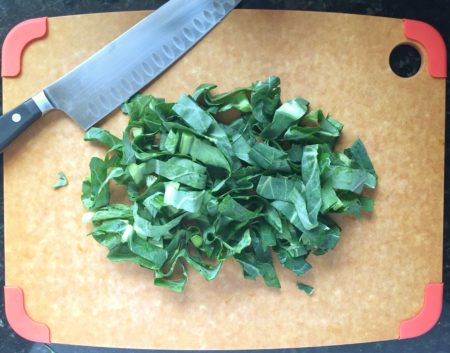 Blanching process
One note on the blanching process – not only does it get rid of some of the bitterness but it also brings out the bright green color of this vibrant vegetable. Usually, appearance is not a huge priority in cooking for me, but it's a fact that the better something looks the better it will taste (or at least you perceive it will taste better). So, might as well make it look and taste great.
Oh, and if you don't know what blanching is, it's just boiling the vegetable for a short time period and then immediately putting it in ice water to stop the cooking process.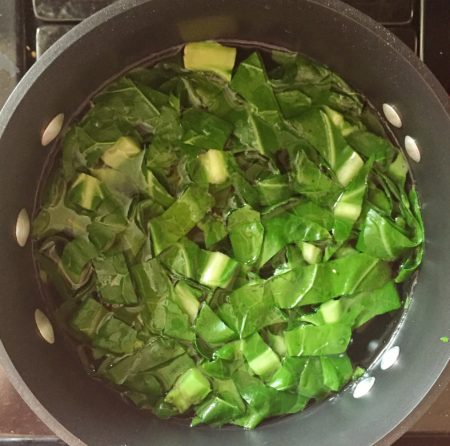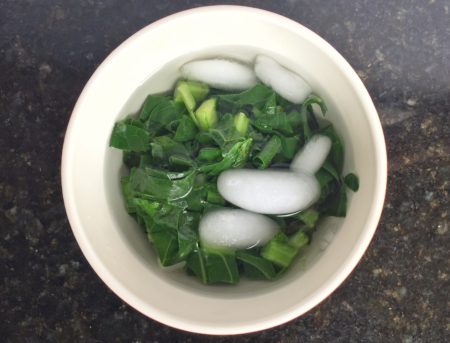 For the light garlic butter, I like to use grass fed-butter when it's on sale. In general I am a grass fed fan. I know it's not economical, but meat and dairy are the only food categories I "splurge" on and it's always to buy grass-fed. I like the taste better and think it's healthier as well. Organic fruit and veggies I could care less about, more on why here.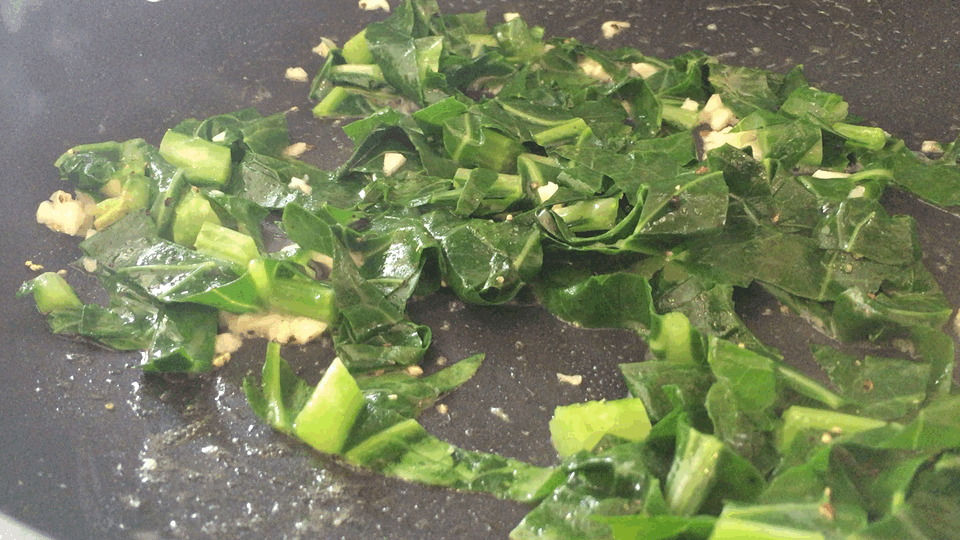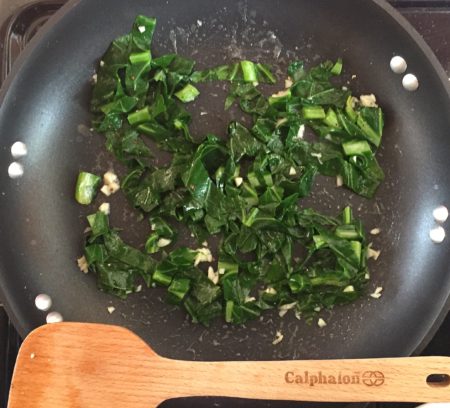 So, how does it look like now? Delicious, isn't it? It goes great in stews, soups or on it's own as a side, which is how I decided to prepare it in this recipe. It's really similar to collard greens. The applications for this side are endless too (well, not endless, but there are a lot of great ways to use this versatile vegetable):
In pasta
Next to a steak
With risotto
On a sandwich
You are only limited by your imagination…
Nutritions of the Swiss Chard Dish
Curious how much nutritions you'll get from this amount of cooking? Here is the nutrition for this superfood side dish:
Calories: 90
Total Fat: 5.9 g
Total Carbs: 8.2 g
Protein: 3.5 g
Total Sugar: 1.9 g
This vegetable side is low in calories and fat, high in dietary fiber, low in sugar and has a moderate amount of protein. Most importantly, it is packed with vitamins, including Vitamin K, A and C and more as mentioned earlier.
How Much It Cost You?
Now, let's get economical with this Blanching Swiss Chard in Light Garlic Butter:
Which brings the total to a mere $0.91. A side dish for under a buck, not bad. If you need some economical tools to make this one, check out this pan for sautéing, pot for blanching and wooden turner and other kitchen appliances recommended by us.
Conclusion
This Swish Chard recipe carries with me when I'm back from my trip. With travel also came a lot of eating out and spending. It was minimized by following these tips, but eating out and spending more than normal is unavoidable when traveling. So, now that I am back home and back in my routine I am trying to cook and eat as healthy and economically as possible to make up for a week of traveling, eating out and spending. I hope you enjoy this Blanched Swiss Chard in Light Garlic Butter!