My wife hates the smell of bacon. It's kind of weird. She also hates the smell of coffee in the morning, so not really sure we can trust her. Needless to say, she was not a fan of when I made this delicious rosemary Dijon pork loin last Sunday afternoon. Its tasty, herby aroma filled the apartment. Or in her words, "it smelt like death."
After opening up all the windows and airing the place out, I was able to slice this pork and chow down. It was the perfect Sunday late lunch, but it also heated up well all week for lunches and dinners.
I love leftovers, they're practical and time-saving. When I find a recipe that heats up well, I hold on to it and make it over and over again. I added this one to that list.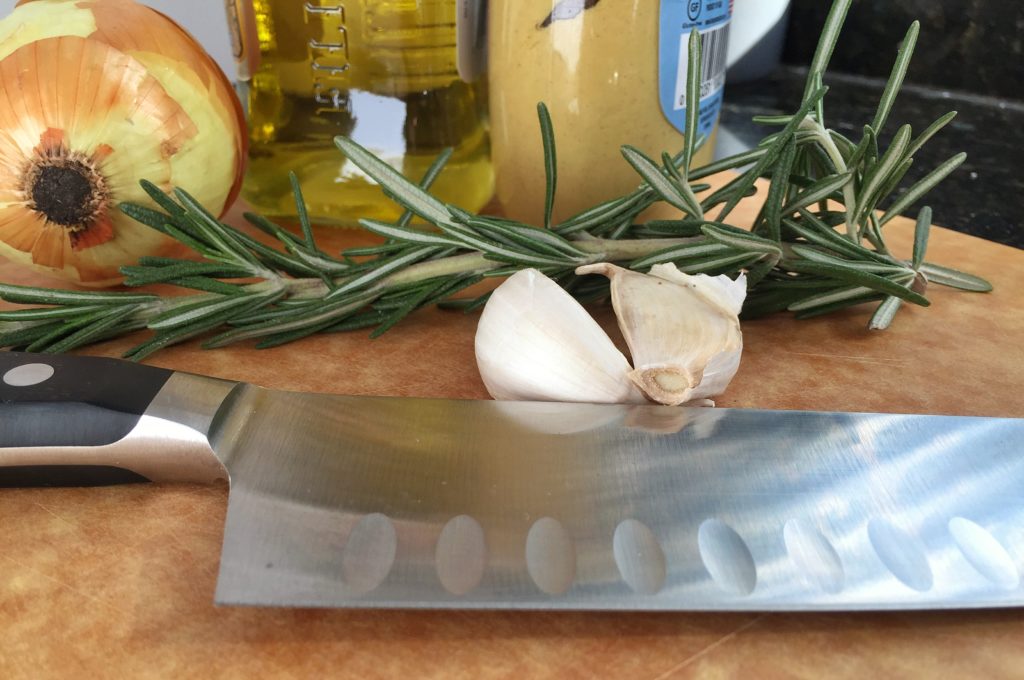 The rub for this rosemary Dijon pork loin is super easy and affordable. Half the ingredients are in the name…
If you can afford it, I suggest you buy fresh rosemary. Our rosemary plant is down to its last life, so I had to buy some fresh from the store, but all in all this was still a very affordable dish.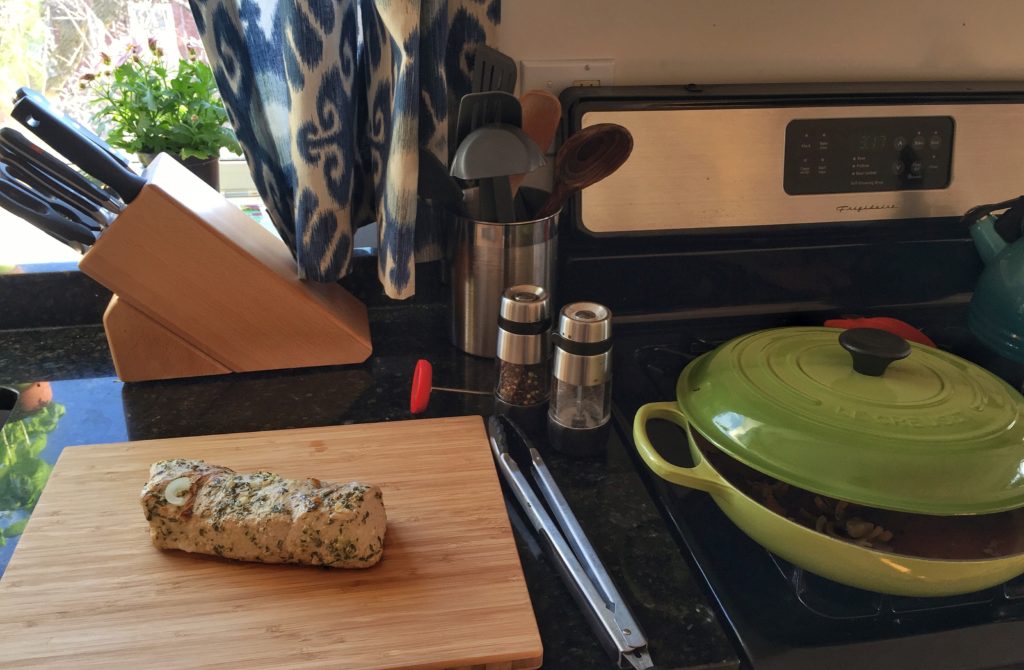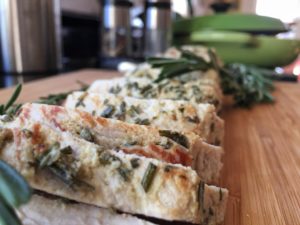 I used a Le Creuset Braiser to make this recipe. If you are in the market for an expensive French cooking pan, let me introduce you to the cheaper roasting pans here.
I'm thinking the same thing – that is one pricey pan. I got it as a wedding gift, so there is no reason for me not to use it.
Is it necessary for you? Let's do a quick breakdown of the economics on this one.
$250 is a large up front cost, but this pan should literally last you a lifetime, or at least that's what I heard. I could not find a lifetime warranty online to back this up after the scouring the internet, so I'm going to assume it will last about 20 years.
20 years, using it once a week, means you'll get 1,040 uses out of this guy. About $0.24 per use.
Not bad, but let's compare it to a "cheap" pan. Assuming you can get one for $30 and that it lasts 2 years, at the same once-a-week usage rate you're looking at $0.29 per use.
So, on paper it looks like Le Creuset isn't a bad spend, but it all depends on how often you will use it, and how long it lasts you. Be economical.
Now, let's get economical with this Rosemary Dijon Pork Loin:
1.75 lbs pork loin – $10.99
1 tbsp Dijon mustard – $0.09
2 tbsp olive oil – $0.34
1 tbsp rosemary (fresh or dried) – $0.99
2 cloves garlic – $0.20
1/2 onion – $0.50
1 tbsp rice wine vinegar – $0.13
Salt and pepper
The grand total is $13.24.
I like to eat around 1/3 lb at a time, which means I get roughly 5 servings or pork after I trim off the fat of a 1.75 lb pork loin. That breaks down to about $2.64 per serving.
This Rosemary Dijon Pork Loin dishes out a lot of flavor with some very simple ingredients.

Ingredients

1.75 lbs pork loin
1 tbsp dijon mustard
2 tbsp olive oil
1 tbsp rosemary (fresh or dried)
2 cloves garlic
1/2 onion
1 tbsp rice wine vinegar
Salt and Pepper

Instructions

Preheat oven to 300 degrees.
Trim the fat off the pork loin as needed.
Mix together 1 tbsp olive oil, dijon mustard, garlic, rosemary, salt and pepper for the pork rub in a separate bowl. Then apply the rub onto the pork.
Heat your skillet (or oven safe pan) on the stove top with the other tbsp olive oil.
Sear the pork on all sides (about a minute on each side).
Add the onion and rice wine vinegar to deglaze the pan before putting it in the oven.
Finish the pork in the oven for about 20-25 minutes, or until the internal temperature reaches 145-160 degrees (medium rare - medium).
Let the pork rest, then slice it and serve.

https://www.economicalchef.com/rosemary-dijon-pork-loin/
I hope you enjoy this Rosemary Dijon Pork Loin!