For some, roasting pans are a once-a-year cooking tool that only gets to put when Thanksgiving comes around. However, there are so many more uses for this kitchen staple than just roasting a turkey. It's great for one-pot dinners when you're cooking for a crowd. You can also roast chicken, lamb, and vegetables in there. It can even be used as a casserole dish for big batches of lasagna.
So if you've been considering adding a roasting pan to your kitchen, you should go ahead. If you're not sure which one is best for you, here is a collection of the most popular and favored roasting pans available right now.
List of the Best Roasting Pans & Reviews
12. Cast Iron Roasting Pan, Signature Rectangular Roaster from Le Creuset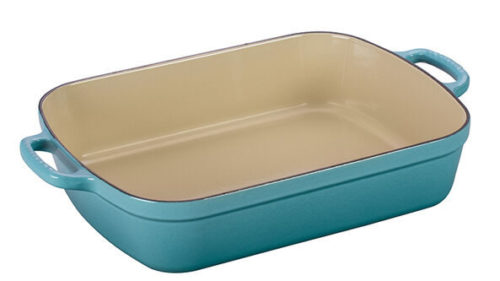 Buy on Amazon.com Buy on Lecreuset.com
Let me kick off out with the cast iron roaster from Le Creuset. I put it on top because I love the roasting pan made of cast iron material. It spreads the heat well when you heat it up, making it an ideal roaster for cooking turkey, chicken, vegetable, casseroles and on-stove gravy. The design of the roaster pan is elegant with proper handles for easy lifting and moving. The weight is also light.
The Le Creuset cast iron roaster is known for well-crafted by French artisans since 1925. It is well-recognized for its design, durability and heat retention. You can use it safely with countertop convection oven  and portable induction cooktop. It is also easy to wash either by hand or by the integrated dishwasher at your home. You won't need much effort for the cleaning up after enjoying your delicious meal.
11. Le Creuset Stainless Steel Roasting Pan with Nonstick Rack

Buy on Amazon.com Buy on Lecreuset.com
Followed the cast iron roaster is another Le Creuset stainless steel roasting pan. The pan is made of stainless steel, and attached with a non-stick rack. You can use the pan for roasting meats and veggies, making your special gravy, and even baking side dishes. It is also durable and built for long-time use.
Le Creuset roaster is available in two sizes: small and large. Let's say if you want to roast a whole turkey of around 17 pound, then go for the large pan, where as the smaller pan can handle turkey from 14 pounds of  downward. After use, you can wash the pan by hand or with your tabletop dishwasher for more convenience. For purchasing, you can either buy it from Amazon or buy directly from the Le Creuset website provided above.
10. Circulon Nonstick Bakeware Roaster with U-Rack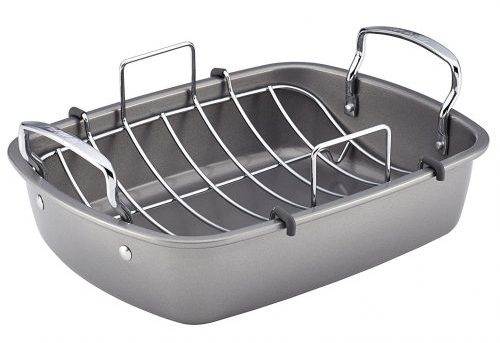 Buy on Amazon.com Buy on Curculon.com
The Circulon Nonstick Bakeware 17-Inch by 13-Inch Roaster with U-Rack makes cooking simply to create healthy, lean and mouthwatering dishes, from a maple-and-cider-brined turkey to a pork loin roast with cranberry chorizo stuffing. With its convenient chrome-plated U-shaped rack, this roaster keeps meats off the bottom of the pan so unwanted fats drain down to the bottom of the roaster. The heavy-duty carbon steel construction provides balanced heat distribution for superior cooking performance and long-lasting durability while the rolled edges provide extra strength.
The roaster also features DuPont Autograph nonstick for excellent food release and easy cleanup. Oven safe to 450 Degree F, this well-proportioned roaster is a great way to create healthier, unforgettable delicious dishes. Crafted with elegant contemporary design, the roaster is ready to deliver even more healthy cooking solutions. Making tender, moist turkey, beef, chicken and more is much easier using the Circulon Nonstick Bakeware 17-Inch by 13-Inch Roaster with U-Rack.
9. Gibson Home 89134.02 Broxton Turkey Roaster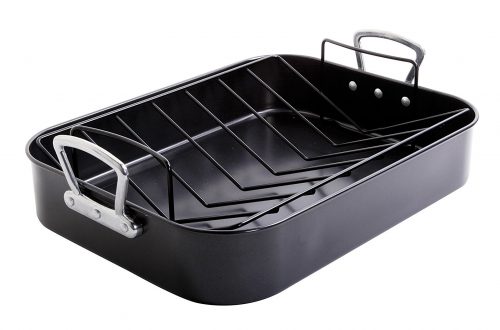 Buy on Amazon.com Buy on Walmart.com
Gibson Home's Broxton 2-Piece Non-Stick Turkey Roaster includes 16.5-inch Turkey Roaster with the metal rack with elegant French handles to increase mobility and portability. Carbon steel construction is for heavy-duty and durable use in your kitchen. The black xylan non-stick interior is perfect for low-fat cooking and easy to clean at the same time.
Hand washing is highly recommended for its perfect great performance. With this turkey roaster, Thanksgiving meals can be done in a nick of time so that you can still you enjoy your quality time with your family even when you are too busy to cook.
Also check:
8. Calphalon Classic Hard Anodized 16-Inch Roasting Pan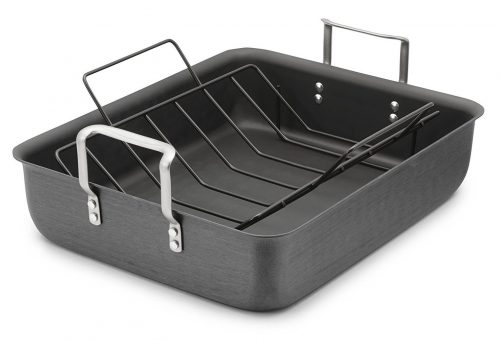 If you are looking for a roasting pan which can make the ultimate gravy? Here comes the Classic Hard Anodized roasting pan with nonstick rack. The pan features its hard anodized aluminum surface which is the ultimate surface for searing, browning, caramelizing and deglazing. The V-shaped rack featuring a nonstick coating for easy hand cleanup makes cooking fun.
Oven safe to 450-degrees Fahrenheit, this pan can be used to cook any dishes, both occasional and daily meals. Double-riveted stainless steel loop handles are featured to make sure it won't waste a single piece. Plus, this pan makes the ultimate lasagna or casserole pan.
7. Anolon Tri-Ply Clad Large Rectangular Roaster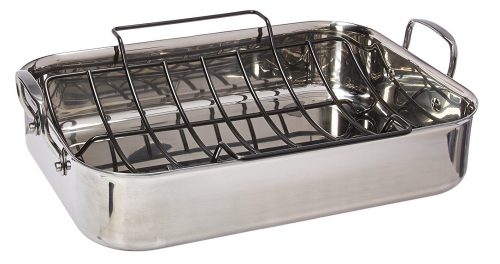 Buy on Amazon.com Buy on Anolon.com
Now on, you can roast delicious meats for gourmet meals in the Anolon Tri-Ply Clad Stainless Steel 17-Inch by 12-½-Inch Large Rectangular Roaster with Nonstick Rack. The roaster's durable three-ply construction features an aluminum core between layers of stainless steel that makes excellent heat distribution up to the sides of the pan. The nonstick rack releases roast effortlessly and also features handles to make it more easily to lift meats out of the roaster pan.
Oven safe to 500 degrees Fahrenheit, the ultimate roaster makes it more convenient for dishwasher safe. Polished, sophisticated stainless steel exterior is perfect for your roasting meal parties.
6. Chicago Metallic Professional Non-Stick Roast Pan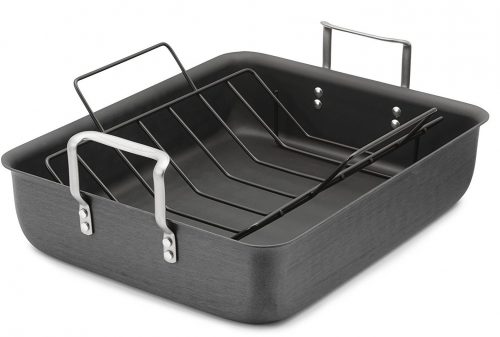 Looking for a perfect pan of fluffy cakes and muffins, which is more than just cooking chicken, must be really exciting.  This medium gauge hard anodized roaster is an ideal one for bakeware. It also features a nonstick interior for effortless cleaning. This roaster capacity can hold up to a 25-pound turkey on your Thanksgiving day. It is perfect for large casseroles and lasagna for family dinner. The roasting pan is made of medium-gauge hard-anodized aluminum with the nonstick interior to ensure quick cleanup and nonstick rack included.
Highly polished stainless-steel handles are attached for safe, secure handle. Wash by hand is no longer a big deal with oven-safe up to 450 degrees Fahrenheit. Limited lifetime warranty is provided after purchase.
5. Calphalon Classic Nonstick Roaster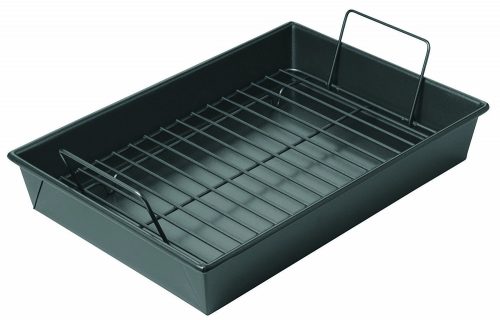 Buy on Amazon.com Buy on Kohls.com
Chicago Metallic is made from heavy-weight aluminized steel for superior heat conduction and even baking. It is specially designed for household use and has long been favored in households for more than century. This durable, non-stick line easily bakeware makes each recipe for excellence and makes cleanup effortless.
Whether you prefer your cakes to be delicate rounds or modern squares, this straight-sided pans will ensure professional results. The cups are designed so that as popovers bake, rise, and 'pop over' just like in the baker; they won't spread to the others in the pan. Deep tapered cups even provide baking and better air circulation. This roasting pan includes a non-stick roasting rack, perfect for making juicy pork loins, roast beef and so on.
The Chicago Metallic Professional and Specialty products are supported by a lifetime warranty, ensuring the product will be free of defects in material and craftsmanship and will last a lifetime under normal use and caretaking service.
4. Calphalon Contemporary 16-Inch Stainless Steel Roasting Pan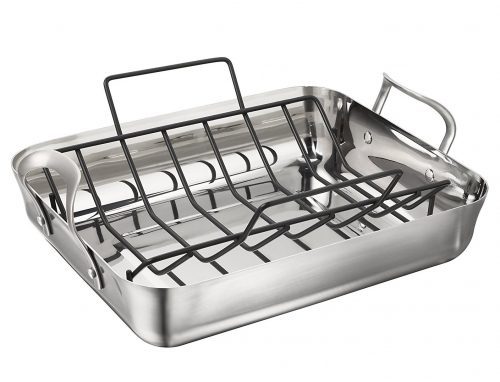 Calphalon Contemporary Stainless Steel 16-inch Roaster with Nonstick V-Rack comes with splendid design and premium performance in your kitchen. This roaster is sized to accommodate up to a 25-pound turkey with featuring riveted handles for easy lifting and offering oven-to-stovetop versatility ideal for making gravy. Sturdy stainless steel surrounds a full aluminum core to bring excellent heat conductivity. This roaster is intended for gas, electric, halogen, ceramic, and induction stovetops.
This product is backed by a full lifetime warranty. Calphalon will replace any item found defective in material or workmanship when put to normal household use and cared for according to the instructions. To register your products, visit our official site.
3. All-Clad E752C264 Stainless Steel Dishwasher Safe Large Cookware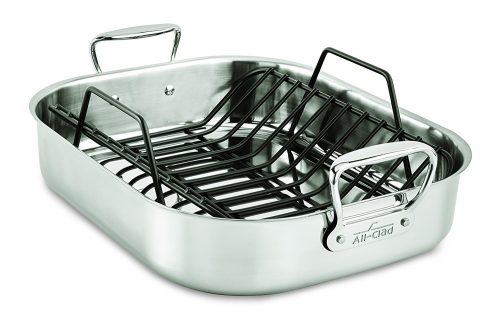 All-Clad 501631 Large Roti Combo with Rack and Turkey Lifters is perfect for turkey roasting, chicken, and vegetable. This roasting pan is crafted with premium stainless steel featuring classic style, ergonomic design, and durable construction for long-lasting performance. The attached V-shaped nonstick roasting rack keeps food elevated to generate even when cooking and browning. The dimension is 14 by 11 inches and is ergonomically designed for comfort to reduce splattering, and the upright. The Roti is also absolutely stovetop riskless for cooking pan gravies after roasting.
The turkey lifters come in a set of two and can be used to transport large roasts or turkeys from the cooking vessel to the carving board. Use a single fork to secure meat while carving. Classic design, high performance, and lifetime durability unite in the Stainless Collection, All-Clad's most popular line of cookware.
2. Farberware Nonstick Bakeware 11-Inch x 15-Inch Roaster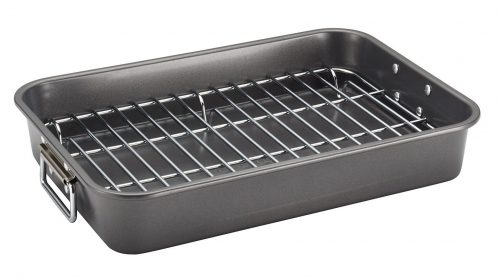 Buy on Amazon.com Buy on Farberwarecookware.com
The strong flat rack in this durable roaster is perfect for keeping meats elevated so that fat can strain down into the bottom of the pan. This roaster is ideal for pork, chicken and beef roasts which combines the durability and reliability everyday cooks required in their kitchen.
This roaster is coated with nonstick on the inside and out so when the roasting is finished, cleaning up is always a breeze. This roaster is oven safe to 450°F. Moreover, this roaster is made of heavy-duty carbon steel that resists warping and features a sturdy flat rack so food sits up off of the pan and fats can drip away while cooking
The dimension of this roaster is 11-Inch by 15-Inch with Flat Rack. Farberware is manufactured and sold pursuant to a license from Farberware Licensing Company, LLC. Your purchase is genuinely risk-free.
1. Granite Ware 0509-2 18-Inch Covered Oval Roaster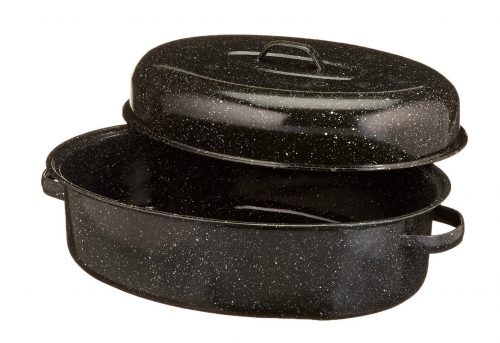 Granite Ware roaster is the best roasting pan with the lid for any holiday meals or special gathering. The roaster is made of a strong carbon steel perfect for absorbing and distributing heat evenly and quickly. The roaster is energy efficient, because the dark surface absorbs energy from the oven, reducing cooking times.
Porcelain is fused to the steel at 2,000 degrees Fahrenheit producing a non-porous, inert glass surface that is naturally non-stick. Self-Basting Dome Lid helps to keep your food moisture. No PFOA, PTFE or other harmful chemicals are found in this roaster. This roaster has a 9-quart capacity and can hold up to a 15 pounds turkey with the lid on and up to 18 pounds with the lid off.  This roaster at the same time makes it easier to clean.
Whether grilling, broiling, baking or roasting, there are choices of size and configuration to handle the task. The roaster is equally at home in the oven or on the grill. Oval Shape is perfectly designed for Poultry or Roasts. One of the most popular roasters, the oval shape with side handles feature a cover with inverted dimples that keep food moist from condensation replenishment.
Conclusion
The various cooking methods you can use to make your food not only affect the flavor of your ingredients but also their nutritional content. Roasting food does not call for as much calorie-dense oil and fats as other foods. You simply just brush a small amount of oil on the outside of your food to begin the baking process, rather than smothering your food with oil the way one does with frying or sautéing. With these products reviews above, you may be able to choose the right roasting pan for your turkey on Thanksgiving next year and many more foods to come.