Washing dishes is quite an annoying household chore, particularly if you have a big family. So do not hesitate to invest in a high-quality dishwasher. Either the tabletop one or the integrated one, these dishwasher machines will not only save your time and release you from your stress of washing dishes but will also save water and energy, lowering the overall utility bills.
In this article, we'll discuss more specifically about the integrated dishwashers to help those in need of this type. The integrated dishwasher is considered as one of the most innovative inventions of all the time, as it is specially designed to fit into your kitchen setting. They come with different size and functions. Below are the selected models from our chef's team to introduce to you.
List of the 8 Best Integrated Dishwashers in 2023
8. Frigidaire FFID2426TS Integrated Dishwasher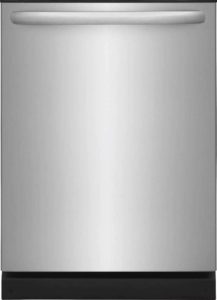 Frigidaire has been a trusted company for home appliances for over one hundred years. This brand is now presenting very useful equipment for busy kitchens, "fully integrated Dishwasher" with 4 Wash Cycles facilities. This unit is equipped with Dish Sense Technology and offers energy-efficient function that has been verified by the NSF Energy Star rating.
Its polymer tub with Nylon Racks and 14 place settings capacity makes this machine one of its kind that effectively dry out even plastic utensils very well as compared to other dishwashers. This dishwasher comes with stainless steel finish which brings a premium look to the equipment. And the soil sensor integrated with the unit helps in detecting how much dirt the water has and also helps in changing the water temperature to accommodate the gunk level.
Features
It comes with4 Wash Cycles options
Has a capacity of14 place settings
Integrated with Dish Sense Technology
7. Bosch Integrated Dishwasher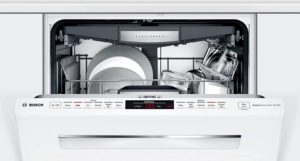 With the trust of Bosch, SHXM78Z56N 24 can be considered as the quietest integrated dishwasher ready to change your kitchen habits. The 485 Quality checks process of Bosch makes this product efficient in performing various precise applications that you will expect from a dishwasher in terms of precision wash, clean and free from noise. The Stainless-steel interiors with 16 Place settings and 5 Wash cycle and 4 wash option makes this unit perfect for cleaning your dishes and other utensils reducing your efforts and hardship.
Advanced technology is applied along with a maximum number of noise reduction methods like multiple insulation layers, grind less food filtration, EcoSilence motor system, and a sound-absorbing base makes its functions noiseless. The silverware basket of the dishwasher is removable and is perfect for loading different types and sizes of cookwares and cutlery ware set, . The flexible 3rd Rack features of this machine provides expandable wings that can be easily lower to billet more items while its adjustable tines let you modify the rack's loading space to adapt as per your bigger utensils..
Features
Noiseless operations
Has 16 place setting with 4 wash option and 5 wash cycle
Has flexible 3rd Rack features
You might also need one of these 10 Best Under Cabinet Range Hoods for Your Kitchen in 2023
6. Fisher Paykel DD24DDFTX9N Fully Integrated Dishwasher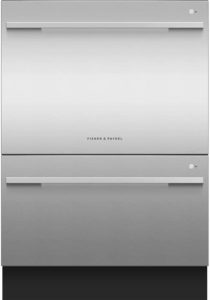 This 24-inch integrated dishwasher model by Fisher Paykel is one of the best kitchen utility appliances developed by the brand to support busy home kitchens. The dishwashing machine comes with premium styling and quality materials. Thus tall Double DishDrawer comprises a standard-sized bottom drawer and 18-inch sized top drawer. Its 15 wash cycles and 14 place settings, as well as additional Quick wash, Sanitize and Extra Dry options makes the product one of favorable dishwashers available in the market. The product comes with flexible racking that can be folded down to fit bigger dishes.
Both the drawers can be used independently for enhancing its user-friendliness. Users can select different wash programs for the dishwasher to wash and clean everything from fine glass and crystal to heavily soiled pots and pans. Quick wash modifier of this unit delivers a faster washing without compromising its performance. The Sanitize option provides extra protection from germs and bacteria-killing 99.9% of it in its final rinse.
Features
It has14 place settings and comes with 15 wash cycles
Included aSanitization feature
Flexible racking
5. Bosch 800 Series SGX68U55UC Fully Integrated Dishwasher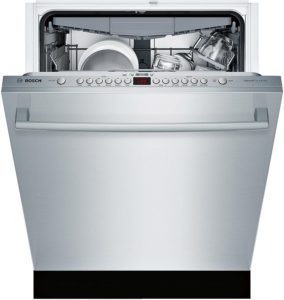 Bosch is one of the trusted brands that are known mostly for various home and kitchen appliances. 800 series SGX68U55UC of Bosch is an integrated dishwasher that has a size of 24 inches. Its Rack Matic system that comes with 3 height levels for 9 possible rack positions to make sure that users can fit all your dishes while the 3rd rack adds versatility and offers 30% more loading capacity in comparison to other dishwasher models. For eliminating any chances of water leakage and safety the product is corporate with Aqua-Stop Plus system.
The dishwasher also has a feature for Water Softening that ensures all the dishes after a wash is optimally spot-free and shiny. Active Tab tray of this unit optimizes the overall detergent dissolving capacity to minimize wastage and clean the utensil to its optimal level.
Additionally, the dishwasher has a good noise-reducing technology that makes the dishwasher to function by creating very low noise of 44 dB, making it quietest in its class. The NSF certifies the machine to be Energy efficient and ADA compliance makes sure the usability of the product by maximum members. This perfect blend of intelligent technology and simple mechanics means greater reliability and excellent wash performance. And most importantly, the premium finish of stainless steel maintains overall the beauty of your kitchen.
Features
Almost noiseless operations (44dB)
Includes Aqua-Stop Plus system
Made of stainless steel
4. Fisher Paykel DD24DI9N 24 Inch Fully Integrated Dishwasher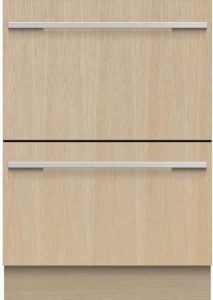 Fisher Paykel DD24DI9N comes with a Smart Drive Technology making the product highly useful and feasible. This premium looking wooden finished integrated dishwasher is one of the finest kitchen appliances. The product comes with various facilities that anyone will be searching in a dishwasher like 14 place settings, independent wash, true half-load flexible racking, fold-down tines, easy-to-load, sanitize option, quick wash option, extra dry option, delay start-up to 12 hours, fan assisted drying, smart drive technology operates 15 cycles with 3 options, panel ready finish instead of needing a remote control.
The most attractive feature of this dishwasher is its knock on the front panel that will pause the dishwasher if required and can also be re-started again by using the start/play button. The unit makes very low noise while its functioning making it suitable even for small kitchens and compact homes.
Features
Premium Looks
14 place settings and 15 cycles wash
Pauses with front door knock
3. Fisher Paykel DD24SI9N Drawers Fully Integrated Dishwasher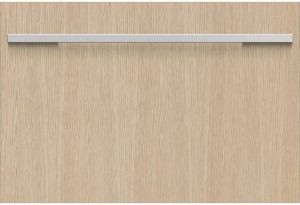 Fisher Paykel dd24si9n is a wooden finished premium looking dishwasher that comes with 7 place settings and various functionalities and options including independent wash option, with true half-load flexible racking, fold-down tines, easy to load, sanitize option, quick wash option, extra dry option, delay start-up to 12 hours, knock to pause function, fan assisted drying, running at a very low decibel rating.
This fully integrated dishwasher can work up to 15 wash cycles. It is a perfect combination of simple mechanics and intelligent technology offering product reliability and excellent performance. The unit comes with beeping indicators that alert the user after ending each cycle, additionally, the product comes with ADA Certified and equipped with child locks for enhancing safety. The energy star ratings of this unit ensure the low energy consumption of this product.
Features
ADA Certified and has child locks feature
Comes with 15 wash cycles
Includes alert system
2. SHX863WD5N 24 300 Series Fully Integrated Dishwasher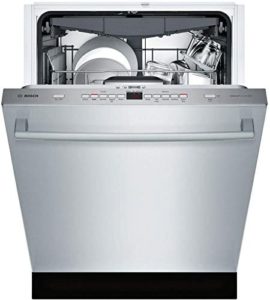 This SHX863WD5N 24 300 model of Bosch Dishwasher Series knocks at the door with high quality fully Integrated Dishwasher along with a built-In recessed handle. It has a spacious stainless steel tall tub that can hold up to 16 place settings with 5 Cycle added with 5 Option. The flexible silverware basket design of this unit is helpful in split into two pieces and can be placed anywhere enhancing its flexibility.
Its InfoLight Beams on the floor to indicate the dishwasher is running helps the user to monitor the dishwasher's functions. The detergent tray included also optimizes is detergent dissolving. The RackMatic on Upper Rack comes with 3 height adjustments as per user's requirement. Additional feature of this unit is its AquaStop Leak Protection that efficiently works for 24/7 non-stop. For offering better drying results the unit has an option for Extra Dry. Using the Speed60 dishes can easily be cleaned from dirty to dry in about an hour. Moreover, the product also has an option for sanitization that effectively eliminates bacteria from the dishes making it one of the best integrated dishwashers available in the market.
Features
Comes with built-In recessed handle
Has 16 place setting
Flexible silverware basket
Adjustable Upper Rack with 3 height adjustments option
1. hOmeLabs Compact Countertop Dishwasher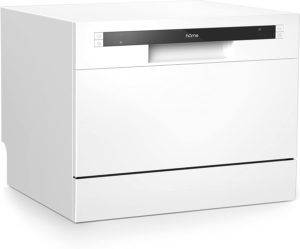 This countertop Dishwasher by HomeLabs comes with 6 standard place setting capacity is perfect for small size households or individuals living in apartments with limited space for huge kitchen appliances. The unit is equipped with User-Friendly Controls: Heavy, Normal, Eco, Glass, Speed and Rinse with an additional delay button light to postpone the wash cycle. The dishwasher also features a quick connect assembly with accessories including inlet and drain hose along with a faucet adapter for water lines that are compatible with round-shaped faucet outlets with removable aerators.
This Energy Star certified integrated dishwasher machine is perfect for cleaning the dishes after dinner or any meal of the day. Simply load the dishes in the dish basket and cutlery rack and let this dishwasher do the entire dirty job. This unit easily sits on countertops or tabletop requiring less space makes it easy to handle without disturbing much of the space in the kitchen.
Features
Has 6 place setting
Equipped with User-Friendly Controls
Things to consider while buying an Integrated Dishwasher
Anti-flood protection: One best feature that is included in an integrated dishwasher is Anti-flood protection with float switches that protects the machine from getting flooded to minimize any kind of kitchen accidents. Float switches are placed in the base of the unit and it is meant for stopping excessing filling of water into the machine. In many integrated dishwashers, aqua stop function is present that prevents any kind of water build in the machine in case of a pipe burst or leakage.
Noise level: Most of the dishwashers are designed to produce low on no-sound considering its encapsulation within the kitchen cabinet. Noise level reduces through insulation or by using sound damping elements. However, before buying any electrical appliance the decibel rating must be checked that must be above 60 dB, lesser is dB lower the noise is produced.
Energy efficiency: In comparison to another dishwasher, dishwashers are costlier, but that can be neutralized in the electricity bill as integrated dishwashers have better energy ratings of A to A+++. This indicates that this appliance can intellectually save electricity as well as water if compared to the annual costing against freestanding variants.
Adjust ability: Dishwasher with removal baskets, adjustable racks, foldable tray enhance the overall usability of the product by increasing the capacity of the product to hold utensils and dishes of different size and shape as per the user's requirement. Loading and unloading of the utensils also becomes easier with adjustable shelves maximizing the user's experience.
Wash programs: Typically, integrated machines offer a variety of wash programs that can be selected manually by the users as per requirement for washing their cutleries and crockeries. The programs vary to support glassware with gentle cycles, or intensive cycles for cleaning the greasy pan.
Sanitizing feature: The dishwasher with sanitizing feature is most valued as it ensures that while washing the dishes and utensils the dishwasher also kills the suspected bacteria and germs in its drying process by raising its temperature.
Conclusion
The products listed above are built to last and nothing can go wrong in terms of efficiency. We have that this review will help you choose the best one for yourself.