A dishwasher helps a lot in daily cleaning or washing such as dishes, forks, spoons, wine glasses, cups and more . It is one of the best inventions ever for the kitchen because most of us find it exciting to cook but not wash up later on. However, the size of a dishwasher varies. A tabletop dishwasher is a very small and portable one which is ideal for placing on the table and other surface. It can also be stored somewhere else as long as it fits in any space perfectly.
In order to accommodate your demand, we have created a list of the top 10 best tabletop dishwashers for you. We will include a review of their key features as well as a short buying guide section at the end. Without any further delay, let's go through the reviews with us now.
Here are the Best Tabletop Dishwashers in 2023
Also check: Top 8 Best Integrated Dishwashers in 2023
10. EdgeStar 6-Slot Tabletop Dishwasher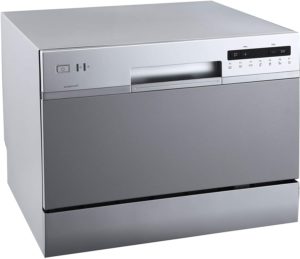 First of all, we have this tabletop dishwasher from Edgestar. There are 6 slots in the dishwasher for you to place 6 items inside. The settings include a cutlery basket, dish rack and cup shelf, which is compatible with all kitchenware. Moreover, for plates, the maximum plate diameter that it can support is up to 10.5 inches.
The dishwasher features up to 7 cycles in the washing process. In addition, the installation of this dishwasher is easy enough since there is an adapter to connect to the kitchen faucet quickly. The dishwasher is made from stainless steel, and it fits well with most kinds of cabinetry. The water consumption for a normal wash is at 2.85 gallons. Last but not least, the parts of this tabletop dishwasher is guaranteed with a 1-year warranty from Edge Star.
9. hOmeLabs Tabletop Dishwasher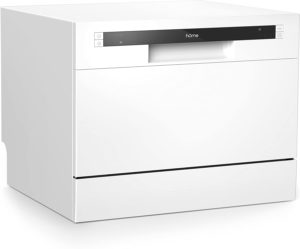 This tabletop dishwasher from hOmeLabs is also small and convenient. It is certified with Energy Star for its effectiveness and efficiency in the dishes cleaning process. It is responsible for cleaning the dishes with a cutlery rack and dish basket included in the dishwasher. Since it is both small and portable, it fits perfectly onto the tabletop or countertop which will never require much space for storage.
The operation of this dishwasher is easy enough with a control panel. There is an indicator light to show you about the process. During the cleaning, there are 6 cycles in total, and it guarantees that it washes the dishes to the cleanest. The installation is also easy since you can quickly connect it via the faucet adapter included.
In addition, it includes a rinse aid dispenser at the bottom part where you can place your dishes and plates in order to dry them quickly. There are 6 settings in this dishwasher which is ideal for an apartment.
8. BLACK+DECKER 7-Program Dishwasher Tabletop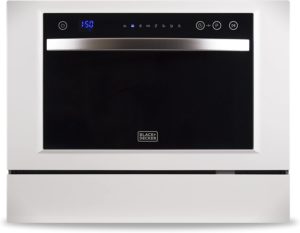 Moving onto the next tabletop dishwasher from BLACK+DECKER, it comes with many great features to relieve your daily burden in cleaning. Just like the previous dishwashers, this one also has 6 settings for you to put your dishes, cups or other cutlery in. The dishwasher features 7 cleaning cycles which are responsible for cleaning your dishes and other kitchenware thoroughly.
There is an LED display in order to show you if it is in the operation. There is also a delayed start option which you can schedule the washing job. This option can be set up to 24 hours at the maximum. For the safety features, the dishwasher has been certified by Energy Star, and there is a safe locking mechanism for child safety. There are up to 7 wash programs for different preferences and demands.
You might also need one of these 10 Best Under Cabinet Range Hoods for Your Kitchen in 2023
7. Farberware Portable Dishwasher Tabletop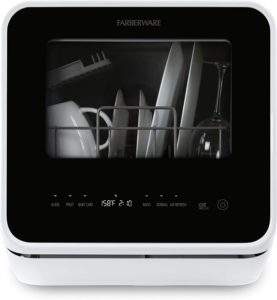 For this tabletop dishwasher from Farberware, it is made with high quality. The dishwasher has been tested before sending to make sure that all parts have proper operation. It features a small and compact design, which is suitable for a wide range of dishes as long as the dishes have their diameter at 12 inches. Therefore, this dishwasher is perfect for apartments and dorms.
One of the most significant features about this tabletop dishwasher is that it is made with a built-in tank for you to fill in water, so that you do not have to connect to the kitchen faucet. However, if you prefer direct water, there is still a water hose included. There are up to 5 washing programs for this small dishwasher, including normal, fruit wash, baby care, rapid and glass. These programs are for different demands, yet they all ensure the best personal hygiene for you and your family together.
6. SPT Tabletop Dishwasher with LED Display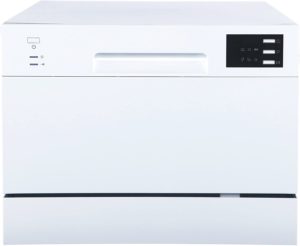 Another great tabletop dishwasher is from SPT. There are 6 wash cycles for this small and portable dishwasher, including normal, Eco, speed, glass, heavy and rinse. There is a delay start option for this dishwasher so that you can fully customize and schedule the washing. The delay starts when the timer ranges between 2 and 8 hours.
In addition, it is equipped with a universal adapter which is suitable for all kinds of faucets in the kitchen. The installation should be easy and convenient enough which can be finished within minutes. Moreover, there is an LCD display screen to show you with the current status, including the time and running state. Also, there is a warning indicator to alert you in case of any unexpected accidents.
With the capacity of 1 quart, the noise level of this tabletop dishwasher is also low enough. The noise level is known to be as low as only 55dB.
5. Danby Tabletop Dishwasher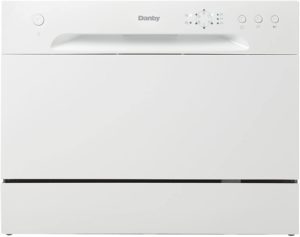 Here comes another tabletop or countertop dishwasher from Danby. It features a space saving design since it fits well into anywhere in the kitchen. This is designed perfectly for small size houses, such as dorms and apartments. There are 6 place settings for this small dishwasher, which is enough to accommodate your demand if you are living alone or with only one roommate.
During the washing process, there are 6 wash cycles, including intensive, glass and soak, economy, normal and rapid. You can customize the setting based on the control panel provided for you. More importantly, there is a delay start option, which allows you to start the schedule within 2 to 8 hours. Moreover, the operation is quiet enough since the noise level is measured at only 52dB. This dishwasher is highly recommended for the installation on the countertop where you can work with perfectly after enjoying the most delicious meal.
4. SoloRock 6-Setting Dishwasher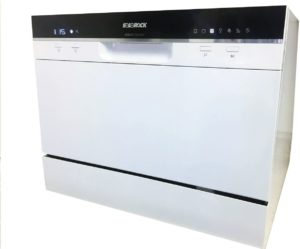 If you prefer the beautiful color of white, you should consider this countertop dishwasher from SoloRock. It comes with an elegant white color which is suitable for most types of home decoration. There are 6 space settings inside this dishwasher, where you can put your dishes, plates, cups and cutlery inside to let it do the washing for you and return you with an unexpectedly great result.
This dishwasher is designed to be compact and portable in size. It is only about 50.7 pounds in total, and it is made from strong and durable stainless steel. The stainless steel construction makes it worth for a long term investment. It is operated on the voltage of 120 volts. More importantly, the parts of this dishwasher have been tested to meet the requirements of CSA safety standards. Thus, you can fully trust on this dishwasher and integrate it as part of your kitchen appliance to release your daily burden.
3. SPT 18" Portable Tabletop Dishwasher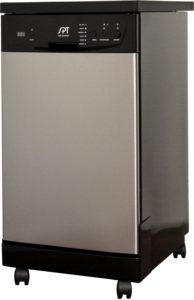 Here is another model of countertop or tabletop dishwasher from SPT. It is designed to be small and compact, yet there are a variety of settings inside the dishwasher for you to put in various kitchenware, including plates, dishes, cutlery, cups and other essentials that require cleaning or washing after usage.
The slots are protective in order to secure the items in place. There are multiple programs to work with these dishes, and you can customize them using the control panel to adjust to your demand.
With this dishwasher, the energy consumption is only about 295 kilowatts in one hour, while the water consumption is measured at 3.65 gallons per hour. It has been tested and approved by Energy Star. Last but not least, the body of this dishwasher is made from stainless steel which can withstand even the toughest use in daily usage.
2. Sunpentown Countertop Dishwasher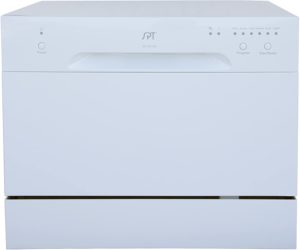 Now, let us take a look at this table top dishwasher from Sunpentown. Sunpentown's dishwashers have been used in many resorts and restaurants thanks to their effectiveness and efficiency in washing. This dishwasher is available in two colors, which are white and gray. However, both of them fit well into all types of home decoration, regardless of their traditional or contemporary design.
It is small and compact enough with a lightweight body of only 43 pounds. The washing operation with this dishwasher is also quiet and smooth enough with the noise level of 55dB during the operation. It is made from iron which is designed for stability and durability in the long term usage. You can simply plug in, get your dishes inside and customize the settings to let it do the washing for you within minutes only.
1. Ensue Compact Countertop Dishwasher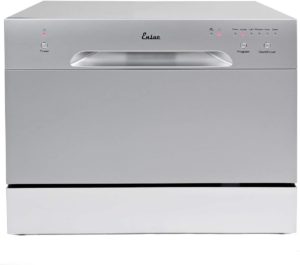 Last but not least, we have this tabletop dishwasher from Ensue. There are 2 colors for this dishwasher, including silver and white. The operation is both easy and convenient since there are baskets and racks to hold your dishes and other kitchenware. The dishwasher can be placed on the countertop or tabletop conveniently for storage.
For the operation part, you can customize the setting with the control panel in order to get it ready for use. You can simply fill in the detergent to help in the cleaning process. It has been tested and approved by the Energy Star. Moreover, there is a light indicator to show you about the operation. There are various programs for you to select. These programs include heavy, rinse, normal and mini parties.
There are 6 settings inside the dishwasher, and this is just ideal for a small size house, such as an apartment or dorm for a few individuals to enjoy the effortless washing process.
Buying Guides
A dishwasher is an important component in the kitchen. Therefore, it is very essential for you to select the right one to get it worth for long term investment. Although a tabletop dishwasher is composed of many parts, there are only a few points that you should take note while making a purchase.
Capacity
The tabletop dishwasher is small and compact in order to fit into the tabletop. Yet, the capacity should be maximized within the interior space. Most of them come with 6 settings inside, including a dish basket and a cutlery rack where you can put all the dishes and kitchenware in order to clean with ease.
Program
An outstanding dishwasher can do as many programs as possible. However, what comes with the program is also the budget. You should first learn about your demand to see which programs are essential to you for daily washing. Regularly, the most common programs include normal, rapid and intensive. Some dishwashers may also include other functions for baby's milk bottles and fruit wash. Still, this depends on your own demands.
Construction
A dishwasher is not what we use for only 2 – 3 days. Therefore, it should be strong and durable enough to offer a lifetime service in the kitchen. A good tabletop dishwasher is usually made with stainless steel, metal or iron that guarantees the best stability as well as durability.
Adaptor
what should also come with the dishwasher is the universal fit adapter which makes it easy for the connection of the dishwasher to the kitchen faucet, so the water can flow it smoothly.
Conclusion
To conclude, above are the top 10 best tabletop dishwashers. Having a tabletop dishwasher is a good idea if you are living in a small size house. It can reduce your daily cleaning tasks and also encourage you to do the cooking job on your own since cleaning is no longer a problem.