I am not one to jump on the pumpkin bandwagon in early Autumn every year. I don't like pumpkin lattes. Read more here to get my stance on buying coffee in general. Though, there are some pumpkin flavored foods that live up to the hype in my book. For example: pumpkin pie, pumpkin bread and in this case, pumpkin muffins.
These easy pumpkin muffins only take 40 minutes and 10 ingredients to make. They are great for weekend breakfasts and snacks, and can be put in the fridge/freezer to last all week. They have a nice balance of sweetness and warm spice flavors that are great for Fall, Winter or anytime of year.
The spices used in this recipe are cinnamon, nutmeg and ginger. You could also just buy pumpkin pie spice instead of the individual spices and get away with using 8 ingredients. Pumpkin pie spice usually has allspice and cloves as well, but it will work in this recipe. Use 2 teaspoons if you go that route.
This recipe is also pretty healthy considering it's a baked good.
It's loaded with pumpkin, surprisingly, and pumpkin has a lot of nutritional benefits. It is packed with vitamin A, iron, potassium and dietary fiber. Pumpkin is low in calories as well, which helps keep these muffins on the lighter side. If you are interested, you can learn more about the health benefits of pumpkin here.
To make these, I used a KitchenAid stand mixer. You could use a hand mixer as well, or mix it together with your bare paws if you're going for a rustic approach. In my opinion, the KitchenAid is an investment that will pay off in the long run. Especially if you like to bake & cook. Here is what I have at home if you want to check it out:
Buy on Amazon.com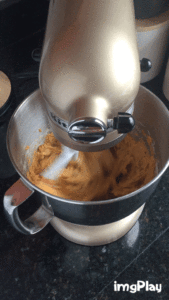 Once the batter is mixed, make sure to liberally grease the pan. You could use muffin paper, or stainless steel baking sheets but it's an unnecessary cost.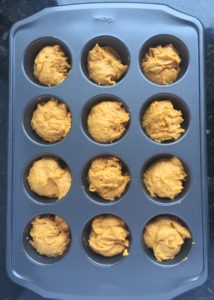 I added pumpkin seeds to the top of the muffins before tossing them in either your OTG oven or Countertop Convection Oven. Also an added cost, I know, but I think this one is worth it. They provide a nice crunch and take these muffins to the next level.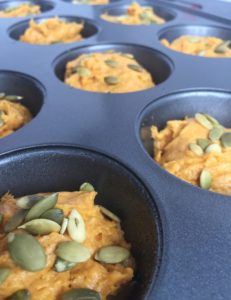 After baking for about 23 minutes they turned out perfect. Golden on the outside and soft on the inside.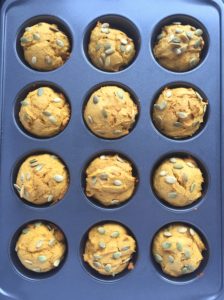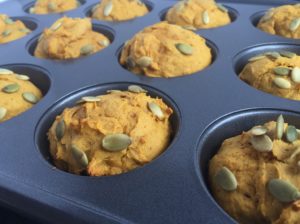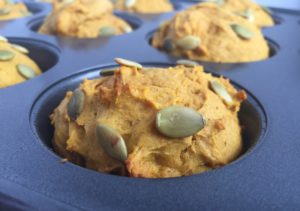 Let's get Economical with these Easy Pumpkin Muffins:
1 3/4 cups flour – $0.20
1/2 cup sugar – $0.13
1/4 tsp nutmeg – $.08
1/2 tsp ginger – $0.12
1 tsp cinnamon – $0.04
1 tsp baking soda – $0.01
1 1/4 cup pumpkin puree – $1.33
2 eggs – $0.40
1 tsp vanilla – $.50
1/3 cup butter – $0.46
The grand total is $3.27. About $0.28 per muffin. Granted, the muffins are on the smaller side compared to what you see at most coffee shops and fast food joints, but those giant muffins usually run $1.00-$3.00. This recipe churns out 12 home made muffins for the price of 1-3 overpriced muffins.
Here are some optional ingredients to consider:
Pinch of salt – $0.01
Pumpkin Seeds – $3.00 bag
Salt always seems to work well in baked goods, but it is definitely not necessary. On the other hand, I would strongly recommend using pumpkin seeds. They round out the muffin nicely and the leftover seeds can be used for a healthy snack or to make trail mix or granola bars. Check out this cool trail mix recipe if you are looking for an idea.
Ingredients
For the muffins:

1 3/4 cups flour
1/2 cup sugar
1/4 tsp nutmeg
1/2 tsp ginger
1 tsp cinnamon
1 tsp baking soda
1 1/4 cup pumpkin puree
2 eggs
1 tsp vanilla
1/3 cup butter
Optional:

Pumpkin seeds
Pinch of salt
Instructions
Pre-heat the oven to 350 degrees
Combine your dry ingredients in a bowl and mix together (flour, sugar, nutmeg, ginger, cinnamon, baking soda)
Add your wet ingredients and mix thoroughly (pumpkin puree, eggs, vanilla, butter). Make sure your butter is softened.
Grease a muffin pan
Scoop your batter into the pan to make 12 muffins
Optional: top with pumpkin seeds
Bake for 22-24 minutes (until a knife comes out clean)
Remove muffins from pan and let cool
https://www.economicalchef.com/easy-pumpkin-muffins/
I hope you enjoy these easy pumpkin muffins!