Having a countertop convection oven can add a lot of values to your cooking experience and household. You can explore more recipes from grilling to baking. It generally offers you more options to fire up your cooking skills. The countertop convection oven is also the most popular among the cooks and chefs these days due to its easy setup, placement and usage. if you are looking for one, let's go through the list of the best countertop convection ovens available in the market and a buying guide to help you pick the best for your bucks.
List of the Best Countertop Convection Ovens in 2023
10. Oster French Convection Countertop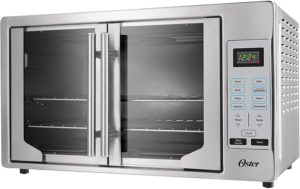 Oster French Countertop Convection Oven is an ultimate presentation of ovens. It features an internal light for easy viewing while cooking. The oven has double racks that provide more area for your cooking space as well as different levels for better control. The settings are controlled digitally for an accurate cooking interval and temperature giving your confidence in your cooking. It is equipped with a baking technology, Turbo Convection, that cooks and browns more consistently.
The temperature of 150 degree Fahrenheit is the preset for cooking food in this over which you can set the timing up to 6 hours. The interior is spacey enough to fit two 16 inches' pizzas. There is also a setting for preheat with exact temperature control for defined food preparation.
On top of this, a safety automatic shutdown will turn the oven off within 90 minutes of inactivity. The glass doors are easily maneuvered with one touch that opens both of the doors. The external structure is made of durable stainless steel. This oven is perfect for a big household or simply for those who need an oven with an additional capacity to fit a huge amount of cooking at a time. You can use it to not only baking but also cooking Ramekin Eggs and so on.
9. KitchenAid KCO255BM Dual Countertop Convection Oven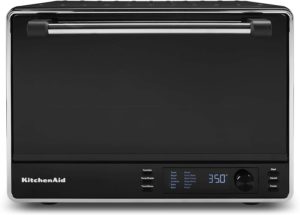 KitchenAid Dual Countertop Convection Oven is just large and enough to suffice your cooking needs. It is equipped with a dual convection that helps save you time as well as well energy when prepping your meals. This oven has a sleek matte black design and minimalist approach. With black glass, digital display and controls, it looks so futuristic and modest for any countertop.
The interior light allows you to check your meal abruptly without interrupting the cooking process. Gain more control over your cooking process with a built-in temperature analysis and accurate timer. Fret not about sticky and messy clean up after each cooking because the interior is lined with non-stick material. Cook and clean easily and quickly.
Switch around and experience with 12 predetermined cooking functions. This model also comes with a built-in temperature probe, a crumb tray, baking pan with grill shelf, detachable metal drip and rack. KitchenAid Dual Convection is perfect for family cooking needs. Fire up your cooking skills and impress families, friends and everyone with this oven.
8. Oster Extra Large Digital Countertop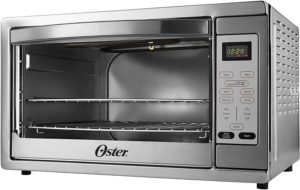 Buy on Amazon.com Buy on Walmart.com
A similar model from Oster, this model offers slightly different features from the previous model mentioned above. There are two levels that provide you more space than ever for cooking large amounts of food. It has a simple user interface controls with 6 available preset settings, timer button, temperature control button, stop and start buttons. It is also equipped with fast convection technology that improves cooking consistency and time. The temperature setting ranges between 200 to 400 degree Fahrenheit. It runs on 1500 watts' power and efficiently consumes energy as it cooks your food.
The automatic shutdown is triggered once the timer goes off. The design is simple with a common roll out clear glass door and the overall structure is made of stainless steel. This oven comes with an included broiling rack and baking pan. However, you'll need to get separated oven liners to protect it if needed.
You also check: Top 10 Best OTG Ovens in 2023
7. Cuisinart AirFryer​​​​ ​Countertop Convection Oven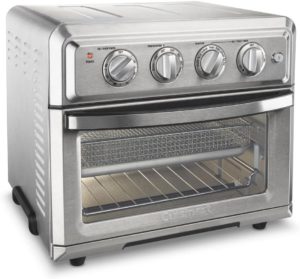 Cuisinart AirFryer Countertop Convection Oven doubles as an air fryer and fully functional convection oven. This is a premium toaster oven with an integrated air fryer. Air fryers are usually sold as a standalone device with one equipped function. Air frying offers a better and healthier solution to deep frying your food in oil. This convection oven comes with 7 preset settings such as bake, broil, convection broil, convection bake, warm, toast and air fry. It has a large capacity to roast chicken of 2 kilograms and fit in 6 slices of toast. You may consider a 4-slice toaster oven if you need a smaller size one.
The thermostat is adjustable within a period of 1 hour plus an additional shade selector for your toast. All the control settings come in a pop up rotating knob. It is a unique kitchen appliance that will help you save on buying an external air fryer. Pay for one and get two kitchen appliances right on your countertop.
6. COSORI 12-in-1 Air Fryer Countertop Convection Oven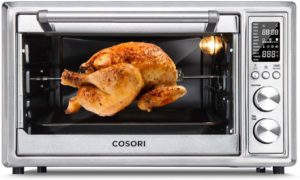 Buy on Amazon.com Buy on Walmart.com
Cosori 12-in-1 Air Fryer Countertop Convection Oven is an ultimate kitchen appliance to fire up any kind of meal preparation. It has a capacity of 30 liters with 12 preset settings. It specially features preset settings such as air fryer, rotisserie, broil, ferment, roast carrots, pizza, toast, keep warm, cookies, dehydrate, bake and bagel. You can easily check on your food through the clear glass door and interior light. Convenient control with a built-in LED display and dial knob controls.
There are a lot of accessories that will also be included along with the oven. You will get a recipe book, fry basket, wire rack, crumb tray, food tray, rotisseries handle and fork set. Make magical meals and explore the possibilities of food preparations with this oven. You can get a lot of value from the oven's features and usability in one purchase.
5. Breville Convection and Air Fry Smart Oven Air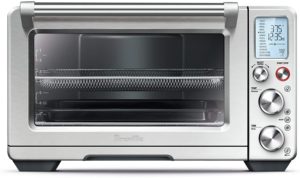 Buy on Amazon.com Buy on Breville.com
This Countertop Convection Oven from Breville is a smart oven that is equipped with an intelligence technology. It comes with 10 preset cooking functions such as bake, grill, roast, pizza, warm, reheat, cookies, bagel, toast and slow cook. A convection cooking in combination with a smart system ensures a consistent heating for precise cooking and results. Access the controls easily with the LED display panel and dial control knobs. You can slow cook from 2 to 10 hours.
This large capacity oven is powered by 1800 watts. Simply check on your meal while it's cooking with a touch to enable interior light for better viewing. The interior is coated with non-sticky material for easy cleaning. It is best for using in the kitchen of your home, office and an apartment.
4. BLACK+DECKER 8-Slice Countertop Convection Oven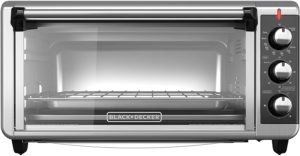 Buy on Amazon.com Buy on Walmart.com
This Countertop Convection Oven from Black+Decker is extra wide in dimensions which will pair well with most of the oven pans out there. The wide interior space can easily handle up to 8 slides of toast. The temperature setting ranges up to a maximum of 450 degrees Fahrenheit and the timer setting ranges up to a maximum of 1 hour. The convection technology ensures that your meals will cook and brown evenly throughout.
The interior has 3 levels for rack placement allowing you to switch easily according to your cooking requirements. A crumb tray, rack and pan is included with the oven. This is a simple oven with only 4 preset cooking functions.
3. Toshiba Countertop Oven EC042A5C-SS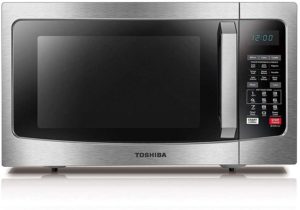 Buy on Amazon.com Buy on Walmart.com
This Countertop Convection Oven oven from Toshiba will double as a microwave. It is a smart multipurpose kitchen appliance that will sure ease your meal preparation. It is sleek and modern in design and looks with a stainless steel finish. The interior is also stainless steel ensuring quick and easy clean up after every cooking session. There are 10 settings for power and a few preset cooking functions. It runs on as low at only a 1000 watts.
Enjoy the dual function of a convection and microwave oven by buying only one appliance to add up to your kitchen countertop. It has an energy saving feature as well as smart sensors to cook up 13 different menus. Every purchase will include a valid 12 months' warranty as well for maintenance services and product returns.
2. Nostalgia Large-Capacity Countertop Convection Oven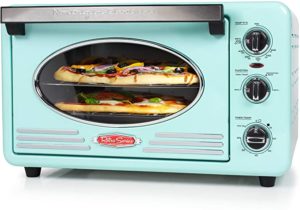 This Countertop Convection Ovensure does bring back nostalgic retro vibes. Unlike most ovens, this one is stylish and covered in colorful aqua paint. It runs on 1500-watt power with temperature setting ranging between 200 to 400 degrees Fahrenheit.
It can easily handle 12 slices of toast with a timer setting at a maximum of 60 minutes. A crumb tray, baking pan and two racks are included with the oven. Cook your meals with a vibe and touch up your retro kitchen with this retro convection oven.
1. Breville BOV800XL Smart Oven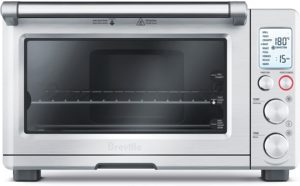 Buy on Amazon.com Buy on Breville.com
Last on the list is another Countertop Convection Oven from Breville. It comes with 9 preset cooking settings as well as Element IQ system. The intelligent technology ensures consistent temperature heating and precise cooking. The controls can be easily adjusted as the information is displayed on the LED panel along with settings through the dial knobs. Every purchase of this unit will include a 12-months limited warranty on the product as well.
What to look for when buying a countertop oven?
Size of the oven
You do not want to purchase a countertop convection oven that will not fit your countertop. There are two things you can consider when choosing the size of your oven. First, think about how much space is available to place the oven.
Second, how much food do you want to cook in that oven. You want an oven that is large enough to handle your meals preparation and fit fine in your kitchen space as well. Look for an oven that has additional functions as other appliances like air fryers or toasters. This will help you save money as well the clutters in your kitchen.
Features
Countertop Convection Ovens come with a number of similar and unique features. Some convection ovens have their own specialty in feature such as baking pizza, rotisserie chicken or dehydrating. If you are looking for a specific kind of function to use for a known purpose, focus on browsing for that. Convection ovens usually come with various preset settings and some may include additional features such air frying, dehydrating and toasting.
More features are great as you can explore into your culinary skills with your convection oven. Also look out for safety features such as automatic shutdown and overheating to help ensure the safety of your home.
Design
If you care to create a consistent flow in your kitchen's visuals, consider the design and look when buying a convection oven. You can get cues from your assisting appliances as well as the kitchen's décor so the convection oven will fit in visually. If everything in your kitchen is minimal and modern, you would want a similar look for your oven.
If you just need a Countertop Convection Oven to be functional and usable for your needs, you can totally disregard the look factor and choose one that is best for your usage.
Power
If you are concerned about your electricity bill, consider purchasing a convection oven that comes with energy savings or efficient energy consumptions. Another important consideration you need to look out for regarding power is the power intake of the appliance.
You do not want to buy a convection oven and not be able to use it because the electricity source does not meet the appliance's requirement. Make sure you have enough voltage for the required power outage and the appliance's power intake.