I recently made Basil Quinoa and Chickpea Salad with Tahini Dressing and have had nearly a full jar of tahini sitting in my kitchen ever since. One of my pet peeves is buying a unique ingredient (like tahini) and only using it for one recipe. Then is sits in my pantry or fridge until the expiration date rolls around and I end up tossing it in the trash. Talk about wasteful. So in a defiant moment I decided I would not fall victim to wasted tahini and came up with a couple recipes to ensure I use it all. First on the docket are these nutty and delicious Roasted Tahini Ginger Carrots.
These carrots are really easy to make too. It took me about 40 minutes one Sunday night, and more than half of that time was spent sitting and watching the new Silicon Valley, a show I really think anyone would enjoy and is quickly climbing the top TV comedies of all time list for me.
If you have some tahini sitting around like me, or just can't get enough of the sesame paste, here are some other recipes that can help you put it to get good use:
Alright, lets get started with the recipe at hand. First thing to do is to clean the carrots.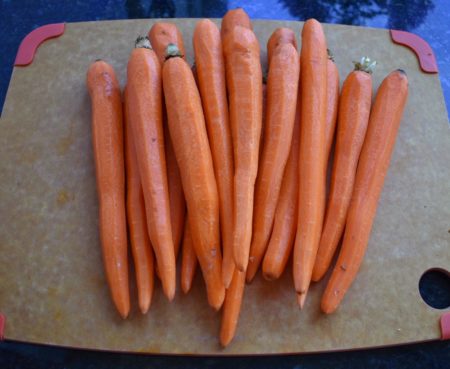 Cleaning the carrots just entails using a peeler to remove the often dirty outside layer. If you're using baby carrots you can skip this step and save yourself a couple minutes, but I went for the real deal carrots this time. I would have went for the all-to-trendy rainbow carrots if my local grocery store had them, but they didn't, so I'm stuck with these plain old orange carrots that apparently went out of style in 2014. It's fine, they all taste the same (mostly).
If you need some help with the carrot peeling, you can snag this affordable peeler from Amazon. Maybe pick up some groceries from Whole Foods while your on the site…
Get it now on Amazon.com
With the carrots clean it's time to work on the sauce/marinade that the carrots will cook in. The sauce is a simple mixture of tahini, olive oil, ginger, cumin, garlic, salt and pepper. These five ingredients work really well when combined with sweet and crunchy carrots.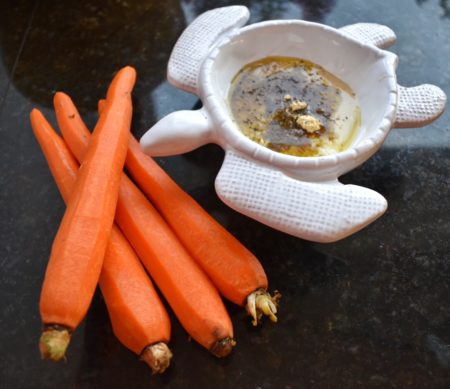 I also chopped the carrots into thin medallions and then mixed them in a large bowl with the sauce. You could also roast the carrots whole, but I planned on bringing these to work so I wanted to make them bite sized and easy to eat. Obviously, if you have baby carrots you can either skip this step and maybe just cut them length wise once (in half) if you feel like it. No matter how you are chopping or not chopping your carrots, make the sure the sauce coats the carrots evenly before tossing them in the oven.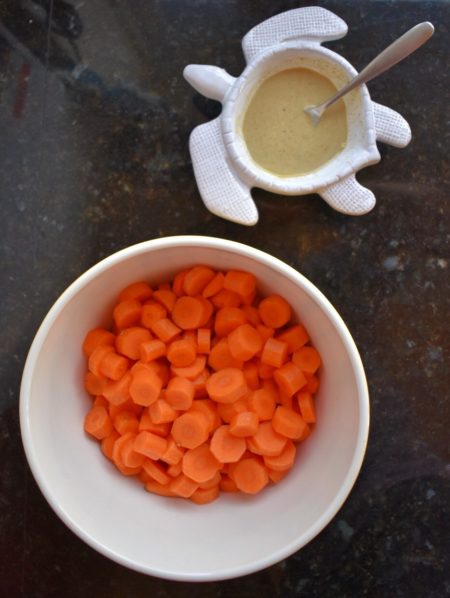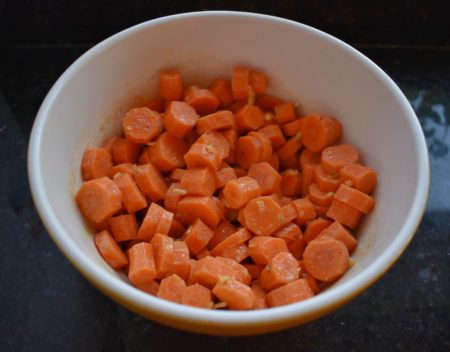 It's also important to add olive oil (or other fat) to the baking dish before adding your carrots to prevent the carrots and tahini mixture from sticking to the baking sheet and burning. Once the carrots are spread on to a greased baking sheet, pop them into a 400 degree preheated oven.
Before: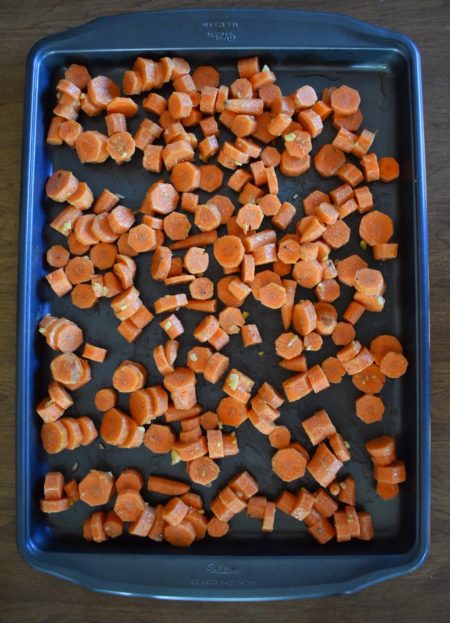 After: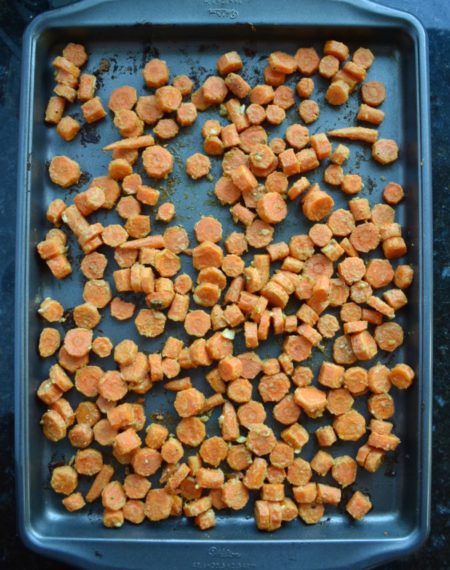 Those are likely the most uninspiring before and after pictures you have ever seen. Trust me though, these carrots really transform during those 22-25 minutes they're in the oven. Roasted Tahini Ginger Carrots do not disappoint.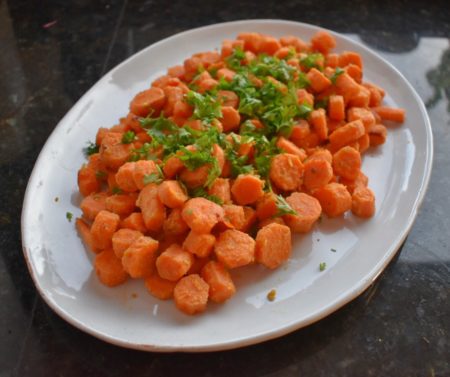 These carrots are delicious, yes, but they are also healthy. Here is the nutrition for a 1/4 lb serving (about 1/8 of the recipe):
Calories: 85.9
Total Fat: 3.6 g
Total Carbs: 12 g
Protein: 2.3 g
Total Sugar: 5.2 g
The nutrition is not that surprising to me for a vegetable dish. The calories are pretty low, and the fat that is there is from the small amount of tahini and olive oil. The carbs are actually mainly from the carrots, and most of the small amount of protein is too. Plus, there is limited sugar which is all naturally occurring in the carrots, which is nice.
Two ingredients are in the spotlight in this dish, and that is the tahini and ginger. Tahini is full of healthy fats. In my mind, it's basically a nut butter. Ginger has countless health benefits, but I think it is most well known for its antioxidants and anti-inflammatory benefits. I have found that Dr. Axe is a great resource for any food nutrition question you might have on your mind.
Enough about nutrition though… Let's get economical with these Roasted Tahini Ginger Carrots:
2 lbs of carrots – $1.98
3 tbsp tahini – $0.65
1 tbsp olive oil (plus a little for the baking sheet) – $0.30
1/4 tsp ginger – $0.06
1 tsp cumin – $0.10
1 clove garlic – $0.10
Salt and Pepper
Optional: Parsley
The grand total is $3.19, or $0.40 per serving. You can't find anything for $0.40 these days.
Roasted Tahini Ginger Carrots
These Roasted Tahini Ginger Carrots make for the perfect side for lunch or dinner.
Ingredients
2 lbs of carrots
3 tbsp tahini
1 tbsp olive oil (plus a little for the baking sheet)
1/4 tsp ginger
1 tsp cumin
1 clove garlic
Salt and Pepper
Optional: Parsley
Instructions
Pre-heat the oven to 400 degrees.
Peel the carrots and cut them into medium sized (about 1/4 inch) medallions.
Mix together the tahini, olive oil, ginger, cumin and garlic in a small bowl.
Add your chopped carrots and tahini sauce to a large bowl and mix together. Add some salt and pepper as well.
Evenly spread your coated carrots on a lightly oiled baking sheet and roast for about 22-25 minutes, stirring half way through.
Remove the carrots from the oven, plate, and add parsley to garnish!
https://www.economicalchef.com/roasted-tahini-ginger-carrots/
I hope you enjoy these Roasted Tahini Ginger Carrots!