Nowadays, Ovens have become a basic necessity, whether we talk about a house, restaurant, or office. For quick heating and multitasking, "Oven-Toaster-Griller" or "OTG Oven" in short, is considered as the best choice. The OTG is relatively smaller versions of the traditional ones.
OTG Oven can easily perform the functions of an oven, toaster and griller. So, whether you want to grill, bake or toast your food, it can do it in just a few minutes. There are mainly 2 types of toaster ovens available on the market i.e. mechanical toaster oven and digital toaster oven. Here, in this article, we will show you the best OTG Ovens of 2023 which we found to work the best.
List of the 10 Best OTG Ovens in 2023
Also check the reviews of other related oven accessories such as Oven Mitts, Countertop Convection Ovens, & 4-slice Toaster Ovens
OTG Oven Reviews
10. Oster TSSTTVDGXL-SHP Digital OTG Oven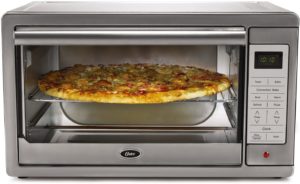 This is an extra-large digital toaster oven model by Oster. Not every toaster-oven has such hefty space and two adjustable racks that can easily accommodate a 2 large pizza of 16 inches but also allow cooking of two different dishes instantaneously.
Conventional technology is used in this unit that helps in fast and even cooking without drying up the food. It has an effective sensor that shutdowns the oven automatically once the set countdown ends. Sleek interior walls and removal crumb tray makes cleaning quite an easy process. One more unique feature of this 1500 watts' oven is its defrosting function that allows users to unfreeze any frozen stuff effortlessly.
Key benefits:
Fast even heating
Digital settings
9. Oster Convection Countertop OTG Oven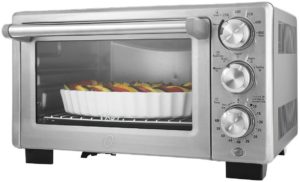 Oster OTG oven is one more heavy-duty popular OTG available in the market satisfying 1000s of worldwide customers. Its high quality brushed stainless steel makes the oven durable and also gives it an elegant look.
This model comes with three settings: timer, function, and temperature that helps not only to cook a wide variety of food items but can also be used for warming up leftover cold food. Thanks to its conventional technology, Food cooks faster and efficiently unlike many of the similar ovens.
Additionally, this unit comes along with a crumb tray, broil rack, and baking tray which are removable and dishwasher safe, so cleaning is not a headache anymore.
Key benefits:
Stainless steel
Elegant design
Heating turbo mode for cooking
8. Oster TSSTTVRB04 Convection Toaster Oven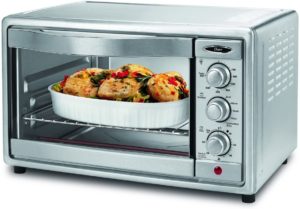 This Oster TSSTTVRB04 OTG oven is a budget-friendly Convection Toaster Oven model by Oster. This countertop oven is proficient in satisfying your needs of baking, broiling, and toasting through its easy-to-understand and comprehensible dial options. Moreover, cooking in this oven is quite quickly and even due to its advanced conventional technology operates at 1300 watts.
This unit also featured a 60-minute timer setting together with an automatic shut-down option. Additionally, two rack positions help the users to put a different type of food items in it depending on its quantity. Its polished and sleek interior with the removable tray makes cleaning hassle-free.
Key benefits:
Faster and even cooking
Versatile toast
2 Rack positions
7. Oster TSSTTVSK01 Extra Large Convection Toaster Oven
Yet another model of highly popular countertop oven is Oster's TSSTTVSK01 model. Convection oven mechanization has been used in this model of OTG oven that supports speedier and uniform heating.
This oven has a large capacity that easily can accommodate a whole chicken, a 12-inch pizza, and a large casserole. The unit is equipped with a timer setting of 1 hour and programmed switch-off for saving energy. Moreover, its high ranging temperature from 150-450 Fahrenheit and 1300-watt power is effective for different temperature settings making baking, toasting, broiling and defrosting, etc. a lot easier.
Key benefits:
large capacity
effective different temperature ranges
6. Oster Countertop Oven with Convection

Oster Tssttvcg05 has a convection cooking system that comes with simple controls making it a multipurpose and compact oven model. The model comes with two oven racks, two rack positions, and a ceramic pan for baking adding to its versatility.
The model has rotary dial controls and metal casing giving it a retro appearance. And its Turbo convection heat technology helps in cooking food much faster. With this model, the users can set the timer as per the requirement of the cooking up to 1 hour. Moreover, its removable crumb tray and stainless steel finish of this unit help in the easy cleanup.
Key benefits:
Multipurpose oven
Versatile ceramic pan
5. Oster TSSTTVFDDG-R OTG Oven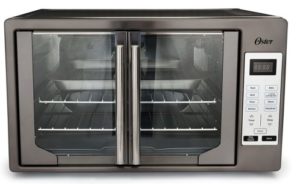 This single French door OTG oven is equipped with Turbo convection technology making it a fast cooking machine. Made with high-quality stainless steel this Oster TSSTTVFDDG-R comes with two-color designs: black stain and stainless steel color. This model is best known for its large interior that can efficiently hold 2 large size 16-inch pizzas simultaneously.
Along with conventional baking, this model of the oven is also good for toasting, broiling, defrosting and reheating, offering the best cooking experience to users. The interior light of the oven helps the user with clear visibility for easy monitoring. For offering utmost cooking convenience, the oven comes along with features like digital control panel, timer and automatic shut off, etc.
Key benefits:
Turbo convention technology
Lager interior
4. BLACK+DECKER TO3280SSD Convection Toaster Oven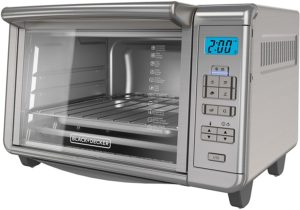 This BLACK+DECKER TO3280SSD OTG oven is a perfect choice for users looking for large capacity with conventional controls that supports toasting, baking, broiling, etc. all in one unit. For heating, the oven uses convection technology and with a motorized fan, the hot air is circulated within it that leads to even heat distribution and 20 % faster cooking than other models.
It comes with a digital screen for displaying cooking information through which users can efficiently monitor the cooking process. The oven can hold 6 bread slices or a 12-inch pizza at a go that is considered to be sufficient enough to fit any standard oven pans.
Key benefits:
Stay on and auto shut off function
Digital controls
Convection Heating
3. Oster TSSTTVCGBK Convection Countertop Oven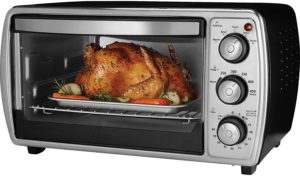 Advanced Turbo Convection Heat Technology is used in this Oster TSSTTVCGBK OTG oven which not only cooks the food quickly and uniformly through hot air circulation but it also saves up 50% of energy in comparison to other OTG models. This model has an efficiently large interior capacity that can easily accommodate pizza up to 12 inches and standard casserole dishes. This compact countertop oven model comes with easy to use dial control making it one of the best ovens available in the market.
Key benefits:
Advance Turbo Heating
Large interior
Sleek design
2. ChefmanToaster OTG Oven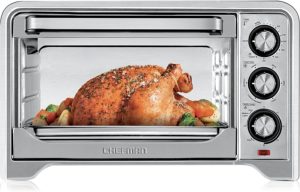 Chefman Toaster Oven has a large interior of 19 liters'depth; its racks can easily accommodate a 10-inch pizza or 6 slices of bread simultaneously. This model has a variety of selections or functions for baking chicken , roasting carrots, warming and toasting with a wide range of temperatures ranging from 200 to 450 degrees Fahrenheit.
The OTG oven has three rack positions for supporting multi level cooking. This unit comes with a warranty of 1 year ensuring its quality. Thus it efficiently ranks as second on the top ten best lists of toaster convection ovens due to its flexibility and high performance.
Key benefits:
Large interior
Variety of cooking functions
Wide temperature Ranges
1. Oster Large Capacity Convection Countertop Oven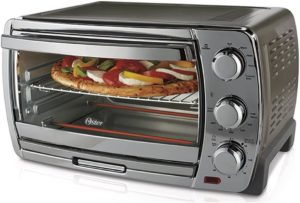 Oster Large Capacity Convection Countertop Oven has marked its presence of being the top of best convection countertop oven with its outstanding performance and versatility.
The timer, functions, and temperature of the unit can be controlled manually using the control knobs provided, which helps it cook a wide variety of food items through convention, toasting, and broiling, etc. While using this oven, the user can select a timer till 60 minutes depending upon the requirement of the food that can automatically shut-off and signal the user once the food is cooked. Additionally, its polished and sleek interior with the removable tray makes cleaning hassle-free.
Key benefits:
Time-temperature function
Even heating
Things to Consider while Buying a Toaster Oven
Many factors make up the performance of a toaster oven. Different factors come into account from the durability to the warranty, cook time, and track of settings of the toaster oven. The main things that are to be kept in mind while buying a toaster oven are going to be discussed here so that the best oven can be bought with any doubt.
Design
Since the OTG oven is going to be on the counter its design matters a lot. Different varieties are present in the design of a toaster oven. The digital toaster ovens are built with a unique sleek design to make it look attractive and beautiful. In the domain of design, the digital toaster ovens are considered far better than mechanical toaster ovens because of their design and style.
Space
While buying a toaster oven some people have a basic purpose of buying it. Whether you have a purpose or not keep in mind that space is an important factor of a microwave oven. Think about toasting a full turkey or a 16-inch pizza then low space will become an issue for you. Therefore, space is a necessary thing in a toaster oven. More space means more benefits.
Rack position
The presence of racks in an oven is also a great benefit in a toaster oven. Thinking of buying a toaster oven keep in mind to check the rack positions. The standard toaster oven has two rack positions while some have three making it more usable. The standard rules of toasting say that the first one is used for broiling, the second rack for baking bread and stuff, and the third one for baking large breasts and pizza
Accessories and additional Features
Buying a toaster oven everyone wants the best features and accessories with it. The OTG ovens come with different accessories and features depending upon the models. The additional racks are a great relief. Sometimes the toaster ovens come with a removable dry dish that can be washed separately. Above all this, the microwave ovens come equipped with glass doors that make it look beautiful and cooking easily.
Conclusion
Purchasing an optimal toaster oven depends on your choice, usage and requirement.s For a household, an ideal toaster oven is recommended with modern features to support the household work. For a huge kitchen, a huge oven with maximum heat and versatility is chosen because of the excess use. We hope that our review list can help you find the best toaster oven for your kitchen with minimal efforts.