As I've mentioned in previous posts, chicken is a healthy protein choice, but can also be extremely bland and boring. I'm always looking for ways to spice up this healthy protein. In the past, I made Easy Slow Cooker BBQ Chicken and Spicy Soy Sauce Basil Chicken, but this time I created a new chicken recipe utilizing balsamic vinegar and honey, both of which I had handy in my pantry. The result –  (Spicy) Honey Balsamic Chicken. It didn't disappoint. You can choose to be spicy or no spicy, it's up to your taste.
This Honey Balsamic Chicken recipe is perfect when made and eaten fresh (obviously), but also works great as a meal prep recipe. I made 1 pound of chicken on Sunday night and enjoyed it all week long with some rice and cooked vegetables. The tangy and spicy chicken would also work great in a simple stir fry recipe!
Preparation, Ingredients and Instruction for Cooking
Honey Balsamic Chicken (Spicy or Non-Spicy: You Choose)
This Spicy Honey Balsamic Chicken has the perfect balance of spicy and tangy flavor, and is a great way to spice up boring chicken!
Ingredients
1 lb chicken breasts
2 cloves garlic, chopped
1/4 cup balsamic vinegar
1 tbsp olive oil
1 tbsp honey
2 tsp red pepper flake
1 tbsp dijon mustard
Salt and pepper
Instructions
Pre-heat the oven to 350 degrees.
Finely chop the garlic.
In a large bowl combine the chicken, garlic, balsamic vinegar, olive oil, honey, red pepper flake, dijon mustard, salt, and pepper.  Let the chicken marinade for at least 20 minutes.
Coat a baking dish with olive oil and add the chicken onto the baking dish. Bake in the oven for 15-20 minutes, or until the internal temperature of the chicken reaches 165 degrees (I used thinly sliced breasts - the size of the chicken will affect the bake time).
https://www.economicalchef.com/spicy-honey-balsamic-chicken/
Cooking tools needed
A couple kitchen tools were used to make this recipe, the first being a basic stainless steel baking sheet. A cast iron pan, casserole dish, or anything with edges that can be put in the convection oven will do too. The second is a glass cutting board ( or bamboo cutting board is also fine), used to slice the chicken after it is done the cooking. I like the affordable Epicurean cutting board below because it has non-slip corners that are practical.
Basic Baking Sheet: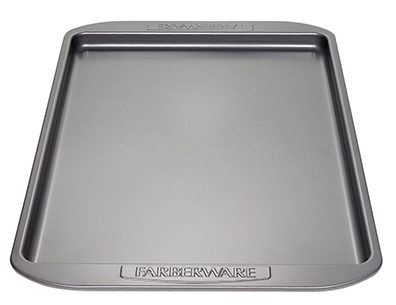 Epicurean Cutting Board: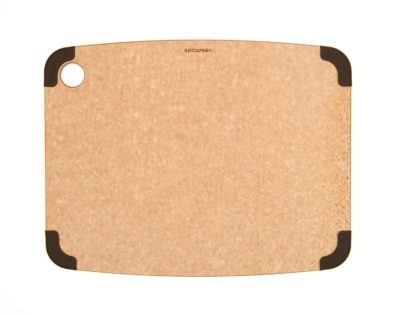 Cooking Process
This Spicy Honey Balsamic Chicken Recipe is impossible to mess up. There are 3 simple steps:
Pre-heat the oven (off to a challenging start)
Marinade the chicken
Bake the chicken
While your oven is pre-heating to a toasty 350 degrees, I suggest you prep and marinade your chicken. You can also do this the day/night before cooking the chicken if you're a real planner.
The marinade is simple and delicious, consisting of balsamic vinegar, honey, dijon mustard, garlic, olive oil and red pepper flakes. To get the marinade started, finely chop the garlic and add it to a bowl with all the other ingredients listed above (as well as the chicken).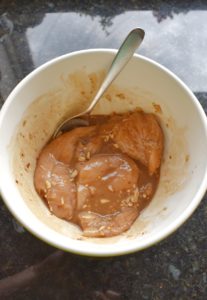 Let the chicken sit in the marinade for at least 20 minutes. Then, lightly coat a baking dish with olive oil before placing your chicken onto the baking dish and baking for about 15-20 minutes (longer if you have thicker chicken breasts).
Before: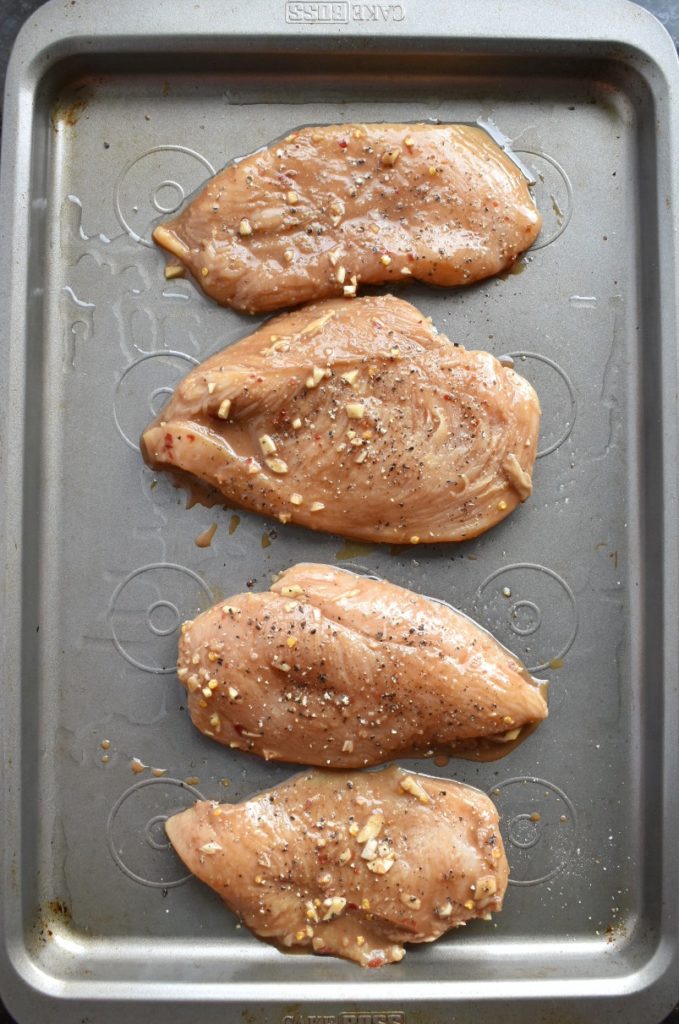 After: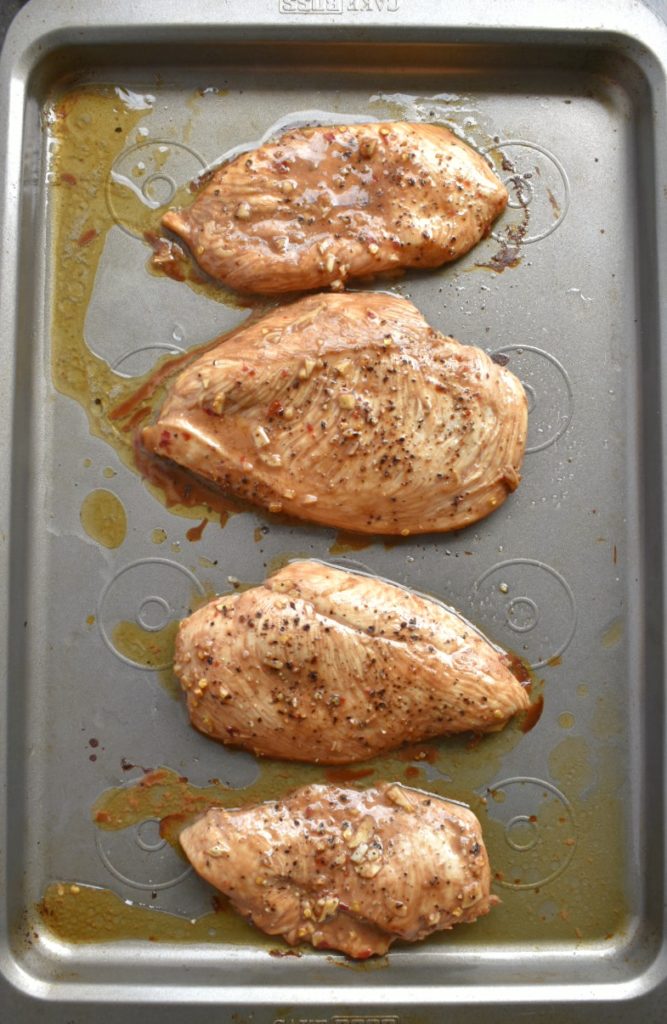 Once the chicken is done baking, let it rest for a couple minutes and then transfer it to a cutting board to be sliced.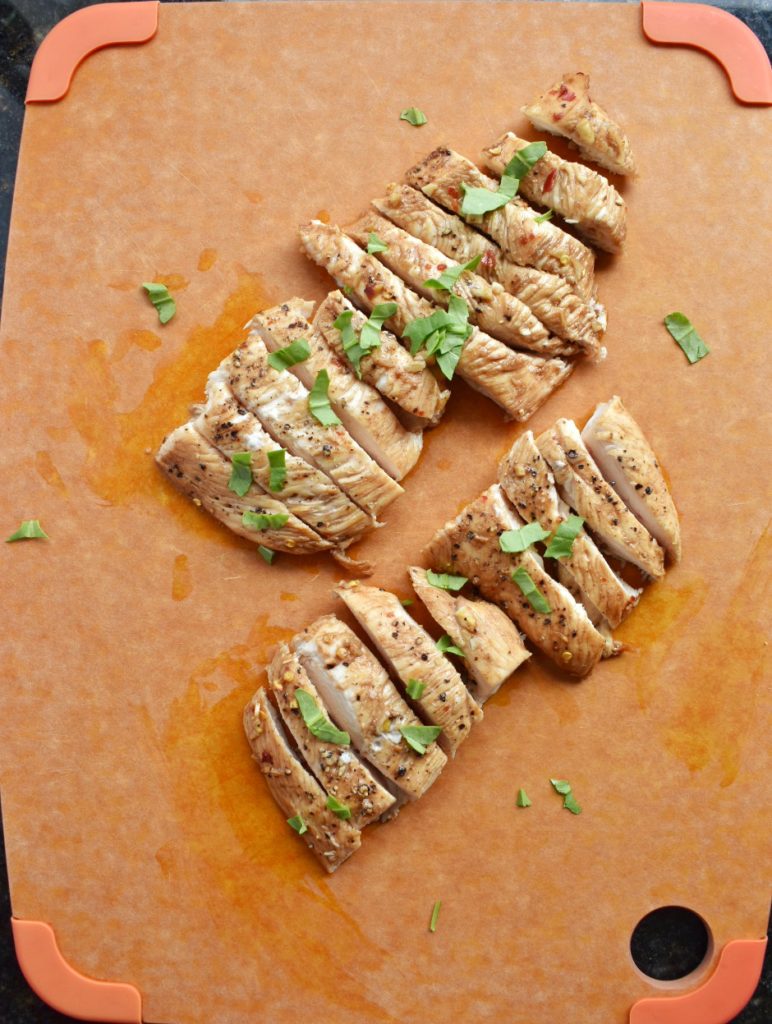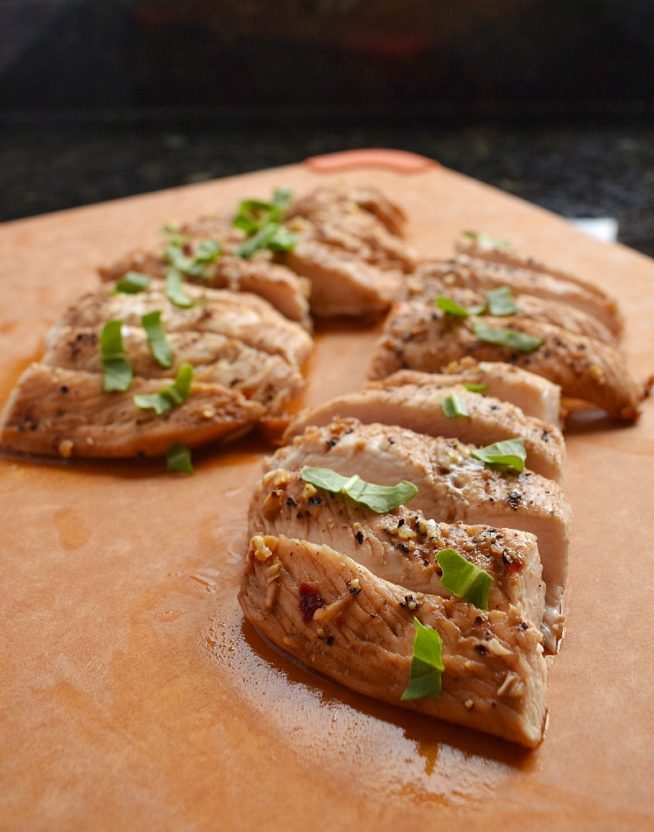 As mentioned earlier, this chicken stands up on it's own, but is also great on top of brown rice, couscous, quinoa or in a nice stir fry.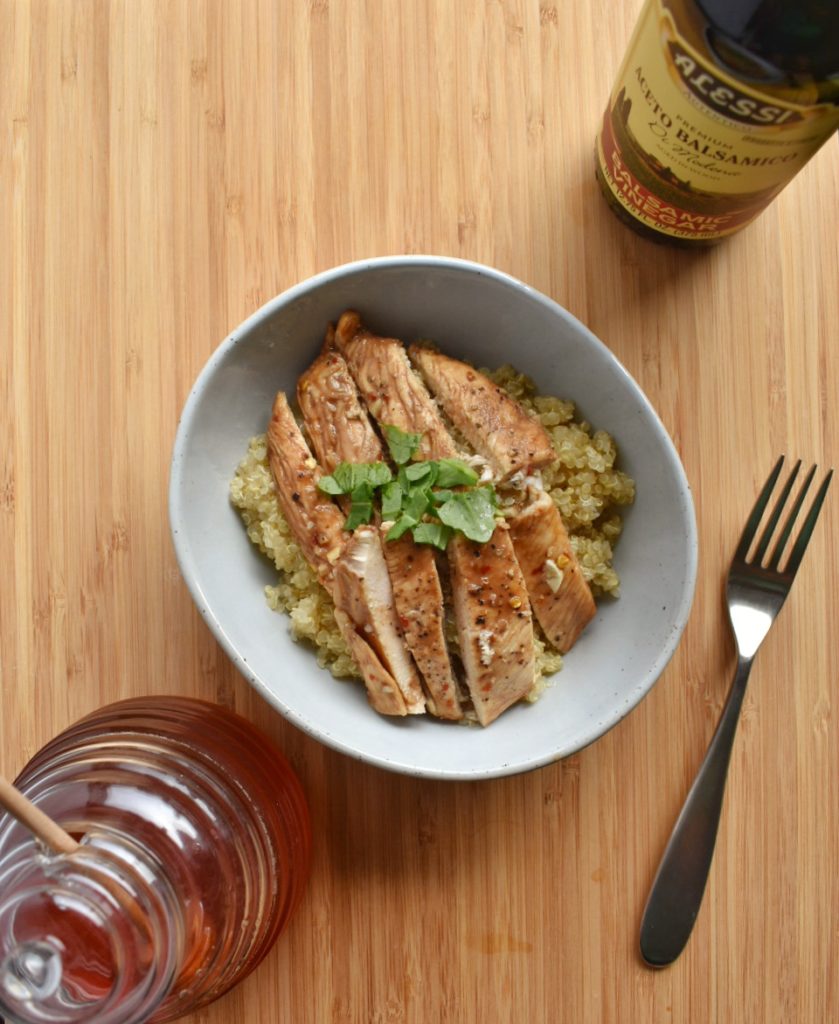 Nutrition:
For lunch, I usually get about 5 servings of chicken out of 1 pound, equaling 0.2 pound servings. The high-level nutrition info per 0.2 pound serving of this Spicy Honey Balsamic Chicken is below (5 total servings in this recipe):
Calories: 143.7
Total Fat:  3.4 g
Total Carbs:  5.9 g
Protein:  20.7 g
Total Sugar:  3.4 g
As expected, this is a pretty healthy recipe overall. The recipe is high in protein, while relatively low in fat and calories. Plus, we added a nice touch of honey without blowing the sugar out of proportion.
The main ingredient in this marinade (balsamic vinegar) is low in calories, which allows us to add a ton of flavor without packing on too many calories. According to Livestrong, that is not all that balsamic vinegar brought to the table either… (check out the links to learn more).
How Much You Save?
Let's get economical with this Spicy Honey Balsamic Chicken:
1 lb chicken breasts – $6.99
2 cloves garlic, chopped – $0.20
1/4 cup balsamic vinegar – $0.40
1 tbsp olive oil – $0.23
1 tbsp honey – $0.15
2 tsp red pepper flake – $0.16
1 tbsp dijon mustard – $0.09
Salt and pepper
The grand total is $8.22. This breaks down to $1.64 per 0.2 pound serving. Add in some brown rice and vegetables and you'll have a healthy, tasty, homemade lunch for under $3.
If you the video cooking of another Balsamic chicken breast, try this one from Recipe 30
Conclusion
I hope this (Spicy) Honey Balsamic Chicken recipe will help you enjoy your meal at home, while saving a lot at the same time. Don't forget to download the recipe and share with your friend if you like the taste. Cheers!