I recently discovered how to bake eggs in my countertop convection oven using ramekin dishes, and it's an interesting and unique way to whip up your weekend eggs. I have been getting tired of regular scrambled eggs lately – they have been too bland for my super sophisticated palate. Baked ramekin eggs remind me of a cross between a poached and over-easy egg. They're gooey in the middle but not completely runny. The best part about making ramekin eggs in the oven is that they come out like one of the molded eggs from a McDonald's breakfast sandwich, except that it's made fresh by you! Nice job.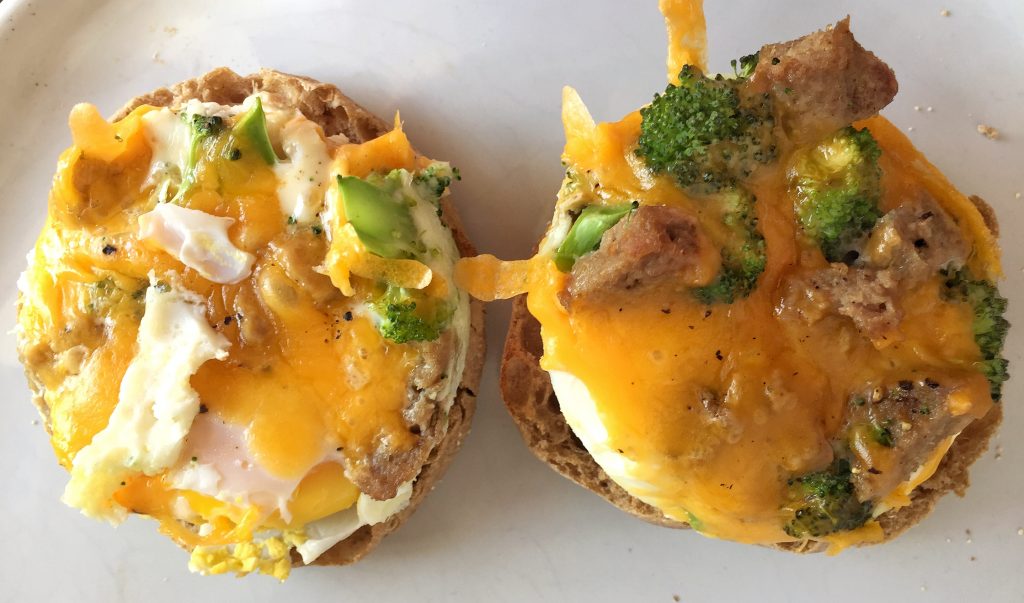 These eggs can be made by themselves or topped with any combination of ingredients. I wouldn't try to fit more than 3 or 4 extra ingredients in there though, if you do, it will get too crowded and it won't cook evenly. I went with broccoli, cheddar cheese and turkey sausage this past weekend. It turned out egg-celent.
Ramekin Eggs: Ingredient and Instructions
Ramekin Eggs: How to Perfectly Bake Eggs
These ramekin eggs are easy to bake and are the perfect weekend egg dish.
Ingredients
4 eggs
1/4-1/2 tbsp butter
1/3 lb cooked turkey sausage
1/2 head of broccoli
1/4 cup cheddar cheese
Instructions
Pre-heat the oven to 375 degrees Fahrenheit.
Take out four ramekin dishes, or other small bakeware you are using to cook the eggs. Butter your baking dishes thoroughly to prevent sticking, then add your eggs and other ingredients, dividing them evenly among your bakeware.
Cover your baking dishes with tinfoil and bake for about 15-18 minutes, or until the eggs are cooked to your liking (if you like runny eggs, cook less. If you like firm yolks, cook a little longer).
https://www.economicalchef.com/ramekin-eggs/
Terrible pun.
I used ramekin dishes from Crate and Barrel, but you could also just use a muffin tin or whatever other ceramic bakeware you have on hand. If you are in the market for some ramekin dishes, here's a pretty solid deal to check out: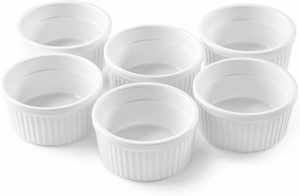 Theses ramekin eggs are perfect for feeding yourself, or a large gathering of family and friends. If you are feeding the masses, you could also just use a larger baking dish and put 8-12 eggs in there and have them bake all together.
Three simple steps to bake ramekin eggs
It's really easy to learn how to bake ramekin eggs, there are just three simple steps:
Step 1: Pre-heat the oven and prep ingredients
Pre-heat the oven to 375 degrees Fahrenheit, and prep whatever ingredients you are using – chop the broccoli, cook the turkey sausage, etc… You may need oven mitts to protect your hand and avoid any burning.
Step 2: Prepare your ramekins
Make sure your ramekin dishes or bakeware are buttered so that nothing sticks. My trick is to melt the butter right in the ramekin and spread it around the dish. Then, start to layer with your ingredients. First, your eggs (1 per dish), then broccoli and turkey sausage and cap everything off with some cheese. Make sure to cover the ramekins with tin foil. Each ramekin can fit one or two eggs depending on how many add-ins you use.
Step 3: Bake for 15-18 minutes
The last step is to bake the eggs in the oven for about 15-18 minutes, or until they are cooked to your liking. You can poke the yolk with a fork or knife to see how cooked it is.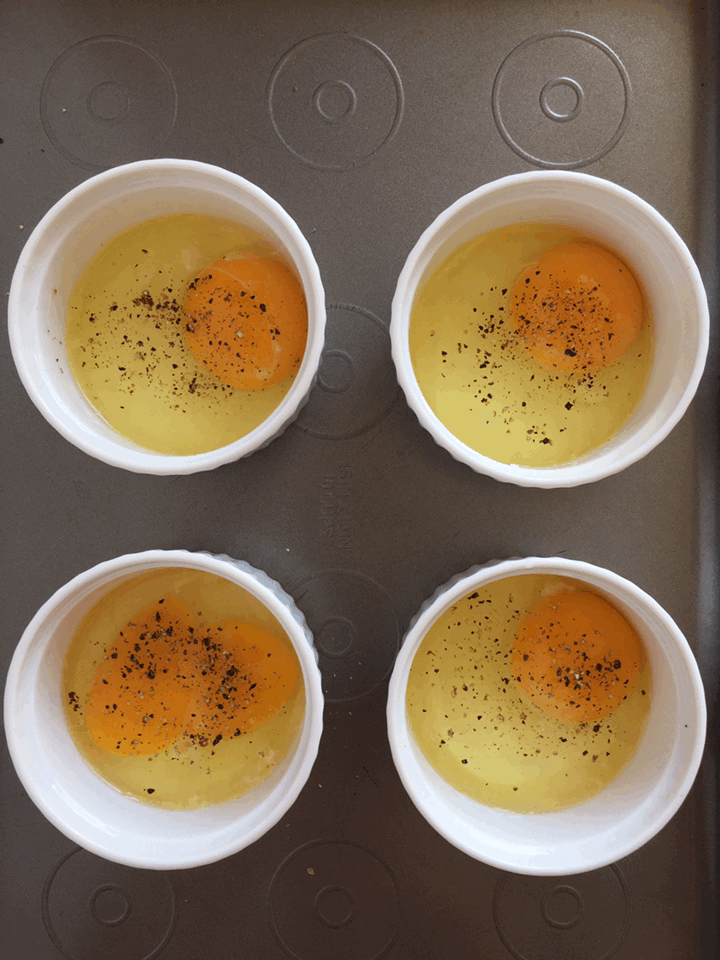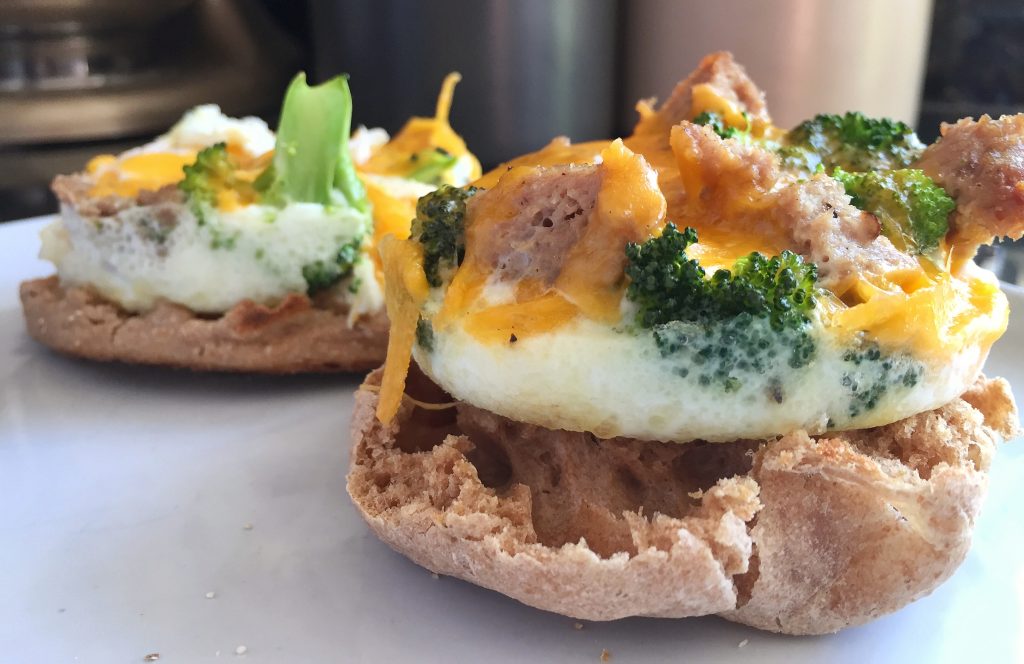 The broccoli, cheese and turkey sausage combination turned out perfect. There are a lot of other great flavor combinations you can play with though, here are some other ideas:
Onion + Sausage + Sage
Tomatoes + Basil + Mozzarella
Bacon + Goat Cheese
Spinach + Ricotta + Chicken
Let's get economical with these Ramekin Eggs:
4 eggs – $1.00
1/4-1/2 tbsp butter – $0.03
1/3 lb turkey sausage – $2.00
1/2 head of broccoli – $0.50
1/4 cup cheddar cheese – $0.44
The grand total is $3.97. Which breaks down to $1.99 per person. Add some english muffins and a banana and you have a full breakfast for only a couple bucks.
Conclusion
I hope you enjoy baking your Ramekin Eggs following these simple recipe. Please let me know if it tastes good to you. Cheers!