Egg is one of the most essential ingredients that all of us need almost every day. However, it is easy enough to break an egg, and once it is broken, most of the time we have to throw it away. Therefore, it's an ideal to have the egg holder to properly store them. Egg holders are designed not only for you to store chicken eggs and duck eggs but also to protect them from damage. Some holders are even designed to make your kitchen look decorative and attractive with the eggs on tops. After placing eggs on the holder, you can either place it on the kitchen table or in the fridge conveniently.
List of the 10 Best Egg Holders for Kitchen in 2023
10. Gui's Chicken Coop Wooden Egg Holder
On top of our list is the wooden egg holder from Gui's Chicken Coop. Designed as as flat board, this egg holder does not only serve as a tray to store all the fresh or boiled eggs for you, but it can also be a display rack for your egg collection if you are an egg lover. It is compatible with all kinds of eggs, including real eggs, ceramic eggs, Easter eggs and plastic eggs.
This egg tray is made from wood, and it is very easy to clean. If you do not like to do the cleaning, it is also safe to wash with a dishwasher. This saves you a lot of time and energy in the cleaning. Since it is made of wood, it is strong enough to withstand shakes and impacts. This prevents the eggs from breaking and shattering. Last but not least, this can fit up to 18 eggs with confidence in the slots provided. It can be used in the dinning table or in the fridge.
Related: 10 Best Egg Yolk Separators & Egg White Separators in 2023
9. Plastic Egg Holder from mDesign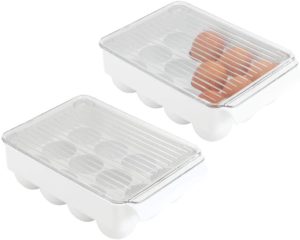 Next, let's take a look at this egg holder from mDesign. It is available in beautiful and elegant white color. It is an organizer which can support up to 12 eggs with 12 individual compartments. Therefore, the eggs are kept safe and secure in the holder without having to worry about crushing. It is compatible with most standard size refrigerators or freezer's door.
Moreover, the design of the tray is portable enough since it is built with an easy-pull handle. It makes you transport the holder to the fridge easily and minimizes the risk of any accidents. In addition, in order to keep track of the eggs, you can also write directly onto the bin about the date of the eggs. It is built from chlorine and BPA free plastic which is food grade safe. After use, you can simply clean it with soap and water.
8. Metal Egg Holder, The KYY Egg Skelter Spiral Design Metal Egg Rack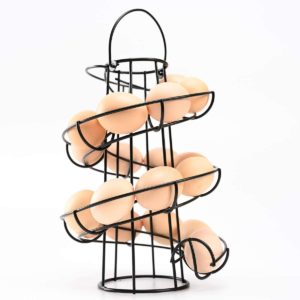 This is a metal egg holder from KYY. It is available in two colors, which are black and red. It is designed to sort out the eggs from the newest to the oldest, and therefore, you will always know which eggs to use first. This rack is made to be extremely stable and durable. It can protect the eggs in place and prevent them from breaking.
For this one particular holder, it can support up to 24 eggs. To be exact, the number of eggs fall between 20 and 24, relying on the size of the eggs. It features a spiral design which can fit different egg sizes with confidence. However, if the eggs are not in standard size, you will have to roll or rotate them on your own to make them fit perfectly into the holder. Last but not least, this rack is freestanding, and hence, you can display the eggs and take them for cooking with convenience.
7. Kitchen Plastic Egg Holder & Fridge Egg Organizer with Lid & Handle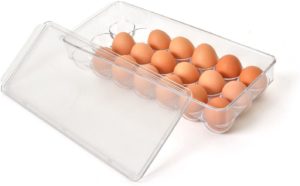 If you prefer a large holder for more eggs storage, you should consider this one from Totally Kitchen. It is able to support at the maximum of 21 eggs, while you can also choose the 2-pack set. There are individual slots on the holder to support each individual piece of egg. Moreover, there is a plastic lid on the top to protect the eggs and keep them fresh for a longer period of time.
It features a functional design since it comes with a stackable style. This means you can stack one on the other to save space when it comes to storage. However, it will not crush the eggs thanks to the highly protected design. The holder is from strong and durable materials, and they are BPA free. In the case of cleaning, you can simply wash it with soap. The compact design of this egg holder makes it fit perfectly into the refrigerator's door.
6. Southern Homewares Deluxe Egg Holder
For a more modern and stylish design, you should consider this egg holder from Southern Homewares. There are 4 color options for this egg holder, including black, brown, red and silver. In this one particular rack, it is composed of 24 individual slots, and thus, it can support up to 24 eggs with confidence. However, if the size of your eggs is bigger than the standard size, it may be not able to store that many.
It is made from sturdy steel to provide a long lasting usage. Moreover, the design is compact and space saving, making it ideal for anywhere in the kitchen. Thanks to this design, you can also see which eggs are newer and which are older. With this capability, you will never use up the new eggs first and leave the old eggs to the trash bin again.
5. Szsrcywd 2-Pack Plastic Egg Holder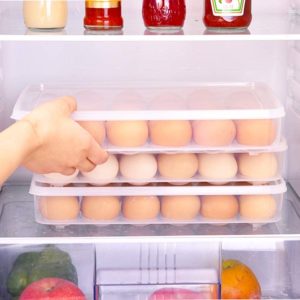 This plastic egg tray from Szsrcywd comes with 2 packs in the set. The tray is capable of holding up to 24 eggs at once and offering them with the most secure protection while placing in the refrigerator. With 2 packs, you can store up to 48 eggs for the whole week to enjoy.
This egg holder is made from plastic, yet the material has already been tested to prove the food grade safety. It has a transparent wall design which allows you to see the inside easily without having to open the lid. Although the capacity of the tray is large enough, this organizer is compact in the design which saves a lot of space when it comes to real life storage. Therefore, it fits well into the fridge, freezer, kitchen cabinets and even outdoor picnics.
4. Smart Design Egg Keeper with Handle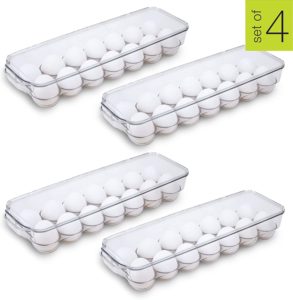 The egg holder from Smart Design features a smart and practical design which is really effective in storing a number of eggs. It comes with a set of 4, and you can use up all of them for your eggs with confidence and convenience. For one bin, it can hold about 14 eggs, and with all the bins together, you can store up to 56 eggs at once.
This egg storage is designed for refrigerator, and also be safe with a mini fridge and a freezer at the same time. There is a lid on the top to protect the eggs and make the bins stackable. Moreover, this prevents them from cracking or breaking due to any unexpected accidents. The height of the box is only about 3.25 inches, which makes it fit perfectly into any storage place. If you have any problems about technical support, you can always contact the manufacturer for more information.
3. PELEG 3-in-1 Egg Holder and Cooker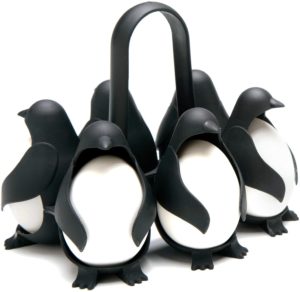 Let's give our attention to this egg holder from PELEG. It is made for a variety of purposes, including storing and serving eggs for the best of your demand. It also comes with a cute design with the penguins to hold the eggs in their bodies. You can insert the maximum number of 6 eggs into the bodies of the penguins and let them take good care of your eggs for you.
With this holder, you will never have to worry about cracking or breaking the eggs. Moreover, it will never burn your hands even if the eggs are hot thanks to the cooling handle. This holder is built from strong and durable plastic, which is also BPA free and food grade safe. After use, you can throw it into the dishwasher with confidence if you do not want to do the cleaning on your own. For these reasons, this egg holder is highly recommended as a gift for your friends and family to fill their days with love and joy.
2. Greenco Stackable Egg Holder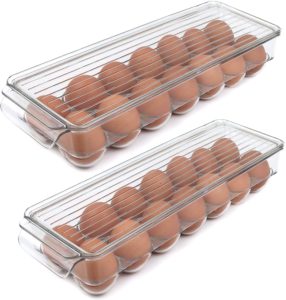 Another choice of egg holder is from Greenco, which is available at a reasonable price. There are 2 packs in this one set. For each of the holders, it can store about 14 eggs, and 2 of them can hold up to 28 eggs with confidence. With this compact and portable egg storage, users should no longer worry about cracking the eggs since all the eggs can be organized neatly in the refrigerator.
The egg holder enables users to stack them on one another steadily and safely. Moreover, it comes with a handle for you to carry it anywhere with confidence. This minimizes the risk that it can fall off along the way through your transportation to the fridge. More importantly, it is built from durable material which is BPA free for food grade usage.
In addition, the container has its height measured at 3 inches, which is ideal to fit into the refrigerator. After use, you can simply clean it with soap and warm water. However, you can simply use the dishwasher to do the cleaning for you since the container is safe with a dishwasher. This saves you a lot of time and energy after finishing your cooking process.
1. Sooyee 2-Pack Egg Tray and Box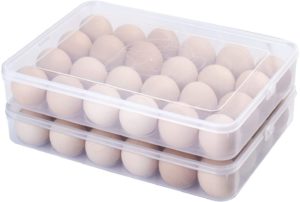 Last but not least, we should not miss this egg holder from Sooyee. There are 2 pieces of bins in this one set, and both of them come with large capacity. Each of the egg storages can hold about 24 eggs, and 2 of them together can hold up to 48 eggs. They come with individual slots to protect every single piece of eggs to the best.
The egg container is made from high quality plastic, and it is also BPA free. It features a transparent design which gives the visibility of the eggs inside. The exterior of the egg storage is dustproof, and it is extremely suitable for freezer or kitchen cabinets. The design is also compact and stackable. It means that it will not consume much space for storage while protecting the eggs with the best safety.
More importantly, the egg holder is not only suitable for eggs but also compatible with other items, such as fruits and strawberries.
What to consider when buying
While facing hundreds and thousands of egg holders on the market, you may feel overwhelmed by their various features. However, there are only a few important points that you should keep in mind in order to select a good holder.
Capacity: the first thing that you should look at is the capacity of the egg storage. It depends on how many people you need to serve in the family and how many eggs you wish to store. The capacity of the holder can be as small as only 6 and as large as 24.
Design: even if they are all egg holders, their designs vary. The most common and practical one is the box with lid design. This is highly recommended since they are stackable, and they keep the eggs protected with freshness for a long period of time. Some other designs may include the spiral design which is easy to differentiate between the newer and older eggs.
Materials: the most common materials used in the construction of an egg holder are plastic and wood. However, the materials should be BPA free in order to be safe for food grade use.
Compatibility: if you want to maximize the values of a holder, you can choose the one that can be used for many functions, such as the storage of fruits and vegetables.
Conclusion
All in all, above are the top 10 best egg holders that we have found for you. In order to give the best protection to your eggs, it's a great idea to have such a proper holder to store them in your kitchen.