Separating egg yolk from the white is not always an easy task but having the right tool will surely make it more simple and easier. If you have ever had trouble messing with cracking an egg into a bowl while trying to separate the egg yolk from the whites, then this egg yolk separator or egg white separator will be all you need. It's one of those kitchen tools you never thought you need until you have it. It's the easiest and quickest way to instantly separate raw egg yolks from the whites with no mess.
List of the Best Egg Yolk and White Separators in 2023
Egg Yolk Separator Reviews
10. MCOMCE Premium Yolk Separator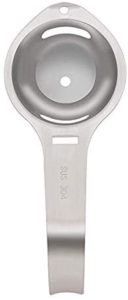 MCOMCE egg yolk separator is a sturdy, safe to use, and durable egg separator tool that is made from premium eco-friendly stainless steel. It's a practical tool that is perfect for cooking egg recipes which is perfect for both amateurs and professionals. Its elegant design with 3 holes hollow filter helps to separate the whites from the yolk effectively and quickly with no mess. It's a strainer type of egg yolk and white separator that is designed with an ergonomic handle grip to fit different sizes of bowls making it convenient and comfortable for you to use.
It only takes about 3 seconds to do this simple task which is useful if you have an egg cracker and this yolk separator together. It saves time, convenient to use, and also easy to clean. The egg separator is completely safe to use in the dishwasher, saving you time with the cleaning process as well.
Related: How to Cook Over Medium Eggs
9. Ytuomzi Egg Divider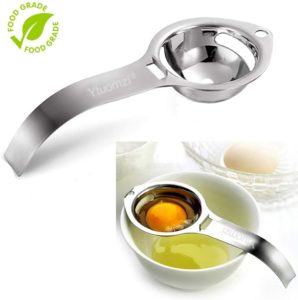 This egg yolk white separator tool by Ytuomzi is a great tool in separating the egg yolks from the whites without going through the 'switching from eggshell to eggshell' way of doing that only ends up in a mess, and possibly eggshell falling into your bowl. It's a durable, heavy-duty, and solid egg separator tool that is made of food-grade stainless steel.
It's dishwasher safe and also easy to clean even by hand. It is designed with the handle grip with a hook on the other side that makes the tool securely sit on the bowl for you to conveniently crack the egg. The strainer separator will strain down the egg whites without breaking the yolk while keeping out any broken shell pieces. It's a perfect kitchen tool for all bakers.
8. OXO Good Grips Egg Separator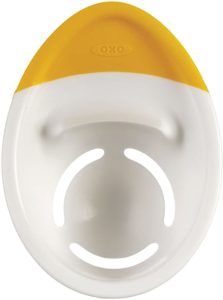 OXO good grips egg separator is a simple tool yet effective in separating egg yolks from the whites without creating a mess. The egg separator is designed with a raised edge that is perfect for cracking the egg. It also has two different sizes of ridges that allow it to perfectly and securely fit onto thick-or-thin-rimmed bowls. This neat and simple tool can separate the egg yolks and white easily while the base separator can also catch any eggshells preventing them from falling into the bowl.
Its compact size makes it easy to store and convenient to use. As for cleaning, it is perfectly safe to use in the dishwasher. This OXO egg separator is not only practical and convenient to use but it also has a cute design of an egg shape as well.
7. Tovolo Silicone Yolk Out Egg Separator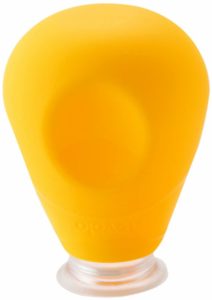 This egg yolk separator by Tovolo is the suction type that is made of BPA-free plastic and silicone which makes it safe for food and safe for dishwasher use. It works by sucking up the egg yolk while leaving out the white in the bowl. The smooth nylon mouth does not break the yolk and can effectively separate the yolk without creating a mess or ruining your egg.
The wide mouth on the egg separator makes it easy for the yolk to glide through and release without breaking it. Transfering the yolk from one bowl to another isn't such a difficult task now with this easy-squeeze silicone egg separator.
6. SOLEADER Metal Egg White Separator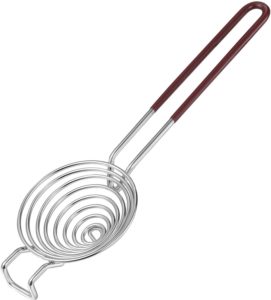 SOLEADER egg separator is made of heavy-duty food-grade stainless steel with spring coil design to instantly separate the egg whites from the yolks with no mess afterward. The spiral shape spring coil design has a large capacity to conveniently work with normal size or jumbo size eggs. The food-grade stainless steel material ensures a safe-for-food use with corrosion resistance and durability to deliver outstanding performance. The special feature is the extra-long anti-slip handle that is longer than most other egg separator strainers out there.
The anti-slip handle and the small hook on the other side sit securely on the bowl and fits most mixing bowls with an overall size of 25.5cm, allowing you to crack the eggs into the bowl with both-hands and creating no mess. It's a perfect choice for working with a large mixing bowl when you need to separate a lot of eggs for your recipes.
5. A Trifle Egg Separator-White Yolk Filter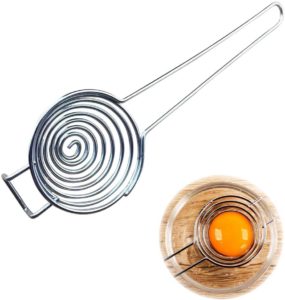 This egg separator by A Trifle is a great tool that works fast, easily separates the yolk, and drains the whites into the bowl with no mess. It is made of food-grade stainless steel overall with an extra-long handle that fits easily onto any bowl with a length of 25.5cm. It sits securely on the bowl edge to let you crack the eggs with both hands comfortably and mess-free. The spiral shape designed allows the egg whites to drain through quickly while capturing the yolk and prevent shells from falling in the bowl.
With the large capacity of the spiral shape strainer, it works with either normal size eggs or jumbo size eggs. It is also convenient to use and clean. You can simply clean it with soap or just place it in the dishwasher for faster cleaning.
4. Iziusy 2 Pieces Egg Separator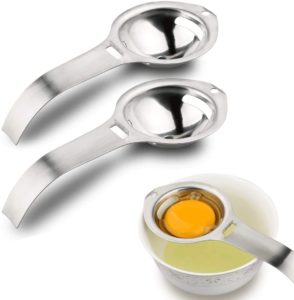 Iziusy egg separator comes with 2 pieces in a package. It's a pair of sturdy and durable egg separators that is made of high-quality stainless steel. The extra-long handle makes it easy to use by simply letting the egg separator sit on the side of the bowl while you crack the egg in through it. The filter streamline is designed with 3 hollow holes. Although it might look compact, it works with even large sized eggs just fine.
The longer handle makes it more widely fit on different sizes of mixing bowls. The package comes with 2 pieces of the egg separator making it one of the greatest baking tools that you can spend time enjoy cooking and baking with your family and children. The high-quality stainless steel material ensures long-lasting durability. It's also easy to clean, dishwashing safe, and takes up less space too.
3. RYBACK Stainless Steel Separator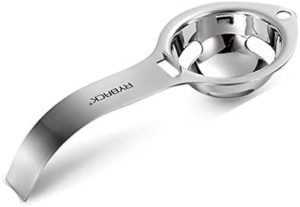 RYBACK stainless steel egg separator is an effective cooking tool that is easy to use and easy to clean. The design of 3 egg white leaking slots helps to separate the egg yolk and egg white instantly without creating any mess. The filter base also helps prevent any eggshells pieces from falling into the bowl. The long handle makes it more widely fit onto different sizes of bowl while the comfortable grip ensures you can easily pick it up to transfer the yolk into another bowl.
There is a mounting hole on the top for easy hook and storage without taking up much space. The stainless steel material is completely safe to use in the dishwasher and ensures long-lasting use. It's a cooking tool that is perfect for both professionals and amateurs.
2. STARUBY 2-Pack Egg Yolk Separator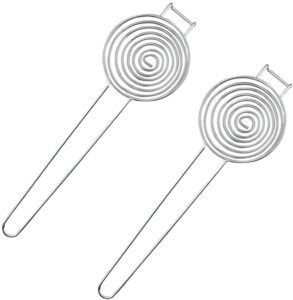 STARUBY stainless steel egg yolk separator comes with 2 pieces in a pack. The egg separator is made of food-grade stainless steel that is in high quality, safe for food, durable, and corrosion-resistant. The design of the long handle helps free your hands. It fits most common bowls or containers with a length of 22.7cm. That way, there's no need to hold the egg separator with one hand and crack the egg with another.
Just simply sits the egg separator handle on the bowl and you can work with your both hands to crack the eggs easily. The spiral shape of the separator base lets the egg whites drain through quickly and keep the yolk in place without breaking it. The spiral shape design is also convenient for cleaning and the wide gaps leaving no space for bacteria which is important for a cooking tool.
It can be simply cleaned with dish soap or put in the dishwasher for quicker clean. Storage is easy with the hook so that you can hang it up without requiring much space.
1. MSC International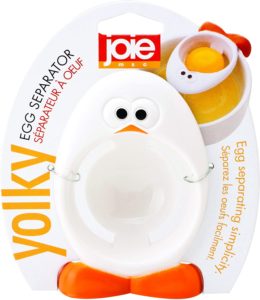 MSC International Joie Yolky egg separator is made of high-quality BPA-free plastic. It comes in an attractive design of a chicken. It can be simply clipped onto a mixing bowl or any container to use. Just crack the egg and let the whites flow through the separator base, your egg yolks and whites will be separated in seconds.
It's one of the most helpful tools if you bake often or your recipes just require egg yolks and white to be separated. It is easy to use and helps you save time. Since the material is BPA-free, it is completely safe to use for food. Cleaning is also easy with just a hand wash in warm water with soap.
Buying Guides
When choosing the best-fit egg separator tool, you will need to consider the material and the design.
Material
The most common materials are stainless steel, silicone, and plastic. Stainless steel is the toughest and most durable material amongst the three. It is mostly corrosion-resistant and even dishwasher safe. Silicone can be fairly durable despite being soft. On the other hand, plastic is more affordable compared to the others but they are more likely to absorb odors and stains. There is also a risk in it leaching chemicals too. If you're going for silicone or plastic, it'd be helpful to make sure they are BPA-free and FDA approved for food use.
Design
These egg separator tools are available in a few different designs such as the strainer type and the suction type. The strainer type is generally more helpful if you need to separate the eggs in bulk. It normally features the handle to hang on the bowl so that you can just crack the egg in it and let the whites filter through. Meanwhile, the suction type works by sucking the yolk and transferring it one by one into another bowl.
Conclusion
Separating egg yolks from the whites may be a common task in cooking or baking but it isn't always easy. No matter if you are just an amateur or professional cook, this task can be messy and time-consuming if you don't have the right tool to work with. That's when egg yolk separator comes in handy. It's a simple tool yet effective enough to make simple work out of a messy task. Our reviews have mentioned some of the best egg yolks separators you can find in the market today which you should keep an eye on when choosing to buy one.