Portable mini fridge is one of the best electronics designed for keeping different food items and even beauty products chilled. This type of fridge is designed ergonomically for proficient operation and portability. In this write-up, we review 10 best portable mini-fridges that can be used as a reference for picking the best product from the list, considering their requirement and mentioned the pros and cons of different refrigerators discussed below.
Things to Consider Before Buying a Portable mini fridge
Insulation: Insulation plays a major role in reducing heat transfer, and reduces energy consumption and making the refrigerator economical. The most commonly used and most effective insulation foam material is Polyurethane which is used throughout the world.
Customer support and warranty: Always check the serviceability and easily approachable customer care team; always check the reviews while doing online purchasing. Sometimes after the purchase, the service team is not responded to for maintenance.
Noise: Noise from the refrigerator generally comes from condenser fans or the compressor. Before purchase check the quality and brand of the compressor along with the ratings of condenser fans. Also, check whether the brand is providing some kind of acoustic foams to minimize the noise from the fans.
Size: Considering the type of refrigerator, size is always an attraction point. This refrigerator should be small in size but again must have enough to place the major items it is targeted for. Measurement must be checked acutely against the allocated space considering the user's requirements.
Speed: Fridge with speedier cooling and warming capacity is most preferable as it effectively safe users ' waiting time.
Freezer size: Freezer size of the portable refrigerator is specially targeted for cold beverages and it needs to meet the basic size of bottles and cans.
Portability: Easy To Handle, easy to use is one of the most wanted features from a mini-fridge. It should be easy for a person to relocate the equipment from one place to another with an easy go. The weight of the equipment should be minimal.
Power consumption: What is expected from a compact refrigerator is its lowest power consumption. Though, it is a fact that the use of a portable mini-refrigerator is occasional except there is a special need like in hotel rooms. Most of the mini-fridge consumes 80 to 100 Watts per hour. For better results higher the star rating lower the power consumption claimed by the brands.
List of The Best Portable Mini Fridge 2023
Also check the reviews of The Best Large Capacity Refrigerators, Top Beverage Refrigerators, Beverage Tub, Portable Beer Coolers, & Portable Ice Makers in 2023
Portable Mini Fridge Reviews
11. Frigidaire portable retro 6-can mini fridge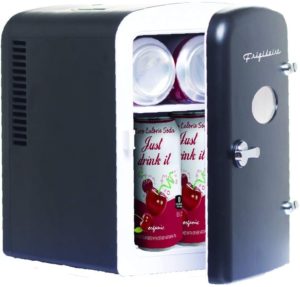 Atop out list is the Frigidaire retro 6-can mini fridge. It is a mini fridge for using at home, office and even in the car. It has a capacity to store up to 6 cans or 4 liters. The fridge has a strong handle which is easy to carry. The locking latch and door hinge are built for heavy duty, allowing you to chill your soft drink, beer and keep some snacks for personal use. If you are looking for a private cooler to keep your beverage or cool some beauty stuff, then this mini cooler or fridge is just convenient for you.
Frigidaire option you can choose are as follow:
10. AstroAI Mini Fridge 4 liter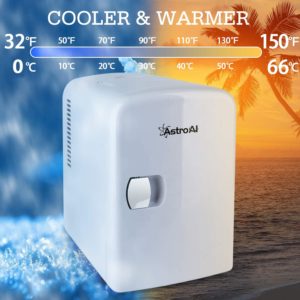 AstroAI Mini Fridge is an ideal product to store various food items. This unit measures approximately 5 1/2 by 5 by 8 inches altogether efficiently holding drinks and foods up to 4 liters. This unit runs silently with noiseless then 25Db.
It takes only an hour to heat or cool once plugged with the power source. Even if the unit is switched off, items tend to stay cool for a longer time. The unit comes with both AC and DC power selections and two adapters therefore this mini fridge is suitable for indoor and outdoor use.
Pros
It comes with an AC/DC power option suitably operated even in a car.
Low noise production not more than 25Db
Cooling lasts for the long term even if turned off.
Lightweight
Compact design fits into a small footprint
Cons
The size is small from inside
Suitable for only short term cooling only.
9. Chefman Mini Portable Eraser Board Personal Fridge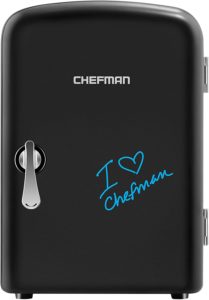 Chefman Mini Portable Compact Personal Fridge is designed considering the importance of minimal space utilization. The light weighted portable fridge has a capacity of 4 liters that along with its removable shelf makes ample space for storing bottles and containers of different sizes.
Thus, this is one of the best mini fridges available in the market that is perfect for carrying around for travel purposes or home-usage. For enhancing its portability this fridge comes with two plug-in options, for instance, the power for this fridge can be attained through a standard home outlet or 12 V car chargers.
The most attractive feature of this unit is its eraser door that can be used for writing down notes using regular markers. Additionally, its two-in-one heat and cool features also make this fridge unique.
Pros
Compact and lightweight
Guarantees 100 % Freon-free
Cons
The cooling fan is a bit noisy
8. Cooluli Mini Fridge Electric Cooler and Warmer | portable mini refrigerator for car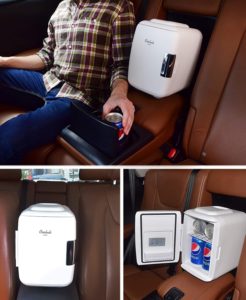 Cooluli Mini Fridge is yet another super-versatile and classy small range fridge. It has a capacity of 4 Liters with an inner measurement of 5.3 × 5.7 × 8.3 inches to hold different beverages and food items.
This mini-fridge is incorporated with thermoelectric technology, thus switching functionality from cooling to warming mode as per users' needs is easy.
The temperature ranges from 40-144 Fahrenheit. This fridge can work efficiently on AC as well as DC along with USB capabilities makes it suitable for office, home, camping, and dorm room. Its Freon free case makes it environmentally friendly making it safe to be used in the presence of both kids and pets.
Pros
It comes with a thermoelectric system for dual-mode (heating and cooling).
Compact and cute design
Environmental friendly.
Cons
Capacity is small
Chances of ice formation at the bottom
7. Chefman Mini Portable Compact Personal Fridge, Cools & Heats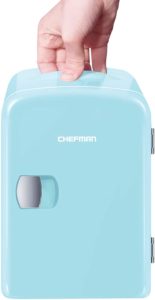 Chefman Mini Portable Compact Personal Fridge is best known for its sleek design. This mini refrigerator can be turned into a warmer or cooler instantaneously with just a switch as per the user's needs.
This portable mini fridge comes with inbuilt plugs meant for home and car outlets using 12V car chargers making it ideal for road trips, offices, camping, or compact personal places.
Along with its 4 liter capacity of storage, this mini fridge also has removal shelves thus it can be easily used for storing containers and bottles of different sizes and shapes. Constructed with advanced safety technology and CETL approved certificate ensures this unit to be safe, durable, and eco-friendly.
Pros
Perfectly compact and portable
Comes with a 1-year warranty
Can be warmer and a cooler with just a switch button
Food stored remains at an ideal temperature for a long period
Cons
Delicately constructed plugs
Noisy fan
6. AstroAI Mini Fridge 9 Liter/12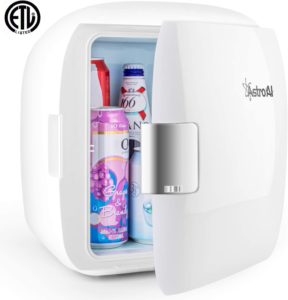 The AstroAI is a portable compact mini Fridge. Its 9 litters of capacity with 9.96 x 8.06 x 6.22-inch inner dimension make the fridge suitable for holding different food items, beverages, and skincare products. This product can be used for keeping the stored items either cold or hot.
The unit comes with an AC cord and a port for plugging in the car's cigarette lighter, thus this fridge works effectively on AC/DC power thus carrying and powering it everywhere is easy and stress-free. This mini-fridge comes with a semiconductor refrigeration chip making it Freon-free and environment friendly. The overall noise output of this unit is 25DB that is nearly unnoticeable.
Pros
Low noise production
Comes with 3 years warranty
Works on both AC and DC power option
Come with removable shelf
Comes with ETL and ROHS certification
Cons
The unit does not support auto-defrost
5. Cooluli Classic White 10 Liter Compact Portable Cooler & Warmer Mini Fridge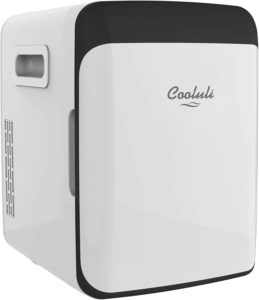 The indented side handles and lightweight of the fridge supports the user to easily lift and relocate it quite safely. The fridge approximately has a dimension of 9 X 11 X 13 inches offering a storage room of 10 litters for storing diverse products.
This unit can be turned from being a warmer to cooler easily with just a simple switch with its thermoelectric technology. Considering the portability this unit is constructed with sturdy and high-quality plastic material. This well-insulated fridge will effectively keep food and drinks either warm or cool as per users' needs for a long period. This unit is built environmentally friendly and can use any type of power supply with dual voltage capacity.
Pros
Environment-friendly design
Lightweight, easy to port
Sufficiently long power cable
Switching mode is easy(warm to cool and vice versa)
Cons
4. Mini Fridge 15 Liter/18 Cans Mini Refrigerator Portable by Kealive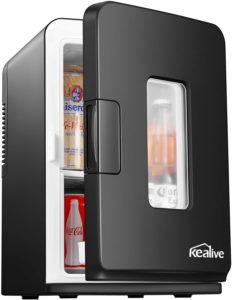 Now you are having an option to get a chilled experience anywhere you go. This new generation portable mini refrigerator comes with a stylish and premium look which adds value to your living status. This portable mini fridge has 5 years of warranty on the compressor and 1 year of warranty on the product. It offers stabilizer free operation and can work in low supply, even at 135 V. It has a large 15 liters capacity sufficient to store 18 cans.
Yes, now you can take your fridge with you anywhere with its dual power mode. This unit is a mini cooler and heater uses a thermoelectric cooling system with temperatures ranging from 41 degrees Fahrenheit to 155 degrees Fahrenheit.
Pros
Has dual power mode (AC/DC)
Removable shelves
Dual functionality (Warmer and cooler)
Compact and sleek design
Cons
Produce mild noise
No in-built battery backup
Cannot be used for freezing
3. Chefman Mini Portable Compact Personal Fridge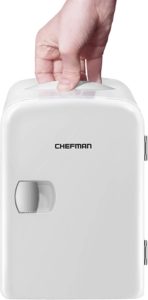 This 4 Liter mini fridge can effectively hold up to 6 soda cans. However, its portable size and low weight make it suitable for carrying around for traveling, boating, camping, commuting, etc. For a power source, it can use standard household outlets and 12-volt car outlets. This mini fridge can be fitted in any place due to its sleek and small size design.
Even with its mini size, this fridge can be whatever the user requires, by adjusting its temperature appropriately for cooler as well as warmer as per the requirement of users. This mini-fridge by Chefman is made durable with advanced technology for safety and comes with the assurance of a 1-year warranty.
Pros
Lustrous design and compact size
It comes with two-plugs for a standard home power outlet and car chargers of 12V.
Dual cooling and warming feature
No freon, eco-friendly
Cons
2. Gourmia Thermoelectric Mini Fridge Cooler and Warmer | Gourmia portable 6-can mini fridge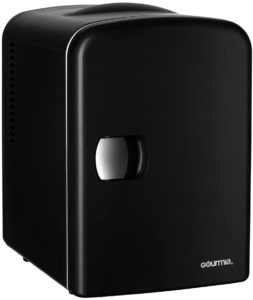 This is a Gourmia portable 6-can mini fridge. It is an idyllic model that is an effective solution offering the user with warm food and cold drinks all in one unit satisfying the needs of users. This unit works very quietly due to its infused low noise motor. If you like to enjoy your music along, you can pick the Gourmia Mini Cooler and Warmer with an inbuilt Bluetooth Speaker as well.
This mini freeze has a dual switch for selecting the hot and cold option with thermoelectric technology that offers a cooling range temperature of 59 to 68 Fahrenheit while warming range temperature is 122 to 144 Fahrenheit. The unit also has indicators that display a red light when the unit is in heating mode and displays green while cooling. It's AC and DC power outlet and compact lightweight design makes the unit suitable for outdoor and indoor usage.
Pros
Eco-friendly design
Dual-use warmer and cooler
Comes with AC/DC outlet
Low noise motor]
ETL certified (North American standards of safety)
Cons
Limited capacity for storage
1. AstroAI Mini Fridge 6 Liter/8 Can Skincare Fridge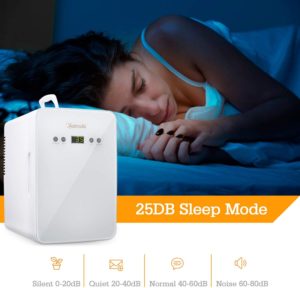 Even with its sleek and compact design, this fridge doesn't fail to amaze users with its large 6L capacity providing multipurpose storage. And carrying this unit everywhere is made possible with its lightweight and carrying handle.
This model of the fridge is known for quick cooling and holding temperatures efficiently for a long time. This mini Fridge model from AstroAI comes with adjustable temperature control, thus selecting the acquired temperature by the user is easy and reading is displayed over its LCD thermostats. This mini fridge can chill down cans and food items up to 35 Fahrenheit, however, this model is not meant for freezing items. The product is RoHS, ETL, FCC, and CE certified ensuring its high safety.
Pros
Compact and portable
Weightless
Comes with Digital temperature control
Cons
Makes light humming sound
Cannot make ice or freeze items
Conclusion
Portable Mini Fridge is one of the many convenient items specially made to satisfy exclusive human needs. If you want to enjoy a camping trip or picnic or even want to save some space at home then a portable mini fridge is designed for you to give you the best companion. Perishable items can be kept at a proper temperature either warm or cold as per requirements. This is built sleek in design and light weighted for easy transportation.