It is very important to own a refrigerator at home in order to keep your veggies, meats, and drinks fresh. Yet, it can be hard to shop for a beverage refrigerators since there are a ton of different brands and different kinds of refrigerators available on the market. We have already made your shopping easier and hassle-free by reviewing for the best of the best beverage coolers; so here are the top 12 best products in 2023 that we are going to introduce to you today.
List of the Best Beverage Refrigerators in 2023
Also check the reviews of The Best Large Capacity Refrigerators, Beverage Tub, Portable Beer Coolers, Portable Ice Makers & Best Portable Mini Fridge in 2023
Product Reviews
12. Koldfront 80 Can Beverage Cooler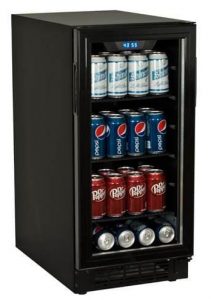 Koldfront Brand
Black Color
4 Wired Shelves
Built-in Installation
Buy on Amazon
First, we are looking at one of the best refrigerators on our review list from Compact Appliance. Koldfront beverage cooler comes with an innovative design and high quality. The item has the dimension of 32″ H x 15″ W x 23 3/4″ D that is suitable to be put at several of your favorite spots such as in the kitchen or the garage. Plus, you can move it easily if you are having any party outdoors as well. This refrigerator comes in black color along with the shining glass door that makes it looks classic and cool. This dual pane glass door also helps prevent cold air from getting out of the fridge.
Its temperature is from 38 to 50 degrees Fahrenheit. The storage capacity is about 80 of 12 oz. cans. On top of that, the LED lighting is also designed on top of the glass door to keep the temperature in check as well.
11. Phiestina 106 Can Beverage Cooler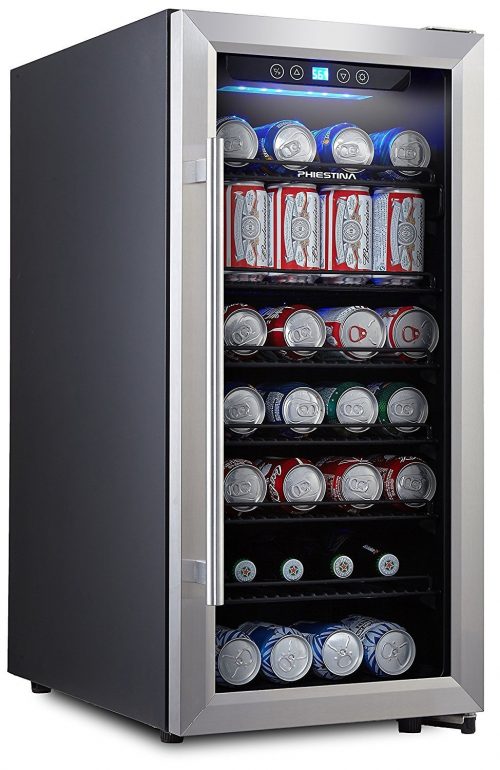 If you are seeking for the refrigerator that offers enough space with smooth operation, Phiestina PH-CBR100 is perfect for you. This fridge provides a big space that allows you to store up to 106 cans of beverage to cooler up your day with your beloved friends and family. What's more, it comes with a suitable size that will fit in almost all your rooms; the item is 15.55 x 22.48 x 33.07 inches in size. Besides that, convenience is another best function of the Phiestina Beverage Refridgerator as well.
You will not get disturbed by unwanted sound from the fridge because of its best system that offers quiet sound whenever you get your cold drinks. Last but not least, the stainless steel design of the door and handle make this refrigerator look classic and durable.
10. Kalamera 96 can Beverage cooler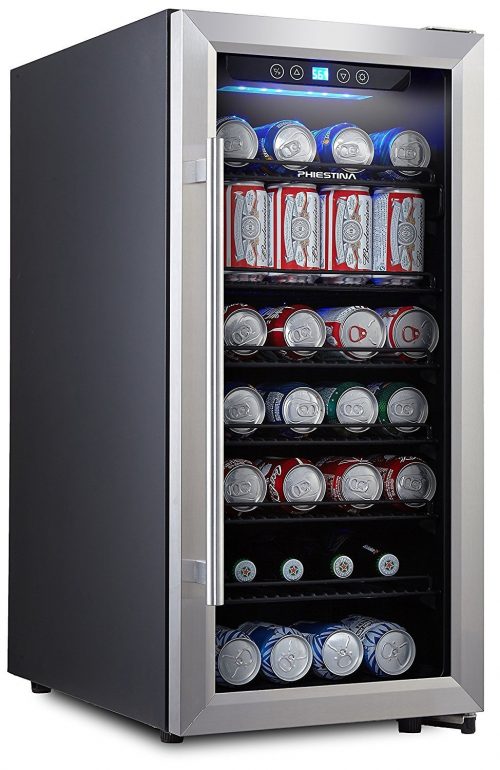 This elegant and compact Kalamera 15" Beverage cooler is a must-have item in your house. The refrigerator is small, but high-performing. It is only 33.9" in height. Kalamera 15" Beverage cooler is well operated in a quiet manner. And, with its digital LED, you can control the temperature directly on the top of the glass door, which is also designed with the security lock.
To control the temperature, you just simply use the touch control that is featured on the LED screen. Another best function to look at is that the item has a temperature memory; having the ability to restore back the set temperature after the power is cut off.
9. EdgeStar 62 Can Beverage Cooler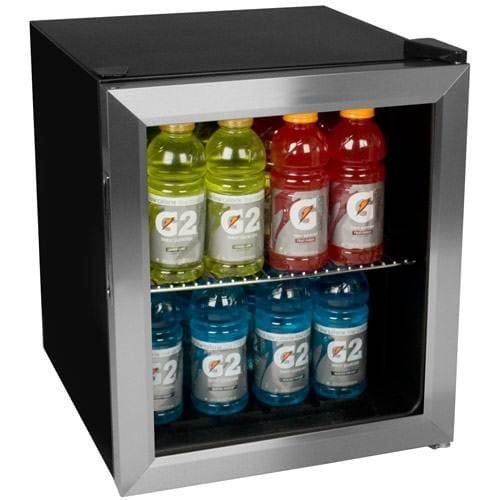 Now, we are looking at the EdgeStar Beverage cooler that is one of the top-rated picks on our list. This EdgeStar cooler has the ability to store up to 62 cans of energy drinks or bottles. Moreover, the dimension of the item is only 20″ x 17″ x 18½ ", so you can place it anywhere you want. And, it is definitely suitable for your small room as well. Looking into the cooling capacity, of course, EdgeStar BWC70SS has a powerful compressor, which sure can cool your drinks in a short time as well. It can also be used as a portable beer cooler and place on your car's trunk for a camping trip. The cooler is certified by ETL, meaning it has been tested for it's innovation, quality and safety.
8. Whynter Beverage Refrigerator with Internal Fan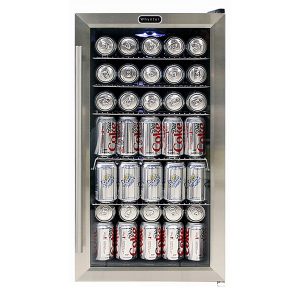 You can make your wise choice by simply owning this Whynter BR-130SB Beverage Refrigerator. This product is well known for its innovative features both in and outside. Whynter BR-130SB has a good quality compressor, as it is equipped with the internal fan. The internal design is special in a way that the air would spread everywhere in the cabinet, so you will have all your drinks cool at the same time.
Not only that, you can put up to 120 cans in this Whynter BR-130SB refrigerator as well. More importantly, Whynter BR-130SB refrigerator has a premium design that makes it look fashionable and at the same time durable as it has stainless steal trim to cover up its glass door.
7. EdgeStar BWC90SS 84 Soda Can Beverage Cooler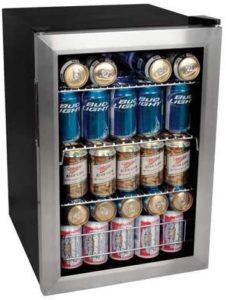 Here, we are looking at another EdgeStar cooler, an awesome cooler with different kind of beverage storages. This lets you keep a variety of your drinks accordingly to the chill out occasions you celebrate. Moreover, besides the stylish look of it, the cooler is designed from durable stainless steal.
The item also has another extra lock feature that allows the drinks to never drop out. Plus, this refrigerator also has a huge capacity to store about 80 plus cans and bottles as well.
6. Avallon ABR241SGRH 152 Can Beverage Cooler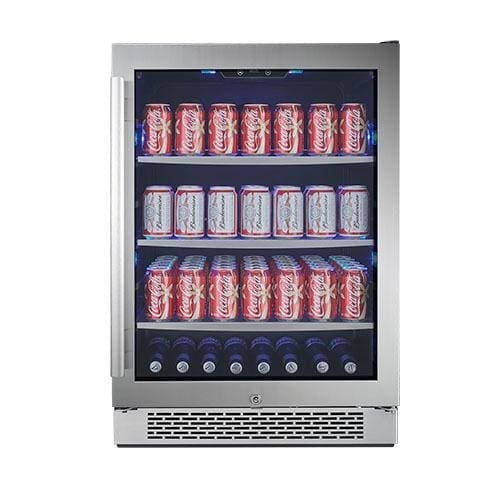 It is the perfect time to gift your loved ones, friends or relatives as the holiday season is around the corner. The Avallon Beverage Fridge is the type of refrigerator that has its door and handle made of stainless steel. Additionally, there is the LED light provided that enables the user to save energy and lower the power cost. Moreover, the carbon filter is also equipped.
Get one for your loved one or for your home in order to feel the amazing experience that will be provided by this cooler. And, be noted that the product can be placed anywhere since it comes freestanding and in a small size.
5. NewAir 90 Can Beverage Cooler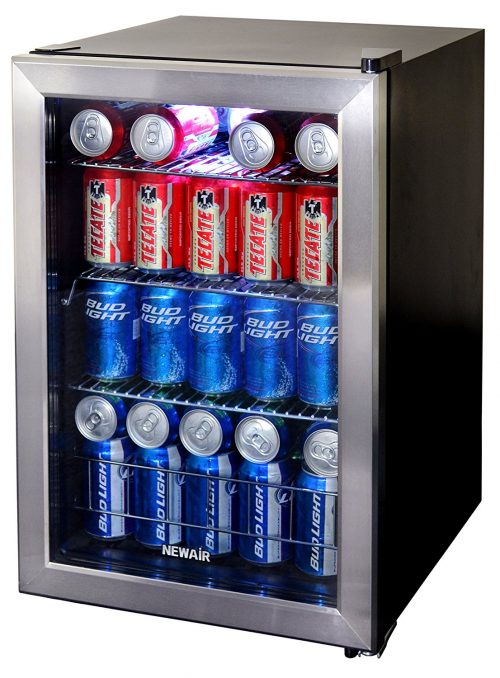 New Air 90-Can Beverage Cooler is one of the top-wanted products on the list. This product comes in 3 sizes that allow the user to store a different number of cans at different ranges. It is available in the size that fits 90 cans, 126 cans and lastly 126 cans.
It can cool down up to 34 degrees Fahrenheit, keeping your drinks in icy cold condition every time. Featuring 5 removable chrome racks, you can fit beverage cans of various sizes easily. And, with a sleek appearance, the cooler complements your home décor as well.
4. Whynter 20 Bottle Wine Cooler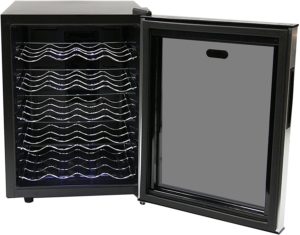 It never goes out of style to have one wine cooler at home since parties never come to an end. This Whynter wine cooler is the type of wine and beverage cooler that has the capacity to store about 20 bottles in a single storage. What is more important is the adjustable thermostat feature between 46oF- 65oF that can keep your wine cool and fresh all the time. And, it has 5 removable chrome shelves.
If you are a party lover and frequently have a gathering then, this wine cooler is the best option for you. Plus, this product comes with soft LED light with an off/on switch as well
3. Antarctic Star Beverage Refrigerator & Cooler with Glass Door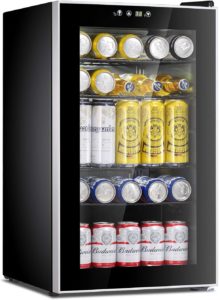 Antarctic Star Brand
Black Color
Glass Door
5 Wire Shelves
Free Standing Type
Buy on Amazon
For its elegant look and great performance, the Antarctic Start 85 Can Beverage Cooler serves two amazing purposes for the user; one is for decorating, and the other one is to use as a beverage storage. This model is made of a stainless steel designed to resist corrosion, heat damage or even chemical damage. And, it comes in a fairly lightweight; thus makes it easy for the user to move it around.
2. Danby 120 Can Beverage Center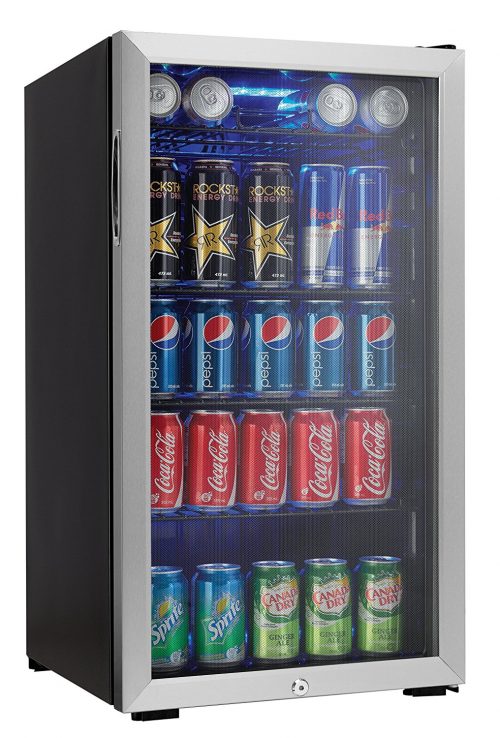 This is another top-rated beverage cooler that comes in a small size. It fits perfectly anywhere in the house or apartment. This cooler has the capacity to store about 120 cans plus the power to cool your beverages up to frosty condition. The entire body is made of stainless steel, making the item a lasting product. And, the fridge comes with a thermostat control (43F – 57F) as well.
What is more important is it its black wires and interior light design that can beautify any house or kitchen. You will love what this Danby spacious beverage refrigerator has to offer.
1. NewAir 126 Can Beverage Cooler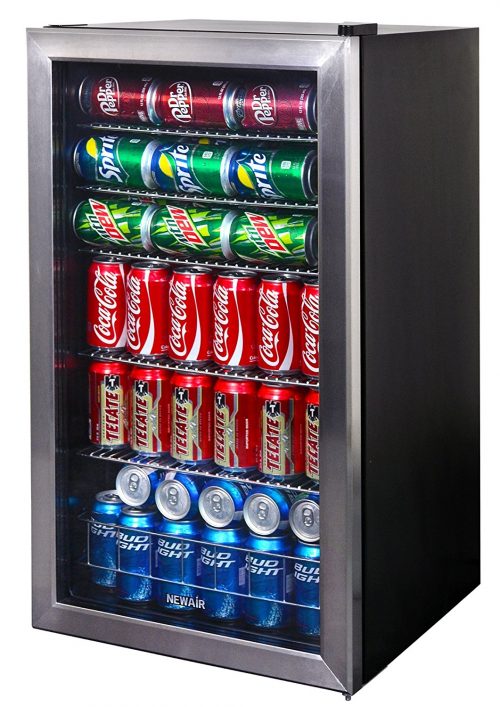 With the ability to store 126 canned beverages and great innovation, this makes the New Air Beverage Cooler the most wanted refrigerator among all. It has 7 thermostat settings. This product has the capability of frosting your beverages up to the temperature of 34 degrees Fahrenheit; plus it enables the user to put any short or tall items in the same room since the 5 racks are easy to remove. So, the organization in the cooler is pretty customizable. Even oversized cartons or bottles can fit in this one. There is just nothing not to love about this NewAir 126 Can Beverage Cooler.
Conclusion
Provided above is the ultimate list of the best beverage refrigerators that we carefully created for you. These products are guaranteed to be your best coolers, and worth every of your penny. So, get one and savor your icy cold drinks in a fancy way.