In this hot summer, it would be the best thing ever if we can have a can of cool beer to enjoy with our friends or family. Even if on our own, such a cool beer can satisfy us to the best. Therefore, it is essential for you to have a portable beer cooler which you can use to store your beer.
In this article, we will provide you with the top 10 best portable beer coolers that you can bring along with you to enjoy the beer night with someone you love.
Here List of the Best Portable Beer Coolers in 2023
Also check the reviews of The Best Large Capacity Refrigerators, Top Beverage Refrigerators, Beverage Tub, Portable Ice Makers & Best Portable Mini Fridge in 2023
10. Lifewit Large Portable Beer Cooler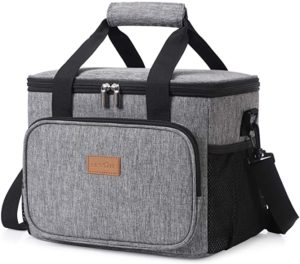 First of all, we have this portable beer cooler from Lifewit. It is available in black and gray color. There are 2 capacity sizes for this cooler bag, which are 15 liters and 24 liters. This new version of cooler is upgraded with a variety of features, including PEVA foil that can hold both hot and cold drinks. It is also made with zippers to prevent it from falling out or spilling.
The cooler bag is built from insulate material which can maintain the temperature for your food and drink for up to 5 hours. This way, you can rely on this bag to bring it to work or store beers for drinking. It integrates the use of 6mm EPE foam which provides the best protection to your foods and drinks. Moreover, it features a wide open design which enables you to access the items inside easily. This minimizes the risk of damaging the foods or drinks inside.
9. StowCo Small Portable Beer Cooler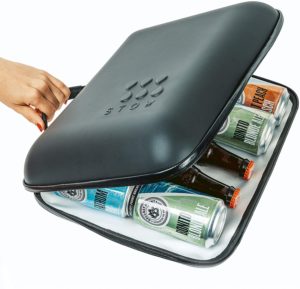 Next, we shall take a look at this portable beer cooler from StowCo. It is dedicated to keep the temperature of the drink for up to 5 hours. It is made with a closed cell with foam insulation to make sure that the bottles and cans can fit in snugly in the bag. In this cooler, there is no need for any ice sheets to make the drink cold. After use, the cleaning process is very easy since you can simply wipe it clean.
Plus, it also comes with a large capacity, which is capable of holding 3 bottles of wine, 10 beer cans as well as 6 bottles of beer. Moreover, there is a laptop case where you can hide the beer or wine as you wish. For this purchase, if you are not satisfied with the quality, StowCo will guarantee you a refund to ensure the best consumer satisfaction.
8. Chill Systems Eco-friendly Portable Beer Cooler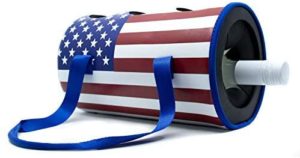 For this portable beer cooler from Chill Systems, there are 3 color designs for you to choose from, including liberty, blue vibes and the original design. It is made as a small mini refrigerator with the freezing gel inside, so that you can use it to freeze your drinks overnight easily. It comes with a versatile design which is there to fit in about 12 bottles of cans of beers. It can also fit a bottle of wine at the size of 750mL.
Likewise, this beer cooler is very compact and portable, and therefore, you can always carry it to anywhere with confidence. The cooler is guaranteed to provide a long lasting result for the drink, which can maintain the temperature for about 6 hours. It can also be paired with a tote bag to keep it up to 24 hours. Yet, the bag is sold separately. Within 30 days, you can always claim for a refund or replacement.
Also check: Top 10 Best Wine Glasses You Should Have at Home in 2023
7. Chill Systems Portable Beer Cooler with Freezing Gel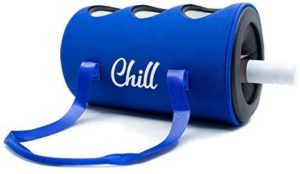 Here comes another model of portable beer cooler from Chill Systems. It is designed ideally for beers and wines to enjoy with your family and friends in any outdoor environment. It is a small and portable refrigerator with the freezing gel inside. With this gel, you can keep the drink cool for up to 6 hours with confidence.
The unit also features a versatile design since it can accommodate up to 12 cans or bottles of beers or wine. It only requires about 30 minutes to freeze, so you can fully take advantage of the cycle to get a continuous drink. And, this one is small and compact enough for transportation and storage. Just like the previous model, it can work well with an additional ice pack to keep the drink cool for up to 24 hours. This way, it is very desirable for an overnight stay on the mountain while you are going hiking.
6. AROUY Golf Portable Beer Cooler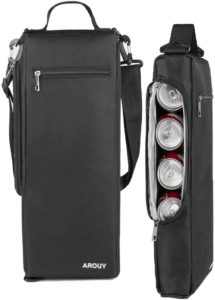 Another great choice of a portable beer cooler is from AROUY. It is built with 600D oxford, and therefore, it is both durable and lightweight in terms of its quality and function. The capacity is relatively large, which can accommodate about 6 cans of beers or 2 bottles of wine. It is both small and portable, so it fits well into your travel bag or other large size bags.
Since it is built from insulation material, it is able to keep the drink either cold or hot for a long period of time. It works well for a variety of purposes, including traveling and any other outdoor sport activities. The quality of this insulation bag is guaranteed on a 60-day warranty, and therefore, you can claim for a refund anytime within this period of time.
5. FORICH Soft Portable Beer Cooler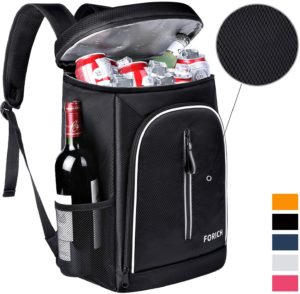 If you prefer a soft cooler bag instead of a hard case, you should consider this one from FORICH. It is designed with 2 colors, which are black and orange. It is reinforced by insulated walls, and it comes with a leak-proof function to keep your drinks secure inside. The drinks can stay hot or cold for a very long period of time by simply staying inside the bag.
The bag comes with a large capacity, which can put up to 30 cans with confidence. Besides the storage of the drink, it is also compatible with a variety of necessities that you need to bring with, including foods, fruits and vegetables. Moreover, it is also suitable with wine storage since it can support 2 bottles of wines at once.
In addition, the design of this bag is very outstanding since it is separated by multiple pockets, so that you can divide the food among them. It is made from oxford fabric to ensure both quality and durability in the long term investment.
4. CleverMade Portable Beer Cooler with Bottle Opener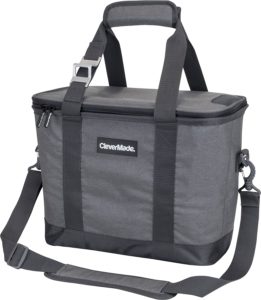 Moving onto the next portable cooler bag from CleverMade, it is available in 2 colors, which are grey and blue. It is small and portable, and even more importantly, it is foldable to a much smaller size, at only 3 inches. Therefore, after use, you can always collapse it to make it convenient for storage and transportation. It is built with shoulder straps for you to carry conveniently. It can carry up to 30 cans of beers with confidence.
Moreover, the cooler features leak-proof insulation which ensures that the drinks will never create a disaster for you. It is ideal for a variety of food storage, including foods, groceries and snacks. For these reasons, this cooler bag is a perfect gift for your family and friends who love to enjoy cold drinks.
3. Arctic Zone Zipperless Portable Beer Cooler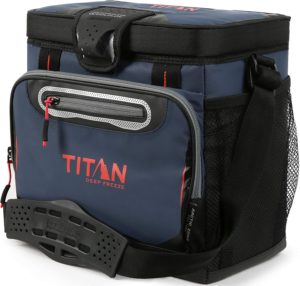 For this portable beer cooler from Arctic Zone, there are 3 colors for options. These color options include blue, moss and white. It features a deep freeze function with a heat barrier to ensure the best temperature of your drink. It comes with a lip open lid, so that you can gain access to your drinks easily. It is made with FDA compliant material, which is the hardbody liner.
The cooler is not only safe, but it is also leak-proof to make sure that the bag will always stay clean, and you do not have to spend much time and energy with the cleaning. It comes with a shoulder strap, and therefore, it is convenient enough to carry around. And, this one is also resistant to water and stain. It serves as a smart shelf which you can always bring along with during your outdoor long distance or adventure trip.
2. Coleman 16-can Portable Beer Cooler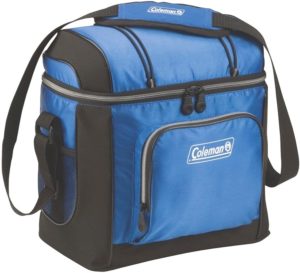 This portable cooler bag is also worth taking into consideration. There are 4 color designs, including blue, green, grey and red. It features a wall insulation to keep the drink cold and prevent it from leaking. The bag features a large capacity since it is capable of holding up to 16 cans of beer or other kinds of beverage.
It is designed with a removable liner, and it is resistant to all kinds of odors and mold. This is desirable when you have to pack a cold drink or ice pack. There are shoulder straps which you can take advantage of while carrying it on an outdoor trip. Moreover, there are a variety of pockets, ranging from small to large size, which can accommodate a wide range of demands. These pockets include side pockets, front pocket and dry storage pouch.
1. Bud Light Portable Beer Cooler with Speakers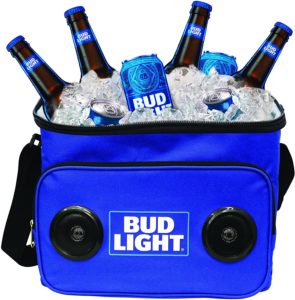 Last but not least, we have this portable beer cooler from Bud Light. There are 2 colors for you to choose from, including red and blue. It is a soft cooler bag which you can carry with comfort and confidence while going out with family or friends. The shoulder straps are fully adjustable, and you can always find the ideal position to fit into your body.
The most significant feature about this cooler bag is that it can integrate the Bluetooth speaker. The speaker is built in directly on the body of the cooler, and you can connect it with your smart phones or other smart devices. It also has a large capacity which can support about 24 cans of beer. This capacity is large enough to make you and your loved ones enjoy a beer night together. More importantly, there is a zippered pocket where you can fill in with your personal belongings.
Buying Guides
When it comes to a portable beer cooler, there are a variety of features and functions. However, in order to choose a good one, there are several key points that you should take note of or keep in mind. These key points include:
Material: the material to build this cooler bag is very essential since it is the one to determine whether the cold drink can stay cold for a long time. A good cooler bag is usually built from 600D oxford fabric, which is known for both quality and durability. It is also ideal for the integration of wall insulation to maintain the temperature of the items inside.
Capacity: the capacity of the beer cooler varies. However, this fully depends on your personal preferences and demands. It depends on how many people to drink the beer and how many cans of beer you need. The capacity ranges between 10 to 24 cans. Also, it can accommodate about 1 – 2 bottles of wine each time.
Temperature: for the temperature part, a good cooler can keep the drink hot or cold for about 5 – 6 hours. Some might use the freezing gel, while others depend solely on the construction.
Design: the cooler is never only used as a cooler, so the design of the cooler is also important if you wish to use it for an outdoor trip. The fact is that it should serve as a bag to support a variety of your belongings and necessities, including food, snacks and fruits.
Warranty: Although a beer cooler is not a high tech gadget, it is still desirable if there is a warranty to cover the quality of the product. The length of the warranty may be around 30 – 60 days, which guarantees for either a refund or a replacement.
Conclusion
All in all, above are the top 10 best portable beer coolers. If you are already planning about the next trip, add the beer cooler to your item checklist to fulfill your demand for cold drinks, including beers and wines.