When summer is right around the corner, it is essential to have cold drinks right in your hand anywhere and anytime. There are many ways to get a good cold drink but not as fast as we want it to be, and so the only good way to fulfill your desire is to get a portable ice makers.
With a portable ice maker, you are not just able to make a drink, but you are also able to use the ice for many other purposes as the ice can be made quick and easy. If you have trouble getting the product, we are here to guide you to the perfect one. Here are the best portable ice makers in 2023.
List of Best Portable Ice Makers in 2023
Also check the reviews of The Best Large Capacity Refrigerators, Top Beverage Refrigerators, Beverage Tub, Portable Beer Coolers, & Best Portable Mini Fridge in 2023
Product Reviews
12. Stainless Steel Counter Top Ice Maker Portable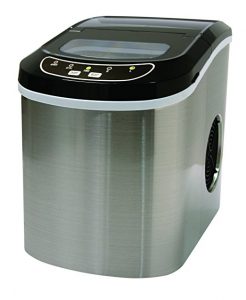 To begin with, we would like to introduce you to the stainless steel countertop ice maker. This ice making machine is so helpful in many ways. First of all, this machine can make a batch of ice in just 6 minutes. In a day, it is able to produce 26 lbs of ices. You can pick the size between smaller cubes or larger ones to depend on your preference.
For the design, it is portable so you can bring this anywhere with you starting from your kitchen to your pool if you are having a pool party. It is 13 x 9 x 13 inches wide and it weighs 21 pounds for an easy handle. It is highly recommended for those who love to travel and party.
11. Upgraded Nutrichef Portable Ice Maker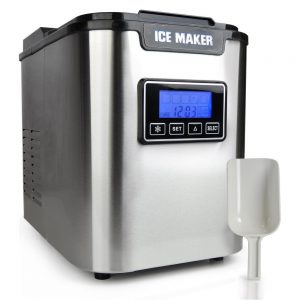 Let's take a look at this portable ice maker from Nutrichef. They invented a product that is better than ever. This upgraded ice maker is able to make ice in the quietest way. It makes up to 33 lbs a day and you can get ice as fast as ten minutes. You can choose different ice cube sizes which comes in 3, small and medium and lastly large.
This ice making machine is also very easy to clean and it comes with just enough space to store your ice and it can hold up to 2 liters of water in its storage capacity. There is a LED indicator light that lights up when you need to add water for more ice. This ice maker is 9.8 x 14.2 x 12.9 inches.
10 Mr. Freeze Portable Ice Maker with Lid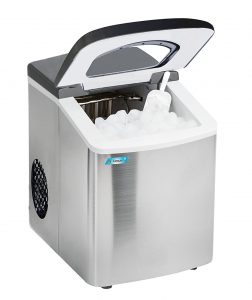 This is the ice maker machine from Mr.Freeze and it is so beneficial. It produces up to 26 lbs per day and it makes 9 cubes of ices per batch. This machine comes with an indicator light to alert you when you need to add water as well as when the ice is full. This product includes an ice bucket and an ice shovel. It is suitable for almost any place such as your home, office or even when you travel. It comes in just the color of black and it is 14.96 x 15.35 x 11.02 inches and it weighs 24 lbs.
9 Avalon Bay Portable Ice Maker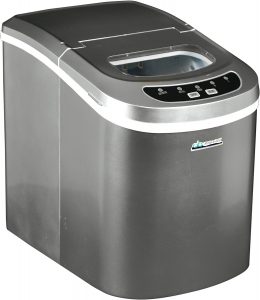 Avalon Bay invented a very convenient product which is the AB-ICE26S portable ice maker. It is an ideal product to utilize in small kitchens or tight space as this machine is slim and tiny. Its tiny size can produce up to 26 lbs a day. All you have to do is plug in and add water then wait for 15 minutes and you will receive a lovely batch of ice. It has an indicator light allowing you to know when you need to refill the water. It is 11 x 14.8 x 14.7 inches and it is silver.
8. NewAir Portable Ice Maker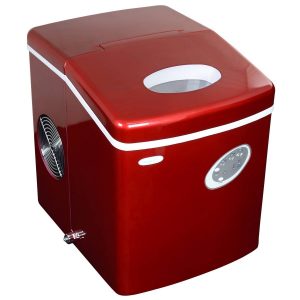 This product from NewAir has a really compact design for tiny space. It produces 28 pounds of ice per day and it offers an easy use of a LED control panel that allows you to choose 3 sizes of ice. It comes in the shade of red and it is 14.5 x 11.8 x 15 inches wide. This ice maker is ideally used for places like boats or pools as it saves a lot of space yet make the good amount of ice.
7. Ivation Portable Ice Maker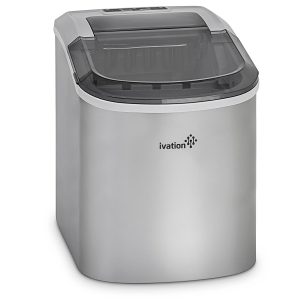 Ivation invented a product that is perfect in any use for their costumer. Presenting you this ice maker from ivation, it comes with a removable tray. It keeps your mind at ease without worrying when to refill the water or when it is full because this product comes with an indicator light to alert you anytime. You can select 2 different sizes of ice cube for your own preference. It is 16.4 x 15.6 x 11.9 inches.
6. Gourmia Portable Ice Maker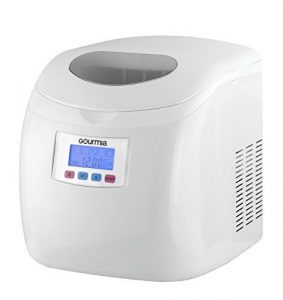 This product from Gourmia is here to save your day. To begin with, this ice maker is portable and it makes up to 9 cubes in 10 minutes. Plus, you get to select between 3 different sizes ice cubes. It is the recommended product for boats, small kitchen etc. In a day, this device produces up to 26 pounds and it keeps the ice crisp and fresh. It is a great use for party, road trip, and just daily usage. On top of this, if you do not like their product, you can easily ask for a refund. It is 11.75 x 14.75 x 12.87 inches wide in the shade of ivory.
5. EdgeStar Portable Ice Making Machine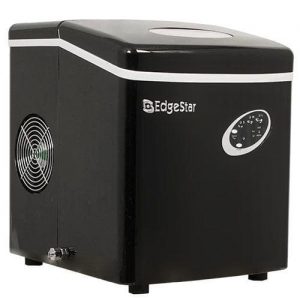 If you are looking for a good ice maker for yourself or you just want to get one as a holiday gift for someone, then this product is for you. This ice maker from edgestar is a great gift and it makes ice in just 10 minutes. However, keep in mind that this is not a freezer. You can select 3 different ice cube sizes based on your preference. It is excellent for boats, cabins and so on. It is definitely classic black and it is 19.1 x 18.7 x 16.8 inches wide.
4. NutriChef Digital Portable Ice Maker Machine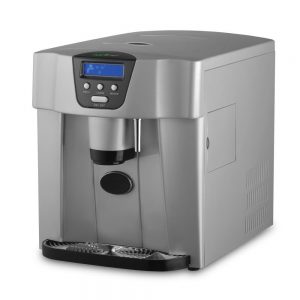 This portable ice maker from nutrichef makes ice silently with no disturbance. It makes up to 33 pounds of ice per day and you can select between 2 different sizes of ice. It can hold up to 1.8 liters of water as well. It is digital meaning that you can touch the buttons easily. It connects directly to the water pipe for instance refill and it comes with a storage container to store your ice longer. It is 13.8 x 14.6 x 12.2 inches wide perfect for freshly made ice.
3. NutriChef Upgraded Ice Making Machine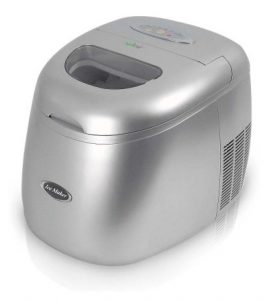 Just like any other product from nutrichef this one is also a silent worker. It is easy to clean and it is easy to move. It can store a lot of ice and water as well. It makes 27 pounds of ice in a day and you can receive ice cubes within 11 minutes of adding the water. On top of this, this product serves as a freezer so if you go on the trip and you would like to freeze some food then this one can do you both. It is 13.3 x 16.3 x 13.6 inches wide.
2. Best Choice products Ice Maker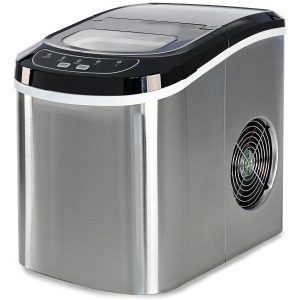 This item is the one for you if you are looking for something that it sleek and convenient. It produces 26 pounds of ice per day and it comes with an indicator to alert you the ice level and water refill. It is grey and it is power cord. It is 14 x 9.5 x 13 inches wide and it is from Best Choice Product.
1. Hamilton Beach Portable Ice Maker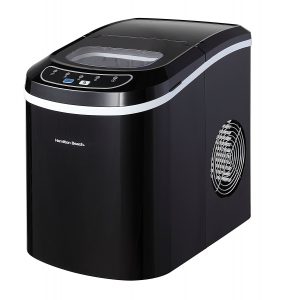 Hamilton's portable ice maker produces 25 pounds of ice per day and what is even more amazing is, this item can make ice cubes faster than anything which is 9 cubes for 6-8 minutes only. This product does work in silent and it you can choose between 2 different sizes. It is 15.9 x 15.7 x 12.4 inches wide and it is very simple to clean up as well.
Why get an ice maker / how to choose the best ice maker
Why: It is essentially needed that you own an ice maker that is portable because you cannot carry a freezer with you anywhere so you cannot have ice with you always. Plus, a freezer surely cannot produce that much ice so just in case you are throwing a party, it is important you have enough ice cubes.
How: When looking for an ice maker, you should be looking for the size, the quality, and its facilities. If you travel a lot then the one that can be served as a freezer is perfect for you. You also want to look for ones that make ice quickly because of the quicker the better.
Conclusion
In conclusion, it is very necessary to get yourself a portable ice maker as it serves you many options for the summertime in the year. We introduced you to 12 best portable ice makers of the year, hoping you would get the right one you are looking for.