Are you a fan of frying foods, and new to the air fryers? Well, air fryer is a cooking appliance which utilizes hot air to circulate around food for cooking process. If you don't like other method of cooking like using oil and so on, the air frying will be the best option to cook your meal healthily. To learn more about the product, let check our best air fryer review below. These air fryer ovens are very portable and convenient to fry various foods in your kitchen. Our chef's team also provides the recommendation to help you find the best appliance for your home as well. Let's check it out!
List of the Best Air Fryers for Your Kitchen in 2023
Product Reviews
10. Philips TurboStar Technology Air Fryers | Philips hd9641/96 Airfryer Digital Interface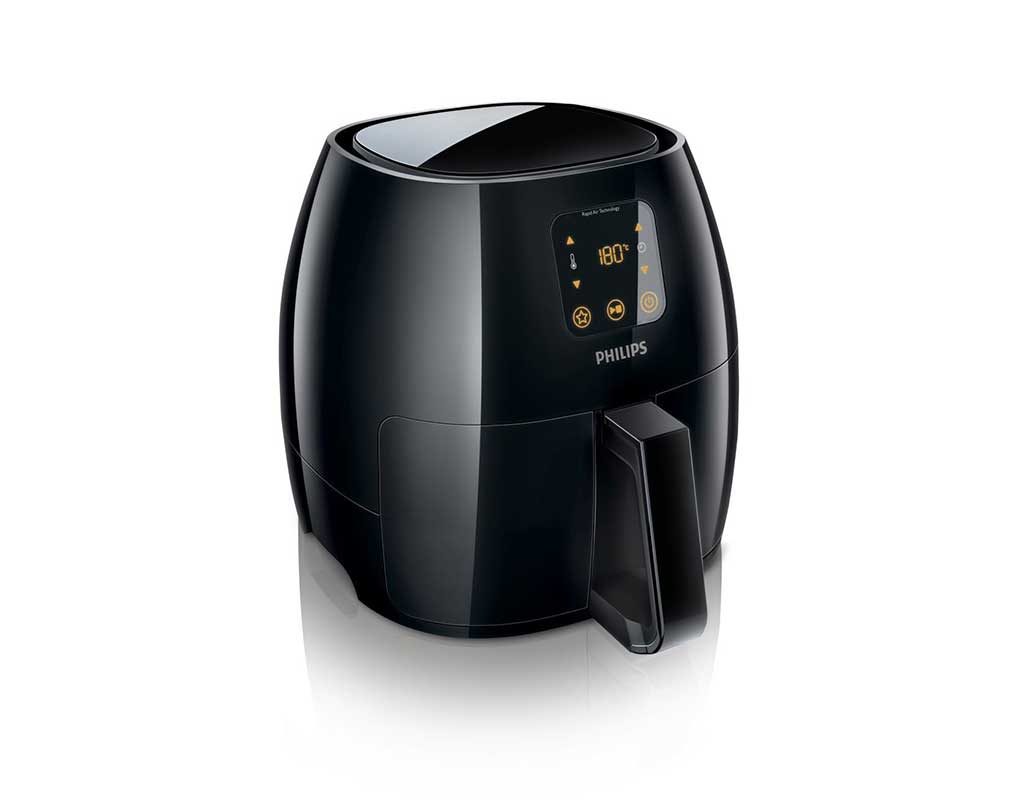 Philips HD9641/96 Airfryer is a kind of big brand air fryer oven which utilize TurboStar technology to cook and fry your food in a healthier way. Here are the reasons that make this Philips air fryer, compared with Cuisinart air fryers, the best cooking appliance in this modern age. First of all, it is equipped with a unique TurboStar technology, a method of using high-powered hot heat to circulate around for cooking your food more healthier and with less oil. We all know using oil for cooking and frying all the time is poisoning our health. Therefore, this method is a good option to avoid using too much oil in our daily cooking.
Second, the Philips air fryers can fry your food 50% more evenly comparing to their cooking method. It is also designed with 5 preset cooking modes which allow you to cook your snack, frozen fries, fish, meat and even drumsticks conveniently. This Philips HD9641/96 Airfryer model also has a warming function of which you can keep your favorite dish warm all the time. Talking about its setting panel, the air frying oven is controlled by a modern dial with digital display, making it very easy for you to control it. Last but not least, the Philips air fryer accessories including more than 200 air fryer recipes are available for you in recipe book or you can access them in the app for free.
Key features:
Having a quick control dial for adjustment
Pre-set option for your popular dishes
Having function for keeping your food warm
75% less fat for healthier frying
Easy to clean and dishwasher safe bracket and nonstick removable drawer
Get more than 200 inspired recipes on App
Capacity: 1.8lb/2.75qt
9. Philips Premium Airfryer XXL with Fat Removal Technology, HD9630/96

Here is another air fryer which is made in XXL size for frying food for the whole family. With its higher capacity than the above one, the Philips Air Fryer xxl allows you to make your fried food and reduct fat up to 90%, bringing your crispy food on table in a healthier way. Like the above one, this Philips air fryer utilizes a very powerful hot air to fry your favorite chicken and other mean with the use of very little oil. This XXL Philips air fryer model is also equipped with two TurboStart technology, very advanced in extracting and removing the excessive fat in your food, resulting your fried food to be crispy, healthy and delicious.
With this Phillips air fryer, you can fry, grill, bake and even roast your favorite dishes for a one stop solution for all of your meals. The attached recipe booklet is also full of inspiring recipes, created by culinary experts to gives inspiration for a variety of low-fat fried food that you can cook in the xxl air fryer. You will also get all the Philips air fryer accessories when buying this one. Anyway, if XXL is too large for you, you can also pick the Philips air fryer xl model instead.
Key features:
Easy to use
Having two TurboStart hot air technology
Capture excessive fat and remove it
Easy for making a healthy home made food
Removable dishwasher safe try and pan
Can use to bake, grill, fry and even roast
Capacity: 3lb/4qt
8. Philips Starfish Technology Airfryer with Cookbook

This is the third fryer of Philips air fryer accessories in our list and it's gonna be the last one. After this model, we will introduce you to other brands which also offer high quality air fryers in the market. Getting back to this Philips' air fryer model, it has the capacity to cook and fry your food with less fat of up to 75%. This one utilizes Starfish technology with 120 voltage and 1425 watt. It allows you to cook even food as large as 28oz to place in its frying basket. You will get a free cookbook with 150 recipes designed by professional chef to guide you for cooking healthy breakfast, lunch, dinner and other desserts. Philips air fryers are very popular and sold more than 8 millions units worldwide. It's good for its simplicity and efficiency in cooking your meals.
Key feature:
Simple and easy to use
Equipped with patented Starfish technology
Dishwasher safe parts and easy to clean
100% taste satisfaction with fast result
75% less fat food made
Capacity: 1.8lb/2.75qt
Also check: Top 10 Best cordless Electric skillets in 2023
7. Best T-fal Air Fryer, T-fal FZ7002 ActiFry Low-Fat Healthy Air Fryer

T-fal Actifry is best for oil less air frying. With just a tablespoon of oil, you will be able to cook your favorite food up to 2.2 lbs. It has an automatic rotating paddle to ensure that your food is well cooked. The fryer is simple and easy to use with just an On/Off switch and digital display countdown for you. The pan is nonstick and removable for cleaning up. The T-fal air fry also has secure lid, making it safe for cooking with splattering. For your guidance, the company also offers a free color recipe book in which 38 recipes are listed for you to make your delicious meal with this air frying pan. It is also the best air fryer salmon if you like cooking fish with less or no oil at all.
Key features:
Simple to use
Easy to clean
Equipped with patented heat pulse Airfry technology
Make you a healthy and delicious food
Nothing is complicated
6. De'Longhi FH1163 MultiFry, Air Fryer and Multi Cooker

De'Longhi has also produced various air fryer model such as De'Longhi FH1363 MultiFry Extra, DeLonghi America FH1130, and De'Longhi FH1163 MultiFry air fryer. But here we are going to discuss in the detail about the De'Longhi FH1163 which is among the most popular multi-fryer oven and multi-cookers in the market. Utilizing the innovative heating system surrounding your food to cook, this air frying oven does it job ver well with a little amount of time. It can hold up to 3.3 lbs of food for cooking. Its mixing paddle is removable for flexible cooking such as baking, mixing and frying various foods. The lit is tightly secure when cooking to avoid any splattering. Last but not least, most parts such as paddle, bowl and even lid are removable for washing and they are dishwasher safe. If you are looking for an air fryer salmon, this De'Longhi can also be used to make a good salmon food for you with ease.
Key features:
Easy to use and clean
Use minimal oil or no oil at all
Capacity: 3.3 lbs
Dishwasher safe for most parts
5. Avalon Bay Air Fryer, For Healthy Fried Food, 3.7 Quart Capacity

Valon Bay air fryer starts its product with a 90 days return to built trust among customers. You will get full refund if you are not satisfying with their air frying oven within 90 days. That's why it gets a lot of attentions and recommendations by many users for its reliable quality. The Valon Bay air frying oven uses a quick air circulation tech to deep fry your food without adding oil or very little oil if you like. It has a 3.7 quart capacity and produce temperature from 180 to 400 degrees to cook your food. It has a non-sleep feet. the fryer is also made of BPA free plastic which has no chemical harm to your health. The Valon Bay accessories includes non-stick baking dish, multifunctional rack, and 52 pages of unique cookbook for air frying foods.
Key features:

Easy to cook and fry food
Easy to clean and maintain
BPA free plastic use
Make a healthy frying without oil
90 days of full refund if not satisfy
4. Gourmia air fryer reviews: Gourmia GAF400 Electric Multipurpose Classic Rapid Air Fryer with Dual Dial Timer & Temperature Controls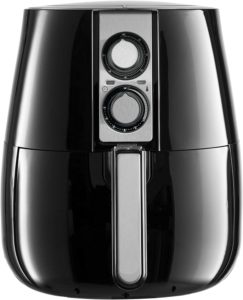 Gourmia Air Fryer is a zero oil cooking oven which uses a powerful RadiVection technology to produce a rapid hot air circulation to roast your food, bake, broil, grill and fry. Want to enjoy your favorite foods with less calories and crease? Then this Gourmia digital air fryer is the right frying tool for you. More special than the above air fryers, this Gourmia air frying oven has dual dials for controlling the cooking. It also has the LED light indicator for you to manage your cooking with convenience. Lastly, Gourmia has received ETL certificate for ensuring the safety and quality of its kitchen appliance.
There are various models of Gourmia Air Fryer you can pick from as follow or go directly to Gourmia page.
3. De'Longhi FH1363 MultiFry Extra – Air Fryer Salmon

This is the best air fryer for cooking salmon. With the holding capacity of up to 3.3 pounds, the FH1363 MultiFry Extra AirFyer is easy to use and adjust the power level with its functional dial. If you like salmon fish, then get this air fryer for salmon. Like other roasting pans, it can be used to cook more than just salmon fish but also chicken, beef, french fries, and more. Came with easy removable rotating paddle, this multi-air fryer makes user friendly and quick to stir its contents to ensure even while you are cooking.
Key features:
Easy recognize lid light for cooking progresses tracking
Can easily remove as a part as dishwasher
Portable device can save more space in your kitchen area
Use minimal oil for cooking
Faster cooking and easy to clean
2. PowerXL Power AirFryer 5.3 Quart Deluxe Black

This is the 5.3 Quart size air fryer from PowerXL. It also has a 3.4 Quart Size and you can choose from black or red. Like most air fryers, this one works by circulating hot air like a convection oven. This unit is 1700 watts. It measures 14.5 inches tall, 12.5 inches wide and 14.9 inches deep. The power cord is 45 inches long, and it's the best alternative to deep frying. Its power button on the digital control panel which is very advance. When you press power once, the default temperature is 370 degrees and cooking time is 15 minutes.
Also check: Top 10 Best Indoor Grill Pan Reviews in 2023
The M is for preset options. There are seven presets for french fries, roasting, shrimp, bake, chicken, steak and fish. Each preset has a time and temperature listed in the manual. You don't have to preheat the unit for cooking. To turn the unit off during cooking, press the power button. The red heat light turns off and the blue fan icon spins for 20 seconds. Before using, wash the outer and fry baskets with warm soapy water, both are dishwasher safe. Wipe the inside of the unit with a cloth. Don't fill the outer basket with oil. There is a max line on the basket so don't fill above that.
1. GoWISE USA 3.7-Quart Programmable Air Fryer, GW22654
 
The GoWise USA 3.7 Quart programmable air fryer and this is the go eyes us as a fourth-generation air Frogger it's ETL certified and has a touchscreen. The best thing about this air fryer is that it can fry food using from little to no oil, but you still get that same crispy texture it has a removable basket that's well known dishwasher safe it also has seven smart praetor Fry's meat shrimp cake, chicken steak and fish for more info and update price.
Also check: Top 10 Best Mini Deep Fryers in 2023 
Conclusion
As we know, consuming too much grease and oil are not healthy for our body. That's why it's a good idea to find a way of cooking which is oil free or requires less oil for our healthy food. With one of these air fryers, you will be able to enjoy your favorite grill, roast and french fries in a healthier way. Cheers!