Everyone loves deep-fried food. Just the thought of deep-fried food makes your mouth water. Although air fryers have also emerged as an alternative, nothing can replace the taste and the flavor of deep-fried food. In case,  your kitchen does not have the space to accommodate a large deep fryer, don't worry- you still have an alternative. You can buy a  mini deep fryer.
Mini deep fryers are exactly the same as a large deep fryer, just that they consume less space and can fry up meals that are crispy and delicious. Choosing a deep fryer for your kitchen is not an easy task. In fact, you have to keep a lot of things in mind while buying a deep fryer, such as whether it's dishwasher safe for easy cleaning, non-stick, etc. But don't worry, we have gathered a list of the top ten best mini deep fryers that you can easily keep in your kitchen and cook delicious fried food with it every day. All these deep fryers are of premium quality and will not let you down.
List of the Best Mini Deep Fryers in 2023
Mini Deep Fryer Reviews
10. T-FAL STAINLESS STEEL MINI DEEP FRYER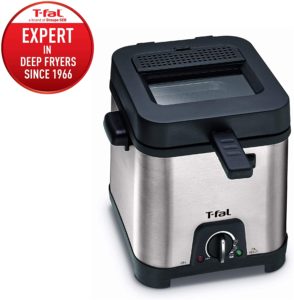 If you too wish to make tasty restaurant quality fried snacks at home then it is very much possible now with this mini fryer. It can prepare a maximum of up to two servings and you can cook any fried item be it donuts or fries and many more to go. Made out of stainless steel out of which the fryer basket is heat resistant that leaves out excess oil and prepares delicious snacks. It is very portable and does not occupy much of your kitchen space. It is non-sticky from the inside and comes with side handles for convenient carrying. The adjustable temperature facility results in perfect deep-fried products with minimal oil consumption.
Features:
Made completely out of stainless steel
Many items can be easily fried in this unit
You get heat resistant fryer basket
Consumes less kitchen space
Non-stick inner coating
Adjustable temperature mechanism
9. OVENTE ELECTRIC DEEP FRYER

Frying has never become this easy using mini deep fryers and those too electric ones! It is made out of stainless steel with 5 inches depth and you can cook a good batch of fried products for your family. It is very safe in terms of the hot oil getting splashed all over and prevents the odor from spreading as well. You just need a damp cloth to clean the outer body and the fryer also comes with adjustable temperatures to cook different products like donuts, mushrooms, and much more. It is one of the finest modern kitchen equipment and is backed with a year's warranty.
Features:
Made with stainless steel
Adjustable temperature mechanism
Splash-proof product
Also check: The 10 Best Air Fryers in 2023 | Reviews & Buying Guide
8. NATIONAL PRESTO IMMERSION ELEMENT DEEP FRYER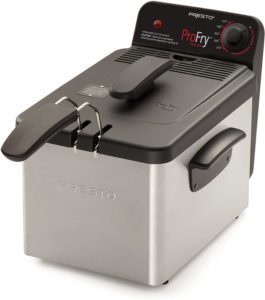 This one is to surely get your hands on as it can not only be used for frying but can be used for steaming and boiling as well. The deep fryer has a filter which serves as the splashing shield when you are going to put your food items into the hot oil. It is perfect for preparing fish and meat products. A very elegant and fine kitchen tool can prepare up to 8 cups quantity of food. So you can have a gala time with your family. Along with adjustable temperatures, it also comes with a lighting signal to tell when the oil is ready to begin frying.
Features:
Equipped with splashing shield mini deep fryer
Can be used for boiling and steaming also
Adjustable temperature mechanism
Sensors give you a signal when oil is ready
7. CUISINART COMPACT DEEP FRYER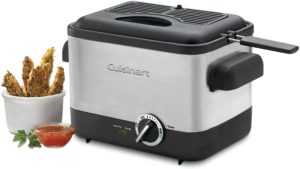 This mini deep fryer is compact, portable, and durable too, created by Cuisinart. You can cook delicious fried snacks and meals for your loved ones. Comes with 1.1 liters of oil capacity and cooks good batches of food at a time. The charcoal filter is detachable and can be easily cleaned which serves as removing odor. The oil heats up fast thus saving your time and it is easy to store as well. This unit is equipped with adjustable temperature mechanisms with brushed stainless steel housing. And this one has a good warranty period of 3 years so is a recommended product.
Features:
Has 1.1 liters of oil capacity
Equipped with detachable charcoal filter
Adjustable temperature mechanism
Made of stainless steel
6. T-FAL ODORLESS STAINLESS STEEL MINI DEEP FRYER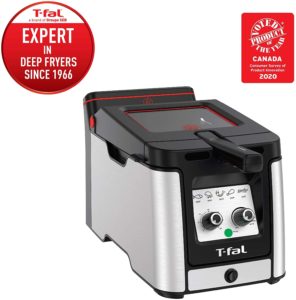 You would never experience such a fine frying experience just by relaxing at your own home with this compact deep fryer. Comes in stainless steel can prepare anything be it fruits, veggies, meat products. The active filtration system reduces the good amount of odor whilst cooking. Not to forget, all the inside attachments are detachable which are dishwasher safe. It also comes with a huge anti-fog window and the whole equipment is a modern creation. Frying can never be this much easier and mess-free and you are going to fall in love with this one.
Features:
Made of stainless steel
Easy to operate and use
Equipped with an active filtration system
Dishwasher safe product
Has a huge anti-fog window
Also check: Top 10 Best Double Deep Fryers in 2023
5. PRESTO 05411 GRANPAPPY ELECTRIC MINI DEEP FRYER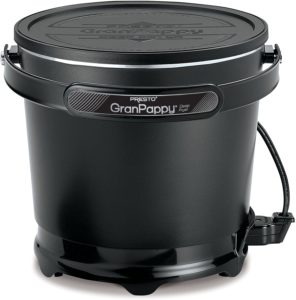 This electric deep fryer is in the shape of a bucket coated with a fine matte black finish. It is super easy to use and cooks oil within minutes. You need not worry about adjusting the temperatures as it is a fully automatic feature. A recipe and guide book is enclosed too and you can cook some delicious homemade snacks in just a couple of minutes. This unit can prepare up to six servings which come with a slotted scoop and snap-on storage lid.
Features:
Coated with metal black finish
Adjustable temperature mechanism
You get a snap-on storage lid
Comes with an easy and fast cooking technology
4. PRESTO 05470 STAINLESS STEEL ELECTRIC MINI DEEP FRYER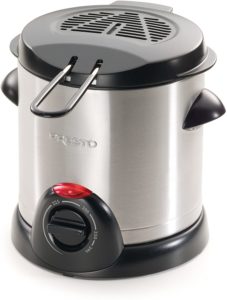 This is an electric deep fryer that is made out of stainless steel with its coating on the inside. You can cook easy and yummy homemade snacks in just minutes. Fries with the cover are used to prevent the odor while cooking. Adjustable temperatures along with an indicator light signals when the oil is ready for frying. It has space of 1-liter oil and fries good batch of yummy snacks. It is portable and durable giving a versatile touch to it.
Features:
Made completely out of stainless steel
Facilitates odorless cooking
Adjustable temperature mechanism
Equipped with heat-sensing sensors
3. NATIONAL PRESTO MINI DEEP FRYER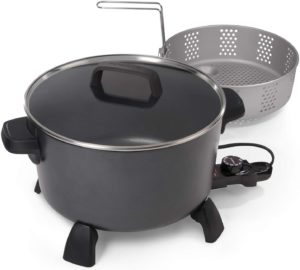 This is a non-stick glass aluminum kitchen kettle which serves as a cooker as well. It can be used for anything you want- steaming, boiling, frying, and cooking huge batches of any type of food product at home. Just remove the heat control and the cooker can be washed in the dishwasher as well. A versatile product that is a must-have kitchen tool and can be even used as a gifting option for those kitchen enthusiasts.
Features:
Non-stick aluminum interior
Multi-purpose use
Dishwasher safe
2. OSTER STYLE COMPACT DEEP FRYER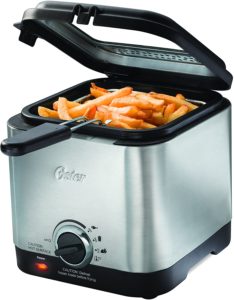 You are going to fall in love with frying with this compact yet elegantly crafted deep fryer from Oster. The adjustable temperatures help you to cook different frying items with the required heating levels. It can store up to 6 cups of oil and produce a good batch of servings. Made with stainless steel the fryer has a magnetic breakaway cord for more safety. It also comes with a frying basket and an indicating light to tell when the oil is all ready to fry some delicious onion rings or donuts or other products. The parts are dishwasher safe as well.
Features:
Adjustable temperature mechanism
Made completely out of stainless steel
Comes with magnetic break-away chord
Dishwasher safe mini deep fryer
1. AIGOSTAR MINI DEEP FRYER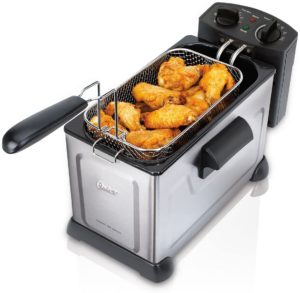 Get yourself binging on restaurant-quality fried food at home with this electric deep fryer. You can fill it with 8 cups of oil and come with an adjustable temperature mechanism that ensures heating up fast. There is a window to view the status of your frying preventing hot oil splattering. This unit comes with a frying basket and an activated charcoal filter to reduce odor while cooking. It is very convenient to use and makes your kitchen mess-free. All the parts of the fryer are dishwasher safe.
Features:
Infused with a small window to keep a check on your meal
Equipped with activating a charcoal filter
Adjustable temperature mechanism
Dishwasher safe
Conclusion
So these were the top ten best mini deep fryers that you can buy on Amazon. As mentioned before, you have to keep various things in mind before buying a deep fryer, you should look for qualities that can ease your work and make deep frying convenient for you. An ideal deep fryer, according to us, should be dishwasher-safe and non-stick as well. Almost all the mini deep fryers listed above have these qualities, so you can go on and buy one that you like the best and comes in your budget as well.