There are various types of pressure cookers which have been preferred differently by the chef and cook around the world. But today, our chef's team want to introduce you to the Presto Pressure Cooker, a handy cooking appliance that lets you cook healthy and flavorful meals in a short period of time.
Talking about a specific brand that manufactures quality pressure cookers, Presto manufactures high-quality pressure cookers and other kitchen appliances to satisfy the cooking needs of its customers. The Presto pressure cookers, comparable to the Pressure Cookers provided by Cuisinart, are made of sturdy material, easy to use and known to last for many years. To find the right Presto cooker type for you and your family, we have created this list of 10 Presto Pressure Cooker models for you to check out as follow:
List of the Best Presto Pressure Cookers & Reviews
10. Presto 01781 23-Quart Pressure Canner and Cooker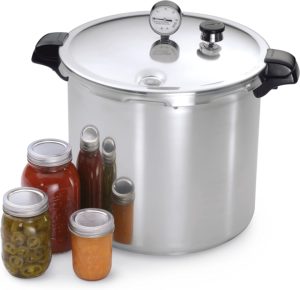 The Presto 01784 23-Quart Pressure Canner and cooker is an excellent item that comes at an affordable rate. This model has one of the largest capacities available on the market and can successfully hold up to 23 quarters of ingredients. All the pieces are built reasonably well. The well-built Presto is small enough to work on glass and ceramic ranges, as well as on electric coil and gas stoves, weighing in at just 12 pounds and measuring roughly 15.5 x 15 x 14.75.
Pros
Large capacity pressure cooker
Comes with good safety features
Equipped with easy-to-read Gauge
Has amazing canning and cooking abilities.
Strong and Sturdy construction
Approved by USDA
Built as per commercial standard
Cons
Heavyweight
Not recommended for small families
9. Presto 01362 6-Quart Stainless Steel Pressure Cooker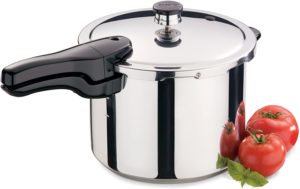 Presto 01362 6-Quart Stainless Steel Pressure cooker is indeed a smart choice for cooking nutritional and flavorful meals quickly and easily. This model cooks meals three times faster than ordinary cooking methods. Items such as chicken, meat, fish and veggies are cooked till perfection in this pressure cooker. Presto 01362 comes in 2 sizes i.e. 4 quarts and 6 quartz respectively. Made of stainless steel material, this model is quite lighter in weight and heats up fast.
The cooker comes with a special steaming plate that can be used for cooking several foods at once and prevents intermixing of flavors. Its pot is safe for cleaning with with integrated dishwasher or tabletop dishwasher while its pressure valves should be hand-washed with care. It comes from a reliable brand and hence safety is assured along with 12 years warranty. In general, this is probably the best pressure entry-level pressure cooker available on the market today.
Pros
Comes in beautiful Stainless Steel
This six-quart Pressure cooker weighs only 7pounds and its dimensions are 19 x 9.9 x 9.8.
Dishwasher safe.
It comes with a cover lock indicator which shows when there is still pressure inside the cooker.
Its helper handles provide ease of handling.
Carry an extended limited warranty of 12 years.
Ideal to use on regular, smooth-top and induction ranges
Cons
This pressure cooker requires some assembling
Also check: Top 10 Best Portable Rice Cookers in 2023
8. Presto 01370 8-Quart Stainless Steel Pressure Cooker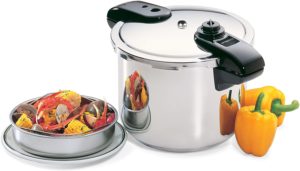 Presto 01370 is a durable and lightweight pressure cooker made of stainless steel. It has a base that Presto calls a Tri-Clad base which allows equal distribution of heat for faster and cooking. Thanks to its automatic valve control that helps in maintaining its pressure. This unit cooks faster but not recommended for canning. Its 8-quart size is spacious enough for a large family. This device comes with a separate steaming basket which lets you cook several foods at once.
What we like more about this model is its quick steam release system which allows you to sap off the steam quickly. All things considered, this device is a really good pressure cooker. It's durable, easy to use and comes with really nice features. It is indeed a good value of money and worth taking a look at.
Pros
Durable
Heats Uniformly
Maintains Proper Pressure Automatically
Quick Cool Option
Cooks Quickly
Cons
Not Recommended For Canning
7. Presto 01264 6-Quart Aluminum Pressure Cooker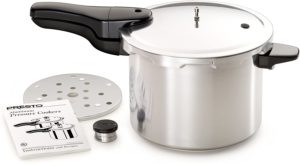 Presto 1264 6 quart pressure cooker is made of Strong heavy-gauge aluminum which helps in quick, even heating. This unit is considered perfect for cooking low-calorie healthy meals. Be it a slow cooking beer chicken, veggies, fish or meat, this pressure cooker will cook it all to perfection. For those who want an affordable and lightweight pressure cooker, the Presto 01264 is a perfect choice. This product comes with a 12-year limited warranty.
Like other presto cookers, this unit also comes with a cover lock indicator that regulates the pressure inside the cooker and prevents the lid from being lifted until the inside pressure is reached to a safer level. Its specially built helper handle to let you carry your food around without tipping it out. The product is reasonably priced and easy to clean. With 6 quart capacity which is considered for a small-sized family, Presto 01264 is worth purchasing.
Pros
Cooks delicious meals very quickly
Can work on smooth, electric and gas top ranges
Fully immersible and dishwasher safe
Easy to clean
Comes with a cooking rack and recipe/instruction booklet.
Cons
A few users complained it's not durable
6. Presto 01755 16-Quart Aluminum canner Pressure Cooker, One Size, Silver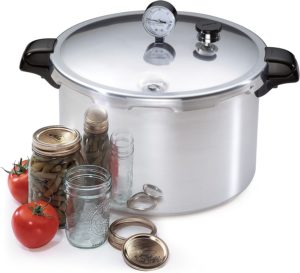 Presto 01755 is a very stylish and elegant looking pressure cooker that will surely complement your kitchen. This product is designed to work both canner and Pressure cooker easy, confident home pressure canning. This product is ideal to use on all types of gas, electric or smooth top ranges.
It is a large capacity pressure cooker ideal for cooking meats, poultry, soups, and desserts for large families. Like other models of presto, this device also comes with a safe lid lock system and protective features.. Its air vent lock system allows the building of pressure when the cover is closed. Its heavy-gauge aluminum construction ensures that this unit will stay with you for a long period of time. Most importantly, this item comes with a 100% satisfaction guarantee for peace of mind.
Pros
Durable and Sturdy
12 years of Extended warranty
Comes with Air Vent Lock System
Comes with a separate cooking rack and instruction manual
Large capacity
Cons
Stains easily and quickly
5. Presto 02141 6-Quart Electric Pressure Cooker, Stainless, Black, Silver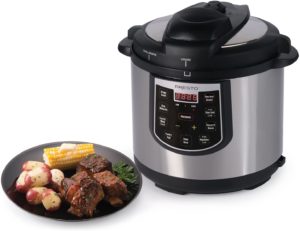 Presto 02141 mixes flavors extremely well with a capacity of 6 quarters. Even the electric pressure cooker excels in your kitchen look like a magnificent black & silver cooking device. It contains 2-in-1 functions. You get both the pressure cooker in one unit and the slow cooker in one. Its inside pot is not stainless which makes it easier to handle, not too heavy to fill or to clean.
With this Presto Pressure Cooker, you can easily enjoy making your various food such as Slow Cooker BBQ Chicken Thighs, Slow Cooker Beer Chicken, Slow Cooker Avocado Chicken Salad, cooking fish, meat, vegetables, grains, rice, beans, and desserts, too. It offers a variety of high pressure, low pressure, brown, sautes slow cook options, and keeps cooking warm for the desired use. Not only does Presto preserve the functionality but it also makes the personality of the apparatus exceptional. A sophisticated black and silver look with durable stainless steel and the non-stick coating makes it the best choice to buy.
Pros
Cooks 60-70 times faster than common cooking methods
Comes with nonstick coating and removable pot
Easy to clean and use
Safe lid lock system
Multiple functionality
Cons
Its non stick coating doesn't last for longer.
4. Presto 01241 4-Quart Aluminum Pressure Cooker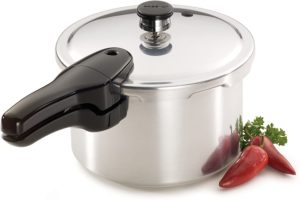 Presto 01241 is a 4-quart pressure cooker, made of heavy gauge aluminum that assures faster cooking. It can cook 5 times faster than any regular cooking method and saves energy, money, and time. Built as per US standards, this product comes with many protective features. it gives smart preference for flavorful and balanced meals. The good thing about this pressure cooker is that it cooks for several foods more easily than a microwave.
The unit works greatly on standard, smooth-top ranges. Furthermore, it comes with a cover-lock indicator indicating when pressure is inside the pressure cooker and prevents removal of the cover until the pressure is safely reduced.
Pros
Easy to use and affordable
Cooks 4 times faster than regular methods
Safe lid lock system and pressure indicator
Durable and Sturdy
Cons
Require proper cleaning to avoid getting stains
3. Strong, Heavy-Gauge Aluminum Pressure Cooker, 8-Quart Liquid Capacity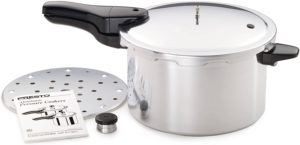 This 8-Quart Aluminum Pressure Cooker by Presto features long-lasting aluminum construction, is simple to clean and a pressure indicator at-a-glance cover button. It also includes an automatic pressure regulator weight which holds your cooker without any effort at the proper pressure! Add this beautiful pressure cooker to your kitchen and make tasty meals fast for your family. Its pressure regulator automatically ensures the correct cooking pressure
This pressure cooker is very simple to use, flexible and its price is outstanding. Its thick, heavy aluminum base allows even heating and fast cooking. Like other models by presto, this cooker also comes with a cover lock indicator that helps in managing the inside pressure.
Pros
Affordable pricing
Dishwasher safe
Comes with protective features
Pressure cooker with no frills
Cons
Require cleaning after use to avoid getting stains
2. Presto 01365 6-Quart Stainless Steel Pressure Cooker, Deluxe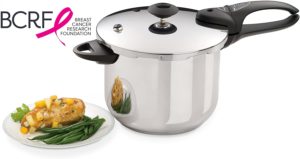 Presto 01365 is a perfect option if you always rush around and never seem to have enough time to prepare a safe, home-cooked, nutritious meal for yourself. This model by presto is a high-speed pressure cooker that cooks every meal very fast and efficiently while preserving all flavors and nutrients. Its automatic pressure regulator maintains the cooking pressure inside and its cover lock system keeps the cooker from being opened until the pressure is reduced.
The products come with an additional stainless steel rack and a 64-page instruction book. Presto 01365 is durable and made of stainless steel for long term usage. The Clean-up of this cooker is a breeze as it is 100% immersible and dishwasher safe. The size of this product is enough for a whole meal for a family of four to six but can also cook small portions.
Pros
Safe and durable
Carry a 12 years extended warranty
Wrap resistant and very inexpensive
Cooks faster due to aluminium layer inside
Cons
Has only one pressure setting
Sometimes hard to open the lid
1. Presto 4-Quart Stainless Steel Pressure Cooker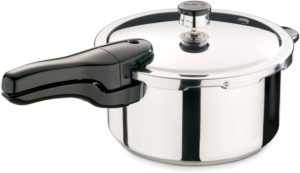 Presto 4 Quart pressure cooker is one of the top-rated products in its category on Amazon and that for good reason. Unlike many other pressure cookers, this product is very affordable and made of high-quality stainless steel. This pressure cooker will help you make healthy and flavorful meals in minutes and quite suitable for a small family. This unit is very strong, durable and easy to use. Its heavy metal base ensures even heat distribution for faster cooking. The product is ideal to use on a variety of top ranges such as regular stove, induction stove or smooth tops. It's cover lock indicator lets you know at a glance whether there is pressure and there is also a locking mechanism in place to prevent the cover from opening before safe pressure levels are reached.
Pros
Energy saving product
Attractive safety features
Very affordable
Attractive and Compact Design
Things to Consider Before Buying a Pressure Cooker
Understand Your Needs: this is the first and foremost thing to consider that exactly what you need to get out of your machine. There are many types, sizes and brands of pressure cookers, don't get overwhelmed with choices while finding the right one for you. It's better to spend some time, access your needs and then make a decision. We are sure you won't regret this.
Size: Next comes the size of the pressure cooker. There are pressure cookers available on the market as small as 3 quarts and as large as 12 quarts. So it is better to decide which size will be suitable for you and your family.
Functionality: the other important thing to consider is the functionality of your pressure cooker. Many electric pressure cookers come with different functionalities and settings which are not always easy to understand. So do your research, make a list of the functionalities you need and then make an informed decision.
Price: this is the most important factor that you should consider. Since you will always have choices, consider a budget you want to spend on your pressure cooker and find the right one for you
Conclusion
These models of Presto pressure cookers are carefully selected and assessed by our chef's team. We hope it is helpful for you to make your buying decision. These models of pressure cooker will surely narrow down your search in order to find the right pressure cooker for yourself.