In the fast and busy life of the city nowadays, nobody gets enough time to devote to cooking. Thanks to the technology that there are enough devices that can help you in fastening the cooking process. One such device is Microwave oven.
A microwave is usually lightweight, compact, and consumes less energy while serving the original purpose. It can be your savior when you try to heat food or cook something little and quickly. These days, Every advanced kitchen has a microwave.
Choosing the right compact microwave can be tough, especially when you have a lot of options to choose from. You can even feel overwhelmed with the choices available on the market. To help you find one, we have put together a list of top compact microwave 2023:
List of the Best Compact Microwaves in 2023
Compact Microwave Reviews
10. Toshiba EM925A5A-SS Microwave Oven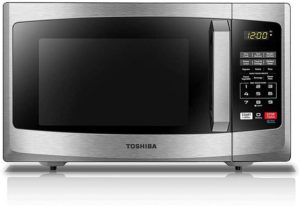 This compact microwave with its (dark) stainless steel finish and stylish design will surely complement your kitchen. With its easy to read panel and thoughtful features, this unit will satiate your heating and cooking needs. Some of its amazing features include 6 preset menus, one-touch start, easy defrost, and 10 power cooking levels.
Equipped with bright led light, this 900 watts unit provides a clear inner view to monitoring your dishes. Additionally, its power-saving eco mode and the mute feature is something that should not be missed. It is recommended to have the oven liner to if you are going to place it on your glass-top table or kitchen.
Pros
Stainless steel body
Glass turntable
One-touch access
6 preset menu
10 cooking power levels
Mute option
Cons
A bit expensive
Heavier than other microwaves ovens
9. BLACK+DECKER EM720CB7 Digital Microwave Oven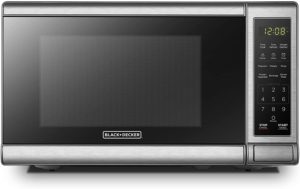 This 700-watt professional style black compact microwave is ideal for those who are looking for a great space saver microwave oven. The unit is equipped with 10 power levels, spacious interior, and glass turntable. The body of this unit is made of stainless steel which is pretty perfect to maintain.
Also, The large digital LED display has a clock feature, and it can also display a countdown timer as well as the remaining cooking time. With its easy to read panel and multi-functionalities, this unit is considered best by many.
Pros
30 Seconds Express Cooking
10 power cooking levels
Easy to read panel
LED Display
Removable Glass Turntable
One year warranty
Cons
Little noisy
No preset settings
Also check: Top 10 Best OTG Ovens in 2023
8. AmazonBasics Compact Microwave works with Alexa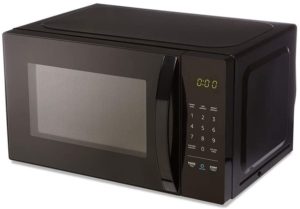 This amazing voice-controlled compact microwave is pretty small in size which saves space on the counter but big enough for a dinner plate. It has no complicated setup. If you love Alexa, you will surely fall in love with this product too.
The Alexa microwave simplifies the way of cooking by allowing you to microwave using your voice. An Echo device is all you need to control this microwave which is not included with this unit. Also, the unit is equipped with 10 power levels, kitchen timer, and super easy to use.
Pros
Easy to set up
Easy to operate
Voice controlled using echo
10 power levels
Glass turntable
Child lock available
Cons
Take time to cook several food items.
Very small
7. Kenmore 70722 Compact Microwave
This compact microwave by Kenmore is 700 Watts with 10 power setting levels. It is a very lightweight, space saver and lets you cook your delicious meal in no time. With its 6 Heating Presets, 10 power settings, the unit is preferred by many users.
The other features of this microwave include its removable glass turntable, 30 seconds button, bright display and child lock. It is also ADA Compliant which ensures that this unit is safe and secure to use.
Pros
6 Pre-defined auto cook settings
Removable glass turntable
Child safety lock
10 power settings
Easy to read panel
Compact size
Cons
Does not come in high watt
6. Panasonic Compact Microwave Oven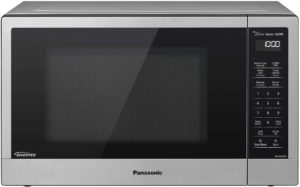 The Panasonic Compact Microwave Oven is a perfect choice for those who are looking for a sleek and stylish microwave with robust performance. This 1200 watt microwave oven allows it to cook food fast enough in no time with its 11 power levels.
Coming from a reliable brand, the unit offers excellent features. It is a very lightweight countertop to save space. Its built-in inverter technology heats the food evenly. Also, its inverter turbo defrosts all your frozen foods very quickly than other oven models. further, thanks to its genius sensors which take the guesswork out of making a perfect meal by setting power rates automatically and changing the cooking or defrosting time for added convenience in time.
Pros
Hold warm features.
Turbo food inverter for faster freezing.
Compact countertop design and saving space.
Genius sensors for temperature adjusting
Cons 
Significant problems with the panel
Also check: Top 10 Best Countertop Convection Ovens in 2023
5. Kenmore 70923 Microwave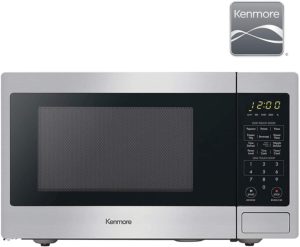 This lightweight countertop compact microwave is ideal for a small kitchen, office counter, or RV kitchen. It is very lightweight, portable microwave with a cooking power of 900 watts that allows you to cook your delicious meal in just a few minutes.
This small and compact unit comes with many amazing features such as 10 Power Settings, 12 Heating Presets, and Removable Turntable. Also, it's amazing to defrost frozen food feature is not to be missed. Additionally, it features a child safety lock to prevent your children from any kind of danger.
Pro
Easy to use
Lightweight and compact
One touch auto cook preset program
Quickly defrost option
Child safety lock feature
Cons
Doesn't come in high power
Cannot be used as an oven
4. COMFEE' EM720CPL-PMB Countertop Microwave Oven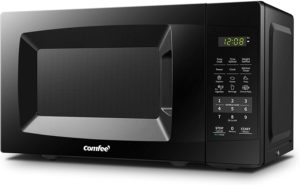 This Comfee model is a stylish black compact microwave oven with decent usability. There are several user-friendly features to this microwave including Child safety lock, easy auto cook functions and reheat etc. The 700-watt oven is sturdy and has 11 power levels along with a clock and timer. The cooking time can be easily set and allowed to run.
With a bright digital display with an easy to read panel, this unit is convenient to use. Also, A silent button and removable glass turntable are installed in the microwave. Thus, this small microwave oven is ideal for a small kitchen.
Pros
Simple and easy to use
Compact size
Can be used as an oven as well
Comes with eco mode
One year warranty
Cons
Does not have convection mode
3. Daewoo KOR07R3ZEM Microwave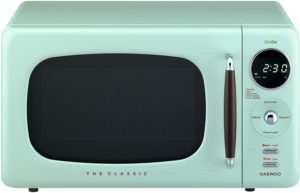 The design, efficiency, and affordability of Daewoo Retro Microwave Oven make it stand out. With its compact, retro design which is inspired by the '80s, which is combined with efficient performance. The model offers 5 different power levels along with 5 auto cook menus to take your cooking skills to the next level. It comes with no bells & whistles, just simple convenience in a small space at a good price.
Pros
Retro model look
5 various force levels
5 power level
5 Auto cook menu options
Cons
Doesn't come with preset buttons
It does not have an auto mode
Cannot be used as an oven
2. GE JES1072SHSS Compact Microwave Oven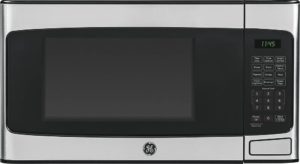 This countertop microwave oven is ideal for a small kitchen and countertop with less space. Ita stainless Steel provides convenience using 1 touch cooking controls. Its features are pretty nice and heating is quick and effective. This 900 watts microwave has auto and defrost options, glass turntable and kitchen timer setting for your convenience.
The best part about this oven is its Child lock capability which helps prevent unintended use. Coming from reliable brands like GE, you can be rest assured that its appliances are manufactured with up-to-date technology and of exceptional quality for simplifying cooking.
Pros 
Stainless steel built
Glass Turntable
Auto time setting
Defrost settings
1 touch cooking control settings
Cons
1. Panasonic NN-SB458S Compact Microwave Oven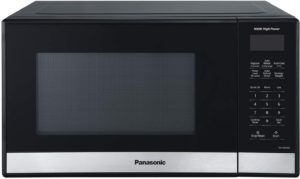 This Panasonic compact microwave comes from a leading industry brand with some great features. This oven model is lightweight, fits minimalistically on any kitchen counter. With its 900 watts of high power, you can expect faster cooking and delicious results. Its different features incorporate 7 preset auto cook menu items, Delay Start & Timer, and more/less control. Additionally, it features a Popcorn Button with 3 Cooking Levels for every size popcorn bag for making delicious popcorn every time. Its warm mode keeps the food warm and delicious until they are ready to serve. This little dark ledge microwave has a stylish look to supplement any kitchen decor.
Pros
Small compact design
Popcorn press button
3 force level buttons'
Delay start up button
10 power level settings
Quick timer
Comes with child safety lock
Cons
Doesn't has LED
No defrost mode
Things to remember while purchasing a microwave
Here are some points that you need to focus on while making your microwave oven purchase. Looking for these features and points, it will be easy for you to buy the best for you.
Size: Depending upon the counter area or space available in your kitchen, you will need to choose the size of your microwave oven. Go for compact and small sizes if you have limited space available. External dimensions may vary, so it is better to measure the desired location's space (Height, width, and depth) and choose the product matching that size. Also, make sure a power outlet is nearby to organize your compact microwave decently.
Wattage: The distinction in wattage can actually affect the cooking times. The higher the wattage, the quicker your food will get cooked. Microwaves with 1000 watts will cook efficiently and quickly as compared to 700 watts which will cook slow and may not even cook evenly. Also, keep in mind that microwaves with high wattage are usually more expensive than ones with low wattage.
Features and Specifications: Many microwaves these days come with great features and specs such as Auto- defrost option, reheat feature, pre-programmed settings, and child safety lock, etc. Many microwaves offer inverter technology and adjustable temperature settings using sensors etc. depending upon your choice and preferences, you can go for settings that you deem fit and choose your microwave accordingly.
Price: After figuring out your needs and features that you want in your microwave, fix your budget, and choose the final product accordingly which checks all the boxes.
Conclusion
So these were the top 10 best compact microwaves that you can think about purchasing. All you need to do is to take a closer look at all these points and then compare the types along with your budget. And you are ready to own a brand new for your kitchen counter.