As you read in my Slow Cooker Avocado Chicken article, I recently gave up eating deli meat sandwiches for lunch. It just became too much to handle – eating a cold sandwich every day. Don't get me wrong, I loved them for 2+ years and will probably eat them again, but in the meantime, I need to switch it up.
Now, I'm opting for hot lunches for the first time since elementary school. Except this time hot lunch doesn't mean pizza and corn dogs, this time it means Healthy Buffalo Chicken Bites. They're spicy, savory, easy to make and heat up beautifully so you can bring them to work every day for lunch. They go great in a wrap, with some brown rice and vegetables or on top of a salad. The best part is that a complete lunch featuring these Healthy Buffalo Chicken Bites will run you less than $3.
That's fast food cheap recipe
Making this buffalo chicken bite recipe is extremely easy too, and takes less than 30 minutes. I had some help along the way from some useful kitchen tools; my Le Creuset Cast Iron and wooden turner: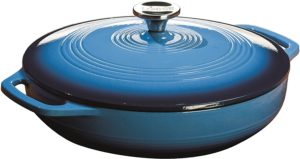 The Le Creuset cast iron is a bit of an investment, but I think the math checks out. It will last you a long time and when you look at it in terms of cost per use, the Le Creuset can even be a less expensive option. Read more about the cost breakdown here.
This Healthy Buffalo Chicken Bites not only taste great, but they're healthy too. No surprise, it's in the name. They are packed with protein and not much else. Check out the nutrition per 1/4 lb of chicken:
Calories: 163
Total Fat: 4.5 g
Total Carbs: 2.3 g
Protein: 26 g
Total Sugar: 0 g
There is also 70 mg of sodium, mainly from the hot sauce. You would think this might be of concern, but the recommended daily allotment of sodium is 2,300 mg. So a serving of this chicken is less than 3%, even if you double or triple the hot sauce in this recipe to really spice things up you are going to come in at less than 10% of your recommended daily sodium intake.
Alright, let's get on to the buffalo chicken bite recipe
Making Healthy Buffalo Chicken Bites is easy, as I've already said numerous times. To start, prep your chicken by cutting it into bite size pieces. Then mix together the flour, salt, and pepper in a ceramic mixing bowl (or in my case, a pie plate). Toss your raw chicken in the bowl with the flour mixture and make sure it's coated thoroughly and that there is no loose flour clumping anywhere.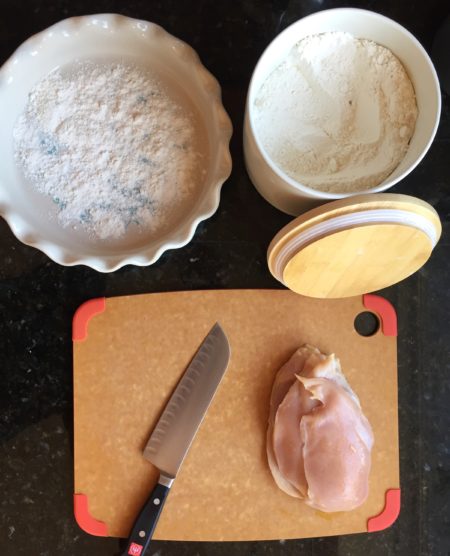 Once your chicken is coated, it's time to get cooking. Heat your gas stove or electric burner, melt some butter in a pan and add the chicken, browning the chicken on all sides. The key to getting the chicken crispy is to make sure your pan is hot and to cook the chicken for a couple of minutes on each side, not touching it unless you are flipping it over. Just let it be. Constantly moving your meat prevents it from browning and cooking properly.
Once your chicken is cooked through, add your hot sauce and heat it thoroughly.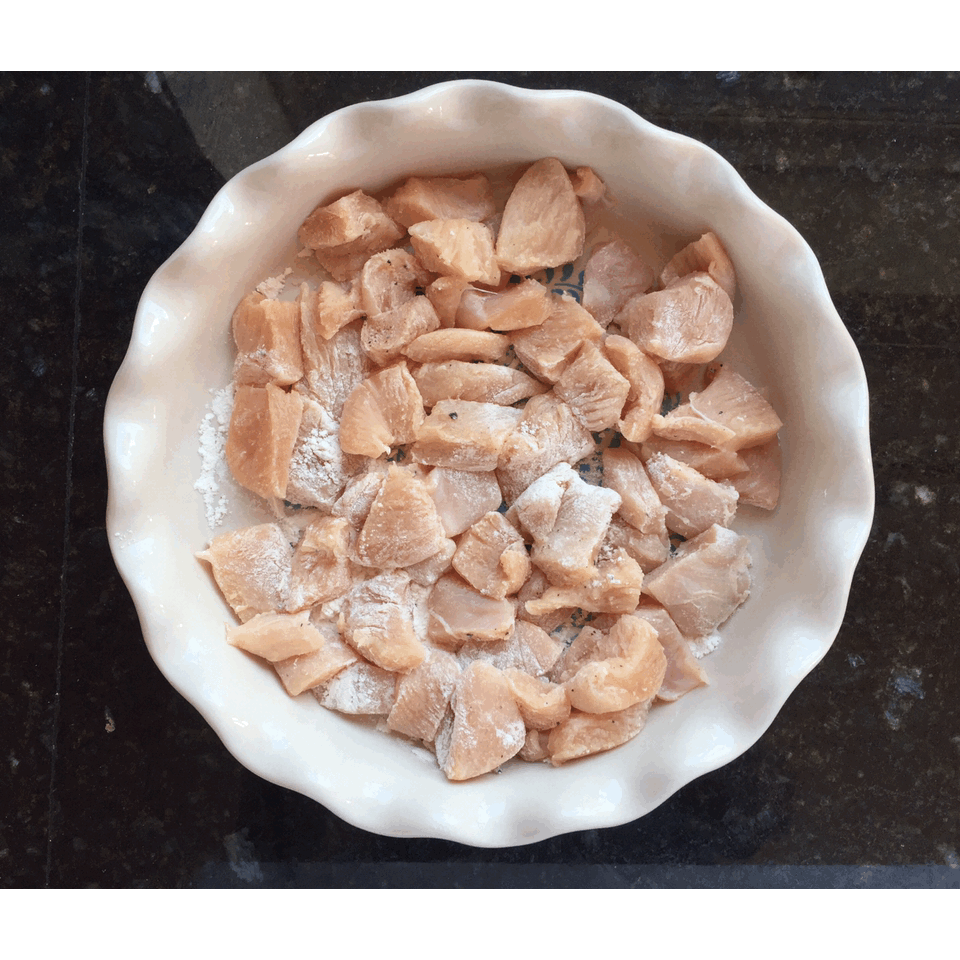 That's all it takes. Enjoy this Healthy Buffalo Chicken Bites with brown rice, in a wrap, on a salad or even in a fresh and crunchy lettuce wrap.
Let's get economical with these Healthy Buffalo Chicken Bites:
1.5 lbs chicken – $9.74
2.5 tbsp of flour – $0.03
2 tbsp of buffalo sauce (more if you want it spicier) – $0.16
3/4 tbsp butter – $0.09
Salt and Pepper
That's six 1/4 pound servings of flavorful chicken for only $10.02, or about $1.67 per serving. Add this to some rice and vegetables (or whatever lunch accompaniments you are feeling) and you have a weekday lunch for less than $3.
Healthy Buffalo Chicken Bites
Healthy Buffalo Chicken Bites are easy to make and pack some spicy flavor that is perfect for lunch or dinner.
Ingredients
1.5 lbs chicken
2.5 tbsp of flour
2 tbsp of buffalo sauce (more if you want it spicier)
3/4 tbsp butter
Salt and Pepper
Instructions
Cut the chicken into bite size pieces.
Mix the chicken together with the flour, salt and pepper, coating all the chicken thoroughly.
Heat the butter in a pan over medium-high heat. Add the chicken and cook for a couple minutes on all sides to brown the chicken and cook it through. Pepper the chicken again while it is cooking.
Add the buffalo sauce to the pan and heat through for a couple minutes.
https://www.economicalchef.com/healthy-buffalo-chicken-bites/
I hope you enjoy these Healthy Buffalo Chicken Bites!