Today's home space is getting smaller and smaller.  However, there are items that need to be placed everywhere in our home – bathroom, kitchen, bedroom and living room. Thus, you need to own portable items such as a portable single burner to serve your small kitchen with all the cooking needs. Moreover, you might also need a burner to cook food when you are outside of the home. Therefore, we have top 12 best portable single burners to introduce to you in this article.
List of Best Portable Single Burners in 2023
Other Stove and Burner for Your Options: Portable Electric Stoves, Portable Gas Stoves & Portable Induction Cooktops in 2023
Portable Single Burner Review
12. Cusimax CMIP-C120 Single Burner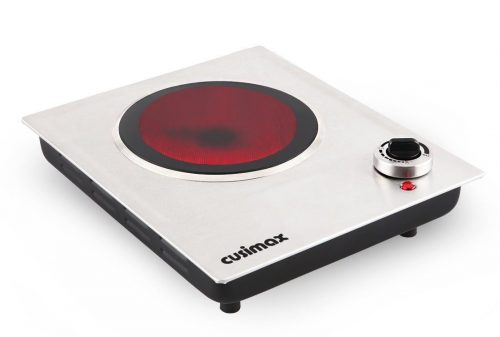 Firstly, let's get to know a single burner from the company Cusimax. This single burner is really suitable for students, camping, and small kitchen or outside activities because it is a kind of electronic burner without the need of gas. It is made of stainless steel and glass plate with the full dimension of 15.2 x 12.4 x 4.6 inches and the weight is 4.5 pounds. The product can match with all types of cookware such as glass, aluminum or stainless steel of 7.1 inches.
You can control the heating from minimum to maximum, and it is safe to use with the auto shut-off function. And, you will gain trust with the company's 18 months warranty and 1-month guarantee as well.
11. DUXTOP 1500W Portable Electric Burner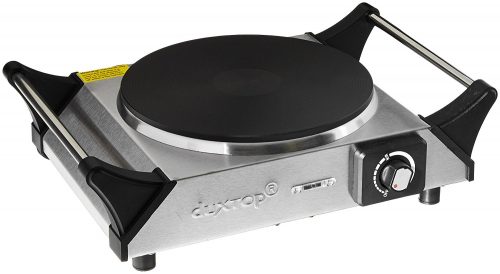 Secondly, Duxtop introduces its top-rated electric burner with the model number ES3103. This model uses 1500 watt in power source, and it is a kind of portable burner that you can move to anywhere around you or with you outside the home. Plus, the plate is made of iron with long-lasting usage and it is big with the 7.5 inches plate size. The full size of this product is 21.5 x 9 x 4 inches and its mass is 5.7 pounds.
You can see the power by the indicator light on the burner and you do not worry about touching the heat because there are two handles on each side that you can lift it up/down or move to anywhere.
10. Elite Cuisine ESB-301BF Burner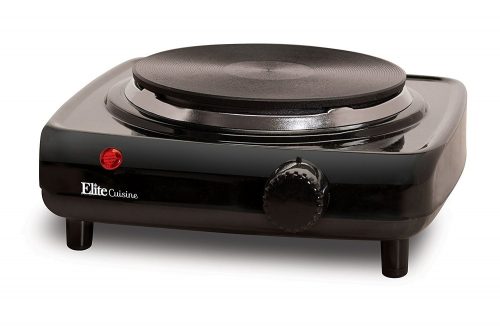 Next, we move to another single burner from an Elite cuisine that its heating plate is made of iron, which is easy to clean, and is tough. This product uses only 1000 watt of power to cook food in short time. There is also a touching base that you can move it to anywhere and it also has four non-skid rubbers to stable your cooking.
Furthermore, you can adjust the heat to low, high, medium, warmth or off based on your cooking, and there is also a light indicator that you can know the power. It is sized of 10.7 x 9.2 x 3.6 inches and its load is 4 pounds.
9. Ovente Countertop Burner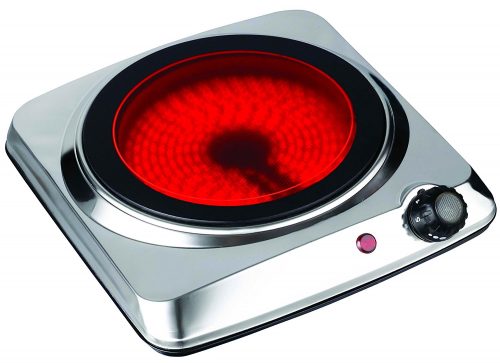 With the 8.7 x 8.7 x 2.5 inches single burner, this portable single burner is so attractive with this dimension and the qualities it offers. It is measured to be 3 pounds with the non-skid rubber to stable the movement. This item is made of the stainless steel, and there is the ceramic glass plate, which is easy to clean with the wet cloth. In addition, you can use any type of your cookware with the size of about 7 inches.
You can adjust the 5 different heat levels, and it is powered by the 1000 watt power to have your food done quickly. One more thing it gives you a 1-year warranty on usage.
8. BLACK+DECKER SB1001B Single-Burner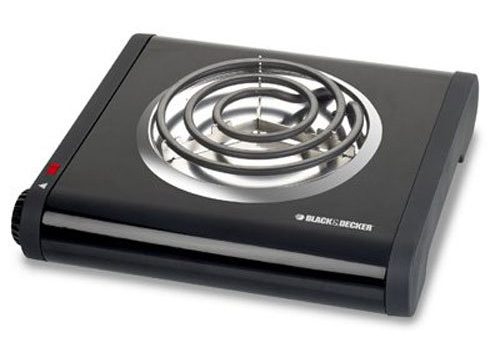 Take a look at the portable burner from Black+decker, it is designed with the light weight of 2.2 pounds that is easy to move around. Actually, you can change the temperature for cooking or warming your food with the right heat by the knob.There is also the power indicator light to control the power when you use or stop using it. It comes in the size of 12.2 x 5.4 x 11 inches and especially, you can get 2-year warranty.
7. Aicok Portable Single Burner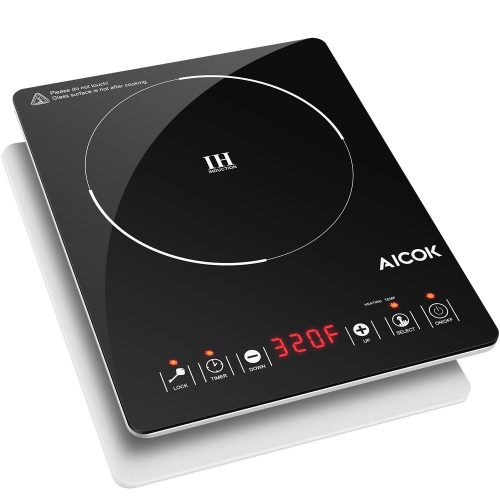 Do you want a modern portable burner? Now, Aicok manufacturer has designed the high technology of single burner with the touch button display on the edge of the top surface. It comes with the attractive outlook of the glass surface. The full dimension of the product is 14.5 x 11.5 x 1.8 inches and its weight is 6.3 pounds. It's cool that you can adjust the heat to 15 different level heats, and the burner is powered by 1500 watt.
You can cook for longer time up to almost 3 hours, but it will be automatically shut off at 120 minutes. The burner center is large up to 8.7 inches for right usage with multiple pans.
6. Weleyas Portable Electric Burner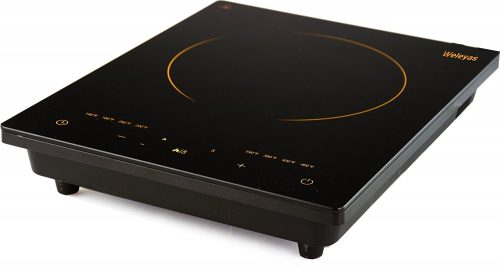 Here is another touch sensor control that comes with the different uses and functions. This product is from Weleyas Company. It is able to cook the food up to 3 hours and you do not worry about the electricity waste because it automatically shuts off when you remove your pan out. For the temperature setting, you can adjust between 8 various heat levels.
You can use its highest voltage up to 110v, and there is a warning system about the high or low voltage. It is sized to be 16.3 x 12.6 x 4.5 inches and its weight is 5.3 pounds.
5. Cusimax Stainless Single Burner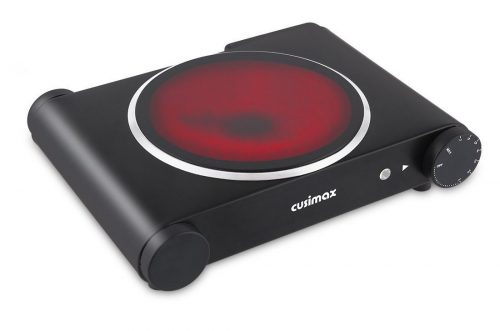 There is the single burner with infrared cooktop, which sure has no electromagnetic danger your body. This product allows you to set the heat by the temperature control knob, and it will retain its heat after turning off the knob, so you can warm the food with the remaining heat. The body is made of stainless steel and the burning surface is made of crystalline glass.
You can use all types of cookware which have the size up to 7.1 inches, and it is easy to clean after using it. It is powered by 1200 watt and you can make much food by this portable burner nice and easy.
4. Duxtop 8100MC 1800W Portable Burner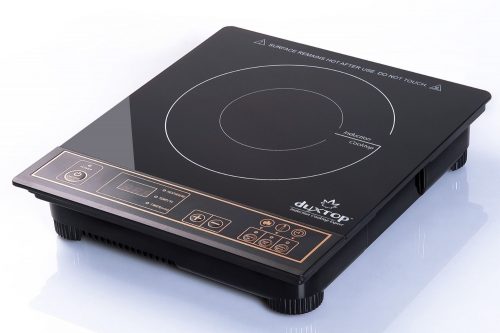 With the 13 x 11.5 x 2.5 inches of sensor touch control burner, its voltage is up to 120 volts. You can set the temperature setting with 10 different heat levels, and there are also 10 different power levels. It can cook for 5 minutes up to 170 minutes, and it is to be shut off automatically within 1 minute when there is no pan on it. Moreover, it helps you stay alert about the low and high voltage usage by the warning system.
This item is made of stainless steel at the bottom and there is an iron as the burning center. It is light to carry with the weight of only 6.7 pounds, and it is the product of Secura Company.
3. Secura 9100MC 1800W Portable Burner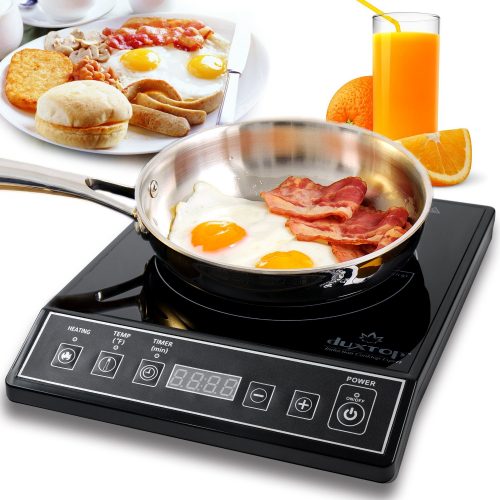 Here is another product from Secura Company. Similarly, this one can be heated up to 170 minutes, and it is also the type of sensor touch control. Otherwise, there is the different feature which the touch control display lays down as the different shape. With this model, you have more choices in setting the temperature up to 15 heat levels. It comes in the size of 14 x 11.4 x 2.1 inches and it is a bit heavier than the earlier model with the load of 7.1 pounds.
It has the same voltage with 120 volts and there is also the warning system about the voltage usage. Plus, it auto turns off automatically when there is no pan, and you will get a 1-year warranty on the quality of the product.
2. IMUSA USA GAU-80305 Electric Single Burner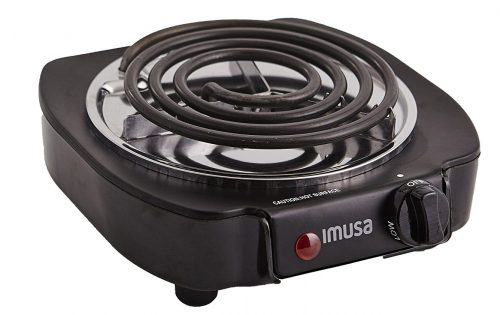 Now, let's find out about the product from Imusa that gives this single portable burner with the power of 1100 watt. It comes with the different outlook from the previous burner because the burning center is not flat but there is a tray which looks like the stove. This item has the power indicator light that helps you operate the heat for cooking, and you can control the heat with the temperature control knob.
You can use it anywhere in the home or outside whether there is a plug to operate this burner. It is easy to carry with the size of 3.5 x 9.8 x 9.1 inches and the weight of 2.6 pounds.
1. Cuisinart CB-30 Cast-Iron Single Burner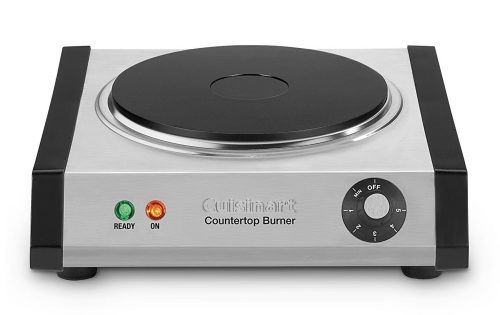 Move to the last product of the list, it is the product of Cuisinart Company. This product's power is 1300 watt that you can set the temperature to 6 various temperature levels from low to highest level. You can control the process of your cooking with the light indicator of "ready" and "on".
There are the stainless steel and an iron plate that is heavy duty, yet easy to clean with the just damp cloth. It has the size of 5.8 x 15.4 x 13.8 inches and the weight of 6.8 pounds.
Conclusion
As you can see, there are many portable single burners from different companies. And, the ones picked and highlighted above are the best ones of the year. Every item from the list is sure to be worth every of your penny, so don't hesitate to own one.