In the past, electric knives were very bulky and heavy. Most people used them to slice loaves of bread, meats, and other stuff. But now, these knives have become more modern, with a lightweight design and many new features. Electric knives have made the cutting and carving work easier. Now you don't have to move a knife back and forth ten times to slice meat; just use an electric knife, and your work is done in the first attempt. There are many of these available in the market, but not all of them are the best. Most are too heavy, some are too expensive, and some are not as efficient.
If you're running your restaurant or are really into cooking, then before buying an electric knife, take a look at the list below and then decide which one you want to buy. Many people just read two to three product reviews and buy it. But later on, regret their decision.
Here's a list of the best electric knives that can help you out in the kitchen
10- Hamilton Beach Electric Knife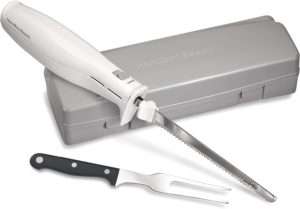 With Hamilton's Beach Electric knife Set, you can easily carve through meat, bread, and even foam for DIY projects! The knife has blades made of stainless steel and comes with a fork for carving and serving. The serrated blades help create even slices of meat and bread. It has a comfortable handle that gives better control while cutting. The knife comes in a storage case that stores the knife, blade, and fork.
Pros
Easy to assemble
Sharp blades
Nice long cord
Easy to use
Ergonomic
Inexpensive
Easy to hold
Cons
No ON/OFF switch on the knife
9- BLACK+DECKER 9-Inch Electric Carving Knife

The Black & Decker Electric Carving knife has a comfortable grip handle, is dishwasher-safe, and is quite affordable. The knife is black and is lightweight, which makes it easy to carry and use. Also, this knife has many useful features that make it different from other electric knives. For example, it has a safety lock button that prevents the knife from turning on even when it's plugged in. It also has a blade release button that unlocks the blades-making them easy to remove.
Pros
Very easy to assemble
Smooth cuts
Easy-to-hold handle
Excellent price
Easy to clean
Soft grip
Long cord
Cons
Have to use it with both hands so that the knife does not lock
Also check: Top 10 Best Electric Knife Sharpeners in 2023
8- Proctor Silex Easy Slice Electric Knife

The Proctor Silex Easy Slice Electric Knife is lightweight and easy to grip. The knife is perfect for meats and bread. It can cut through ham, turkey, and even foams for DIY projects—the stainless steel blades of the knife help in creating even slices quickly. Many people complained regarding other electric knives that they do not have any ON/OFF button due to which they experience difficulty while using them. Well, now, not anymore! Proctor Silex Easy Slice Electric knife has a touch button activation control. Only a simple trigger can activate the knife. The handle is lightweight and comfortable.
Pros
Effortless to cut
Cheap and effective
Does not create much noise
Clean and even motion
Carves excellently
Cons
7- Cuisinart CEK-40 Electric Knife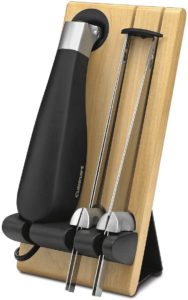 If you put quality over price, then the Cuisinart CEK-40 Electric Knife is the best option for you. It is quite expensive, but high in quality at the same time. The set includes two stainless steel blades: 1 for carving meat and the other for cutting bread. It also comes with a butcher block tray that stores the knife and blades when not in use. The handle has an ON/OFF button that makes it easy to use.
Pros
Carves well
The blades are easy to clean
Quick and smooth cuts
Makes slicing easier (even frozen food)
Excellent control
Longer Blades
Noiseless
Cons
6- Mister Twister 120V Electric Knife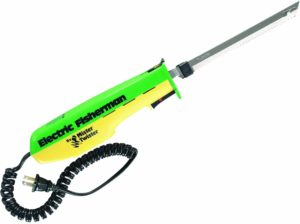 Mister Twister 120V Electric Knife is the number one bestseller on Amazon. It has a standard voltage of 120V AC. It also comes with a safety lock and a convenient blade release. This knife is not meant for cutting and craving everything as the other electric knives do, but its primary function is to cut and clean fish on the table. This is an ideal knife for those who want to cut fish at home, but face difficulty in doing so.
Pros
Works more efficiently as compared to other electric knives
The trigger is well-designed and easy to push
Inexpensive
The long blade makes the work easier
Sharp and well-built
Effortless slicing
Cons
5- Nutrichef PKELKN16 Portable Electrical Food Cutter Knife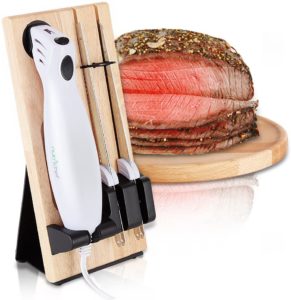 If you want a sharp and durable electric knife that cuts everything like butter, you should go for Nutrichef PKELKN16 Portable Electrical Food Cutter Knife. It comes as a whole set with four items in it: An electric knife, two blades for bread and carving, and a wood stand. The knife has a safety lock feature that keeps the blades locked in place. You do not have to keep moving the knife back and forth to cut slices. With this knife, you can make consistent slices without experiencing any difficulty or exerting any pressure. The comfortable handle makes carving and cutting easy.
Pros
Cuts like butter
Cuts fast
Does not require any pressure
Strong
Easy to clean
Doesn't take up much space
Comfortable to use
Cons
Overheating
Not super rigid
Also check: Top 14 Best Kitchen Knife Sets | Damascus Kitchen Knife Set in 2023
4- Hamilton Beach Electric Knife (74275R)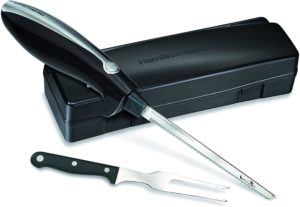 Hamilton Beach Electric Knife (74275R) cuts meat effortlessly. The vibrating, double blade, and the power of this knife simplify carving tasks. You can make precise and thin cuts with just a little effort. The set comes with an electric knife (for cutting and carving), a fork (for serving), and a storage box (for storing everything in one place). The handle is quite comfortable and gives better control while cutting. You can also cut foam for DIY projects with the knife. The whole set includes the knife, the fork, and the storage box and is available on Amazon.
Pros
Cuts through foam smoothly
Cheap
Easy to use on Turkeys
Fast and easy
Easy cleanup
Cons
Huge handle, not comfortable to hold steady
Overheats sometimes
3- Hamilton Beach Electric Knife with Stainless Steel Blade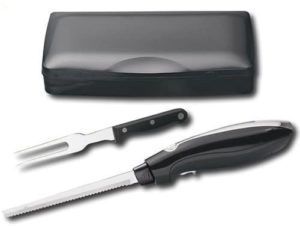 This is the third Hamilton Electric Knife in our review, but this is because of a reason- quality. Hamilton Beach Electric Knife with Stainless Steel Blade is a little different from the ones mentioned above. The box has a unique design, and the carving fork is shorter than the other ones from Hamilton. The electric knife can carve a whole Thanksgiving turkey (the main reason why most people even buy it), ham, bread, and also cheese. The stainless steel blades make slices that are of maintained thickness. The handle is smooth, lightweight, and comfortable to hold.
Pros
Easy-grip
Comfortable feel
Lightweight
Cuts well
Easy to use and clean
Cons
The switch is difficult to operate
2- Bubba 110V Electric Fillet Knife with Non-Slip Grip Handle

In the electric knives listed above, most of the customers complained that the handle was slippery, and that's quite dangerous and uncomfortable. If you are looking for an electric knife that's efficient and has a non-slip handle, you should go for Bubba 110V Electric Fillet Knife with Non-Slip Grip Handle. It has a long power cord of 8-feet, so that makes it comfortable to use. The blades are removable, which makes cleaning easy. It is a little pricey but that's because of a reason- it's quality.
Pros
Cuts through everything like butter
Durable
Well-built
Powerful
Long Cord
Better handling
Cons
1- Mighty Carver 3246-WP-102 Mighty Carving Knife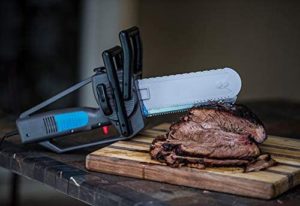 Mighty Carver is a very innovative electric knife. It has a chainsaw-like design and also works in the same way. The handle is comfortable, and the blades are sharp. This is the best electric knife if you have to cut your Thanksgiving turkey. Although it is chainsaw inspired, the knife is lightweight..
Pros
The best tool for carving
Cuts smoothly and evenly
Easy to use
Great design
Sharp blades
Cons
Expensive
The saw is just a prop
Conclusion
So these were the ten best electric knives that you can buy on Amazon. The list includes various types of electric knives that can cut and carve from fish to Thanksgiving turkeys, and from loaves of bread to DIY foams. The knives mentioned above can help you out with all your problems regarding cutting and carving.
You should always opt for electric knives that offer carving/serving forks with them for better use. Electric knives can be very helpful when used appropriately. Remember: Never 'wash' an electric knife! Always disassemble the knife and clean its parts separately, either by washing or with a damp cloth.