An evening stroll through the countryside, with the cool breeze whirling through your faces and a fishing rod in your hand, it's the best time for fishing and savoring your favorite delicacies. But the difficulty lies in finding a place for cleaning and cooking the fish. The surrounding environment can be dirty and unhygienic, and you can't rely on doing it there. This is where fish cleaning tables can play a convenient and comfortable role for you.
Every fish cleaning table is similar in construction and parts and include a rough and robust table surface, a uniform and clean sink, and a faucet. The table surface is the place where you clean, descale, and cut the fish. After working, the working place should be clean which is handled by the sink, with an efficient drainage system. The faucet can be used to ensure adequate water supply, by connecting a hose pipe or directly to the water lines. They can also be used to serve food and as a portable kitchen too. So precisely, this is all-in-one equipment for daily chores as well as in needy times.
There are lots of fish cleaning tables available in the market. Therefore, it can be tricky to choose the best and reliable table that can satisfy your needs and objectives. Don't worry. We have come up with a review list of the best cleaning tables available in the market. We ensure that the following listed products can clear your confusion on choosing the same. So, here we go!
List of the 10 Best Fish Cleaning Tables in 2023
Other table options you may need: Round Glass Dining Table, Drop Leaf Dining Tables, and Rustic Coffee Tables
10. Kotulas Fish Cleaning Camp Table with Faucet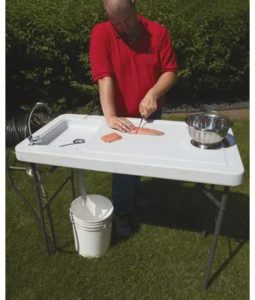 No doubt that this fish cleaning table can meet your requirements for a joyful camp and a meal. The table can be carried and assembled easily, without any struggle. You can also clean up the fish without any mess. This table has the perfect dimensions, with which you can work comfortably by standing. It can hold up to a weight of 25-30 lbs, perfect for the work, and comes with an expandable drain hose. With a good set of fillet knifes on this table, you can can prepare your fish meat with ease.
Why do we recommend this product?
Classy appearance
Provide multipurpose use
Can attach the hose with ease
Possible to work for longer durations
Can handle the moderate weight
9. RITE-HITE Multi-Function Folding Table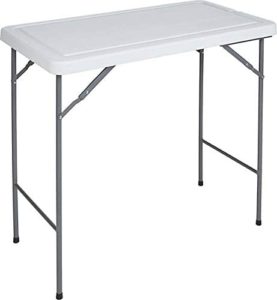 Here is a versatile table for you, useful for cleaning fish and other home purposes. The table has dimensions of 46in. L x 24in. W x 37in. H, on which you can work comfortably, irrespective of the size of your catch. It is made of high-quality material, with no compromise on durability. Also, it contains a sloping drain. You can work on it for long hours, without any hassle.
Why do we recommend this product?
Has a rugged surface for cleaning the fish
Lightweight and easy to use
Easily portable with the help of folding legs
 The sloped drain allows easy drainage of water
Can be assembled easily
Can be of use in any type of outdoor events
8. Kotulas Fish Cleaning Camp Table with Flexible Faucet and Sink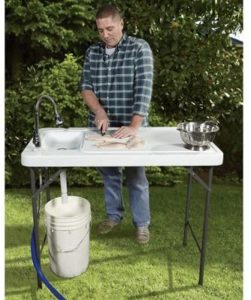 Enjoy your fishing espionage with Kotula's yet another cleaning table of the same objective, with an add-on: a flexible faucet. Cool isn't it? The faucet can be bent to any side, which adds to the convenience. It can be attached to any type of a normal hose pipe and then drain the water from the sink. It provides dimensions of 45 ¼ in. L x 23 1/4in. W x 33 ¼ in. H. The flexible legs can stand fixed both in folded and assembled positions.
Why do we recommend this product?
Easily portable with a weight of 27.5lbs.
A flexible faucet made of stainless steel.
Easily attachable drain hose.
Tight and easily adjustable locking legs.
The groove can drain the water smoothly into the sink.
Can clear the table and premises of waste smoothly.
7. Organized Fishing Lightweight Folding Fillet Table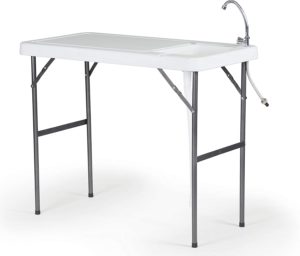 This fish cleaning table carries all the advantages that you can expect from a cleaning table. Lightweight, easily foldable, and equipped with drainage assembly and a classy faucet. What more do you need? The dimensions are 45.28in. L x 23.23in. W x 32.2in. H, the article can adhere to an average comfortable height positioning. The metal legs provide a strong fixture with no fidgeting between the bushes.
Why do we recommend this product?
Food Grade Plastic Top
Stamped in the sink for the purpose of better cleaning
Efficient drain plug and tube assembly
Can be stored in your travel bag with ease
Strong metal legs and elegant plastic top
Adequate height so that you don't have to bend over.
6. LIFETIME 4 Foot Folding Fish Fillet Cleaning Table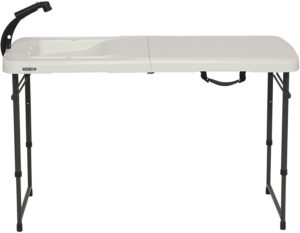 We bet your outdoor plans won't be complete without this exquisite fillet cleaning table that lifetime Store offers you. Yes, it is true. The product is perfect as an outdoor cleaning table, with its high-density polyethylene surface and moderately deep sink. The dimensions are 49.1in. L x 24.1in. W X 36.5in. H. Owing to its lightweight and fold-in-half design characters, it can be stored and transported without any difficulties. Also contains channels for efficient drainage.
Why do we recommend this product?
Adjustable with three types of height settings
UV resistant top free of rust and stain
Prevent excessive water loss
Perfect designing and finishing
Sturdy surface
5. Outsunny 50″ L Folding Fish Cleaning Table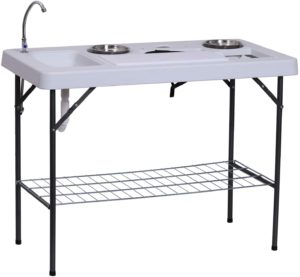 Here is your multipurpose hero, with the best add-on features with cleaning tables. If you want a table for both indoor and outdoor work, he is your perfect choice. This super deluxe product comes with an inbuilt sink, drain hole, and hose for better comfort. The dimensions are 50in. L x 25in. W x 37in. H. The height is its exceptional and unique feature. The material has a beautiful finishing and promises durability. Thus, the Outsunny table can be a royal entry in your parties and picnics.
Why do we recommend this product?
Hardwire mesh shelf at the bottom to ease storage and handling.
Comes with 2 stainless steel bowls, fillet knife, cutting board, etc.,
A broader range of uses
Easy to assemble and disperse.
Adjustable drain hose
Easy to clean, owing to the sloped design.
4. SHUTAO Folding Portable Fish Fillet Table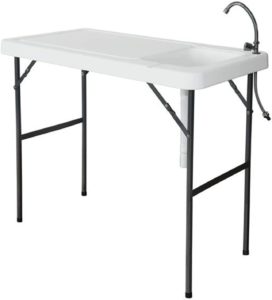 This fish table by SHUTAO's is multipurpose which can be ideal for fishing, camping, picnics, and almost every kind of outdoor activity. Its dimensions are 46in. L x 24in.W x 37in. H respectively and you don't have to bend over and suffer from back pain. The best quality high-density polyethene and stainless steel are used in the manufacturing of the top and faucet respectively, ensuring durability.
Why do we recommend this product?
Easy water supply through the facet
The drain holes are compact, avoiding drainage blockade
Apt for any outdoor atmosphere
Material resistant to dust and water
Strong fixture and design
3. Goplus Folding Fish Table Fillet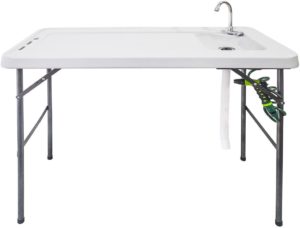 this table is engineered keeping the customer's comfort in mind. The product covers every aspect needed for an ideal fish cleaning table such as a sloped surface for better cleaning, integrated sink with drain and adjustable telescopic drain hose for efficient water supply and drainage, etc. Also, its high-density polyethylene tabletop and iron legs ensure stability and durability. The dimensions account for 45in. L x 24in. W x 38 in. H.
Why do we recommend this product?
Can adjust pressure wherever you need it.
No difficulty in connecting the faucet to hose
Ensured Stability
Adjustable drain hose
Can hold a desirable amount of weight.
Large surface area.
2. Gymax Table for Cleaning Fish with Faucet and Sink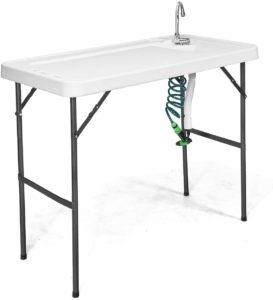 Designed in white color with its metallic frames and shining faucet adding to its grace, this multi-purpose fishing table can be a perfect choice for you. It has an integrated faucet and a sink with the drain hose. The top is made of polyethylene and the frame with metal. The legs are powder coat finished, thus protecting it from tanning, stan, and rust. The dimensions are 45in. H X 23in. W x 37in. H respectively.
Why do we recommend this product?
Apt for people of different heights, owing to the extendable hose
Easy to connect a garden hose
Large space to clean up food
Flexible faucet for better cleaning
Spray nozzle help to clean nook and corner of the items
1. Outsunny Portable Folding Camping Sink Table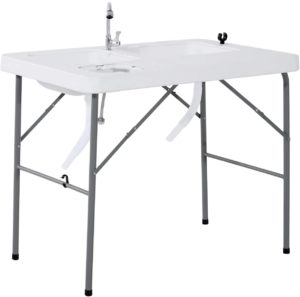 Finally, the most awaited hero is here. The most convenient and comfortable accessory you can get for your next fishing camp. The product extends its hand in every dimension attributed to perfectness. You can use it both as a picnic commodity as well as a fish cleaning station. The faucet is removable and can be cleaned accurately covering every nook and corner. The product contains 2 sinks. Also, contain a slot for a garbage bag. Cool, right? The dimensions are 39.8in. H x 26in. W x 31.9in. L. It also contains the measuring feature.
Why do we recommend this product?
Abundant cleaning space
Waste disposal made easy
Can measure the size of our fish
Supports larger weights
Highly functional and durable
A good washing station
Factors to consider while choosing a fish cleaning table: A buying guide
Ruggedness:
The table surface is the place for maximum work. So, you have to ensure that the surface is hard and rugged enough to withstand the work you do. If the surface is sturdy enough, it will be more convenient for you.
Portability:
If you are having a permanent place to clean the fish, then you don't have to consider this. But, if you are planning for outdoor trips, then you should check on this. The fish cleaning table that you are considering to buy, should be lightweight, easily foldable, and storable to transport it easily. We would recommend buying portable tables, as we don't know when necessity would knock the door.
Durability:
The tables should be such that it can last for a long period. The material should be of high quality such as HDPE, stainless steel, etc. Also, you should ensure that material is resistant to dust, water, and stain since you are dealing with food. Make sure that the material stands strong and fixed. In the case of outdoor trips, the material should be able to withstand every type of environment.
Efficient drainage system:
The drainage system should be smooth and efficient. Most of the fishing tables come with a sink and a faucet. So, their integrity is very important. Check on factors such as drain hole, drain plug, easiness to connect host, the efficiency of the sink, sieve, etc.
Cleaning facilities:
Bad cleaning can affect your food as well as your product. Adequate cleaning space is needed for efficient cleaning. It will be better to have a well-designed sink on the same. The easiness of cleaning is also needed to be affirmed.
Height and other dimensions:
The table must be such that can be used by people of different heights. Bending over the table can cause back pain. Check whether you are comfortable with the dimensions of the table. A comfortable space can provide good results
Conclusion
Having a good fish cleaning table during picnics and fishing camps are like a boon, where you can enjoy your delicious catch in no time. When the best facilities come together, it gives you the most wonderful experience. This is also an unavoidable part of the picnic. So, keeping this in mind, we have listed the best available fish cleaning tables in the market. We have considered all the factors including safety, efficacy, durability, etc. So, what are you waiting for? Grab your pick!