A round glass dining table is one of the essential, highly functional pieces of furniture for every home. It does not only serve as a place for you and your family to sit and eat, but it is also a key component that makes your home more beautiful and comfortable to live in.
In this article, we would like to introduce to you 10 amazing sets of round dining tables in which every one of them has a round glass top. At the end of the article, you are invited to read a bonus section where you will gain insight into how we choose these ideal round glass dining table sets.
List of the 10 Sets of Round Glass Dining Tables in 2023
Other table options you may need: Rustic Coffee Tables and Fish Cleaning Tables
10. Coaster Home Furnishings Round Glass Dining Table Set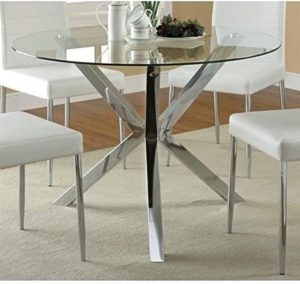 To kick start the list, we would like to introduce you to Coaster Home Furnishings round glass dining table set which is one of the American leading furniture companies. Anyway, this one here is called Coaster Vance, model 120760-CO, which is made from glass and metal. This dining table has three supporting legs made of chrome. The round glass that sits on top of the legs is very thick and sturdy. Coaster Vance comes along with four dining chairs.
Furthermore, the overall product dimensions are 30'' x 41.25'' x 41.25'' and it has an overall weight of 53 pounds. To set this one up, you need to line up the screw. It may be a little challenging to assemble it at first, however, after you have done assembling, you will definitely love this classy dining table set! Coaster Vance is perfect for those who have limited space in their dining room.
9. Furniture of America Dark Cherry Round Glass Dining Table Set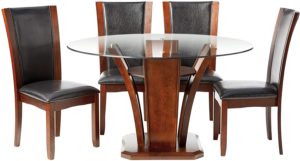 Moving on, we would like to recommend you another well-known furniture company which is Furniture of America. Here we have a round glass dining table set, which consists of a dining table and four side chairs. This set comes in dark cherry color and features a gleaming appeal. Needless to say, the choice of color of this dining table set can match with any settings. Supported by four legs and a square base, the dining table is made of solid wood and a fine wood veneer.
What's more, the table has a dimension of 54'' wide and 31.5'' high. Meanwhile, the four side chairs also have their frames made of the same materials, but the seats are padded with soft faux leather, which is also available in both black and white colors. Each chair is 41 inches high, 19.5 inches wide, and 24 inches deep. The height of the seat is 19 inches. Furniture of America offers a one-month warranty for hassle-free replacement parts. This dining table set not easy to move, and it is recommended if you have a proper kitchen space. Otherwise, you may consider a drop leaf dining Table or a folding dining table if you have a narrow space in your kitchen.
8. Zuri Modern Serra Round Glass Dining Table Set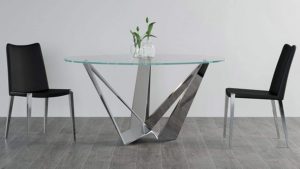 Now, let us have a look at Zuri Modern Serra, which offers a classy round dining table with clear round glass dining table set. This dining table has its base of three triangles made of polished stainless steel. The triangles balance together perfectly supporting the thick piece of clear glass. The thickness of the glass measures ½ inches, indicating that it is also sturdy. It can also be used a bar table in the pub or restaurant if you need to set up a VIP room for your customers.
For your information, Zuri Modern Serra has the length, width, and height of 59, 59, and 29.75 inches, respectively. The overall weight of this one is 174.2 pounds. The large scale of this dining table makes it even more ideal to accommodate up to six guests comfortably. Interestingly, this collection also offers an alternative that comes in matte black steel and smoked glass. This alternative will stand out even more since it can complement your modern house décor.
7. Furniture of America Round Glass Dining Table Set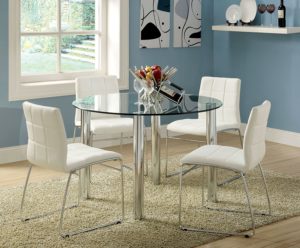 Allow us to introduce another set from Furniture of America. This set comprises one dining table and four dining chairs. This round glass dining table set has a tempered glass top that has a diameter of 45 inches. Moreover, the height of the table is 30 inches. The glass is clear and very easy to clean. The table is supported by four legs made from chrome. Each chair is padded with soft textiles from the seat all the way to the back frame. The chair is also supported by chrome sleigh-base. You can also get a tablecloth or a table cover along.
The overall height of the chair is 33 inches, while the width and depth of it are 21.5 and 20 inches, respectively. This table set weighs around 155 pounds in total. It is required to assemble before use. Due to the size and weight, you may need up to two adults in order to assemble this dining table. Similar to the previous model, Furniture of America also offers a 30-day warranty for replacement parts.
6. Steve Silver Round Glass Dining Table Set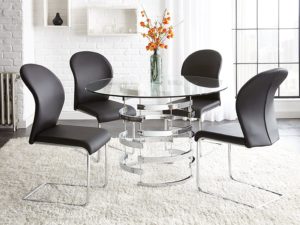 If you are looking for a round glass dining table set that fits a contemporary style, then maybe you can check this one out. Steve Silver offers a dining table, featuring a contemporary coil style on the chrome base and legs. This design is very stylish indeed and it will look great in almost every setting.
Interestingly, the table is topped by a tempered and beveled glass top that is 10mm. Steve Silver comes with four seats that are made of black vinyl supported by a chrome base. The table and the chairs come with flood glides which are specially designed to help protect your floors from getting scratched. This set weighs 95 pounds in total, which is a little bit lighter than other products introduced above.
Plus, it is very easy to assemble this table. You will not get disappointed with this extremely stylish-looking set of the dining table.
5. Roundhill Furniture Round Glass Dining Table Set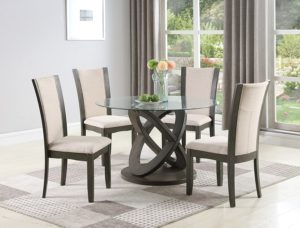 Coming up next is round glass dining table set from Roundhill Furniture. The table is crafted from solid wood and it comes with a tempered glass on top that is 8mm thick and 48 inches in diameter. The glass is durable and of course easy to clean. The supporting wood legs basically look like a double ring. The table of a dimension of 48 inches x 30 inches.
What's more, Roundhill Furniture's dining table comes with four grey chairs. Each chair features a solid black wood frame and is padded with soft fabric and firm cushion. The width and depth of the chair are 20 and 23.5 inches, respectively. And, the height of the chair is 38.5 inches, in which 19 inches is the seat height. Like many others, this piece of furniture also requires some assembly.
4. Armen Living Round Glass Dining Table Set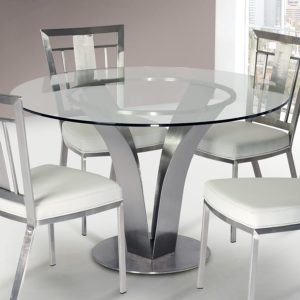 Armen Living offers a modern dining table with a clear tempered glass top. The glass top has a diameter of 48 inches. The legs of the tables are curved and constructed from brushed stainless steel. Both the glass and the base of the table are very sturdy and durable. Armen Living's overall weight is approximately 157 pounds. Its height is 30 inches.
Unfortunately, unlike the products we mentioned above, this one is sold as a table only. Nevertheless, the design of this pedestal table is very simple yet extraordinary in a way that complements both modern and contemporary home décor.
3. Furniture of America Round Glass Dining Table Set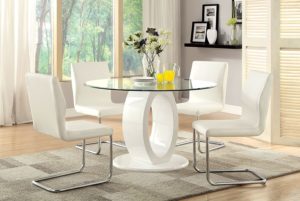 Furniture of America surely does live up to its name. Here is another glamorous-looking set of pedestal dining table with round glass tops that fit in the modern décor. The diameter of the glass is 48 inches and the thickness is 10mm. Each set includes one table that is big enough for four people. The height of the table is 30 inches. And, the table also comes with four chairs. The pedestal or the base of the table is made of wood and wood veneers, while the chairs are supported by metal sleigh legs.
Besides, each chair is also padded with foam, making it more comfortable to sit on. It has a seat depth of 18.5 inches and a seat height of 19 inches. This one also requires assembly. This set comes in two choices of color – black or white. Overall, this set is somehow simple yet with its slender design, it looks great for a dining room.
2. Hooker Furniture Round Glass Dining Table Set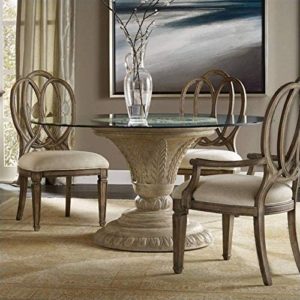 This list would not be complete without Hooker Furniture's dining table. What makes this one more special than others is the fact that it takes up to 16 finish steps. Undoubtedly, the result is absolutely incredible, especially with its clarity, depth, durability, and color. The solid wood and wood veneers that are used as materials for this piece of furniture are carefully selected, so no wonder why the quality of Hooker Furniture is superior. The glass top is one inch thick, which makes it very sturdy.
Adding to that, Hooker Furniture round glass dining table set has an overall dimension of 60'' W x 30.25'' H x 60'' D, with an overall weight of approximately 257 pounds. We highly recommend this one to those who are looking for elegant furniture for their new homes!
1. Coaster Home Furnishings Round Glass Dining Table Set, Cappuccino Finish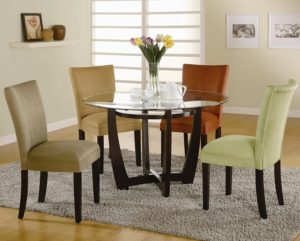 Last but not least, Coaster Home Furnishings also offers another great-quality round glass dining table set as well. As for this one, it has its base made of hardwood finished in deep cappuccino color. The design of the base is basically four crossed legs. These legs are sturdy and they help support the round beveled glass top that is 4mm thick and 48 inches in diameter. The glass is clear and can be cleaned easily. It requires some setups, but it is stress-free to assemble. This also means that the glass is not fixed to the base and it is replaceable.
In addition, please note that this one here does not come with chairs. You may need to buy them separately. But one thing that most people love about this one is that it does not take up too much space in the dining room or the kitchen.
Buying Guides
After going through the above list of ten round glass dining table sets, we hope you have found your favorite one in mind. However, if you have not or still unsure of how to choose the right one, please do not worry yet. As promised, we would like to offer you this little section where you can find some useful information regarding what to look for in an ideal set of round glass top dining tables. Below are some factors you may consider before buying the product.
Materials: Dining tables have their materials differ from one another, except the glass on top. Some dining tables are made of metal such as chrome or stainless steel, while others use wood as the construction of the supporting legs. In fact, it depends on your preference and settings. In other words, you may choose a dining table made of any materials that would fit the décor of your dining room. However, please make sure they are very sturdy and durable.
The thickness of the glass: This factor is important since the glass on top of the table is the table surface, so it is only natural that you should look for a strong and thick glass. The most popular thickness of the glass is ½ inches or ¼ inches or 3/8 inches. However, please note that the thicker the glass is, your table will be heavier as well.
Dimensions: This refers to the size of the table and chairs. Please choose it wisely according to your preference and space in your dining room. You may not want it to be too big or too wide that takes up lots of space in your room. Anyway, most of the products we introduced earlier have a suitable room for four people.
Design: Each table has unique designs. You may choose according to your taste and the setting of your dining room.
Conclusion
So far, we have gone through ten round glass dining table sets and a buying guide. These ten products are worth investing in. Not to mention their outstanding quality, they are also sold at a guaranteed and affordable price. Furniture like the dining table can say a lot about your home. Therefore, you should choose the most ideal dining table that does not only fit your interest but also works for your budget as well.