A Thanksgiving dinner is marked with exorbitant and delicious foods and comprises a large meal. So, you have to take care of the food and also about the table. There are more chances of spillage and scratches on the table. This is where the tablecloths play a great role.
The Thanksgiving tablecloth does not only protect either wooden tables or glass tables, to a large extent from stains and spills, but also create a pleasant environment to your eating place. Moreover, they add a festive grace to your party.
A large number of tablecloth brands are available in the market which make you difficult to choose. So, we are here to help you. We have added reviews of some of the best Thanksgiving tablecloths, which are currently trending in the market for you. Let's go.
List of the Best Thanksgiving Tablecloths in 2023
12. Maison d' Hermine Amarante Tablecloth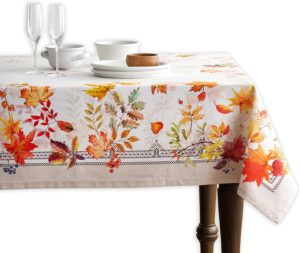 In case you need an attractive table cloth for permanent use, this Thanksgiving tablecloth is for you. This 60 x 90-inch tablecloth can excite you with its attire. It can fit into any table, irrespective of shape. The design looks pretty and alluring, with the falling leaves arranged, in a simple manner. Significantly, it gives a feeling that your home is ready to welcome Autumn.
Moreover, the cloth is of 100% cotton and promises you great durability and lasting strength. Besides, you can wash it with a machine, tumble dry and iron, according to your need. Nevertheless, it won't lose color. This thanksgiving tablecloth can serve as the center of attraction at your party.
Why do we recommend the product?
Mesmerizing design and appearance
Suitable for any type of occasion
Machine safe
Colors stand for long
Pure cotton product
Can adhere to any shape.
Easy care
11. TEWENE Tablecloth for Thanksgiving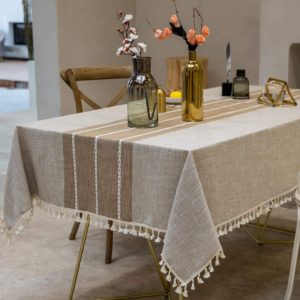 This tablecloth is designed for Thanksgiving day and can save you from the shrinkage and wrinkling problems, in comparison to other typical products. The material is an equal proportion of cotton and hemp, providing thickness. Consequently, neither does the product shrink nor wrinkle after washing.
Owing to the high-quality dyes, the color would stand for a long time. It is also attributed to the perfect dyeing technology. Speaking about the maintenance, it is machine safe and also hands washed. Eventually, you can iron it for a smooth and stiff appearance. Precisely, the product can be a perfect material for your birthday parties, patio, picnic, gardens, etc. Refer to the table guide to adjust the cloth to your table.
Why do we recommend this product?
No chance of shrinkage or wrinkles
Won't fade off easily
Easily washed and ironed
Suitable for every occasion
Complete value for your money
Protects your table like a shield
Also check: BEST CHRISTMAS TABLECLOTHS TO BUY IN 2023
10. ARTABLE Rectangle Thanksgiving Tablecloth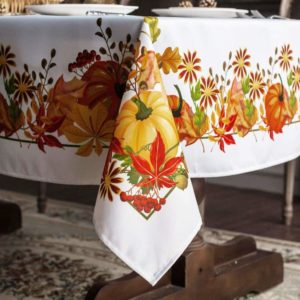 The tablecloth is a completely safe and quality buying option for you. Owing to the material made of 100% polyester which is treated and thus, provides better quality, durability, and is of functional use. You can have it for everyday use, in case of your usual dining. The beautiful design of pumpkins around the border gives it a good appeal. The edges are tightly sewed. As a result, it lies perfectly on the table. Also, the product is quite thick.
Besides, it has a size of 60 x 120 inches. Evidently, it is suitable for long tables too. In addition to all these, the product is machine safe and resistant to wrinkling, or fading of colors.
Why do we recommend this product?
A product to relax with your family
Suitable for both indoor and outdoor use
Effortless care only
Affordable price
Fewer chances of damage
Made of pure polyester
9. Dll Printed Kitchen Table Cloth for Dinner Parties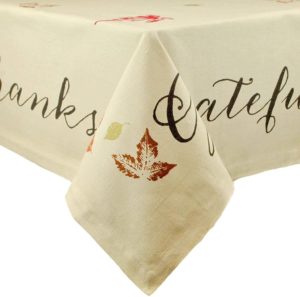 If you need an adorable tablecloth to enhance the looks of your table, you can go for this. The designs feature maple leaves, harvest grains, etc., with warm colors. You will feel the pattern apt for your table. The size is 60 x 84 inches, in contrast to others, and is rare in this genre. Refer to the table chart to know your best fit.
Besides, it can withstand a substantial amount of weight on the surface, owing to its perfect material. Since it is machine safe and dried, it can be ironed too, according to your convenience. Undoubtedly, this can decorate your table at best. You can also check one of these Clear Table Covers if you don't want a cloth-made one.
Why do we recommend this product?
Safe and durable
Can withstand weight
Machine and ironing safe
Can be used in any type of parties
8. Benson Mills Natures Leave Jacquard Printed Fabric Tablecloth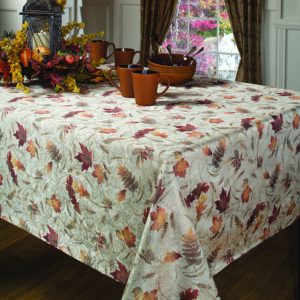 This Thanksgiving tabletop cloth has an admirable pattern of fallen leaves throughout the cloth, with autumn designs. The colors on the cloth are soft and subtle, which makes it presentable, This 60 x 120-inch tablecloth can be suitable for long tables, owing to its size. It can fit a table with a seating capacity of 12-14 chairs
The material is made of 52% cotton and 48% polyester with good quality. Also, it is heavyweight and is thick. Thus, you don't have to worry about the tablecloth slipping off every time. And, as usual, they are machine safe and can be ironed with no existential harm. Hence, this tablecloth can fit well on your formal occasions
Why do we recommend this product?
Simple and classy pattern
Perfect for an autumn theme
High versatility
Machine washable
Wrinkle-free and fewer chances of shrinkage
Also check: Top 10 Recommended Vinyl Tablecloths to Buy in 2023
7. Elrene Home Fashions Tablecloth for ThanksGiving and Other Celebrations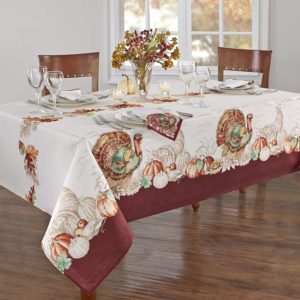 You can meet the whole needs of decorating your table, considering every aspect, with this product. It has a size of 52 x 52-inch square-shaped tablecloth, but can be adjusted and placed according to your convenience.
You can perceive the design as a cream color background with brown, gold, and green, taking their place. As a result, the cloth can be used in every type of occasion, for instance, simple dinings, parties, patios, and large social gatherings.
Eventually, you don't have to make a large effort on its maintenance. The cloth is completely water and stain-proof. So, cleaning up the stain with a damp cloth is like a cakewalk.
Why do we recommend this product?
Completely versatile
Soft and quality fabric
Suitable for everyday use
Good protective cover for your table
Spill-proof and stain proof
6. Stillbetter Thanksgiving Decoration Tablecloth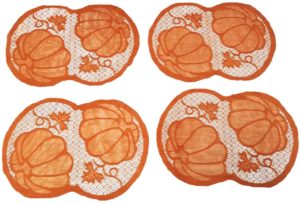 These are the unique and different add-ons in the list, in comparison to the previous ones. They are a package of 4 table mats of size 18 x 12 inches. Not only, does the pumpkin lace and grace, but also the unique shape makes it adorable.
Moreover, the hard mats can save your table from getting stained with food. They are waterproof, spill-proof, and stain-resistant. It should be noted that the material is made of polyester and thereby offers high durability. Also, you can remove the wrinkles by ironing or by steam. To sum up, this product can be the best addition to your home or restaurant.
Why do we recommend this product?
Compatible for both personal and commercial use
Quality polyester material
Stain and waterproof
Less maintenance required
Reflects light and is an eye-catcher
Stitched perfectly
5. Benson Mills Turkey Festivities Engineered Border Tablecloth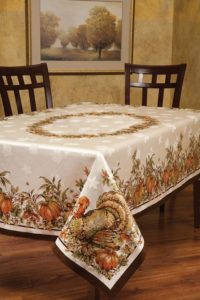 The Benson Mills Tablecloth is a perfect product that can add a festive touch to your table. The size is much longer i.e., 60 x 104 inch, suitable for much longer tables. The material consists of 55% cotton and is significantly thick. Therefore, they don't drag or droop down and stay perfectly with the extra sides folded.
Furthermore, it is washable with no damage to the print. Also, machine washable and can be ironed. Since the color doesn't fade away by time, you can use it for a long time. Above all, they can be the perfect item for your thanksgiving dinner with its winsome and splendid design.
Why do we recommend this product?
Long and unique in size
Can be easily folded when not in use
Can be used for a long time
The quality won't fade with time
Attractive design
4. Benson Mills Gathering Harvest Engineered Jacquard Tablecloth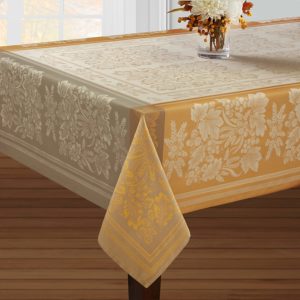 You can add more luxury to your thanksgiving dinner or festive celebrations with this Jacquard Tablecloth. It is the same size as the previous one i.e., 60 x 104 inches, sufficiently large enough for tables with a seating capacity of 8-10.
Significantly, the fabric material is 100% polyester and promises you excellent quality. Besides, the border is hand mitten and the pattern as a whole gives it a royal look. The material is spill-proof and can be cleaned with a damp cloth. Also, use non-chlorine bleach for the purpose. Moreover, the package comes with matching napkins for you.
Why do we recommend this product?
Attractive and hand mitted design
Sufficient for large spaces
Multipurpose use
Spill-proof and stain proof
Comes with matching napkins
3. StarMar Plastic Tablecloths for Special Occations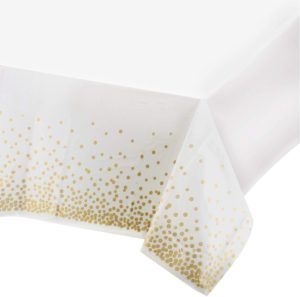 This product stands unique in comparison to the other products, with its material made of plastic. Notably, heavy-duty plastic is used here. Therefore, owing to the material, the table cloth is waterproof and any type of spill can be cleaned by a sponge.
The size is 54 x 108 inches, which can be used for any table up to 8 ft. Apart from its use as a tablecloth, you can hang them on doors or can be used as banners to set party themes. Also, it is suitable for any party or occasion. From the viewpoint of maintenance, it is waterproof and can be cleaned easily.
Why do we recommend this product?
Multipurpose use
Can be used for large tables
Waterproof quality material
Easy and effortless maintenance
Can withstand weight
2. Creative Converting Thanksgiving Table Cover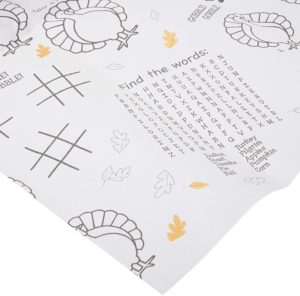 This is a multipurpose cloth and strands more than just a table cover. The cloth contains designs of various paper games for kids, thereby being an activity paper. They include crosswords, coloring images, etc. In fact, it stands unique in the genre. This 54 x 88-inch table can keep your children fascinated with the theme. Also, it is a perfect gift material for your friends. You can dispose of them after use or reuse, according to your convenience.
Why do we recommend this product?
Elegant product with creativity at its best
Multipurpose use
Can gift to your friends
Made in the U.S.A
1. Maison d' Hermine Equinoxe Tablecloth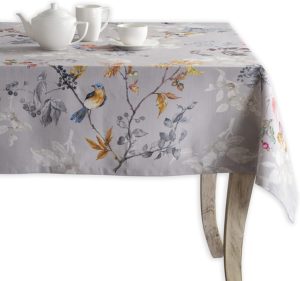 In case you yearn for a product with Mastercraft design, for versatile usage, you can choose this product. The design remains spectacular with the exquisite display of birds, flowers, and leaves, thereby adorable for every person.
Besides, you can machine wash it with warm water and iron it, if needed. The dimensions are of 54 x 54 inches, with a square shape, and can fit into respective table sizes. In short, the product can be an excellent addition to your parties.
Why do we recommend this product?
Splendid design
Suitable for all types of celebrations
Protects your table from scratches
Water and stain proof
Affordable price.
CONCLUSION
The tablecloth can be an excellent choice to decorate your tables during thanksgiving dinners. They also stand good at protecting your table. So, we have added the best thanksgiving tablecloth in this list. We hope that this will help you in finding your best pick.